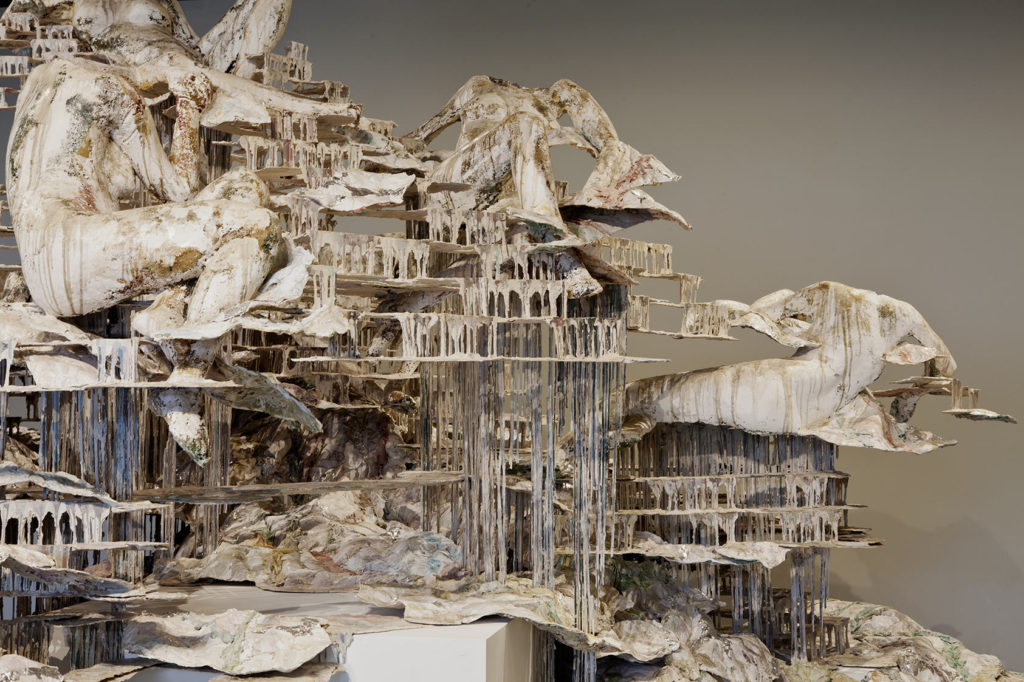 "…all plots are unit­ed; they are waves that seem sep­a­rate, and yet they min­gle."
– Louis Antoine de Saint-Just

"Where impe­ri­al­ists do not find dis­or­der they cre­ate it delib­er­ate­ly…"
– C.L.R. James, The Black Jacobins
In 1971, at the near-height of the Unit­ed States' mon­u­men­tal­ly mur­der­ous war on Viet­nam, a group of rad­i­cal Argen­tin­ian and Ital­ian film­mak­ers call­ing them­selves the Colec­ti­vo de Cine del Ter­cer Mun­do released a film with a provoca­tive title: Pales­tine, Anoth­er Viet­nam. The title says a lot in just a few words, a brief state­ment preg­nant with a range of pos­si­ble mean­ings. The title's chief sug­ges­tion – that both Viet­nam and Pales­tine were sites of impe­r­i­al aggres­sion as well as resis­tance to it – would have been not at all out of place or uncom­mon among the glob­al left in 1971. Indeed, Pales­tin­ian rev­o­lu­tion­ar­ies of the peri­od were pay­ing close atten­tion to Viet­nam, study­ing both the bru­tal mil­i­tary tac­tics used by U.S. impe­ri­al­ism to crush a rev­o­lu­tion­ary people's move­ment as well as the Viet­namese people's his­toric resis­tance. What could be learned?
In 1973, as the Viet­namese anti-colo­nial rev­o­lu­tion was pro­claim­ing vic­to­ry against the mil­i­tar­i­ly supe­ri­or Unit­ed States, a group of rev­o­lu­tion­ary Pales­tin­ian and Arab intel­lec­tu­als con­vened a round­table dis­cus­sion mod­er­at­ed by Haytham Ayy­oubi, the head of the Mil­i­tary Stud­ies divi­sion of the Pales­tine Lib­er­a­tion Orga­ni­za­tion (PLO), to find out. "The Unit­ed States, with its vio­lent inter­ven­tion against the Viet­namese rev­o­lu­tion and against the Viet­namese peo­ple, tried to pro­pose an issue, and did so in prac­tice," stat­ed Tahsin Bashir, then the Assis­tant to the Gen­er­al Sec­re­tary of the Arab League. The Unit­ed States tried to pro­pose "that mod­ern sci­ence and mod­ern tech­nol­o­gy, in using com­put­ers and plan­ners, are capa­ble of defeat­ing humans." In response to this arro­gant propo­si­tion, Bashir declared what he thought was the pri­ma­ry les­son of the failed U.S. war on Viet­nam: "The suc­cess of the Viet­namese expe­ri­ence is based upon the suc­cess of humans over tech­nol­o­gy." Bashir's co-pan­elist, Dawud Tal­ha­mi of the World Stud­ies Divi­sion of the PLO Research Cen­ter, pro­claimed Viet­nam "the rich­est expe­ri­ence pre­sent­ed to us by mod­ern rev­o­lu­tion­ary her­itage in fac­ing dif­fer­ent forms of oppres­sion." After all, here was a soci­ety, Viet­nam, that the U.S. empire had attempt­ed to destroy – much like the forces of British colo­nial­ism and Zion­ism had attempt­ed in Pales­tine even pri­or to the dev­as­tat­ing events of 1948, when Zion­ist mili­tias eth­ni­cal­ly cleansed and expelled upwards of 750,000 Pales­tini­ans, throw­ing Pales­tin­ian soci­ety itself into tat­ters. And here, in Viet­nam, was also a soci­ety that had expelled the forces of impe­ri­al­ist destruc­tion.
It is fit­ting that there exists no sur­viv­ing print of Pales­tine, Anoth­er Viet­nam on film – it has been for­got­ten, like so much else from the era of anti-impe­ri­al­ist sol­i­dar­i­ty dur­ing which it was made. After the glob­al counter-rev­o­lu­tion of the 1980s, it had appeared, espe­cial­ly to left-wing or for­mer­ly left­ist intel­lec­tu­als, that the anti-impe­ri­al­ist inter­na­tion­al­ism of the late 1960s and ear­ly 1970s had become a rel­ic. More­over, con­sen­sus emerged about the U.S. mil­i­tary cam­paign in Viet­nam: it had been the prod­uct of a cri­sis, a mis­ad­ven­ture and a quag­mire through­out which U.S. impe­r­i­al plan­ners had stum­bled their way into extreme vio­lence counter-intu­itive to U.S. inter­ests. But to sur­vey today's tar­gets of U.S. impe­ri­al­ism, espe­cial­ly in the Arab world, it would appear that, for all the dif­fer­ences between then and now, the U.S. prac­tice of destroy­ing soci­eties whole­sale, as the Unit­ed States had attempt­ed in Viet­nam, appears to be in full effect. Pales­tine, the cen­tral his­toric cause of the Arab world, remains occu­pied. Palestine's neigh­bor coun­tries of Iraq, Libya, Yemen, and Syr­ia have been frag­ment­ed and, in places, torn apart. There have been sug­ges­tions to the effect that each of these coun­tries – all of them sites of large-scale U.S. mil­i­tary vio­lence – con­sti­tute anoth­er "Nak­ba," or "cat­a­stro­phe," the name giv­en by Arabs to the events in Pales­tine in 1948, which amount­ed to an attempt to oblit­er­ate Pales­tin­ian soci­ety whole­sale through a Zion­ist mil­i­tary inva­sion, fol­lowed by eth­nic cleans­ing and mur­der of Pales­tin­ian inhab­i­tants, fol­lowed then by the replace­ment of Pales­tin­ian vil­lages' names and phys­i­cal struc­tures with Israeli ones.
It is prob­a­bly Syr­ia that has most flab­ber­gast­ed and divid­ed the West­ern left. It is also the most recent site of direct U.S. mil­i­tary occu­pa­tion. On Octo­ber 31, 2017, it was report­ed that Army Maj. Gen. James B. Jar­rard acci­den­tal­ly revealed that the num­ber of U.S. troops inside Syr­ia approx­i­mates 4,000 – a far cry high­er than the 500 num­ber the Pen­ta­gon has been sell­ing. This divi­sive­ness around Syr­ia only makes it all the more impor­tant to com­pre­hend. We can­not mean­ing­ful­ly oppose U.S. impe­ri­al­ism any­where if we com­pro­mise or make the slight­est peace with it in Syr­ia. How does the destruc­tion in Syr­ia fit into broad­er his­tor­i­cal pat­terns? How do we sit­u­ate the war on Syr­ia into the his­to­ries of U.S. impe­ri­al­ism, the Arab world (includ­ing Pales­tine), and the rela­tion­ship between the two? It is only by posit­ing those ques­tions that we can devel­op the the­o­ret­i­cal ground­ing nec­es­sary to build the move­ments and estab­lish the alliances required to defeat the U.S. war machine in Syr­ia and else­where.
Our cur­rent under­stand­ing of U.S. impe­ri­al­ism and how it func­tions today in a place like Syr­ia thus needs to draw on his­to­ry and be refor­mu­lat­ed to meet the demands of the cur­rent con­junc­ture. This means that it is nec­es­sary to con­sid­er both the polit­i­cal imper­a­tives as well as the cap­i­tal accu­mu­la­tion cir­cuits of the war, which remain deeply inter­twined. The war's polit­i­cal goals and the prof­it net­works, part-and-par­cel of an unimag­in­ably cru­el and bar­barous force inflict­ing mis­eries and social col­lapse across the globe, should not only point us towards a polit­i­cal strat­e­gy, but should also serve to remind us of why we oppose U.S. impe­ri­al­ism in the first place, help­ing those of us in the Unit­ed States to recall Karl Liebknecht's endur­ing warn­ing belt­ed out on the eve of world war: the main ene­my is at home! Nor should we for­get his addi­tion­al imper­a­tive: "Learn every­thing, don't for­get any­thing!"
The Political Imperatives of the U.S. in Syria
On Jan­u­ary 5, 1957, Dwight D. Eisen­how­er, as pres­i­dent of a U.S. empire which was becom­ing increas­ing­ly assertive in the wake of the Sec­ond World War, called for a con­gres­sion­al res­o­lu­tion that would autho­rize him, in the words of Sal­im Yaqub, "to pledge increased eco­nom­ic and mil­i­tary aid and even direct U.S. pro­tec­tion to any Mid­dle East­ern nation will­ing to acknowl­edge the threat posed by inter­na­tion­al com­mu­nism." An impor­tant sub­sidiary of that res­o­lu­tion, known some­times as the "Eisen­how­er Doc­trine," was "to con­tain rad­i­cal Arab nation­al­ism of Egypt­ian pres­i­dent Gamal Abdel Nass­er and to dis­cred­it his pol­i­cy of 'pos­i­tive neu­tral­i­ty' in the Cold War, which held that Arab nations were enti­tled to enjoy prof­itable rela­tions with both Cold War blocs." In oth­er words, Eisenhower's pol­i­cy sought to dimin­ish the inde­pen­dence of Arab nations.
As the Eisen­how­er pol­i­cy became oper­a­tional­ized as a mat­ter of U.S. pol­i­cy, the Unit­ed States devel­oped polit­i­cal and eco­nom­ic ties to region­al enti­ties that would assist in shat­ter­ing Pan-Ara­bism in its anti-colo­nial and anti-impe­ri­al­ist iter­a­tions. The first of such enti­ties was the State of Israel, a Euro­pean set­tler-colony in the heart of the Arab world that has become, in the words of Pales­tin­ian com­mu­ni­ty orga­niz­er Hatem Abu­Dayyeh, the Unit­ed States' "watch­dog" against Arab peo­ples in the region. The sec­ond enti­ty, or set of enti­ties, were Arab monar­chies con­temp­tu­ous of Arab nation­al­ist move­ments for, among oth­er rea­sons, their ten­den­cy towards rad­i­cal repub­li­can­ism.
By 1962, dur­ing a war in Yemen between repub­li­can and monar­chist forces, Israel and the King­dom of Sau­di Ara­bia col­lab­o­rat­ed with the aim of defeat­ing the for­mer. By 1967, after the Unit­ed States wit­nessed Israel's poten­tial mil­i­tary util­i­ty in dimin­ish­ing the capa­bil­i­ties and influ­ence of pro-inde­pen­dence forces in the oil-rich region dur­ing the so-called "Six-Day War," the Unit­ed States con­se­crat­ed its present-role as Israel's under­writer, as U.S. mil­i­tary aid to Israel increased 450 per­cent between 1967 and 1968, from $7 mil­lion to $25 mil­lion. By 1970, dur­ing a peri­od in Pales­tin­ian and Jor­dan­ian his­to­ry pop­u­lar­ly known as Black Sep­tem­ber, the Unit­ed States and Israel inter­vened on behalf of Jor­dan­ian King Hus­sein to crush a rev­o­lu­tion led by the Pales­tine Lib­er­a­tion Orga­ni­za­tion. In the after­math of the war in Jor­dan, dur­ing which the Jor­dan­ian mil­i­tary destroyed civic and pop­u­lar insti­tu­tions that the Pales­tin­ian Rev­o­lu­tion had built in the wreck­age of refugee camps, the CIA went as far as to place King Hus­sein direct­ly on its pay­roll. The episode addi­tion­al­ly pre­saged anoth­er boost in U.S. aid to Israel, this one astro­nom­i­cal: up to $1.15 bil­lion dol­lars between 1971 and 1973.
And onwards these rela­tion­ships extend­ed. Although the Unit­ed States' tac­ti­cal alliances have var­ied from this pat­tern at par­tic­u­lar con­junc­tures, and while there have been and con­tin­ue to exist major tac­ti­cal dis­agree­ments with­in the U.S. empire about pol­i­cy in West Asia, this gen­er­al strate­gic trend has held true into our present moment, even fol­low­ing the col­lapse of the Sovi­et Union, to the point that the Arab coun­tries burn­ing today (Iraq, Yemen, Libya, Syr­ia) hold in com­mon a his­to­ry of Arab nation­al­ist and repub­li­can state struc­tures, in con­trast to ret­ro­grade monar­chies that remain com­par­a­tive­ly sta­ble and enjoy friend­ly rela­tions with the U.S. (Sau­di Ara­bia, the Unit­ed Arab Emi­rates, Jor­dan, and so on).
The polit­i­cal goal of the Unit­ed States when obtain­ing these region­al rela­tion­ships was in at least one sense con­sis­tent with those of the French-British pow­ers when they erect­ed bor­ders between Arab soci­eties in 1916, on the basis of the Sykes-Picot Agree­ment. In the words of Ali Kadri, U.S. impe­ri­al­ism has his­tor­i­cal­ly sought to "pur­pose­ly erect bar­ri­ers between Arab states." As Kadri's argu­ment indi­cates, this is, from the stand­point of U.S. impe­ri­al­ism and Zion­ism, a ratio­nal strat­e­gy, for dimin­ished eco­nom­ic sov­er­eign­ty of Arab states has con­tributed to dimin­ished polit­i­cal sov­er­eign­ty, and vice ver­sa. That is, if we observe the his­to­ry of the Arab world across the 20th and into the 21st cen­tu­ry, it becomes clear that as the Unit­ed States and Israel achieved mil­i­tary vic­to­ries over Arab states in sev­er­al wars (1948 and 1967 ear­li­er on, 1982 in Lebanon and 1991 and 2003 in Iraq more recent­ly), the abil­i­ty of Arab states to pull their own eco­nom­ic levers (con­trol of cap­i­tal and trade and inter­est and exchange rates, to give a few exam­ples) rapid­ly shrunk. Simul­ta­ne­ous­ly, U.S. and Israeli mil­i­tary vic­to­ries against Arab states gave way to a series of Arab polit­i­cal sur­ren­ders, par­tic­u­lar­ly on the Pales­tin­ian issue, from the 1979 Camp David Accords to the 1993 Oslo nego­ti­a­tions.
The Pan-Arab idea that the Unit­ed States sought to under­mine can­not sim­ply be reduced to its ide­al of a sin­gle Arab (often artic­u­lat­ed as social­ist) state extend­ing from the North Africa, across the Lev­ant, and to the Gulf. It also pre­vailed as a liv­ing real­i­ty in the prac­ti­cal realm of grass­roots polit­i­cal orga­niz­ing. The capac­i­ties of the most impor­tant Arab left-wing and social­ist par­ties – from the Com­mu­nist par­ties to off­shoots of the Move­ment of Arab Nation­al­ists and each party's asso­ci­at­ed mass orga­ni­za­tions and unions – were always strength­ened through the for­ma­tion of cross-bor­der rela­tion­ships.
The Pan-Arab idea has also been his­tor­i­cal­ly impor­tant to the mil­i­tary capac­i­ties of the Pales­tin­ian rev­o­lu­tion­ary move­ment against impe­ri­al­ism and Zion­ism. Accord­ing to Sa'ad Sayel, the Brigadier-Gen­er­al of the Pales­tin­ian Rev­o­lu­tion in Lebanon dur­ing the hor­rif­ic war of 1975–1990, the Pales­tin­ian movement's his­toric strate­gic advan­tage lay in its Arab depth. (As Mao said in 1965 to a PLO del­e­ga­tion to Chi­na: "When you dis­cuss Israel you must keep the map of the entire Arab world before your eyes.") Sayel described the ongo­ing region­al wars of the 1980s, in Lebanon as well as the Iran-Iraq War, as "sec­ondary" con­flicts that "divert­ed from the main con­flict" with Israel. In Lebanon, Israel saw a poten­tial "con­fronta­tion state" and thus tried "to main­tain the ten­sion in the Lebanese are­na in order to pre­vent the strate­gic bal­ance in the region from being achieved." The mil­i­tary hege­mo­ny of Israel, and by exten­sion that of the Unit­ed States, there­fore relies on the frag­men­ta­tion of Arab soci­eties and, fur­ther­more, the mil­i­tary weak­ness of Arab states.
So where does Syr­ia, an Arab nation­al­ist state that pro­fess­es anti-Zion­ism in its con­sti­tu­tion, fig­ure into this pic­ture? The rela­tion­ship between the Syr­i­an Arab Repub­lic and the Pales­tine lib­er­a­tion move­ment has cer­tain­ly been fraught with debates, polit­i­cal rival­ries, and even out­right vio­lence, most noto­ri­ous­ly when Syr­i­an Pres­i­dent Hafez al-Assad ordered a mil­i­tary inter­ven­tion against the PLO in Lebanon in 1976. Pales­tin­ian crit­ics of the Syr­i­an gov­ern­ment have argued that the lat­ter will only sup­port Pales­tin­ian orga­ni­za­tions as long as they con­trol them. It is an accu­sa­tion that comes out of a his­to­ry of heavy over­lap between Syr­i­an and Pales­tin­ian pol­i­tics. There have been Pales­tin­ian fig­ures, per­haps the most notable exam­ple being Ahmed Jib­ril of the Pop­u­lar Front for the Lib­er­a­tion of Pales­tine-Gen­er­al Com­mand (PFLP-GC), who have pro­fessed sup­port for the Syr­i­an government's pro­posed strat­e­gy for anti-Zion­ist strug­gle. (The Syr­i­an Ba'ath Par­ty also had its own fac­tion in the PLO, al Saiqa.) Be all that as it may, none of these ten­sions with­in Arab nation­al­ist pol­i­tics hold major bear­ing over the view held by U.S. strate­gists, par­tic­u­lar­ly since the sec­ond Bush Admin­is­tra­tion, of the Syr­i­an government's rela­tion­ship to anti-Israel forces. For an empire seek­ing to safe­guard its Zion­ist mil­i­tary asset, mate­r­i­al resis­tance to Israeli colo­nial­ism in any form becomes unac­cept­able.
In 2006 Syr­i­an lead­er­ship met some of its promis­es to both Syr­i­ans and Pales­tini­ans by offer­ing mil­i­tary and polit­i­cal sup­port to the Arab guer­ril­la resis­tance of Hezbol­lah against Israel. To quote just one U.S. analy­sis of the war among many, offered by Major Antho­ny A. Kerch of the Marine Corps Acad­e­my, there cir­cu­lat­ed among mil­i­tary plan­ners an impres­sion that "many adver­saries will mim­ic Hezbollah's tac­tics," and, cru­cial­ly, "the assis­tance Hezbol­lah received came from coun­tries the Unit­ed States may be involved in future con­flicts with in the near future (North, Korea, Iran, Chi­na and Syr­ia)." These were part of the "con­trib­u­to­ry fac­tors to Hezbollah's suc­cess and Israel's strug­gles on the bat­tle­field." This analy­sis was cor­rob­o­rat­ed and felt in the core of the Unit­ed States' watch­dog, Israel. Most notably, the Wino­grad Commission's "Final Report" deter­mined that in 2006 "a semi-mil­i­tary orga­ni­za­tion of a few thou­sand men [Hezbol­lah] resist­ed, for a few weeks, the strongest army in the Mid­dle East, which enjoyed full air supe­ri­or­i­ty and size and tech­nol­o­gy advan­tages."
In Syr­ia, begin­ning in 2011, the Unit­ed States employed its alliances with Israel and Gulf monar­chies, main­ly Sau­di Ara­bia and Qatar, to shat­ter the con­tem­po­rary links between the Islam­ic Repub­lic of Iran and resis­tance orga­ni­za­tions. And those orga­ni­za­tions were not lim­it­ed to Hezbol­lah. The fact, for exam­ple, that left-wing Pales­tin­ian orga­ni­za­tions were able to hold open strat­e­gy con­fer­ences in Dam­as­cus before the out­break of war, is not in the slight­est way insignif­i­cant, for either U.S. impe­ri­al­ists or for anti-impe­ri­al­ists, in a region where such orga­ni­za­tions are out­lawed and forced under­ground to hide per­pet­u­al­ly and flee from the sur­veil­lance of abso­lutist mon­archs and unre­lent­ing Israeli occu­piers.
U.S. Capital and the War on Syria
To turn again, for pur­pos­es of con­tex­tu­al­iza­tion, to the U.S. empire's ear­li­er attempts to dis­mem­ber anoth­er soci­ety in South­east Asia: would the U.S. war on Viet­nam have been a "blun­der" for U.S. plan­ners if it had not led to a cri­sis of legit­i­ma­cy at home? It is a wor­thy ques­tion. Cer­tain­ly the Unit­ed States' retreat from Viet­nam came as the result of an inabil­i­ty to assert its polit­i­cal will on the Viet­namese peo­ple. Unde­ni­ably the Unit­ed States' scorched-earth mil­i­tary cam­paign faced a fun­da­men­tal dilem­ma that could not be resolved. The more resources the Unit­ed States poured into the war, the more U.S. heads of state felt the need to stay the course so that pri­or invest­ments would not have been made in vain. By the same token, the longer it remained and con­tin­ued to sus­tain mil­i­tary loss­es, the larg­er its invest­ment became, only pro­long­ing and thus deep­en­ing the shame of inevitable with­draw­al.
The expen­di­tures from the war on Viet­nam became so colos­sal that Pres­i­dent Lyn­don John­son sought, in the words of Atif A. Kabur­si and Sal­im Mansur, "to wage the war by indi­rect­ly tax­ing Amer­i­can allies through press­ing them to accept an unlim­it­ed flow of U.S. dol­lars."1 Johnson's suc­ces­sor Richard Nixon took this ini­tia­tive a step fur­ther by drop­ping the gold stan­dard. But point­ing to these prob­lems for U.S. impe­ri­al­ism does not answer a loom­ing ques­tion: why did the Unit­ed States, the lead­ing nation-state of the cap­i­tal­ist sys­tem, express its pow­er over­seas by, as Gabriel Kolko put it, "[mak­ing] South Viet­nam a sea of fire as a mat­ter of pol­i­cy, turn­ing an entire nation into a tar­get"?
That ques­tion must now be approached with the knowl­edge that the Unit­ed States, albeit through much dif­fer­ent means and in a much dif­fer­ent glob­al con­text, has again made turn­ing nations into seas of fire a mat­ter of pol­i­cy in sev­er­al Arab states. Not only is Pales­tine "anoth­er Viet­nam"; so too, we might sug­gest at this point, is Syr­ia. In Syr­ia, and indeed in all of the Arab nations tar­get­ed by the Unit­ed States, it is not only soci­eties being ripped to shreds, but the state infra­struc­tures inex­tri­ca­bly inter­twined with the fab­ric of those soci­eties. With such a fre­quen­cy of pol­i­cy, it becomes nec­es­sary also to con­sid­er the extent to which this destruc­tion is intrin­sic to the entire U.S. impe­ri­al­ist enter­prise: that as long as the Unit­ed States is an empire, there will be small­er and weak­er nations reduced to rub­ble and flames.
To ask a more con­crete ques­tion then: which sec­tors of U.S. cap­i­tal ben­e­fit from the war on Syr­ia? Any answer requires a close inspec­tion of the means by which the Unit­ed States has exe­cut­ed the war. The empire has resort­ed to scorched-earth and chem­i­cal weapon air attacks in parts of Syr­ia. For exam­ple, "U.S. Cen­tral Com­mand (CENTCOM) spokesman Maj. Josh Jacques told Air­wars and For­eign Pol­i­cy that 5,265 armor-pierc­ing 30 mm rounds con­tain­ing deplet­ed ura­ni­um (DU) were shot from Air Force A-10 fixed-wing air­craft on Nov. 16 and Nov. 22, 2015," into Syria's rur­al east.
But a large part of the rea­son Syr­ia has flus­tered ana­lysts has been that, before its direct mil­i­tary occu­pa­tion, the Unit­ed States' main mode of mil­i­tary assault has been car­ried out by proxy forces, with the arm­ing duties exe­cut­ed by the CIA as well as sub­con­tract­ed to the Sau­di and Qatari intel­li­gence ser­vices. This tac­tic of war has prece­dent in the arse­nal of U.S. impe­ri­al­ism, where­in CIA has sought out right-wing, in the Syr­i­an case anti-nation­al­ist, rebel bands to do its bid­ding off-the-books. As Andrew Cock­burn has doc­u­ment­ed, the links between the CIA and sec­tar­i­an fun­da­men­tal­ists dur­ing the Unit­ed States' covert activ­i­ties in Afghanistan in the 1980s were firm­ly entrenched to the point that joint funds with Sau­di Ara­bia would be parked in rebel fight­er recruit­ing offices in Brook­lyn on Atlantic Avenue through an orga­ni­za­tion called Mak­tab al-Khi­damat.
In Syr­ia, a sim­i­lar cam­paign took shape. As report­ed in the main­stream U.S. press in Decem­ber of 2017, Con­flict Arma­ment Research (CAR) con­duct­ed a 200-page report find­ing that "the Unit­ed States has repeat­ed­ly divert­ed EU-man­u­fac­tured weapons and ammu­ni­tion to oppo­si­tion forces in the Syr­i­an con­flict." Con­se­quent­ly, "IS forces rapid­ly gained cus­tody of sig­nif­i­cant quan­ti­ties of this mate­r­i­al." Those weapons were deliv­ered to plen­ty of unsa­vory orga­ni­za­tions besides the Islam­ic State, from Jab­hat al-Nus­ra to Nour al-Din al-Zen­ki.
The des­ti­na­tions of those weapons were nei­ther a mys­tery to the branch­es of the U.S. state involved nor even sec­tions of the U.S. media. One 2012 intel­li­gence brief from the U.S. Defense Intel­li­gence Agency stat­ed plain­ly that "the Salafist [sic], the Mus­lim Broth­er­hood, and [al Qae­da in Iraq] are the major forces dri­ving the insur­gency in Syr­ia." Estab­lish­ment U.S. media was itself in sev­er­al cas­es explic­it about the pol­i­tics of the rebels as far back as 2012, when For­eign Pol­i­cy endorsed Syr­i­an rebel fight­ers because they were, in its words, "Islamist": "…while the Islamist surge will not be a pic­nic for the Syr­i­an peo­ple," the mag­a­zine advised, casu­al­ly toss­ing off as imma­te­r­i­al the untold mis­ery and social regres­sion of an entire soci­ety, "it has… impor­tant sil­ver lin­ings for U.S. inter­ests," such as deliv­er­ing blows against Iran.2 Log­i­cal­ly, if U.S. plan­ners did not like the con­se­quences of their arms pol­i­cy in Syr­ia, of which even jour­nal­ists were aware in 2012, they could have tak­en steps to avert it then, rather than allow it to con­tin­ue upwards of anoth­er five years.
To car­ry out such a cam­paign suc­cess­ful­ly, the Unit­ed States and allied states need two things: guns and fight­ers. Meet­ing the first neces­si­ty boosts the arms indus­try; meet­ing the sec­ond pro­vides for a range of pri­vate con­trac­tors that ren­der a range of ser­vices, from out­fit­ting and train­ing armed mili­tia fight­ers, to build­ing mil­i­tary bases. Both attest to the fact that, since 1945, the U.S. mil­i­tary-indus­tri­al base has served as the cen­tral struc­tur­ing ele­ment for U.S. cap­i­tal, with the scorched-earth cam­paign against Korea from 1950 to 1953 (which Cur­tis LeMay, the Head of the Strate­gic Air Com­mand dur­ing the war, said "killed off 20 per­cent of the [North Kore­an] pop­u­la­tion") mark­ing a sig­nif­i­cant accel­er­a­tion point at which weapons man­u­fac­tur­ers deter­mined that mak­ing prod­ucts for the Defense Depart­ment was more prof­itable than enter­ing civil­ian mar­kets. The same reliance of weapons man­u­fac­tur­ers on state pur­chas­es bal­looned dur­ing the U.S. war on Viet­nam.
The war on Syr­ia explod­ed along­side – indeed, was a cru­cial com­po­nent of – a mas­sive expan­sion of glob­al arms exports over since 2011, when the Unit­ed States and its region­al part­ners launched the war. In Feb­ru­ary of this year, Israeli news­pa­per Ha'aretz quot­ed the Swedish think tank Stock­holm Inter­na­tion­al Peace Research Insti­tute as find­ing that "glob­al arms exports increased 14 per­cent dur­ing the five years to 2015." The arti­cle added that "the US [retained] top posi­tion after its sales grew 27 per­cent from the pre­vi­ous five-year peri­od."
The Syr­i­an war has in par­tic­u­lar pro­vid­ed occa­sion for the Unit­ed States to expand weapons sales to its region­al hench­men. Accord­ing to Reuters, the Oba­ma Admin­is­tra­tion offered the King­dom of Sau­di Ara­bia "more than $115 bil­lion in weapons, oth­er mil­i­tary equip­ment and train­ing, the most of any U.S. admin­is­tra­tion in the 71-year U.S.-Saudi alliance." Oba­ma also gave Israel a "record pack­age" of at least $38 bil­lion worth of weapons in a 10-year deal. Israeli war­planes, we should remem­ber, con­tin­ue to bomb Syr­i­an Army and gov­ern­ment sites, includ­ing an aer­i­al assault in Jan­u­ary 2017 of the Mez­za mil­i­tary air­port on the out­skirts of Dam­as­cus. Not to men­tion, Israel con­tin­ues to ille­gal­ly occu­py Syria's Golan Heights, offers med­ical assis­tance to anti-gov­ern­ment fight­ers (which ear­li­er fought as the Syr­i­an branch of al Qae­da in 2012), and even open­ly con­spires to use the war to expand set­tle­ments there.
The impe­ri­al­ist proxy attacks were launched amid diverse protests in a domes­tic con­text of increased pover­ty and inequal­i­ty. The eco­nom­ic con­di­tions of Syr­ia before the war reveal much about the nature of con­tem­po­rary impe­ri­al­ism as a glob­al sys­tem, and how it func­tions with­in post­colo­nial states in peri­ods of "peace," that is, when the U.S. bloc has not resort­ed to mil­i­tary assault for not achiev­ing its aims through oth­er means. After Syr­ia lost an impor­tant trad­ing part­ner with the col­lapse of the Sovi­et Union, the Inter­na­tion­al Mon­e­tary Fund and oth­er pow­er­ful finan­cial insti­tu­tions sought to pre­side over the cre­ation of new finan­cial mar­kets in the coun­try. (It must not be for­got­ten that, as pover­ty increased in Syr­ia, the IMF mar­veled with great sat­is­fac­tion at the process of pri­va­ti­za­tion.) Ben­e­fit­ting from and com­plic­it with this process were ele­ments of the Syr­i­an state. One tar­get of some of the 2011 protests, the bil­lion­aire Rami Makhlouf, in many ways per­son­i­fies this turn. Makhlouf amassed a per­son­al for­tune in sev­er­al mar­kets, includ­ing U.S. invest­ments. One exam­ple of per­son­al cor­rup­tion with­in the Syr­i­an state appa­ra­tus, a fig­ure such as Makhlouf also pre­sent­ed Syr­ia with the embryos of what could become neo­colo­nial­ism, which Sam Moyo and Paris Yeros deter­mine to be char­ac­ter­ized "in the first instance, by the trans­fer of the state appa­ra­tus to an indige­nous con­ser­v­a­tive pet­ty bour­geoisie, and, there­after, by the dual process of indige­nous cap­i­tal­ist class for­ma­tion and com­pradori­sa­tion."
Syr­ia is not alone in fac­ing this prob­lem among those states that achieved inde­pen­dence through anti-colo­nial move­ments, and the strug­gle over the nature of pri­vate cap­i­tal in Syr­i­an soci­ety and the rul­ing Ba'ath Par­ty will endure after the war's end. For those of us liv­ing inside impe­r­i­al states, our rela­tion­ship to that strug­gle will chiefly be deter­mined by our rela­tion­ship to our own gov­ern­ments. There is per­haps no clear­er illus­tra­tion of this real­i­ty than the fact that Makhlouf was sanc­tioned by the U.S., and there­by ulti­mate­ly forced to drop his U.S. invest­ments – an effect of fun­da­men­tal inequal­i­ty between nations and a stark reminder that the high­est finan­cial pow­er ulti­mate­ly lies in U.S.-based and U.S.-protected finan­cial firms.
Return­ing to the war on Syr­ia, there is then the blood-drenched corol­lary of hav­ing an "econ­o­my" built on war – the social impact. In an ear­li­er case like Viet­nam, the Unit­ed States large­ly dropped bombs and chem­i­cal defo­liants on peas­ant com­mu­ni­ties and enveloped vil­lages in flames of napalm. Today's Syr­ia is by con­trast a long­time post­colo­nial state, com­par­a­tive­ly urban­ized. This means that the U.S. war has tar­get­ed and explod­ed state insti­tu­tions, which dou­ble as sites of social repro­duc­tion, from gov­ern­ment build­ings to schools, where Syr­i­an life has been forced into the prox­im­i­ty of the mor­tar bomb and the sui­cide attack.
These atroc­i­ties con­sti­tute noth­ing short of a mas­sive attack on social invest­ment, the Syr­i­an people's wealth, for, as not­ed by the Organ­i­sa­tion for Eco­nom­ic Co-oper­a­tion and Devel­op­ment (OECD) as recent­ly as 2013, "[state-owned enter­pris­es] oper­ate across all sec­tors in Syr­ia, inspired by the Sovi­et mod­el of state own­er­ship, includ­ing in activ­i­ties such as food own­er­ship that in oth­er coun­tries of the region are owned by pri­vate oper­a­tors." Those sec­tors also include light man­u­fac­tur­ing, land­line telecom­mu­ni­ca­tion ser­vices, pub­lic banks, and more. Mean­while, along­side the expan­sion of arms mar­kets, U.S. cap­i­tal con­tin­ues to grow. The lat­est Glob­al Wealth Report from the Cred­it Suisse Research Insti­tute finds 2017 pre­sent­ed "the fastest pace of wealth cre­ation since 2012," the U.S. "an unques­tion­able leader" in glob­al wealth gains at a time when the rich­est three Amer­i­cans hold more wealth than the bot­tom half of the rest of the U.S. pop­u­la­tion.
The sig­nif­i­cance of these details can­not be under­stat­ed, for they indi­cate that sec­tions of U.S. cap­i­tal not only depend on under­min­ing Syr­i­an sov­er­eign­ty, but on destroy­ing the Syr­i­an state and evap­o­rat­ing its wealth, in what amounts to an unspeak­ably vio­lent episode of loot­ing. This avari­cious aspect of U.S. impe­ri­al­ism has actu­al­ly been the­o­rized before by rev­o­lu­tion­ar­ies in the very region in ques­tion.
In 2005, when seek­ing to devel­op a the­o­ry to explain the U.S. destruc­tion of Iraq, Soula Avramidis invoked the con­cept of the "new impe­ri­al­ism," in which it is posit­ed that "the Amer­i­can econ­o­my needs more insta­bil­i­ty abroad to main­tain the health of its cap­i­tal at home." Avramidis rec­og­nizes that "long before dis­course on 'new impe­ri­al­ism' became pop­u­lar in the West, Pales­tin­ian intel­lec­tu­als in refugee camps arrived at this very con­clu­sion by sim­ply reflect­ing upon the wretched con­di­tions of their own exis­tence." For "the the­o­ry implic­it in near­ly every issue of Al-Hadaf [the offi­cial mag­a­zine of the Pop­u­lar Front for the Lib­er­a­tion of Pales­tine] was that the strug­gle against Zion­ism was more than a strug­gle to reclaim land – it was a strug­gle against Amer­i­can cap­i­tal­ist hege­mo­ny on whose behalf Israel act­ed as a gen­darme." These Pales­tin­ian and Arab rev­o­lu­tion­ar­ies took spe­cial note of how nec­es­sary Israel's foment­ing of region­al war was to the recy­cling of dol­lars.
This is the­o­ry borne from prac­tice and applied to prac­tice, con­se­crat­ed with­in and test­ed by real­i­ty, the tribu­la­tions any use­ful the­o­ry must endure. It is the com­mu­nism of refugee camps, pro­duc­ing the­o­ry "bred by cross­ing open sew­ers and tin roofs with the abil­i­ty of human beings to exam­ine their own lives." As the PFLP put it in their own words, "that Israel is an impe­ri­al­ist and colo­nial­ist base on our land and is being used to stem the tide of rev­o­lu­tion… is a self-evi­dent fact which does not need dis­cus­sion." Why? For them this was not "mere­ly a the­o­ret­i­cal con­clu­sion but rep­re­sents [their] actu­al expe­ri­ence dur­ing the Tri­par­tite Aggres­sion of 1956, dur­ing the June 1967 war and through­out the exis­tence of Israel on [their] soil."
Those of us liv­ing inside of the beast have an inter­na­tion­al­ist oblig­a­tion to amass what­ev­er forces pos­si­ble to antag­o­nize, obstruct, and ulti­mate­ly shut down these net­works of war. In doing so, we must rec­og­nize that we face an ene­my with which par­tial com­pro­mis­es amount to total com­pro­mis­es. For an exam­ple of what this means, we can look to the issue of pri­vate con­trac­tors. In 2016, a com­pa­ny called Six3 Intel­li­gence Solu­tions Inc., based in McLean, Vir­ginia, was award­ed by the state with a con­tract for $9,578,964 to per­form unspec­i­fied work in Syr­ia. Accord­ing to a 2015 U.S. Depart­ment of Defense Press Oper­a­tion report, the same com­pa­ny had already been award­ed a "$13,967,720 mod­i­fi­ca­tion (P00003) to con­tract W560MY-15-C-0004 to ful­ly fund the base peri­od and for intel­li­gence sup­port to US Forces in Afghanistan…." In the most prac­ti­cal sense, we can­not oppose U.S. impe­ri­al­ism any­where if we active­ly or pas­sive­ly accept it in Syr­ia. To oppose U.S. impe­ri­al­ism is to oppose cap­i­tal­ism itself. Con­verse­ly, the suc­cess­es of U.S. impe­ri­al­ism in Syr­ia strength­ens its prof­its, and thus its expan­sive capac­i­ties else­where, from Hon­duras and Colom­bia to Niger and the Philip­pines, and beyond.
"Here is Jerusalem"
In Sep­tem­ber of 2017, Has­san Nas­ral­lah, the Gen­er­al-Sec­re­tary of Hezbol­lah, declared vic­to­ry for the Syr­i­an Army and its allies. "We have won the war," he said; the U.S.-Israeli-Saudi "project" in Syr­ia had failed. In a rare moment, the U.S. main­stream press agreed with Nas­ral­lah. "How the U.S. Lost the War in Syr­ia to Rus­sia and Iran," a Newsweek head­line offered a month lat­er. Con­sen­sus has emerged: the Unit­ed States has lost the war in Syr­ia for fail­ing to over­throw the Syr­i­an gov­ern­ment. But how­ev­er true it may be that the Unit­ed States has failed to achieve max­i­mal aims, up to 4,000 U.S. troops remain in Syr­ia, sta­tioned at bases dot­ted through­out the North­ern part of the coun­try. In Sep­tem­ber of 2017, Don­ald Trump's appoint­ed Ambas­sador to the Unit­ed Nations Nik­ki Haley repeat­ed on the world stage that the Unit­ed States will not be "sat­is­fied" so long as Syr­i­an Pres­i­dent Bashar al Assad remains in pow­er. It was evi­dent then that Trump had plans to con­tin­ue the war – and, as it turns out, to widen its scope.
When Trump made his announce­ment that the Unit­ed States would move its embassy from Tel Aviv to Jerusalem, which he simul­ta­ne­ous­ly declared the undi­vid­ed cap­i­tal of Israel, it came on the heels of exten­sive region­al maneu­ver­ing, attempts to re-con­sol­i­date the Unit­ed States' region­al ties to Israel and Sau­di Ara­bia, the sources of the exclu­sivist ide­olo­gies of Zion­ism and Wah­habism, respec­tive­ly. Both states would be recruit­ed for an effort to redi­rect region­al atten­tion towards a war on their mutu­al ene­my, the Islam­ic Repub­lic of Iran. Under Trump's dis­cre­tion, Israel and Sau­di Arabia's long-stand­ing rela­tion­ship burst out onto the pub­lic stage in the most dis­grace­ful imag­in­able way in the eyes of the Arab mass­es, with Sau­di Crown Prince Mohammed bin Salman open­ly ally­ing with a U.S. fig­ure who is in effect push­ing for the total col­o­niza­tion and final de-Ara­biza­tion of the pro­found­ly Arab and resilient­ly Pales­tin­ian city of Jerusalem.
Trump, the brute reac­tionary, has with this sin­gle move shed the mask of respectabil­i­ty that his pre­de­ces­sor Barack Oba­ma had so skill­ful­ly worn. With a fell swoop, Trump has offered lib­er­a­tion-mind­ed peo­ples of the world a poten­tial­ly invalu­able gift, at once rip­ping away the chimera of the so-called "Peace Process" through which the Pales­tin­ian peo­ple have been sys­tem­at­i­cal­ly robbed; expos­ing the Israeli-Sau­di col­lab­o­ra­tion that has pro­ceed­ed covert­ly in Syr­ia; and – this is the most impor­tant part – redi­rect­ing the eyes of the Arab pop­u­lar class­es towards occu­pied Pales­tine, restor­ing the right­ful­ly esteemed place of the Pales­tin­ian cause in the hearts of the world's dis­in­her­it­ed, and pro­vid­ing an anti-sec­tar­i­an ral­ly­ing point across the Arab world, in the process under­min­ing years of pro­pa­gan­da work that used sec­tar­i­an­ism to frac­ture uni­ty around Pales­tine. As demon­stra­tions gain momen­tum in the Arab world, with the Unit­ed States being the source of their ire, it remains for us in North Amer­i­ca to fig­ure out how we will seize the moment and do our part to con­tribute to the defeat of U.S. impe­ri­al­ism in the Arab world.
To find and then strength­en the nec­es­sary alliances against the U.S. war machine might seem stren­u­ous in a time of ris­ing reac­tion inside the impe­ri­al­ist core. It is, how­ev­er, increas­ing­ly evi­dent that Trump's rule is more pre­car­i­ous than his aggres­sive tone would indi­cate, and is in real­i­ty rife with intrin­sic weak­ness­es and con­tra­dic­tions, cer­tain­ly when it comes to war. After all, when Oba­ma and then Sec­re­tary of State John Ker­ry made noise about a pos­si­ble mil­i­tary inva­sion of Syr­ia in Sep­tem­ber 2013, Gallup polls revealed "Amer­i­cans' sup­port for the Unit­ed States' tak­ing mil­i­tary action against the Syr­i­an gov­ern­ment… is on track to be among the low­est for any inter­ven­tion Gallup has asked about in the last 20 years." The poll showed that the major­i­ty of Amer­i­cans, 51 per­cent, opposed tak­ing mil­i­tary action against the Syr­i­an gov­ern­ment, while 13 per­cent were unsure. Only 36 per­cent of those asked were in favor.
We can extend this sen­ti­ment direct­ly to Trump him­self. Dur­ing the cam­paign, Trump struck a pos­ture against Hillary Clinton's full throat­ed sup­port of lib­er­al impe­ri­al­ism. It was Clin­ton who promised on her cam­paign web­site to employ No-Fly Zones with the pow­er of U.S. bomber jets to pro­vide "lever­age and momen­tum for a diplo­mat­ic solu­tion that removes Assad…." Dou­glas L. Kriner of Boston Uni­ver­si­ty and Fran­cis X. Shen of the Uni­ver­si­ty of Min­neso­ta Law School recent­ly pro­duced a study that sug­gest­ed "that there is a sig­nif­i­cant and mean­ing­ful rela­tion­ship between a community's rate of mil­i­tary sac­ri­fice and its sup­port for Trump." The study stat­ed that "cen­tral to Trump's vic­to­ry was his abil­i­ty to flip three reli­ably blue states: Penn­syl­va­nia, Michi­gan, and Wis­con­sin." In terms of mil­i­tary deaths, these states "expe­ri­enced casu­al­ty rates in Iraq and Afghanistan that placed them in the mid­dle of the dis­tri­b­u­tion, nation-wide." To add to the point, Kriner and Shen's study fails to account for those Amer­i­cans tired of war who abstained from vot­ing alto­geth­er. To push for mil­i­tary bel­li­cos­i­ty while launch­ing a major class war offen­sive on behalf of the rich poten­tial­ly puts Trump and U.S. impe­ri­al­ism in a dual-sided bind. He can com­mit troops to com­bat and there­by poten­tial­ly weak­en domes­tic sup­port, or he can con­tin­ue to do as Oba­ma had done and evade pos­si­ble blame for U.S. troop casu­al­ties by out­sourc­ing war­fare to proxy rebels capa­ble of deliv­er­ing only par­tial, and not full, war suc­cess­es as in Syr­ia.
Still, the ques­tion remains as to what con­stituen­cies can be mobi­lized in such a moment. On that front, there already exists a grow­ing and seri­ous sol­i­dar­i­ty between the Pales­tin­ian and Black lib­er­a­tion move­ments, itself built on ear­li­er ground­work and link­ages made in the 1960s and 70s. Any resur­gent anti­war effort would have to meet those move­ments at an inter­sec­tion and artic­u­late itself in a way that cor­re­sponds to their strate­gic needs while help­ing to broad­en their analy­ses of the impe­ri­al­ist ene­my before us. If this could be suc­cess­ful­ly exe­cut­ed, we would have a viable force capa­ble of employ­ing a wide range of con­fronta­tion­al tac­tics against the cor­po­rate head­quar­ters of glob­al war, much the way the Black lib­er­a­tion move­ment had done with the peace move­ment against the war on Viet­nam gen­er­a­tions pri­or, bequeath­ing us a pre­cious rev­o­lu­tion­ary anti-impe­ri­al­ist tra­di­tion that expressed the impor­tance of hav­ing inside the Unit­ed States a force fun­da­men­tal­ly against the Unit­ed States. Anoth­er Viet­nam, indeed.
---
Atif A. Kabur­si and Sal­im Mansur, "From Sykes-Picot Through Ban­dung to Oslo: Whith­er the Arab World?", Arab Stud­ies Quar­ter­ly 18, no. 4 (1996), 11. ↩

This endorse­ment, a psy­cho­path­ic death wish for and bla­tant threat to mil­lions of peo­ple deliv­ered by suit-and-tie mold­ers of polit­i­cal respectabil­i­ty, should be seen as symp­to­matic of the cul­ture of U.S. impe­ri­al­ism at the moment. ↩