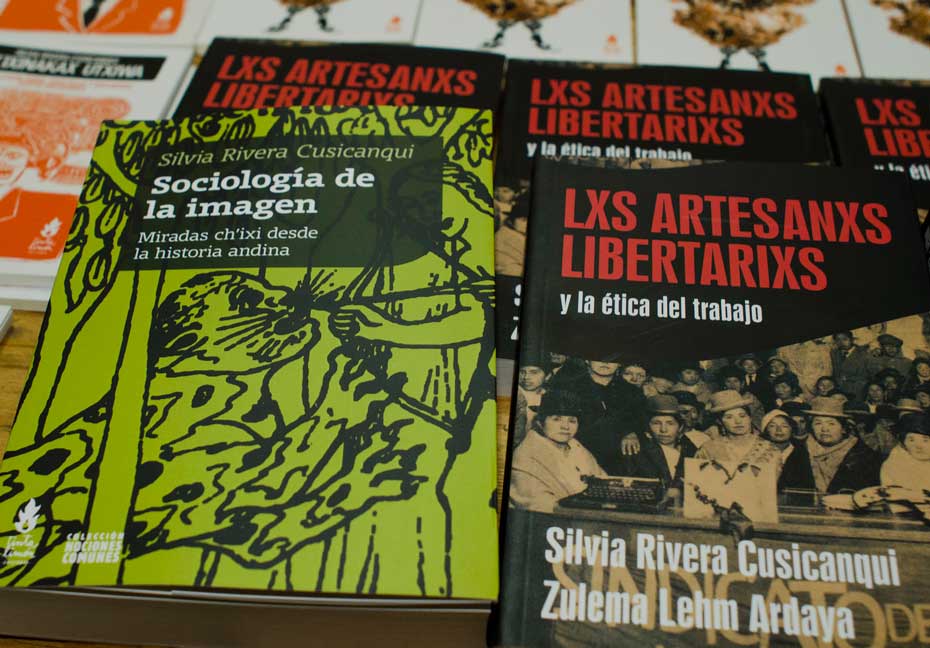 Sil­via Rivera Cusi­can­qui is an Aymara activist, soci­ol­o­gist, and oral his­to­ri­an who has worked with indige­nous move­ments in Bolivia over the last four decades. In August 2015, she vis­it­ed Buenos Aires to par­tic­i­pate in a sem­i­nar orga­nized by the Insti­tu­to de Altos Estu­dios Sociales (IDAES) of the Uni­ver­si­ty of San Martín, the Soci­ol­o­gy Depart­ment of the Uni­ver­si­ty of Buenos Aires and the Pen­sar en movimien­to pro­gram of the Uni­ver­si­dad Nacional de Tres de Febrero. Rivera Cusi­can­qui also pre­sent­ed her recent book Soci­ología de la ima­gen (Soci­ol­o­gy of the Image) and vis­it­ed the Ezeiza women's pris­on while in Buenos Aires. In this piece, Veróni­ca Gago reflects on Rivera Cusicanqui's vis­it, giv­ing us insight into the devel­op­ment of her thought and method, her cri­tique of cer­tain forms of indige­nous iden­ti­ty pol­i­tics, as well as the state of anti­colo­nial strug­gles in Bolivia more broad­ly.
Read­ing Lenin like one reads the I Ching, open­ing it up ran­dom­ly and find­ing the phrase: "We must dream, but on the con­di­tion of firm­ly believ­ing in your dreams, of day to day com­par­ing real­i­ty to the ideas that we have it, of metic­u­lous­ly achiev­ing our fan­ta­sy." Sil­via Rivera Cusi­can­qui recounts that this quote was the key to her res­cue when she was faced with a the­sis pan­el that demand­ed evi­dence of puri­ty that her the­o­ret­i­cal work did not have. Nobody was going to object to a phrase from Lenin, and find­ing Lenin speak­ing of fan­ta­sy was a dis­cov­ery to trea­sure. It was the 1970s in Bolivia and Sil­via was grad­u­at­ing as a soci­ol­o­gist. Lat­er, her Mas­ters' the­sis was lost in a raid by the mil­i­tary gov­ern­ment. She went into exile in Buenos Aires, at the begin­ning of that decade, when she was preg­nant with her first daugh­ter and after hav­ing been a pris­on­er. But she didn't last long: she was con­duct­ing sur­veys in the urban periph­ery and peo­ple bare­ly respond­ed to her. "I seemed invis­i­ble," she remem­bers. She went to the north and there she felt more com­fort­able and acquired a last­ing knowl­edge of smug­gling and a habit of nev­er buy­ing fur­ni­ture, but rather mak­ing it out detach­able items, with bricks and boards.
Sil­via Rivera Cusi­can­qui derives a series of method­olog­i­cal prin­ci­ples that become a feast for the more than one hun­dred stu­dents that meet dur­ing the three day sem­i­nar in Buenos Aires. To be "icon­o­clas­tic and irrev­er­ent" with the­o­ry are two words heard over and over again, like a mantra: first they are repeat­ed, then they are tast­ed, and when they acquire a rhythm in har­mony with the breath, they open oth­er means of trans­mis­sion.
In Bolivia, acad­e­mia was always an "elu­sive and dis­tant" good, Sil­via com­ments. That "dis­ad­van­tage," how­ev­er, became an advan­tage when it came to relat­ing with books and the­o­ry in gen­er­al. "We dis­cov­ered Euro­pean provin­cial­ism. For exam­ple, the British don't read the French. Obvi­ous­ly, this is not seen from here, because we attrib­ute a uni­ver­sal­i­ty to them. But we are less provin­cial on this con­ti­nent: we read every­thing that comes to us, and under the prin­ci­ple of selec­tiv­i­ty that every­thing is use­ful accord­ing to social emer­gences. Thus we have the luck of skip­ping over var­i­ous fads, because they arrived late or because they seem to come from anoth­er world, and of train­ing our­selves in a com­bi­na­tion­al free­dom." Hav­ing few books, in con­trast to the "cur­rent hyper acces­si­bil­i­ty," required "extract­ing as much as pos­si­ble from them, but also to make the secu­ri­ty of our thought frag­ile, begin­ning from real­i­ty, as Marx pro­pos­es, for whom the real takes prece­dence over thought."
To have curios­i­ty, fig­ure out, com­mu­ni­cate
With the­se three verbs, Rivera Cusi­can­qui strung togeth­er her method­olog­i­cal pro­pos­al as a series of ges­tures. First, curios­i­ty, which comes from a periph­er­al per­spec­tive: that of the vagabond, of the poet­ic fig­ure of the fla­neur that Ben­jam­in evoked, as a capac­i­ty to con­nect het­ero­ge­neous ele­ments, thanks to the very mode of pass­ing through, tran­sit­ing, wan­der­ing. The periph­er­al per­spec­tive incor­po­rates a cor­po­re­al per­cep­tion. It makes a metaphor out of the explorato­ry inves­ti­ga­tion. It envelops an alert state. It is made in move­ment and holds onto a cer­tain famil­iar­i­ty with what has been called cre­ative atten­tion.
A sec­ond step, fig­ur­ing out, is fol­low­ing the clues. It is the focused look. And there­fore, as Sil­via insists: "the first thing is to clar­i­fy the moti­va­tion­al 'why' between one's self and that which one is inves­ti­gat­ing." She says it because it high­lights an irre­place­able task: to dis­cov­er "the metaphor­i­cal con­nec­tion between research top­ics and lived expe­ri­ence," because only scru­ti­niz­ing that vital com­pro­mise with the "top­ics" is it pos­si­ble to put forth true hypothe­ses, root­ed in the­o­ry, to the point of turn­ing them into winks that are inter­nal to the writ­ing itself and not rigid cita­tions of author­i­ty.
Final­ly, how to com­mu­ni­cate? Speak­ing to oth­ers, speak­ing with oth­ers. There is a dia­log­ic-expres­sive lev­el that includes "the mod­esty of insert­ing the word," and, at the same time, "the recog­ni­tion of the autho­ri­al effect of lis­ten­ing" and, final­ly, the art of writ­ing, or of film­ing, or of find­ing for­mats almost in the mode of a col­lage. Speak­ing after lis­ten­ing, because lis­ten­ing is also a way of watch­ing, and an appa­ra­tus for cre­at­ing com­pre­hen­sion as empa­thy, capa­ble of becom­ing an ele­ment of inter­sub­jec­tiv­i­ty. Thus, epis­te­mol­o­gy becomes an ethics. Inter­views, a type of hap­pen­ing. The key is the man­age­ment of the emo­tion­al ener­gy of mem­o­ry: its poly­va­lence beyond regret and the epic, and its capac­i­ty of respect for the ver­sions beyond the memo­ri­al­ism of muse­ums.
In a small green note­book, Sil­via has some brief notes that grow and pro­lif­er­ate when they pass into the oral reg­is­ter, build­ing an archi­tec­ture of images, con­cepts, and nar­ra­tives that enable her to affirm – "released from the body," as she puts it – that soci­ol­o­gy is a branch of lit­er­a­ture.
Read­ing Fanon through Faus­to Reina­ga
A cer­tain alche­my in the process of con­nec­tions reveals a sin­gu­lar­i­ty. For exam­ple, in Bolivia Frantz Fanon was read through Faus­to Reina­ga, a lead­er of Kataris­mo, the indi­genist guer­ril­la move­ment of the 1970s, and the author of the clas­sic La rev­olu­ción india.
Sil­via was involved with that move­ment as a col­lec­tive moment of polit­i­cal rad­i­cal­iza­tion. Years lat­er, in the 1980s, she was one of the founders of the Oral His­to­ry Work­shop, which explored the com­mu­ni­tar­i­an and anar­chist cur­rent of strug­gles, which was cir­cu­lat­ed in pam­phlets and radio dra­mas and had reper­cus­sions in the pop­u­lar move­ments in the fol­low­ing years, espe­cial­ly in the orga­ni­za­tion of the ayl­lus of west­ern Bolivia, the CONAMAQ. The result of that work, Lxs arte­sanxs lib­er­tar­ixs was reed­it­ed recent­ly (Tin­ta Limón and Madre­Sel­va), com­pil­ing the union his­to­ry of the 1920s, before the Cha­co War, but also, fol­low­ing the mas­sacre (more than 100,000 lives were lost from both sides), the pro­tag­o­nism of the fem­i­nine unions that brought togeth­er florists, house­wives, mar­ket ven­dors, and cooks.
She had pre­vi­ous­ly writ­ten a book that became indis­pens­able: Oppressed but not Defeat­ed. Peas­ant Strug­gles the Aymara and Qhich­wa Strug­gles in Bolivia, 1900-1980, where she demon­strates the "log­ic of rebel­lion" that nur­tured the revolts of that whole peri­od, until the coup again­st Gar­cía Meza in July 1980. It was car­ried out while Sil­via lived in the coun­tryside, where she was in con­tact with Katarist and Indi­an­ist mil­i­tants. First edit­ed by an edi­to­ri­al in La Paz and the Con­fed­eración Sindi­cal Úni­ca de Tra­ba­jadores Campesinos de Bolivia (CSUTCB), accord­ing to Sil­via, the book lat­er become part of a "reformist appro­pri­a­tion by part of the 'pluri-mul­ti' gen­er­a­tion of intel­lec­tu­als, which has con­vinced me of the rhetor­i­cal abil­i­ties of the elites and their enor­mous flex­i­bil­i­ty for mak­ing over col­lec­tive guilt and turn­ing it into a matrix of dom­i­na­tion that thus renews its colo­nial dimen­sion."
Rivera Cusi­can­qui has an art, and it is that of escap­ing clas­si­fi­ca­tions, espe­cial­ly of the exoti­ciz­ing places where they want to place her. She says that for this rea­son they often think that she is an anthro­pol­o­gist. She laughs and bap­tizes her­self as a "non-iden­ti­fied eth­nic object." Some­times she also refers to her­self as a sochol­o­gist, a mix of chola, Boli­vian par­lance for an urban­ized Aymara wom­an, and soci­ol­o­gist; the term was once used to dis­cred­it her, but now she has turned it into a flag. She sim­i­lar­ly plays with the term bir­chola (a com­bi­na­tion of chola and bir­locha, which is what they would, in con­trast, call wom­en whose dress sig­nals upper class aspi­ra­tions), a fig­ure that Sil­via inves­ti­gat­ed among the migrants of the pop­u­lous city of El Alto, the periph­er­al belt that sur­rounds La Paz. The­se are not twists and turns. They are flash­es of a deep laugh and a mer­ci­less cri­tique again­st the essen­tial­iza­tion of the indige­nous. "We are all Indi­ans as col­o­nized peo­ples. Decol­o­niz­ing one's self is to stop being Indi­an and to become peo­ple. Peo­ple is an inter­est­ing word because it is said in very dif­fer­ent ways in dif­fer­ent lan­guages," she stat­ed in the keynote speech at the Soci­ol­o­gy Con­fer­ence at the Uni­ver­si­ty of Buenos Aires. And she added anoth­er twist to this idea: "I am opposed to the phal­lo­cen­tric and Chris­tian metaphor of the Tow­er of Babel because it sees lin­guis­tic diver­si­ty as a pun­ish­ment. This plu­ral­i­ty is due to the fact that earth needs many lan­guages to speak of itself and not because of the curse of a Chris­tian god who was angry with men."
In this invec­tive, the native (orig­i­nar­io) is anoth­er term that Rivera Cusi­can­qui has sub­stan­tial­ly cri­tiqued. "It is a word that divides, that iso­lates the Indi­ans, and, above all, negates their con­di­tion as the major­i­ty so that they rec­og­nize them­selves through a series of rights that restricts them to being a minor­i­ty from the state's point of view." Addi­tion­al­ly, impor­tant his­tor­i­cal inves­ti­ga­tions have already demon­strat­ed the ver­sa­til­i­ty of that fig­ure: for exam­ple, when Tris­tan Platt nar­rates the native's con­ver­sion into an out­sider, Sil­via remem­bers. Fil­i­a­tions are also the effect of mon­tage, and, when they are not frozen in stereo­types, process­es of becom­ing. "It must have to do with the fact that in Bolivia, instead of psy­cho­an­a­lyz­ing our­selves like you do here [in Buenos Aires], we go out par­ty­ing," she spec­u­lates.
It must be remem­bered that the post­colo­nial debates were first trans­lat­ed into Span­ish in Bolivia, in a com­pi­la­tion edit­ed by Sil­via along with Rossana Bar­ragán. Rivera Cusi­can­qui skips over and turns cat­e­gories around again: "The post­colo­nial is a desire, the anti­colo­nial is a strug­gle, the decolo­nial is an obnox­ious fash­ion­able neol­o­gism," she syn­the­sizes. To rad­i­cal­ize oth­er­ness, "we must deep­en and rad­i­cal­ize dif­fer­ence: in, with and again­st the sub­al­terns." This is a for­mu­la that also allows for cir­cum­vent­ing the per­verse rela­tion­ship that is con­struct­ed when the struc­ture is "indige­nous resent­ment and non-indige­nous guilt," the affec­tive basis of pop­ulism. It is not sim­ply about "invert­ing the hier­ar­chy with­out touch­ing the dual­ism (Guha dix­it)" and using the catch­phrase of Euro­cen­trism to con­struct new limpid bina­ries. This declas­si­fy­ing move­ment that Sil­via describes is what enables us to even under­stand "whiten­ing process­es as sur­vival strate­gies: you must read there who is appro­pri­at­ing force and not who wal­lows in pity or who is no longer pure." Hence too, the force of com­bi­na­tion­al lan­guages togeth­er with the capac­i­ty for deal­ing with con­tin­gen­cy and inte­grat­ing the for­eign. The effect is a con­di­tion of "palimpsest" with which Sil­via reads the super­im­posed lay­ers in a city (a "stratig­ra­phy of the urban"), in col­lec­tive mem­o­ries, lan­guages, and the com­ings and goings of both resis­tance and com­merce. Colo­nial­ism is expressed negat­ing the human­i­ty of oth­ers: "this is why dis­pos­able fig­ures appear today over whom the colo­nial dynam­ic is renewed," she says in con­ver­sa­tions with the­o­riza­tions like those of Achille Mbe­m­be. But, she clar­i­fies, decol­o­niza­tion is a group task: "You can­not decol­o­nize on your own, because, as Jim Mor­rison and also Fou­cault said, we car­ry the lords inside of us because of cow­ardice and lazi­ness."
The con­cept that Sil­via works with for this epis­te­mol­o­gy as a decol­o­niz­ing prac­tice is that of ch'ixi: a ver­sion of the notion of the mot­ley the­o­rized by the soci­ol­o­gist René Zavale­ta Mer­cado, with whom she main­tained an intense polit­i­cal and intel­lec­tu­al exchange. "I think that it is a tal­is­man-word, that enables us to go beyond the emblem­at­ic iden­ti­ties of eth­nop­o­l­i­tics. And I also think that it has its aura in cer­tain states of col­lec­tive avail­abil­i­ty to make words pol­y­semic. And it also allows for read­ing back­wards and turn­ing writ­ing into a capac­i­ty for affil­i­a­tion. Sil­via Rivera Cusi­can­qui con­fessed to hav­ing "nos­tal­gia for the ances­tors." Nos­tal­gia became desire and she final­ly found a mechan­ic uncle while inves­ti­gat­ing the anar­chist archive: Luis Cusi­can­qui was the author of an anar­chist man­i­festo addressed to Indi­ans and campesinos in 1929.
Death of a Dis­ci­pline. Birth of an (un)discipline
Sil­via speaks of Aymara as an "agglu­ti­na­tive" lan­guage, because in it the same terms can vary accord­ing to the suf­fix­es, con­texts of enun­ci­a­tions, and with each speci­fic oper­a­tion of sig­ni­fi­ca­tion, as well as around rhetor­i­cal strate­gies. She also sub­mits her own the­o­ry to that same vari­a­tion, to the point of say­ing: "Some time ago, I acquired the habit of pub­licly repu­di­at­ing my pre­vi­ous work." That this pos­si­bil­i­ty is con­nect­ed to a fem­i­nine tra­jec­to­ry is not a minor issue: it enacts again "the advan­tage of the dis­ad­van­tage, the affir­ma­tive side of our deval­oriza­tion." And it also per­forms its "own epis­te­me" which she insists on with dis­re­gard and irrev­er­ence, capa­ble of includ­ing non-lin­ear and oppo­site terms, zones of con­flict and encoun­ter, new points of depar­ture.
When Gay­a­tri Spi­vak vis­it­ed Bolivia, despite a pro­posed list of offi­cial trans­la­tors, it was Sil­via who decid­ed to do the simul­ta­ne­ous trans­la­tion, but, above all, who show­cased the undis­ci­pline of the text and of lin­ear trans­la­tion. "How to trans­late the term dou­ble bind belong­ing to the schizo that Spi­vak uses into Span­ish? In Aymara there is an exact word for that, which doesn't exist in Span­ish: it is pä chuy­ma, which means hav­ing the soul divid­ed by two man­dates that are impos­si­ble to ful­fill." Addi­tion­al­ly, the­se trans­la­tion exer­cis­es, Sil­via says, reveal that today all words are being ques­tioned: "This is a sign of Pachaku­tik, of a time of change."
In this quag­mire, there are pro­ce­dures that help: with the flash back and deja vu (that she uses in her books but also in sev­er­al videos that she has direct­ed and filmed), Sil­via returns to col­lec­tive mem­o­ry as a series of mon­tages that are updat­ed accord­ing to the ebb and flow of strug­gles, but that unfold as pro­pi­tia­to­ry lan­guages of jus­tice. "There is a guide that we make our­selves and that has to do with the thoughts pro­duced pre­cise­ly in moments of dan­ger." Thus, for exam­ple, she weaves an alliance with Waman Puma de Ayala, the author of the First New Chron­i­cle and Good Gov­ern­ment (1612-1615 approx­i­mate­ly): a one thou­sand page let­ter to the King of Spain with more than three hun­dred ink draw­ings that Sil­via ana­lyzes under the frame of her "soci­ol­o­gy of the image." That book enables her to smug­gle her­self onto one of those draw­ings, anachro­nis­ti­cal­ly super­im­pos­ing her­self. The mon­tage would give us a poet-astrologer: "walk­ing, meet­ing, cre­at­ing," the verbs of a method in move­ment, with the hori­zon of an "intel­lec­tu­al artistry," that does not allow for expro­pri­at­ing the debate over the idea itself of what is anoth­er view of total­i­ty. This was exposed in the project Prin­ci­p­io Poto­si Rever­so, a book-cat­a­logue that Sil­via cre­at­ed with the Ch'ixi Col­lec­tive that nar­rates a his­to­ry going from the colo­nial mines to neo-extrac­tivism.
The image, inter­ro­gat­ed in this way, becomes the­o­ry. It is not an illus­tra­tion. It requires con­fi­dence in the auton­o­my of per­cep­tion that con­sists in see­ing with the whole body, as she said when she pre­sent­ed the new book in the Cazona de Flo­res in front of near­ly two hun­dred peo­ple: Soci­ol­o­gy of the Image. The Ch'ixi Gaze from Andean His­to­ry (Tin­ta Limón).
Find­ing one's own voice: from read­ing to writ­ing
We entered the women's pris­on of Ezeiza with a chill­ing cold, along with work­shop par­tic­i­pants and teach­ers. But once inside, the cli­mate changed. There were some pris­on­ers who were study­ing soci­ol­o­gy and oth­ers who par­tic­i­pate in work­shops with the orga­ni­za­tion Yo no fui. The talk spilled over into knowl­edges of sur­vival, the most intel­li­gent ones, those that cre­ate a pow­er out of weak­ness. It was in an audi­to­ri­um but Sil­via did not go on the stage. She sat down and lat­er start­ed to walk while she talked.
"The voice that is irre­place­able is one's own. Nar­rat­ing one's own life to a cell­mate in a night of insom­nia is to co-inves­ti­gate, to already be part of the artistry of oral his­to­ry. There­fore the key is to care for the free­dom that you feel with­in your­self and to use it to read through affin­i­ty: you must feel that you gov­ern the read­ing, read­ing only what smells the best, from back to front, in pieces, and lat­er, writ­ing as a ges­ture of care and fideli­ty with your­selves, as an exer­cise of free­dom."
Sil­via recount­ed that when she gave soci­ol­o­gy class­es in the pris­on of Chon­chocor­ro (the men's pris­on of La Paz), she did a "fly­ers" work­shop: kites that they used to com­mu­ni­cate with pris­on­ers in the San Pedro pris­on, from the patio where they spent the day. "It was only a small ges­ture, but it freed ener­gy. And free­dom is a ges­ture." For her, the pris­on was like an "upside down world," "because what is small out­side is mag­ni­fied on the inside and vice ver­sa." The pris­on­ers in Ezeiza agreed with that image. They also said that they had nev­er imag­ined read­ing Niet­zsche, but that all of them were impact­ed by that apho­rism that says that what doesn't kill you makes you stronger, of the impor­tance of know­ing that they are there for a while, but that from then on they should also project the out­side and encour­age them­selves to do things that they had nev­er imag­ined they would do. They had also recent­ly car­ried out a sit-down strike again­st a mea­sure that would deduct the time of study and work­shops from the account­ing of the work hours.
Sil­via, a strik­er with his­to­ry, also recount­ed the strate­gies of resis­tance that they used in 2008 when the indus­tri­al­ists who man­age the rice, oil, meat, and wheat indus­tries attempt­ed a coup again­st Evo. "All sorts of recipes start­ing cir­cu­lat­ing about how to dis­pense with those food­stuffs, then marked by a class evil. That type of pop­u­lar wis­dom, which demon­strates how con­sump­tion is polit­i­cal, for exam­ple, is made up of small acts but that are essen­tial for cre­at­ing cracks in the rela­tions of force," Sil­via plot­ted.
And she returned to a recipe, which accord­ing to her is unbeat­able: "When you write, breathe deeply. It is artistry, the ges­ture of a work­er. And when you read what you have writ­ten, breathe again until you feel that there is a rhythm. The texts have to learn to dance."
Think­ing in Move­ment
Again, it is a ques­tion of rhythm: "It is about know­ing with the chuy­ma, which includes the lung, heart, and liv­er. Know­ing is breath­ing and beat­ing. And it sup­pos­es a metab­o­lism and a rhythm with the cos­mos." Thus know­ing is polit­i­cal prac­tice: "The prac­tice of the hunger strike and walk­ing for days in a mul­ti­tudi­nous march has the val­ue of silence and gen­er­at­ing a rhythm and col­lec­tive breath that act as a true per­for­mance," she says recall­ing the large protests in defense of the TIPNIS in 2011. "There is then, in the­se spaces of the unsaid, a set of sounds, ges­tures, move­ments that car­ry liv­ing traces of colo­nial­ism and that resist ratio­nal­iza­tion, because their ratio­nal­iza­tion is uncom­fort­able, it chal­lenges the com­fort­able dream of lib­er­al soci­ety."
The dis­place­ment of cen­ters is a fact, Sil­via says (addi­tion­al­ly insist­ing that if we are label­ing it from where we are sit­u­at­ed, the East refers to Europe!). But in the periph­eries there is also an impulse to con­struct new cen­ters. This is what is hap­pen­ing, she says, in the Boli­vian process: "Evo eclipses the uncer­tain­ty, the prin­ci­ple of plu­ral­i­ty of the strug­gles. The entire state appa­ra­tus is direct­ed to that." Sil­via is cur­rent­ly part of a project called El Tam­bo Colec­tivo, where they hold cours­es and activ­i­ties, par­ties and pre­sen­ta­tions. She briefly worked with the MAS gov­ern­ment in its begin­ning, in a cam­paign for the legal­iza­tion of the coca leaf. Today her posi­tion is one of rad­i­cal cri­tique that can be read here in an arti­cle whose title antic­i­pates its argu­ment: "Myth and Devel­op­ment in Bolivia. The Colo­nial Turn of the MAS gov­ern­ment."
We must dis­cuss what is closed off. For exam­ple, what would be "our own ver­sion of devel­op­ment, almost as an econ­o­my of desire. A sort of desire between what one has and what one desires." Sil­via recounts how the notion of Buen Vivir is part of a broad­er apho­rism, that places con­crete require­ments, which makes it dif­fi­cult to reduce it to a sim­ple or gov­ern­men­tal for­mu­la. Addi­tion­al­ly, the desire for change and "col­lec­tive desire in gen­er­al is out­side of real­ism as it is pre­sent­ed from pow­er. That is the ember that must be cared for."
–Trans­lat­ed by Liz Mason-Deese and Robert Cavooris