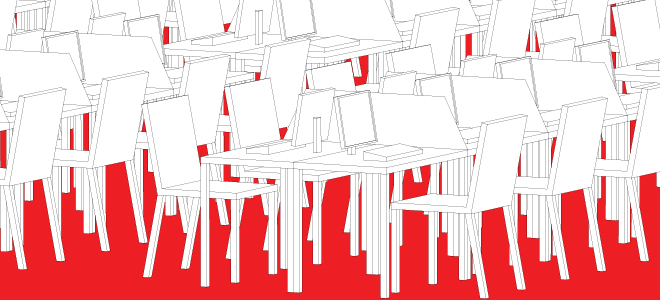 The View­point web­site has been redesigned, thanks to the excel­lent work of Peter Rood, and the illus­tra­tions of Steven Zam­bra­no Cas­cante. We're still iron­ing out some kinks, so bear with us; if you notice any bro­ken links or oth­er prob­lems, please let us know at view­point [at] viewpointmag.com.
Our third issue, on the theme "Work­ers' Inquiry," is just around the cor­ner. Until then, here's a small taste of what's to come. This issue will present, along­side a wide range of oth­er mate­r­i­al, the first Eng­lish trans­la­tions of the path­break­ing texts of Romano Alquati. This excerpt, trans­lat­ed by Evan Calder Williams, is from an arti­cle first pub­lished in 1964 in Classe Opera­ia.
---
Romano Alquati, "Struggle at FIAT"
In the frame­work of the Cen­ter-Left, the plat­form of the "mod­ern con­tract" once again revealed a boss cer­tain of his abil­i­ty to quick­ly retake full polit­i­cal con­trol; it demand­ed the "col­lab­o­ra­tion" of work­ers with a mas­sive and ratio­nal­ized rise in pro­duc­tiv­i­ty through a fur­ther social­iza­tion of work: "automa­tion," "plu­ral­is­tic pro­gram­ming," "State reform"; the work­ing class is recom­posed as the Social Brain of cap­i­tal­ist pro­duc­tion, impris­oned in an even high­er lev­el of dead labor, of machines, which man­age the work­ing class with greater ratio­nal­i­ty yet set them­selves against those work­ers and squash them through the polit­i­cal dom­i­na­tion of cap­i­tal.
If the work­ers had fought for this con­tract that con­tained only the boss's needs, that same strug­gle would already be its exe­cu­tion.
But the unions, who have to medi­ate the project, no longer have a hold on it… So the work­ing class suc­ceed­ed in catch­ing the project off guard: actu­al­ly uni­fy­ing all their strug­gles through the unex­pect­ed inser­tion of 100,000 FIAT met­al work­ers into the con­trac­tu­al met­al­work­ers' strike, they explod­ed with uni­ty in front of the fac­to­ry gates, in the pick­ets, and in the piaz­za bat­tles of all the fac­to­ries, sec­tors, and regions against the union-led and demo­c­ra­t­ic plan for the strike. Faced with this work­er uni­ty, the weak­ness of the boss becomes evi­dent. Through a polit­i­cal "auto­sug­ges­tion" of uni­fied strug­gle, the work­ing class suc­ceed­ed in mak­ing its leap with­in the leap of cap­i­tal. With this strate­gic vic­to­ry for the work­ers, the per­spec­tive changed: "flu­id pas­sages" now show them­selves as "sud­den leaps" and as occa­sions for the work­ing class to polit­i­cal­ly orga­nize, to reuni­fy itself now out­side the polit­i­cal con­trol of the boss.
….
What the work­ers like about the wild­cat is above all its unpre­dictabil­i­ty: the unpre­dictabil­i­ty of its gen­er­al­ized rota­tion in time and in space. The polit­i­cal scope of this form of work­ers' strug­gle can be seen in this: a) it demands an "invis­i­ble orga­ni­za­tion" that does not insti­tu­tion­al­ize itself as an autonomous orga­ni­za­tion with­in the cap­i­tal­ist pro­duc­tion process; b) it actu­al­izes itself through a con­tin­u­ous and unpre­dictable rota­tion of the tac­tics, meth­ods, times, and places of the strike; c) it demands noth­ing.
It's clear there­fore that work­ers don't take it as the only form of strug­gle, but they do see it as the most advanced lev­el of "non-col­lab­o­ra­tion."