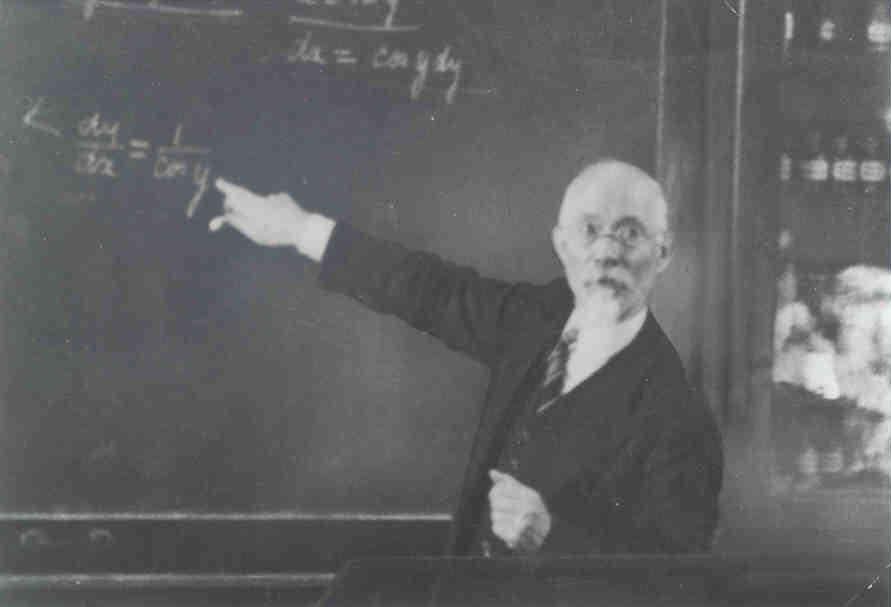 These two let­ters rep­re­sent a con­tin­u­a­tion of the cor­re­spon­dence between Cor­nelius Cas­to­ri­adis and Anton Pan­nekoek, trans­lat­ed in our first issue with a his­tor­i­cal intro­duc­tion. Anoth­er analy­sis of these let­ters, by Chris­tos Mem­os, is avail­able free online in Cri­tique: Jour­nal of Social­ist The­o­ry. The French ver­sions are repro­duced with­in the account of the cor­re­spon­dence at mondialisme.org. Here Cas­to­ri­adis and Pan­nekoek dis­cuss var­i­ous pub­li­ca­tion issues, but also con­tin­ue their exchange on the polit­i­cal themes intro­duced in their pre­vi­ous let­ters, espe­cial­ly the nature of the par­ty. Pan­nekoek ends with a sur­pris­ing antic­i­pa­tion, in 1954, of the anti-war move­ment and the New Left. We would like to thank Steve Wright for bring­ing these let­ters to our atten­tion. —Asad Haider and Salar Mohan­desi.
Cas­to­ri­adis:
Excuse me for respond­ing a bit late to your let­ter of June 15; I was away from Paris and I want­ed to respond to you after a dis­cus­sion with the com­rades in our group. Mean­while, I also received your let­ter of August 10, with the arti­cle on Marx­ist "ethics," which we have also dis­cussed.
Con­cern­ing your June 15 let­ter, we have unan­i­mous­ly decid­ed to pub­lish it in the next issue (15) of Social­ism or Bar­barism. It can cer­tain­ly help read­ers to bet­ter under­stand your point of view, on the ques­tion of the par­ty as well as on the char­ac­ter of the Russ­ian Rev­o­lu­tion. As for me, I don't think I per­son­al­ly have to add any­thing impor­tant to what I wrote in num­ber 14. I would just like to bring to your atten­tion that I have nev­er thought "that we could defeat the PC [Com­mu­nist Par­ty] by copy­ing its meth­ods," and I have always said that the work­ing class – or its van­guard – needs a new mode of orga­ni­za­tion, which cor­re­sponds to the neces­si­ties of the strug­gle against the bureau­cra­cy, not just the exter­nal and real­ized bureau­cra­cy (that of the PC), but also the poten­tial inte­ri­or bureau­cra­cy. I say: the work­ing class needs an orga­ni­za­tion before the con­sti­tu­tion of coun­cils; you respond: it does not need an orga­ni­za­tion of a Stal­in­ist kind. We are in agree­ment, but your the­sis requires you to show that an orga­ni­za­tion of a Stal­in­ist kind is the only real­iz­able orga­ni­za­tion. I think any­way that on this ter­rain the dis­cus­sion can't go much fur­ther; I intend to take up the ques­tion start­ing with the text "Intel­lec­tu­als and Work­ers" which was pub­lished in num­ber 14 of Social­ism or Bar­barism, and I hope to be able to pub­lish an arti­cle on it in num­ber 16. I dare say that at this moment we will be able to take up the dis­cus­sion in a more fecund man­ner.
As for your arti­cle against Rubel, we thought that it would be very dif­fi­cult to pub­lish a cri­tique of a book which has not yet appeared in pub­lic. Rubel's the­sis real­ly only exists as a typed man­u­script, the pub­lic (includ­ing us) only knows it from the report done on it in Le Monde, by Jean Lacroix if I'm not mis­tak­en, who must have only attend­ed the oral dis­cus­sion of the the­sis on the day of its defense, and not real­ly read it; in any case, it seems to me dif­fi­cult to do a cri­tique of a book from a news­pa­per report. It is true that Rubel has already revealed his con­cep­tion, which as you very cor­rect­ly say is not new, in his intro­duc­tion to Marx's Pages choisies [Max­im­i­lien Rubel, Marx: Pages choisies pour une éthique social­ist, M. Riv­ière, Paris, 1948]; but, since he takes the trou­ble to write a book on the ques­tion, peo­ple right­ly think that we should wait to see the devel­op­ment of his posi­tion and the argu­ments that accom­pa­ny it. Since for the moment, we are prac­ti­cal­ly going to bat­tle over a voca­ble… We ask you there­fore to be pre­pared to wait for the pub­li­ca­tion of Rubel's book; we will send you a copy on its pub­li­ca­tion, and maybe you will see there is no rea­son to change any­thing in your arti­cle – but we will have been in accord with the rules of lit­er­ary pro­pri­ety.
Fra­ter­nal­ly,
Pierre Chaulieu
PS It is due to a mis­un­der­stand­ing that you think that an error has slipped into the trans­la­tion of your lat­er. The expres­sion (p. 40, line 14 in num­ber 14) "nous n'avons que faire d'un par­ti révo­lu­tion­naire" is a Gal­li­cism which means "we have no need, we have no use for a rev­o­lu­tion­ary par­ty" – it is a fair­ly close trans­la­tion of your Eng­lish "we have no use for…" [The anony­mous Eng­lish trans­la­tion, repub­lished in View­point, has: "In the con­quest of pow­er we have no inter­est in a "rev­o­lu­tion­ary par­ty" that will take the lead­er­ship of the pro­le­tar­i­an rev­o­lu­tion."]
Pan­nekoek:
Thank you for your August 22 let­ter. Let me reverse the order of sub­jects to address regard­ing the arti­cle against Rubel. I read his Pages choisies in the past, but with­out giv­ing it much atten­tion, even though, in our cor­re­spon­dence, he often intro­duced eth­i­cal asser­tions and I tried to make him under­stand what Marx­ism real­ly meant to say. How­ev­er, today, read­ing the arti­cle in Le Monde, I became aware that the sub­ject is actu­al­ly much more impor­tant: while Doc­tor (in French in the text) Rubel, pre­ced­ed by his rep­u­ta­tion as "Marx­ol­o­gist," glo­ri­ous­ly defend­ed his the­sis at the Sor­bonne, I went back over the old writ­ings of Marx and stud­ied them, and found there an even stronger con­fir­ma­tion of my views than I expect­ed. As a result, I inscribed all this on paper, and, sup­pos­ing that such fair­ly spe­cial­ized the­ses would lead to pub­li­ca­tion, I added an extract from the news­pa­per. But I'm in agree­ment with you that all this is total­ly insuf­fi­cient as a basis for a cri­tique… so I'm going to ask Rubel if – and when – his the­sis will be pub­lished. In these con­di­tions, only the first part of my arti­cle needs to be replaced with anoth­er intro­duc­tion. The sub­ject itself, the real­ly sci­en­tif­ic char­ac­ter of Marx­ist the­o­ry, is for me more impor­tant. The ques­tion of the pre­dic­tion of the future, which has engen­dered numer­ous dis­cus­sion and much con­fu­sion, is con­nect­ed to it.
As for your oth­er point, con­cern­ing the pub­li­ca­tion of my June 15 let­ter, it was not my inten­tion to see it pub­lished, or rather I had nev­er thought while writ­ing it that it would be des­tined for pub­li­ca­tion; if I recall cor­rect­ly, I did not take much care in writ­ing it. If, how­ev­er, you think that cer­tain pas­sages can bring some clar­i­fi­ca­tions, then I think that you should select some pas­sages, in such a way that my remarks don't take too much space in your jour­nal. I have the impres­sion that what is said in the book Work­ers' Coun­cils could give a larg­er and more gen­er­al base. I will send you a repub­li­ca­tion of one of its chap­ters which was pre­pared and pub­lished for our Eng­lish friends in the ILP. As it is, it's a bit abrupt, since the argu­ment is based on the pre­ced­ing chap­ters, which are absent. The ILP com­rades appar­ent­ly seem to have thought that start­ing a dis­cus­sion of the rev­o­lu­tion could turn out to be a good rem­e­dy for pas­siv­i­ty and the absence of a rev­o­lu­tion­ary spir­it among Eng­lish work­ers.
I have the impres­sion that our posi­tions on the action of the pro­le­tar­i­an class are dia­met­ri­cal­ly opposed, each of us putting the empha­sis on a dif­fer­ent aspect. In these cir­cum­stances, there are always indi­vid­u­als who dis­tin­guish them­selves in terms of courage or clar­i­ty of analy­sis, be it in speech or in action. All these indi­vid­u­als form a de fac­to van­guard, which we can see born at the heart of all move­ments. They become de fac­to lead­ers, can con­tribute to the devel­op­ment of the activ­i­ty of the mass­es, and, by virtue of the breadth of their view, can give good advice. When they join togeth­er in small groups or par­ties, with well-estab­lished pro­grams, their flu­id rela­tions pet­ri­fy. So, as ex offi­cio lead­ers, they take them­selves for boss­es and want to be fol­lowed and obeyed.
From anoth­er angle, we see that, in all mass or rev­o­lu­tion­ary actions, a strong com­mon sen­ti­ment aris­es, which is not entire­ly con­scious (as the fluc­tu­a­tions of action prove), but is based on con­crete con­di­tions and per­mits the uni­ty of action nec­es­sary for pos­i­tive results. In such cir­cum­stances, the lead­ing per­son­al­i­ties lose all impor­tance. True gains, true progress, real and durable, are made when the whole class, the work­ing mass­es, change pro­found­ly, break with their ser­vil­i­ty, rein­force their inde­pen­dence, their con­fi­dence in them­selves, by the sole virtue of their own activ­i­ty, on their ini­tia­tive, and not in putting them­selves in the tow of oth­ers. Between these two points of view, the prac­tice of class strug­gle can assume numer­ous forms, inter­me­di­aries, or com­bi­na­tions.
One last remark on mass actions. Con­sid­er­ing the con­tem­po­rary con­di­tions of life in our devel­oped soci­eties, it can seem (and it is large­ly accept­ed) that such actions are more and more impos­si­ble and use­less. Impos­si­ble because of the enor­mous devel­op­ment of the pow­er and vio­lence of gov­ern­ments, sup­port­ed by large cap­i­tal (if an indus­tri­al region falls into the hands of labor­ers, a sim­ple atom­ic bomb would suf­fice to destroy it). Use­less because the con­di­tions of life and work, as well as the polit­i­cal rights, of the work­ing class nev­er cease to improve (cf. the Unit­ed States)… And yet we firm­ly believe that the men­ace of destruc­tion and mis­ery that cap­i­tal­ism has made weigh upon human­i­ty is stronger than ever. The form is today glob­al war, which men­aces the whole pop­u­la­tion, intel­lec­tu­als, teach­ers, and work­ers (the lat­ter form­ing the major­i­ty). That's why mass actions will become more nec­es­sary than ever and will lose the strict class char­ac­ter that they had in the past (Bel­gium, Rus­sia). It's the only way the mass­es can affirm their will con­cern­ing their lives.
And yet, this is a sub­ject that is nev­er addressed in polit­i­cal dis­cus­sions, or the press, no more than in social­ist pub­li­ca­tions. Is it from fear of being iden­ti­fied with Russ­ian com­mu­nism? Or, rather, the fear that all groups with claims to lead­er­ship have of see­ing the work­ing mass­es tak­ing action in their own hands?