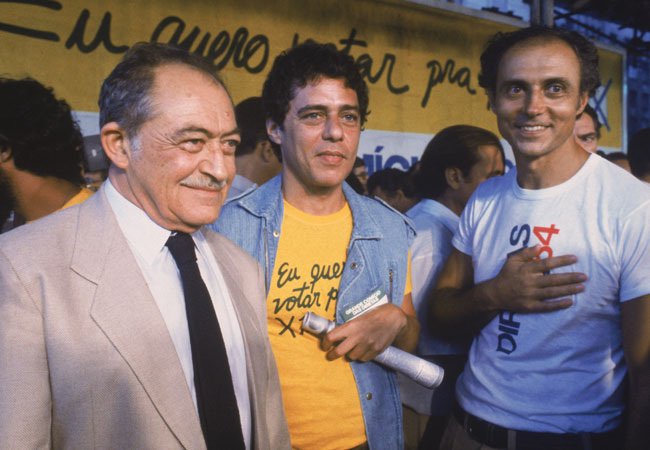 On the six­teenth of April, 1984 the final demon­stra­tion of the Dire­tas Já cam­paign brought one and a half mil­lion Brazil­ians into the streets of São Paulo. The phrase "I want to vote for pres­i­dent" could be read on the pro­test­ers' yel­low t-shirts and posters. To under­stand the recent wave of demon­stra­tions in Brazil, we will have to begin with the his­to­ry of this reformist move­ment, ani­mat­ed by the pro­test­ers' belief that their coun­try had been degrad­ed by the greed and incom­pe­tence of the politicians—a con­stant theme in the efforts to make our insti­tu­tions more respon­sive to the "real Brazil."
Dream­ing of the impend­ing demise of the mil­i­tary regime, in pow­er for decades, many of the pro­test­ers of 1984 evoked the famous vers­es of a song by Chico Buar­que de Holan­da:
In spite of you
Tomor­row will be anoth­er day.
I ask you where will you hide
From the enor­mous eupho­ria?
How will you pro­hib­it
When the roost­er insists on crow­ing?
New water flow­ing,
And the peo­ple lov­ing with­out rest.
–Chico Buar­que de Holan­da, "Ape­sar de Você" (1970)
Nine days lat­er, how­ev­er, the con­sti­tu­tion­al amend­ment which would reestab­lish demo­c­ra­t­ic elec­tions for the pres­i­dent of Brazil could not be sanc­tioned. One hun­dred and thir­teen pro-dic­ta­tor­ship par­lia­men­tar­i­ans refused to attend the ses­sion of April 25, 1984, thus thwart­ing the enact­ment of the amend­ment, which required the sup­port of at least two-thirds of the 320 mem­bers of the Cham­ber of Deputies. Adding grief to dis­ap­point­ment, Tan­cre­do Neves—a mod­er­ate mem­ber of the oppo­si­tion to the mil­i­tary regime who had been, despite every­thing, indi­rect­ly elect­ed president—could not be inau­gu­rat­ed due to an abdom­i­nal ill­ness which killed him on April 21 of the fol­low­ing year. Hence, José Sar­ney, the vice-pres­i­dent-elect and a for­mer sup­port­er of the dic­ta­tors, became the first civil­ian to be sworn in as pres­i­dent of Brazil after a peri­od of more than two decades.
Notwith­stand­ing admin­is­tra­tive incom­pe­tence, dev­as­tat­ing infla­tion, cor­rup­tion scan­dals, and the impeach­ment of Fer­nan­do Col­lor de Mel­lo, the first demo­c­ra­t­i­cal­ly elect­ed pres­i­dent since the 1960s, Brazil reached eco­nom­ic and polit­i­cal sta­bil­i­ty by the mid-1990s. Sad­ly, how­ev­er, the new Brazil­ian democ­ra­cy was based on a polit­i­cal agen­da which pla­cat­ed the anx­i­eties of the old elites through the dis­tri­b­u­tion of gov­ern­men­tal favors, while hand­ing over the econ­o­my to neolib­er­al pup­peteers. The night­mare of one of the most bril­liant Brazil­ian polit­i­cal the­o­rists seemed to once again come to life.
Power—nominally pop­u­lar sovereignty—has own­ers, who do not emanate from the nation, from soci­ety, from the poor and igno­rant rab­ble. The chief is not a del­e­gate, but a busi­ness man­ag­er, and not a rep­re­sen­ta­tive… The law, rhetor­i­cal and ele­gant, does not awak­en inter­est. Elec­tions, even if for­mal­ly free, pro­vide the peo­ple with a choice between options that they did not for­mu­late.1
The two par­ties which came to dom­i­nate nation­al pol­i­tics after the process of redemocratization—PT, the Work­ers' Par­ty, and PSDB, the Brazil­ian Social Democ­ra­cy Party—had very sim­i­lar ori­gins. While PT claims to speak to the mass of Brazil­ian work­ers and PSDB is con­sid­ered the par­ty of the mid­dle class, both orig­i­nat­ed from a very sim­i­lar analy­sis of Brazil­ian pol­i­tics, one that emerged with­in the Uni­ver­si­ty of São Paulo (USP). Opposed to the mil­i­tary dic­ta­tor­ship as well as to the pop­ulist democ­ra­cy which pre­vailed from the mid-1940s until the mil­i­tary coup of 1964, the USP intel­lec­tu­als sought to build the polit­i­cal cul­ture of the Brazil­ian Left from scratch. Reject­ing a so-called author­i­tar­i­an cap­i­tal­ism, which solved class con­flict with­in the struc­ture of the nation-state, the new Left (or rather a cen­ter-Left) promised to let social inter­ests play freely in the new Brazil.
As it hap­pened, how­ev­er, the world in which the Brazil­ian social class­es had to freely com­pete against each oth­er was the world cre­at­ed under the shad­ow of Rea­gan and Thatch­er. As in the rest of the glob­al econ­o­my, an ill-defined but all-pow­er­ful enti­ty called the "free mar­ket" became supreme ruler of Brazil between the 1980s and the 2000s. With­in this con­text, PSDB and PT did their job with great com­pe­tence, and Brazil became a paradise—not for its peo­ple, but for bankers and spec­u­la­tors. From the process of rede­moc­ra­ti­za­tion until now, social move­ments and class orga­ni­za­tions have had lit­tle to do in Brazil but humbly col­lect the crum­bles that fall from the ban­quet table at which a priv­i­leged few can sit.
Con­trary to what most ana­lysts say, Brazil­ian soci­ety did not remain qui­es­cent through­out all these years. Rather, the bru­tal con­cen­tra­tion of wealth and the shame­less weak­en­ing of the pub­lic insti­tu­tions caused by the neolib­er­al order led soci­ety to explode in chaos. The periph­eries of the major Brazil­ian cities became war zones. The elite and the ascend­ing mid­dle class enclosed them­selves behind con­crete walls, elec­tric fences, pri­vate guards, and vig­i­lance cam­eras. The police spe­cial­ized in ter­ror­iz­ing and slaugh­ter­ing the mis­er­able. Drug deal­ers took advan­tage of the oppor­tu­ni­ty and trans­formed the periph­eries into their play­ground. Polit­i­cal lead­ers, the main­stream media, and intel­lec­tu­als remained speech­less: no priv­i­leged group of Brazil­ian soci­ety seemed capa­ble of artic­u­lat­ing what was hap­pen­ing.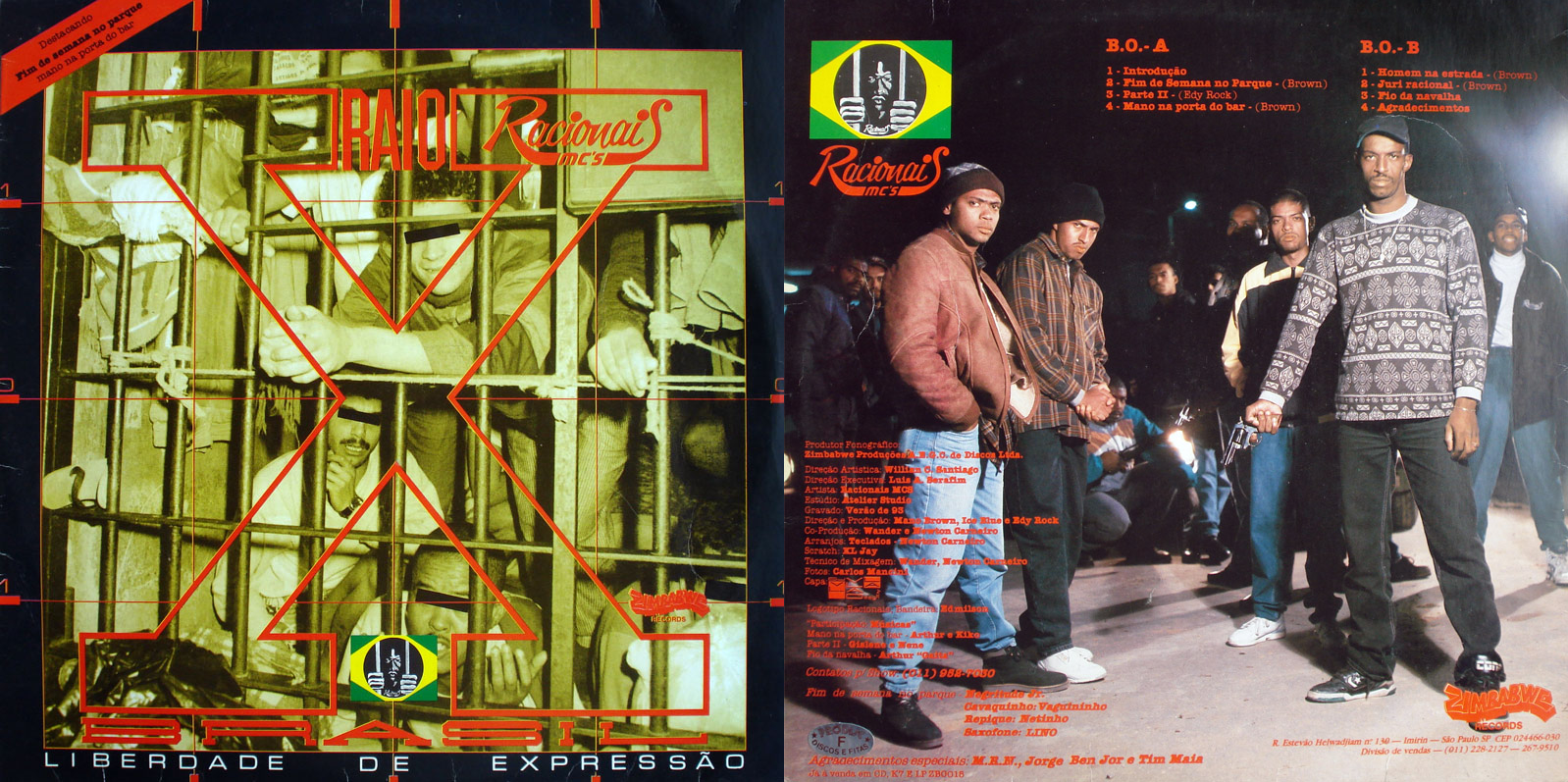 But a voice emerged from the south­ern slums of São Paulo. By the ear­ly-1990s, a group of young rap­pers start­ed speak­ing a dialect that deeply trou­bled the dom­i­nant class­es of Brazil. The Racionais Mc's rep­re­sent­ed many oth­er groups of young and poor Brazil­ians who decid­ed to tell the sto­ry of exclu­sion and vio­lence afflict­ing mil­lions of cit­i­zens manip­u­lat­ed by the caprices of the "free mar­ket."
Bal­anced on a shan­ty
Uncom­fort­able, poor­ly fin­ished, and dirty
His only home, how­ev­er, his good and his refuge.
A hor­ri­ble smell of sewage on the back­yard,
From above or below,
If it rains it will be fatal.
A piece of hell,
Here it is where I am.
Even the cen­sus came by and nev­er came back.
They num­bered the shacks, made sev­er­al ques­tions,
Soon after for­got,
Moth­er­fuck­ers!
…
Yes, to make mon­ey, to final­ly get rich:
I want my son nev­er to remem­ber this place,
To have a safe life,
I don't want him to grow up with a .38 in his belt and a pis­tol on his head.
And through the rest of the night sleep­less he thinks:
What to do to get out of this sit­u­a­tion?
Unem­ployed,
With a bad rep­u­ta­tion,
He lived in deten­tion,
No one trusts him any­more.
This man's life was for­ev­er dam­aged…
A man on the road…
–Mano Brown, "Homem na Estra­da" (1993)
How can order and growth be main­tained in such a soci­ety? How can a state secure polit­i­cal and eco­nom­ic sta­bil­i­ty while ignor­ing the most basic needs of the cit­i­zen­ry? For the Brazil­ian rul­ing elite, it seemed very easy. While the "free mar­ket" dic­tat­ed all the rules (or lack there­of), PSDB and PT bar­gained with the very polit­i­cal groups they once said they would over­come. Fer­nan­do Hen­rique Car­doso side by side with Anto­nio Car­los Mag­a­l­hães, the "father of Bahia" and for­mer ally of the mil­i­tary dic­ta­tor­ship, Lula rub­bing shoul­ders with José Sar­ney, the "own­er of Maran­hão" and anoth­er for­mer sup­port­er of the military—these were among so many orgias­tic scenes that dis­gust­ed the Brazil­ian peo­ple from the 1990s through the 2010s. "Gov­ern­abil­i­ty": this mot­to has dom­i­nat­ed the pol­i­tics of PSDB and PT dur­ing the two decades they have been fight­ing for the high­est nation­al offices. This word, which came to grate harsh­ly on Brazil­ian ears, meant that local polit­i­cal clans would be free to con­tin­ue to suck blood from the peo­ple while finance cap­i­tal played freely with the insti­tu­tions of the coun­try.
Despite wide­spread cor­rup­tion and inequal­i­ty, Brazil­ian rede­moc­ra­ti­za­tion did rep­re­sent progress. Our coun­try is no longer a dic­ta­tor­ship: there is no more polit­i­cal per­se­cu­tion, tor­ture, or cen­sor­ship. Unlike many oth­er under­de­vel­oped coun­tries recent­ly rocked by protests, Brazil is a func­tion­al demo­c­ra­t­ic regime which guar­an­tees its people's right to vote and freely demon­strate. Under­stand­ing this, hun­dreds of thou­sands of angry young pro­test­ers have tak­en to the streets of the major Brazil­ian cities to show their dis­con­tent with the local as well as fed­er­al gov­ern­ment. But their pre­dom­i­nant goal is not a rev­o­lu­tion­ary one: the changes the pro­test­ers seek are changes with­in the exist­ing order. The ini­tia­tors of the movement—members of the ascend­ing Brazil­ian mid­dle class with access to high­er education—understand the mean­ing of polit­i­cal rep­re­sen­ta­tion and act accord­ing­ly.
The pro­test­ers stop the traf­fic; they car­ry around posters with humor­ous or poet­ic say­ings; they wear Guy Fawkes masks; they use Face­book and Twit­ter to com­mu­ni­cate their mes­sages and orga­nize them­selves. "A rep­re­sen­ta­tive gov­ern­ment," writes polit­i­cal the­o­rist Han­na Fenichel Pitkin, "requires that there be machin­ery for the expres­sion of the wish­es of the rep­re­sent­ed, and that the gov­ern­ment respond to these wish­es unless there are good rea­sons to the con­trary."2 There are no good rea­sons for the rep­re­sen­ta­tives to fail to respond to the rep­re­sent­ed, and the pro­test­ers know this very well.
Spon­ta­neous demon­stra­tions pop up, and the young Brazil­ian mid­dle class, inspired by an anar­cho-tech­no­log­i­cal vision of the future, already begins to savor the sweet taste of vic­to­ry. Some changes begin to take place in the Brazil­ian par­lia­ment and politi­cians begin to act in order to improve some pub­lic ser­vices. But real­is­tic observers will ask the fun­da­men­tal ques­tion: how can the cur­rent move­ment avoid the fate of those who fought for democ­ra­cy in Brazil before them?
There are many rea­sons to pass from real­ism to pes­simism. True, the dig­i­tal age facil­i­tates the gath­er­ing of the dis­con­tent­ed, ampli­fies con­tempt for the old, embold­ens sar­cas­tic atti­tudes towards pow­er, and pul­ver­izes tra­di­tion­al struc­tures; but it has not yet pro­vid­ed a path to sub­stan­tive change, it has failed to for­mu­late a per­spec­tive of a new polit­i­cal order. The cur­rent protests in Brazil add cul­tur­al icon­o­clasm to a tra­di­tion­al mid­dle-class reformist agen­da; both ele­ments are mul­ti­plied by the dis­sem­i­nat­ing pow­er of the social media.
The ide­o­log­i­cal­ly mild char­ac­ter of the cur­rent move­ment was made explic­it at a recent pub­lic lec­ture orga­nized by the Movi­men­to Passe Livre. Uni­ver­si­ty of São Paulo Pro­fes­sor Paulo Arantes reject­ed the notion that the social media is the cen­tral force pro­pelling the cur­rent protests in Brazil. Build­ing on Mal­colm Gladwell's 2010 arti­cle for The New York­er, the philoso­pher pro­posed that the protest of our pet­ty bour­geoisie is a form of "high-risk activism" based on "strong-tie con­nec­tions." High-risk activism, Pro­fes­sor Arantes? What the Brazil­ian pro­test­ers are doing at this moment has noth­ing to do with the hero­ic actions of African Amer­i­cans in the US of the 1960s, Gladwell's pri­ma­ry exam­ple of high-risk activism. The high­est-risk activism in Brazil today is sim­ply the dai­ly strug­gle for sur­vival in the periph­ery, not pre­tend­ing to change the world by replac­ing polit­i­cal pro­grams with com­put­er pro­grams. Arantes also claimed that, dur­ing the last few decades, the Brazil­ian pop­u­la­tion has been "asleep and nar­co­tized… hyp­no­tized by charis­mat­ic lead­ers." Only some­one who has nev­er set foot in the slums—a typ­i­cal atti­tude of Brazil­ian intellectuals—could make such a claim. Pro­fes­sor Arantes con­clud­ed his lec­ture by say­ing that it is up to the pro­test­ers to deci­pher the day­dreams of the com­mon peo­ple, "instead of try­ing to res­ur­rect ide­o­log­i­cal watch­words such as class this or class that… con­ser­v­a­tive, reac­tionary, fas­cist…" No ide­ol­o­gy, no pol­i­tics, no class strug­gle: just the com­fort­able roman­ti­cism of col­lege stu­dents try­ing to inter­pret the mis­er­ables' day­dreams.3 Any rea­son for opti­mism now?
Unwit­ting­ly, how­ev­er, the mid­dle-class Brazil­ian protesters—these Face­book rebels—may be open­ing a door for a more dras­tic trans­for­ma­tion. "The favela is tired of so much injus­tice, of so many things done wrong," a favela tour guide told the New York Times dur­ing a protest in Rio de Janeiro.4 Although it is still ear­ly to make pre­dic­tions, it seems that a tru­ly rad­i­cal force can take over the protests hap­pen­ing in Brazil—a force ema­nat­ing from those who have noth­ing to lose, who have until now been blocked from par­tic­i­pat­ing in Brazil­ian democ­ra­cy thanks to mis­ery and exclu­sion. The mass­es begin to speak of their own sense of exploita­tion, inequal­i­ty, and coer­cion; and their lan­guage is very dif­fer­ent from that of peo­ple who dream of an inter­con­nect­ed world with­out cen­ters of pow­er. The Brazil­ian poor—a mass of unem­ployed peo­ple and unskilled workers—defend their dig­ni­ty against the state and the mar­ket. Not sur­pris­ing­ly, when the protests explode, becom­ing uncon­trol­lable riots affect­ing pri­vate prop­er­ty and pub­lic works, the edu­cat­ed stra­ta pan­ic. The rad­i­cal­ism of those who have been for­got­ten over­whelms the reformism of our mid­dle class. Con­front­ed with a polit­i­cal actor that has apparently—and only apparently—been inac­tive for so long, the priv­i­leged groups of Brazil don't know what to do.
The move­ment Per­ife­ria Ati­va, which is now orga­niz­ing demon­stra­tions among pover­ty-rid­den com­mu­ni­ties of São Paulo, adopts as its first prin­ci­ple the right to life over prof­it:
We are, as labor­ers and inhab­i­tants of the periph­ery, the worst affect­ed by a sys­tem which places mon­ey above life. In cap­i­tal­ism, the gains of an elite cause the mis­ery which affects the periph­eries of the world. Their right to prof­it runs over our right to live… Thanks to the mil­lion­aire prof­its of con­trac­tors and landown­ers we are forced to live in holes, with­out any struc­ture, being humil­i­at­ed when depend­ing on the favor of oth­ers to have a place to live, or spend the mon­ey we don't have on abu­sive rent. Ulti­mate­ly, our rights are treat­ed like a com­mod­i­ty: you only have rights if you can pay for them. The sys­tem kills us a lit­tle each day. That is when it doesn't kill our chil­dren at once, when the police and their exter­mi­na­tion groups act, treat­ing the youth of the periph­ery as cat­tle to be slaugh­tered.5
There is noth­ing new in this doc­u­ment. "The poor and igno­rant rab­ble" of Ray­mun­do Faoro's night­mare is just singing its own song: a song that doesn't resem­ble at all the bal­lads of Chico Buar­que de Holan­da, that wasn't com­posed on the cor­ri­dors of the Uni­ver­si­ty of São Paulo, that doesn't echo the anar­cho-tech­no­log­i­cal utopia of the dig­i­tal age. The inhab­i­tants of the periph­ery have been singing this song for a long time. While the elites and the mid­dle class were blind­ly try­ing to pre­serve the world they cre­at­ed, the com­mon peo­ple were awake and con­scious. We can't know for sure what will hap­pen in the near future. But what­ev­er direc­tion the cur­rent move­ment takes us, the voic­es of the periph­ery will con­tin­ue to crude­ly remind the world that, in a coun­try where the "free mar­ket" dic­tates the rules and the old elites remain sov­er­eign, class strug­gle is a cru­el and inescapable real­i­ty.
---
1. Ray­mun­do Faoro, Os Donos do Poder: For­mação do Patrona­to Políti­co Brasileiro (Por­to Ale­gre: Globo, 1976), 748.
2. Han­nah F. Pitkin, The Con­cept of Rep­re­sen­ta­tion (Berke­ley: Uni­ver­sti­ty of Cal­i­for­nia Press, 1997), 232.
3. Vídeo da aula públi­ca com Lúcio Gre­gori e Paulo Arantes: "Tar­i­fa Zero e a mobi­liza­ção pop­u­lar."
4. "Protests Bridge Brazil's Social Gaps."