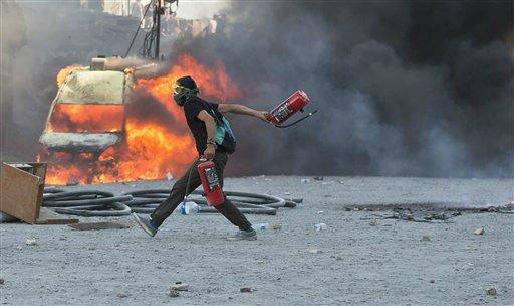 As I start­ed writ­ing from Tar­labasi, Istan­bul, the police were for­ti­fy­ing Tak­sim Square to pre­vent peace­ful pro­test­ers from enter­ing. They were there to protest the release of the police­man who mur­dered one of our com­rades in Ankara, Ethem Sarisu­luk. He was shot in the head, and a video has been released clear­ly reveal­ing the mur­der. Despite abun­dant evi­dence and wit­ness­es to the con­trary, courts released him on the basis of "self-defense" and will con­tin­ue his tri­al with­out deten­tion. With this deci­sion, the par­tial­i­ty of the legal sys­tem in favor of the bru­tal police forces became obvi­ous once again.
Many things can be said – and have already been said – about the protests that began on May 28th at Gezi Park. I will be brief about its over­all devel­op­ment, and will instead sim­ply recount some of my per­son­al expe­ri­ences dur­ing the most fero­cious police attacks.
First things first. Gezi Park is the last green space at the cen­ter of Istan­bul, Tak­sim, which has grad­u­al­ly dimin­ished over the years by being sold off to big hotels and cor­po­ra­tions. After the demo­li­tion of the Ottoman Barack in 1940, Gezi Park was built to cov­er all of the area from Tak­sim to Inonu Sta­di­um. Now there are hotels like the Hilton on those loca­tions. The ini­tial protests began with a few activists occu­py­ing the last remain­ders of this park in order to stop the demo­li­tion of the trees, which the munic­i­pal­i­ty planned to replace with a shop­ping mall in the shape of the old Ottoman Barack. Police force­ful­ly attacked these peace­ful pro­test­ers, and the more the state tried to crush this ini­tial­ly small resis­tance, the big­ger it grew. This led to the huge clash­es with the police on May 31st and final­ly the total occu­pa­tion of the park and Tak­sim Square on June 1st. From that day to the 11th, Tak­sim ful­ly lived the mot­to a pro­test­er inscribed on a ban­ner: "No Police, No Prob­lem."
Of course, there were some prob­lems, which emerged from an unprece­dent­ed gath­er­ing of hun­dreds of thou­sands expe­ri­enc­ing the kind of empow­er­ment that that had been for­bid­den to them for most of their lives. How­ev­er, it wasn't at all like the times when police were present. In fact, the prob­lems aris­ing were most­ly due to the immi­nent dan­ger of police attacks and the atmos­phere of ter­ror emerg­ing from that.
I nei­ther aim to tell you about the 10 glo­ri­ous days that many named "The Tak­sim Com­mune," nor the dynam­ics behind the upris­ings. But I do want to describe the instances where I direct­ly wit­nessed the bru­tal­i­ty of the Turk­ish police between June 11th to 16th – though I am among the lucky ones who haven't expe­ri­enced or wit­nessed the worst cas­es. I am not among the four who lost their lives. I am in fact lucky enough not even to wit­ness those mur­ders, because police detained even the wit­ness­es of Ethem's mur­der and attor­neys are charg­ing them with attempt­ed mur­der of the killer police. Nei­ther am I among the 11 who lost their eyes due to the gas can­is­ters, nor 59 whose injuries are still life-threat­en­ing. Not even among the 7,959 whose injuries have been doc­u­ment­ed as of June 24th. I am among the lucky ones. But even as the lucky ones, even we were exposed to extreme vio­lence by the police in the last weeks and our move­ment is going through severe police state repres­sion.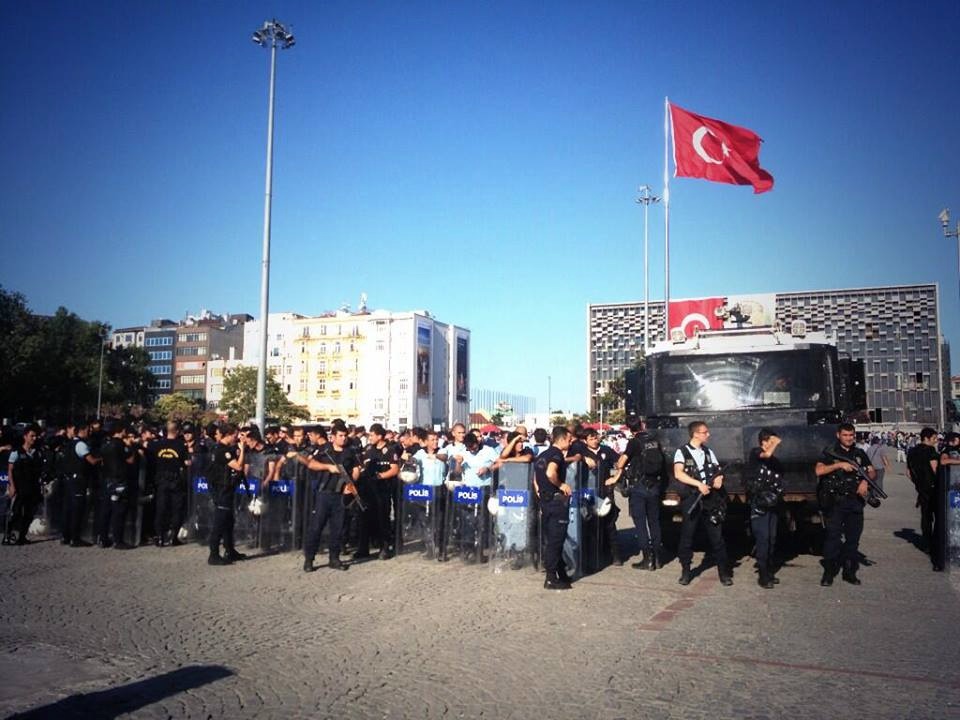 I spent my last two days in the Istan­bul attor­ney gen­er­al­ship and human rights foun­da­tion to offi­cial­ly com­plain about the Turk­ish police and gov­ern­ment about the harms they have caused me per­son­al­ly. Will it make any dif­fer­ence? I don't think so, but I want­ed to give ammu­ni­tion to lawyer com­rades who are fight­ing a legal war. Any­way, these two days made me think that despite the rel­a­tive insignif­i­cance of what I saw and expe­ri­enced, it would be worth­while to put it in writ­ing.
On the June 11th, the atmos­phere were very tense at Gezi Park. In the morn­ing, police attacked and invad­ed Tak­sim Square with its TOMAs, giant vehi­cles spray­ing chem­i­cal water that burns. Gov­er­nor Mut­lu announced that their only aim was to reset the sym­bol­ic order at Tak­sim Square by remov­ing the ban­ners on the Mon­u­ment of Repub­lic and Ataturk Cul­tur­al Cen­ter. He said they would by no means attack at Gezi Park. Then around 8pm, just before dark, gas can­is­ters start­ed to rain into the park. The bit­ter joke among the pro­test­ers: the governor's words always shows us the truth, but only in reverse! Peo­ple start­ed to run in oppo­site direc­tions, try­ing to escape from the effects of the gas. But gas dis­pers­es very quick­ly and even in areas that it is not vis­i­ble, it is effec­tive. Some of us were pre­pared and imme­di­ate­ly wore our gog­gles, gas masks, and hel­mets. Those with expe­ri­ence at the bar­ri­cades imme­di­ate­ly formed groups to extin­guish the can­is­ters in big bot­tles of water. It is an inge­nious method but still quite hard to exer­cise. When a can­is­ter is launched, watch­ers with gloves run towards it, some­times while it is still spin­ning on the floor. They cap­ture them, put them in large water bot­tles, and cov­er them. Unless it is cov­ered, gas does not extin­guish in water imme­di­ate­ly. It has to be suf­fo­cat­ed as well. Thanks to these efforts, the effects of the gas dimin­ished in the park, but were not com­plete­ly effaced. We all got severe­ly affect­ed by the gas, and the can­is­ters them­selves, which are delib­er­ate­ly used by police to hit peo­ple. This last­ed all night. There were clash­es on all three sides of the park, leav­ing only the Sis­li side open. Injured peo­ple con­stant­ly flowed into the three med­ical loca­tions. I was close to the one on the east side. We formed human chains to keep the paths to the med­ical tents open and help car­ry the injured. Despite ongo­ing attacks to the park, it was full of peo­ple refus­ing to vacate it. There were some active­ly clash­ing with the police, and some doing it pas­sive­ly by endur­ing the con­di­tions at the park and pro­vid­ing sup­port, med­ical and oth­er­wise. I can't for­get one guy who was exposed to too much gas and was in shock. Appar­ent­ly some­one gave him a gas mask after­wards, and he stuck to it even where there was no gas. Every­one told him he could let go, but he wouldn't; he kept breath­ing irreg­u­lar­ly through the mask, hold­ing it with one hand. When he let go, his face showed the hell he had left.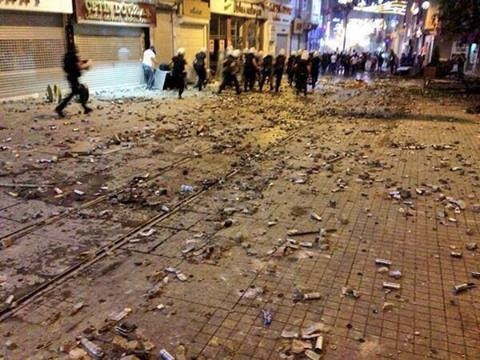 It was a sur­prise that police didn't invade the park that night. Prime Min­is­ter Erdo­gan and Gov­er­nor Mut­lu start­ed to play a dif­fer­ent game the fol­low­ing day. Try­ing to improve their image, espe­cial­ly in the inter­na­tion­al media – most of the nation­al media belongs to those who are eco­nom­i­cal­ly and polit­i­cal­ly close to them or under severe pres­sure by the gov­ern­ment – they staged laugh­able nego­ti­a­tions with our sup­posed rep­re­sen­ta­tives. On June 12th, Erdo­gan met with a group of his own selec­tion and pre­sent­ed it as nego­ti­a­tions with us. After this grotesque lie was exposed, he was forced to accept five of our rep­re­sen­ta­tives from Tak­sim Sol­i­dar­i­ty. But rather than lis­ten to them, he scold­ed the del­e­gates. In response Sol­i­dar­i­ty declared that it resolved to con­tin­ue the occu­pa­tion. In the mean­time, Erdo­gan gave two dead­lines to vacate the park, which result­ed in even a greater crowd. Espe­cial­ly on the 14th, Fri­day, the "Moth­ers Are Here" event changed the atmos­phere, dimin­ish­ing the expec­ta­tions of a police attack.
How­ev­er, on Sat­ur­day, June 15th, when the park was crowd­ed by peo­ple sim­ply tour­ing the spec­ta­cle – most­ly chil­dren, women, and the elder­ly – police attacked abrupt­ly. I was pass­ing through the square with two friends car­ry­ing zines called Gezi Postasi when police made a fee­ble warn­ing that could only be heard from the square side of the park. The "warn­ing" was scary but we thought the park was too crowd­ed for them to attack at that moment. We were rather excit­ed to dis­trib­ute our fresh­ly print­ed zines, hop­ing that it would sup­ply new per­spec­tives to the sev­en forums being held in dif­fer­ent parts of the park. Intel­lec­tu­als' delu­sion! With­in min­utes gas can­is­ters and sound bombs start­ed to explode, and this time riot gear police moved into the park. We were used to the gas and sound bombs, but riot police march­ing and beat­ing peo­ple cre­at­ed a burst of pan­ic. I was in the group who were escap­ing towards Sis­li, Har­biye. Many thou­sands were flow­ing up the Cumhuriyet Boule­vard. How­ev­er, riot gear police and their TOMAs were approach­ing faster than the group could move, squeez­ing the crowd tighter and tighter. They were attack­ing not to dis­perse but def­i­nite­ly to hurt and pun­ish, which is a very com­mon police prac­tice in Turkey. While the TOMAs sprayed chem­i­cal water just behind us, and riot gear police were strik­ing with their trun­cheons next to it, they also sent gas bombs ahead of us. Any­one try­ing to escape from the police ran straight into the gas. The gas trail last­ed approx­i­mate­ly for a kilo­me­ter. At one point I wasn't able to breathe and was about to col­lapse. My friend held and dragged me. When we reached the Metro sta­tion at Osman­bey, we made a huge mis­take by think­ing that we could take the metro and get the hell out of there. As we start­ed to enter, we encoun­tered peo­ple escap­ing from gas thrown into the metro sta­tion. We found our­selves in the stam­pede back again, and final­ly found a back street. When final­ly I reached home, I post­ed this mes­sage:
There were sev­er­al chil­dren in the park when they start­ed this bru­tal­i­ty. It is hor­ri­ble to fall into the gas even with gas masks. Mine didn't help where gas was dense. I can­not imag­ine the harm this caused to unpre­pared peo­ple and chil­dren. As an adult per­son wear­ing a mask, I wasn't able to breathe, and thought I was going to faint and die. Police did not just attack to dis­perse us. They attacked to tor­ture and pun­ish us. The pan­ic and pain when police were com­ing behind us and send­ing gas bombs ahead of us were inde­scrib­able. Their attack is still con­tin­u­ing. I was shocked and am still afraid, but I know that if we stop claim­ing our rights now they will steal even more of them.
After Sis­li, police attacked every oth­er side of Gezi Park and man­aged to take its con­trol. In the mean­time, thou­sands gath­ered in dif­fer­ent parts of the city but police blocked their way and start­ed to attack even small groups. I went back to Tak­sim the morn­ing of June 16th. Every sin­gle road to the Square and Istik­lal street were blocked. Police were oper­at­ing as an orga­nized crime gang on the back streets of Tak­sim. They were curs­ing and beat­ing who­ev­er they could get their hands on. They were con­fis­cat­ing the gas masks, hel­mets, and gog­gles they found in people's bags, and hold­ing them as equip­ments of crime. Even attor­neys backed police in this prac­tice and charged the pos­ses­sion of this pure­ly defen­sive equip­ment as tools of crime. The whole day passed by as we tried to gath­er in dif­fer­ent loca­tions to march towards Tak­sim Square. How­ev­er, police attacks were fero­cious and our resis­tance could only slow it down. Mean­while Prime Min­is­ter Erdo­gan held a meet­ing else­where in the city. He bragged as if his sup­port­ers were larg­er than the dis­persed groups clash­ing with the police. Again Erdogan's police cre­at­ed the stage for his lies to appear as truth, by force­ful­ly inter­ven­ing in the real­i­ty.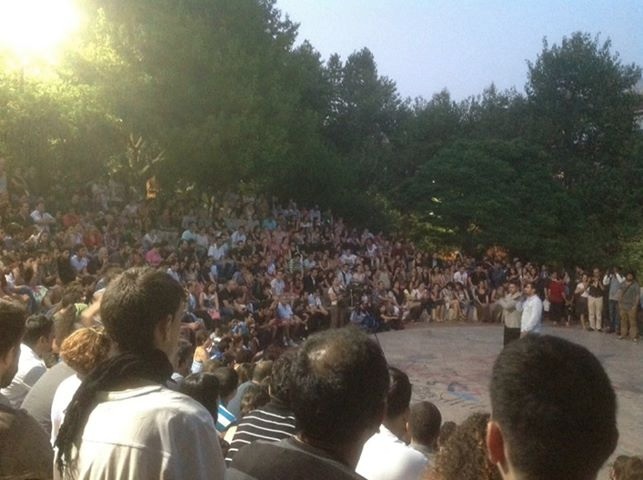 After the inva­sion of Tak­sim Square and Gezi Park, peo­ple dis­persed and occu­pied the parks in their neigh­bor­hoods. Cur­rent­ly there are more than 40 forums being held in dif­fer­ent parks in Istan­bul, and count­less more all over the coun­try. In these forums peo­ple are try­ing to find alter­na­tive ways to resist the allied oppres­sion of cap­i­tal and the state, and to cre­ate their own forms of self-gov­ern­ing. The forums, which con­verge every Sat­ur­day evening, are try­ing to take the square and Gezi Park back. The last two Sat­ur­days, the police repeat­ed their fascis­tic attacks, and do not seem to be chang­ing their atti­tude for the upcom­ing ones. The state has begun a witch hunt, raid­ing people's homes and arrest­ing hun­dreds. Is this ulti­mate­ly the vic­to­ry of the police state in Turkey? Or will its loss of legit­i­ma­cy even­tu­al­ly lead to its down­fall? We are still strug­gling for the lat­ter.