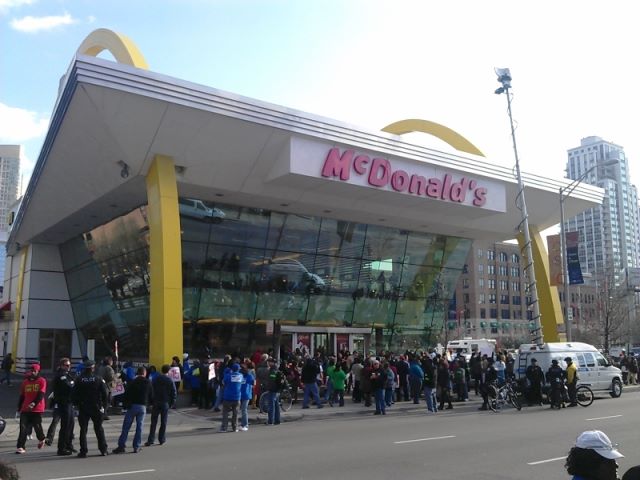 The $8.25 man, Bloomberg News wrote in Decem­ber, has worked at McDonald's for twen­ty years. Still, he can't get forty hours a week or any­thing more than min­i­mum wage. He can't make rent pay­ments, can't afford a com­put­er, and has to go to the Apple store to update his Face­book. After pick­ing cig­a­rette butts out of a bath­room drain, he has to clean off before his next job—at anoth­er McDonald's. The $8.25 man is cheap goods com­pared to the $8.75 mil­lion man. The $8.25 man would have to work rough­ly a mil­lion hours to make what McDonald's' CEO made in 2011. The $8.75 mil­lion man stands atop an indus­try that added jobs at dou­ble the U.S. aver­age post-reces­sion. Between 2008 and 2011, McDonald's prof­its alone rose from $4.3 bil­lion to $5.5 bil­lion. If the $8.25 man became a $15 man, a report from the Eco­nom­ic Pol­i­cy Insti­tute sug­gests, the labor mar­ket wouldn't lose any jobs. In down­town Chicago's retail and food ser­vice sec­tors, rais­ing the min­i­mum wage to $15 would cost $103 mil­lion, small change com­pared to the $14.2 bil­lion in rev­enue accrued by these sec­tors in 2011. Even if the aggre­gate raise were passed on direct­ly to con­sumers, prices would go up only 2.6%.
But who is the $8.25 man?
In the pop­u­lar imag­i­na­tion, the $8.25 man is, unfor­tu­nate­ly, what you see on TV: younger and less child-depen­dent than the grow­ing major­i­ty of his real-life coun­ter­parts. He is also, unlike the cen­tral fig­ure of Bloomberg's well-trav­eled, well-nar­rat­ed piece, sta­tis­ti­cal­ly unlike­ly to be a man. Nation­al­ly, women make up 66% of food pre­par­ers and servers, 70% of wait­ers and wait­ress­es, and 74% of cashiers.
In the post-2007 pro­gres­sive eye, low-wage work­ers are the face and hope of the 99%. If Michael Bloomberg is the fig­ure­head of neolib­er­al­ism with a healthy diet, fast food work­ers are the sick­le-wield­ing poster-peo­ple of the new Amer­i­can labor move­ment. As with Wal-Mart work­ers and domes­tic work­ers, their jobs are grow­ing in number—and ripe for union­iza­tion. The pub­lic is, more­over, well-primed by social cri­tiques like Super Size Me and Bloomberg's anti-junk food soap­box­ing. In two cities, the orga­nized strug­gle is heat­ing up. In New York, food ser­vice work­ers are push­ing for recog­ni­tion of an inde­pen­dent union, the Fast Food Work­ers Com­mit­tee, with sup­port from com­mu­ni­ty groups and estab­lished trade unions. In Chica­go, food ser­vice and retail work­ers from the down­town "Mag­nif­i­cent Mile" have a sim­i­lar dri­ve, "Fight for 15," under the aegis of the inde­pen­dent Work­ers Orga­niz­ers Com­mit­tee of Chica­go.
The hori­zons of the $8.25 man, beyond a liv­ing wage, are less cer­tain. In his famous 1972 essay in the New York Review of Books, Christo­pher Lasch took issue with the economism of Jack New­field and Jeff Greenfield's Pop­ulist Man­i­festo and Michael Harrington's alle­giance to the sabre-rat­tling, high-seat­ed AFL-CIO. The chal­lenge, he wrote, is to devel­op "a the­o­ry of class and an under­stand­ing of the way in which class inter­ests, sel­dom pre­sent­ing them­selves direct­ly in eco­nom­ic form, are medi­at­ed by cul­ture, which in turn acquires a life inde­pen­dent of its social ori­gin." The ques­tion, car­ried on by decades of cul­tur­al his­to­ri­og­ra­phy and half-lived Ital­ian debates sur­round­ing class com­po­si­tion, can be rehashed sim­ply: Is the low-wage work­ers' move­ment a "labor" move­ment? Or a move­ment for black and brown pow­er? Or a twen­ty-first cen­tu­ry "oth­er women's move­ment"? Or, when the work­place is no longer a fac­to­ry but an urban com­mons dot­ted with chain stores, a move­ment to reclaim "the pub­lic"?
In New York and Chica­go, work­ers strug­gle with­in and against a polit­i­cal econ­o­my of urban space: a dynam­ic recon­struc­tion of big cities with upscale retail in the cen­ter, low-wage labor pushed to the periph­ery or walled into projects, and McDonald's every­where. As part of this archi­tec­ture, work­ers are, like fast-food CEOs, polit­i­cal actors—agents of the sys­tem as much as its vic­tims. In Andrew Herod's for­mu­la­tion, "Work­ers are not dropped from the air into some pre­ex­ist­ing eco­nom­ic land­scape but are thor­ough­ly con­nect­ed to the pro­duc­tion of space through their strug­gles to work out geo­graph­i­cal solu­tions to the prob­lems of ensur­ing their own self-repro­duc­tion." At the high­est stra­tum of labor geog­ra­phy, trade unions advo­cate dif­fer­ent wage rates for dif­fer­ent regions in order to max­i­mize their over­all lever­age. With­in locales, work­ers can, as in the Jus­tice for Jan­i­tors cam­paign in the ear­ly 1990s, appro­pri­ate pub­lic space to uni­fy strug­gle across spa­tial­ly frag­ment­ed work­places. As Sarah Jaffe writes about New York, "orga­niz­ers have moved to find strate­gies that make sense to work­ers, that aren't trapped in the same old for­mu­la­tions that worked in fac­to­ries but don't make sense in food ser­vice."
Prop­er­ly sit­u­at­ed in place and space, the het­ero­gene­ity of low-wage labor asserts itself. Work­ers oper­ate with­in a web of polit­i­cal economies—of race, gen­der, sex­u­al­i­ty, migration—that re-cast the labor-cap­i­tal antag­o­nism along polit­i­cal lines that out­lets like Bloomberg gen­er­al­ly hold at arms length. "Fight for It," an offi­cial Fight for 15 music video, riffs, "Pres­i­dent don't give a fuck/His for­eign pol­i­cy is gonna trig­ger World War III" and then, "Macy's, aka mod­ern day slav­ery." Hip-hop polemic doesn't lend itself to reportage. But, if work­ers are any­thing more than work­ers, it should.
---
The cam­paign in New York grew out of broad­ly focused com­mu­ni­ty orga­niz­ing. Naqua­sia LeGrand, who works at a Brook­lyn KFC, recalls being con­front­ed about hous­ing issues. "I signed the peti­tion for that and the next thing you know, a few months lat­er, I got a call about fast food—about how I feel about fast food and bet­ter wages," she says. "Me and my team went from there. It was under­ground… once we got enough peo­ple, we went pub­lic."
On Novem­ber 29 and April 4, work­ers from dozens of chain stores went on one-day strikes—in both cas­es, the first action that many took as part of the cam­paign. "My coworkers—they have a choice now," LeGrand says. "They see what's been going on…. It's kind of easy now, because I'm con­fi­dent to let them know that they have noth­ing to wor­ry about."
The Chica­go cam­paign emerged from con­ver­sa­tions among low-wage work­ers and com­mu­ni­ty orga­niz­ers on issues rang­ing from tran­sit access to Illinois's min­i­mum wage.
"I was work­ing one day and they came and asked me if I strug­gled every day and they asked if I'm work­ing my butt off every day," says Felix Mendez, a sand­wich-mak­er at Sub­way. "It's basi­cal­ly pay­ing my bus pass just to get back and forth, and I got two kids, back and forth."
After the ini­tial inter­ac­tion, he says, "I start­ed snatch­ing oth­er peo­ple up, just tak­ing it day by day." Now, he attends week­ly Wednes­day meet­ings that include a grow­ing num­ber and diver­si­ty of work­ers: "It's awe­some. You hear dif­fer­ent sto­ries, and you can relate to a lot of peo­ple. You're not strug­gling by your­self. Every­body is out there strug­gling in the way that you are."
Rachael Teague, who works at both Navy Pier and Bub­ba Gump Shrimp Co., remem­bers a sim­i­lar induc­tion to the cam­paign. Orga­niz­ers "were doing what we call 'hub-hop­ping,' going to ser­vice doors, talk­ing to as many peo­ple as you can, exchang­ing infor­ma­tion, fol­low­ing up with them, and just let­ting them know that this is some­thing legit, and we're not ask­ing any­thing from you, we're just giv­ing some­thing to you."
For Teague, the geog­ra­phy of strug­gle extends beyond the Mag­nif­i­cent Mile. "The rea­son why I 'Fight for 15' is I am a sin­gle mom," she says. "A lot of peo­ple think when you say drug deal­er, you think of a guy stand­ing on the cor­ner. I know a moth­er of three who is in school who has that kind of income. That's one of the most heart­break­ing things as a mom to see oth­er moms."
Mendez says, about his part­ner of sev­en years, "I can't sup­port her like that for now. We got two kids. It's a strug­gle every day. Right now I'm liv­ing with oth­er peo­ple." East Garfield, on Chicago's West Side, is "not the great­est neigh­bor­hood that my kids see."
LeGrand describes her grandmother's imme­di­ate reac­tion to the first one-day strike: "She was like, what are you get­ting your­self into?" Then, "When she saw it on TV, she was like, oh ok, that's when she said I hope they do make a change." The sec­ond strike, which was twice as large as the first, ele­vat­ed pub­lic con­scious­ness of racism historically—and proximately—embedded in low-wage labor rela­tions. Strik­ers car­ried pick­ets with vari­a­tions on "I AM A MAN," invok­ing the Mem­phis san­i­ta­tion strike of 1968, which Mar­tin Luther King, Jr., was assas­si­nat­ed exact­ly 45 years ear­li­er sup­port­ing. ("YO SOY UN HOMBRE" rep­re­sents anoth­er slice of the $8.25 man. Accord­ing to Bureau of Labor Sta­tis­tics data, Lati­no work­ers, like black work­ers, fill a dis­pro­por­tion­ate share of low-wage ser­vice sec­tor jobs.) April 4 also, as Jaffe reports in her pod­cast with Josh Eidel­son, Bela­bored, unit­ed church­es and com­mu­ni­ty groups with work­ers from par­tic­u­lar fast-food joints—which, hav­ing metas­ta­sized into poor neigh­bor­hoods, are as round-the-cor­ner as mom-and-pop bode­gas.
In Chica­go, work­ers decid­ed to end Christ­mas retail sea­son with a vis­i­ble show of civ­il dis­obe­di­ence. As Teague recounts, "First we met at St. James Cathe­dral. We talked and we prayed. We basi­cal­ly went from store to store singing and ask­ing for high­er wages, and we moved on and on to the next one. The last one we moved from was Star­bucks. Then we walked down to the water tow­er, which is where we sang the last song. The water tow­er has signs up say­ing that nobody can gath­er or protest or you'll get arrest­ed. A few of my fel­low union mem­bers sat down in the street and were singing peace­ful­ly and were ask­ing for high­er wages. It was so awe­some. It was such a huge turnout." On April 24, Chicago's down­town fast-food and retail work­ers staged a one-day strike of their own. Upwards of 500 work­ers walked off the job at dozens of chains—in some cas­es, shut­ting them down.
Teague says, "All eyes are on us, and peo­ple are lis­ten­ing up. They have no choice but to hear us now. It's actu­al­ly become a thing where I walked into a store down­town, and I had on my union hat—a red hat with white writing—and one of the man­agers got to the secu­ri­ty guard to keep an eye on me. It just lets me know that you see me."
---
The image of work­ers' strug­gle as a ver­ti­cal oppo­si­tion between ide­al types—the pure and uni­tary 99% against the cen­tral­ized and con­niv­ing 1%—has worked as a pow­er­ful cat­a­lyst of indig­na­tion against the hypocrisies of big-chain indus­try. But in rep­re­sent­ing low-wage work­ers' strug­gle, these ide­al types are lim­its to be over­come. Work­ers are tac­ti­cal inno­va­tors push­ing on dif­fer­ent points of pres­sure rather than upward, in a uni­fied hege­mo­ny, against the sys­tem. The emer­gence of mass strug­gle is a charge for those at the switch­board of pop­u­lar atten­tion to recon­ceive strug­gle itself, attend­ing to the com­po­si­tion of agen­cies and spaces impli­cat­ed in it—far more than what one can, as here, under­stand from a hand­ful of phone con­ver­sa­tions.
The vis­i­bil­i­ty of crit­i­cal geog­ra­phy has increased with the pop­u­lar­i­ty of David Harvey's books—which, them­selves, offer a mixed bag of 21st cen­tu­ry social move­ment the­o­riza­tions. In Spaces of Hope, Har­vey mar­shals world-sys­tems the­o­ry to rethink move­ments around human rights, the envi­ron­ment, and the exploita­tion of women, all of which "bridge the micro-scale of the body and the per­son­al on the one hand and the macro-scale of the glob­al and the polit­i­cal-eco­nom­ic order on the oth­er." On Baltimore's liv­ing wage strug­gle in the 1990s, he writes, "Its basis in the church­es, the com­mu­ni­ty, the unions, the uni­ver­si­ties, as well as among those social lay­ers 'not imme­di­ate­ly con­cerned with the ques­tions,' starts to frame body pol­i­tics in a rather spe­cial way, by-pass­ing some of the more con­ven­tion­al bina­ries of capital/labor, white/black, male/female, and nature/culture." He con­cludes with a descrip­tion of the "insur­gent archi­tect," who assem­bles alter­na­tives by find­ing ways "to nego­ti­ate between the secu­ri­ty con­ferred by fixed insti­tu­tions and spa­tial forms on the one hand and the need to be open and flex­i­ble in rela­tion to new socio-spa­tial pos­si­bil­i­ties on the oth­er."
Else­where, Harvey's atten­tion to the het­ero­ge­neous and shift­ing class com­po­si­tion of low-wage indus­try unrav­els. In The Enig­ma of Cap­i­tal and his post-Occu­py Rebel Cities, he posits a "Par­ty of Indig­na­tion" and an anti-Par­ty of Wall Street "Peo­ple," respectively—in both cas­es, one "yes" (for glob­al jus­tice) to counter the one "no" (glob­al cap­i­tal) that obscures the mul­ti­tude of agen­cies that he col­lects over the course of the text. Harvey's argu­ments against anar­chist forms of polit­i­cal prac­tice in Rebel Cities are tar­get­ed against the imper­fec­tions of an ide­al type, rather than tak­ing anar­chism as one item in a mate­r­i­al, if inco­her­ent, assem­blage of alter­na­tives.
Harvey's flat asser­tions can be read as provo­ca­tions rather than sui gener­is pro­pos­als. Even so, for a politi­cized audi­ence try­ing to grasp the hori­zons of strug­gle, they risk repro­duc­ing the "anni­hi­la­tion of space through time," as Marx famous­ly put it, char­ac­ter­is­tic of cap­i­tal itself. They denote a strug­gle, an anti-sys­temic class, revolt­ing from with­in a despa­tial­ized polit­i­cal econ­o­my. They respond to the 30,000-franchise space­less­ness of McDonald's with space­less, tex­ture­less alter­na­tives.
The oblique­ness of Marx's own labor geog­ra­phy high­lights the chal­lenge of teas­ing out var­ie­gat­ed "spaces of hope" from the emer­gence, and star­tling new­ness, of mass strug­gle.
In their March 1850 Address, Marx and Engels called for the cre­ation "of at least a provin­cial asso­ci­a­tion of the work­ers' clubs" to com­bat the con­sol­i­da­tion of bour­geois pow­er in response to the rev­o­lu­tion. The Indus­tri­al Con­gress sup­port­ed strikes "as a means of tran­si­tion from our present state of affairs to one of asso­ci­a­tion." Mass insur­gency could unite an oth­er­wise "inco­her­ent mass" of labor­ers "scat­tered over the whole coun­try, and bro­ken up by their mutu­al com­pe­ti­tion."
As a some­time jour­nal­ist, Marx was a close observ­er of coor­di­nat­ed labor action. In one report in the New York Dai­ly Tri­bune, he wrote of an 1853 British strike wave:
Each mail brings new reports of strikes; the turn-out grows epi­dem­ic. Every one of the larg­er strikes, like those at Stock­port, Liv­er­pool, etc., nec­es­sar­i­ly gen­er­ates a whole series of minor strikes, through great num­bers of peo­ple being unable to car­ry out their resis­tance to the mas­ters, unless they appeal to the sup­port of their fel­low-work­men in the King­dom, and the lat­ter, in order to assist them, ask­ing in their turn for high­er wages. Besides it becomes alike a point of hon­or and of inter­est for each local­i­ty not to iso­late the efforts of their fel­low-work­men by sub­mit­ting to worse terms, and thus strikes in one local­i­ty are echoed by strikes in the remotest oth­er local­i­ties.
In the case of sur­prise one-day strikes at dif­fuse loca­tions, the echo of "new reports" inheres in the action itself. With the addi­tion of social media, space and time implode into a sin­gle, if lengthy, moment. This moment feeds on—but clouds—the con­stel­la­tion of polit­i­cal economies that delim­it low-wage work­ers' strug­gle. Swept up in the moment, the $8.25 man is an exploit­ed man with a low wage. Simul­ta­ne­ous­ly set free by it, low-wage labor reveals a com­plex land­scape of polit­i­cal prac­tice, with new agents of strug­gle to get to know.
---
Pho­to: Mic­ah Uet­richt