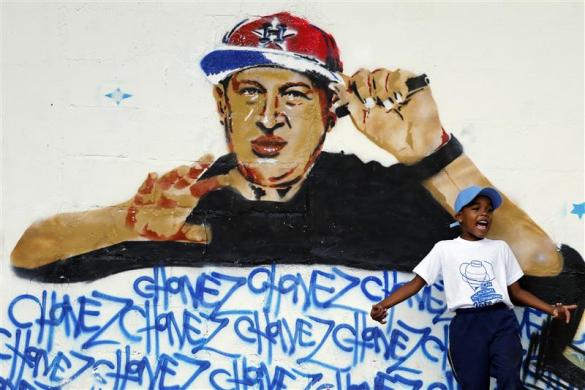 The news from Cara­cas has not been promis­ing for some time. The leader of the Boli­var­i­an Rev­o­lu­tion had not been seen since ear­ly Decem­ber, when he trav­elled to Cuba to under­go emer­gency surgery for a still undis­closed form of can­cer. On Tues­day March 5, Vice Pres­i­dent Nicolás Maduro announced that Venezue­lan Pres­i­dent Hugo Chávez died in a mil­i­tary hos­pi­tal in Cara­cas. He was 58 years old.
Chávez was and will remain a polar­iz­ing char­ac­ter, as all rev­o­lu­tion­ar­ies should be.
Chávez had the temer­i­ty to defy the Unit­ed States as it attempt­ed to recon­fig­ure the post Cold War world. He decried the "col­lat­er­al dam­age" of bomb­ing cam­paigns in Afghanistan and Iraq, was an out­spo­ken and sub­stan­tive sup­port­er of Pales­tine and a crit­ic of Israeli war crimes, and worked towards delink­ing Latin Amer­i­ca from the pre­rog­a­tives of US pow­er. In 2002 he sur­vived an attempt­ed coup d'état orches­trat­ed by local elites and sanc­tioned by the Empire to the North. In 2003 he with­stood a boss­es' strike in the petro­le­um sec­tor that last­ed two months and crip­pled the econ­o­my. In both cas­es, Chávez was saved not by virtue of his polit­i­cal acu­men or his larg­er-than-life per­son­al­i­ty – attrib­ut­es he held and prac­ticed in abun­dance – but rather by mobi­liza­tions of Venezuela's poor major­i­ty that sur­prised his gov­ern­ment as much as any­one else.
It is this exam­ple that could be for­giv­en least by Empire, but it was also this real­i­ty that repeat­ed­ly thwart­ed attempts by domes­tic and inter­na­tion­al cap­i­tal to oust Chávez. The real threat posed by the Boli­var­i­an Rev­o­lu­tion was not its redis­tri­b­u­tion of the country's wealth, its dri­ve to democ­ra­tize con­sump­tion, its com­mit­ment to erad­i­cat­ing pover­ty at home and abroad, or its diplo­mat­ic project to forge a mul­ti­po­lar world sys­tem – though none of these should be dis­count­ed.1 The real threat posed by the Boli­var­i­an Rev­o­lu­tion to world order was felt most in those moments when it "ruled by obey­ing."2
In this way, Chávez's divi­sive­ness was much more sig­nif­i­cant than sug­gest­ed by the sound bites already being repeat­ed ad nau­se­um, long before his death, by a North Atlantic media that tend­ed to oper­ate more as the State Department's mega­phone than the "Fourth Estate."3 The "Chávez Phe­nom­e­non" force­ful­ly restaged the ques­tion of the state and of sov­er­eign­ty for anti-cap­i­tal­ist strug­gle.
Through­out the 1990s a con­sen­sus emerged between the Left and Right – if for incom­men­su­rable rea­sons – that the state-form was always and only a road best left untrav­eled. While the elec­tion of Chávez in 1998 did not set­tle the mat­ter, it placed the rela­tion between con­stituent and con­sti­tut­ed pow­er at the cen­ter of its dis­course and debates. One could find heav­i­ly sub­si­dized trans­la­tions of John Holloway's anti-state Marx­ist man­i­festo Change the World With­out Tak­ing Pow­er (2002) in the same gov­ern­ment-fund­ed sub­way kiosks that sold the con­sti­tu­tion of the Boli­var­i­an Repub­lic of Venezuela and books extolling the polit­i­cal and his­tor­i­cal sig­nif­i­cance of el Coman­dante. Tele­vised debates took place on the the­ses of Hardt and Negri's Empire. The roadmap for the rev­o­lu­tion adver­tised through­out 2007 and 2008 – the "five motors of Boli­var­i­an Social­ism" – open­ly sup­port­ed the rad­i­cal recon­fig­u­ra­tion and decen­ter­ing of the nation­al "geom­e­try of pow­er" and gov­er­nance through the "explo­sion of com­mu­nal pow­er." The sense of open­ness, exper­i­men­ta­tion, and pos­si­bil­i­ty is pal­pa­ble in Venezuela, even if rhetoric and action have not always matched each other's pace.
To sug­gest the Boli­var­i­an process has been com­plet­ed, or that it has been uni­lat­er­al­ly suc­cess­ful in these endeav­ors, is as facile as com­par­isons of Chávez to Stal­in. As Roland Denis – a com­rade­ly crit­ic of the Chávez effort who served as the min­is­ter of Plan­ning and Devel­op­ment in the ear­ly stages of the Rev­o­lu­tion, and a long-stand­ing par­tic­i­pant in Venezue­lan social move­ments since the 1970s – puts it:
"the process" is… a col­lec­tive and open con­struc­tion that is not marked by final objec­tives, nor is it dri­ven by the inex­orable course of his­tor­i­cal devel­op­ment… every­thing in "the process" is in ten­sion. Noth­ing or no one can over­come its tran­si­to­ry log­ic; we are mak­ing a new real­i­ty that we don't yet know very well.4
The Boli­var­i­an Rev­o­lu­tion is ongo­ing and con­tin­gent. In my own work I have often described the Chávez gov­ern­ment as the "'insti­tu­tion­al" phase of the polit­i­cal sequence that began with the upris­ings against neolib­er­al struc­tur­al adjust­ment of the 1980s and 1990s.5 The next, "post-Chávez," phase will con­tin­ue to be defined by this irre­solv­able ten­sion over its direc­tion, method, and sub­stance – the clash between rad­i­cal and "right-wing" chav­is­mo has already been rag­ing for a decade, and has been more sig­nif­i­cant than con­flicts with the oppo­si­tion in deter­min­ing the tra­jec­to­ry of the Rev­o­lu­tion to date.6
Or at least, this has been the chief con­tra­dic­tion until the present. Chávez per­formed a dual role dur­ing his decade and a half in the pres­i­den­cy. In the first, he embod­ied the gap and ten­sion that defined strug­gle in Venezuela, stitch­ing togeth­er social demo­c­ra­t­ic and rev­o­lu­tion­ary fac­tions of the "Left." In the sec­ond – per­haps coun­ter­in­tu­itive­ly – he pre­vent­ed social antag­o­nism in Venezuela from boil­ing over into open and armed civ­il war. He was fond of remind­ing sup­port­ers and oppo­si­tion alike that the Boli­var­i­an Rev­o­lu­tion was "peace­ful, but armed." While the new com­po­si­tion of the Venezue­lan gov­ern­ment leaves much room for debate as to whether the inter­nal "Right" or "Left" of chav­is­mo will car­ry el Coman­dante's torch (and this may indeed be by design), the ongo­ing civ­il war in Venezuela shows lit­tle sign of sub­sid­ing. If any­thing, social and polit­i­cal con­flict in Venezuela is like­ly to increase in scope and inten­si­ty, and this is a deeply ambiva­lent devel­op­ment from the per­spec­tive of social rev­o­lu­tion.
"The kind of change we want can't be won through elec­tions alone."
I lived and worked in Venezuela in 2007 and 2008. One of my jobs was with the government's mis­ión Ribas (a high-school equiv­a­len­cy pro­gram orga­nized by res­i­dents of infor­mal set­tle­ments and fund­ed by the nation­al gov­ern­ment) in the West­ern Cara­cas Parish of La Vega. The peo­ple I worked with there were among the most mar­gin­al­ized by the country's chaot­ic urban­iza­tion with­out indus­tri­al­iza­tion that had defined the sec­ond half of the twen­ti­eth cen­tu­ry. They were as zeal­ous in their sup­port of and con­fi­dence in Pres­i­dent Chávez as they were crit­i­cal of the "bureau­crats and scor­pi­ons" that sur­round­ed him, and they were mil­i­tant­ly opposed to the "ran­cid bour­geoisie." "The kind of change we want can't be won through elec­tions alone" was their mantra. "We have to build our pow­er, as a com­mu­ni­ty. No one will give it to us."
A few years lat­er, after I returned to the Unit­ed States, the sen­ti­ment I encoun­tered every day I worked with rad­i­cal boli­var­i­ans was cap­tured per­fect­ly in an inter­view with a mem­ber of the HipHop Rev­olu­ción move­ment: "we respect Chávez, because he under­stands our strug­gle, but we are always look­ing to be self-crit­i­cal to keep our rev­o­lu­tion mov­ing in the right direction…I'm a rev­o­lu­tion­ary from my heart. Chávez fucks around and flips on us, we're gonna flip on him. And I think that's what he expects from us."7
George Cic­cariel­lo-Maher (2007) has described this dynam­ic by refor­mu­lat­ing Lenin's con­cept of rev­o­lu­tion­ary dual pow­er. Of par­tic­u­lar inter­est for Cic­cariel­lo-Maher is the insti­tu­tion­al­iza­tion of pop­u­lar pow­er in bod­ies like the con­se­jos comu­nales (com­mu­nal coun­cils) and the now defunct círu­c­los boli­var­i­anos (Boli­var­i­an Cir­cles). He con­tends that in
the con­struc­tion of an autonomous, alter­na­tive pow­er capa­ble of chal­leng­ing the exist­ing state struc­ture… we can see that the estab­lish­ment of com­mu­nal coun­cils in Venezuela is clear­ly a pos­i­tive step toward the devel­op­ment of fuller and deep­er democ­ra­cy, which is encour­ag­ing in and of itself. But the coun­cils' sig­nif­i­cance goes beyond that. The con­sol­i­da­tion of com­mu­nal pow­er says much about the role of the state in the Venezue­lan Rev­o­lu­tion. Specif­i­cal­ly, what is unique about the Venezue­lan sit­u­a­tion is the fact that sec­tors of the state are work­ing active­ly to dis­man­tle and dis­solve the old state appa­ra­tus by devolv­ing pow­er to local organs capa­ble of con­sti­tut­ing a dual pow­er. Tran­scend­ing the sim­plis­tic debate between tak­ing or oppos­ing state pow­er, a focus on dual pow­er allows us to con­cen­trate on what real­ly mat­ters in Venezuela and else­where: the rev­o­lu­tion­ary trans­for­ma­tion of exist­ing repres­sive [state] struc­tures.8
In Venezuela the state-form itself is being trans­mo­gri­fied into a self-rev­o­lu­tion­iz­ing appa­ra­tus. Rather than a head-on col­li­sion with the insti­tu­tions of the ancien régime – notably the bureau­cra­cy, the pri­vate news media and the pub­lic edu­ca­tion sys­tem – the Chávez gov­ern­ment more often than not has opt­ed to fund the cre­ation of par­al­lel insti­tu­tions. The misiones boli­var­i­anas, the decen­tral­iza­tion of leg­isla­tive and bud­getary pow­er to the com­mu­nal coun­cils, the degree to which every­thing gets called to a vote – all of these quo­tid­i­an real­i­ties sug­gest a rev­o­lu­tion­ary strat­e­gy of exo­dus and pro­duc­tion. Build a new world so that the old can with­er and die.
The "post-Chávez era" will in oth­er words be deter­mined by the con­tin­ued expres­sion and devel­op­ment of pop­u­lar pow­er, not by rep­re­sen­ta­tives or insti­tu­tions. It would, how­ev­er, be mis­guid­ed to under­es­ti­mate the impor­tance these (often tem­po­rary) insti­tu­tion­al­iza­tions of pow­er have been, espe­cial­ly in terms of pro­vid­ing plat­forms for future action and mobi­liza­tion against the still-present old guard.
It has often been sug­gest­ed that the Chávez gov­ern­ment ought to be sup­port­ed because it facil­i­tat­ed the actions of social move­ments to orga­nize and advance. This posi­tion, while cor­rect in the final instance, is nonethe­less based on the faulty assump­tion that Chávez was the cause rather than the effect of social upheaval and trans­for­ma­tion in Venezuela. Chávez and the Boli­var­i­an Rev­o­lu­tion have always been the ben­e­fi­cia­ries of the social rev­o­lu­tion to which it is allied, not its source.
The Boli­var­i­an Rev­o­lu­tion moved into the spaces opened by insur­rec­tions it did not and could not con­trol: the cara­ca­zo anti-neolib­er­al upris­ings of Feb­ru­ary 1989 that left thou­sands dead dur­ing a week­end of street bat­tles over struc­tur­al adjust­ment, and shat­tered the exclu­sion­ary "democ­ra­cy" of the puntofi­jo pact.9 A decade lat­er Chávez won his first elec­tion – after the then Lieu­tenant Colonel took respon­si­bil­i­ty for a failed coup in 1992 – on the explic­it promise of a defin­i­tive break with the ancien régime. In April 2002 a spon­ta­neous upris­ing of the cap­i­tal city's poor­est over­turned a two-day coup led by the mil­i­tary high com­mand, pri­vate telecom­mu­ni­ca­tions com­pa­nies, the nation­al cham­ber of com­merce, and the direc­torate of the state oil com­pa­ny. In 2003 retired work­ers and vol­un­teers end­ed a lock­out of the oil indus­try that crip­pled the nation­al econ­o­my.
With the events of 2002 and 2003, the inter­na­tion­al­ly-linked oppo­si­tion over-extend­ed itself and was defeat­ed by the mul­ti­tude. It couldn't have been any oth­er way. The Chávez gov­ern­ment has been metic­u­lous in its com­mit­ment to legal, insti­tu­tion­al, reforms; it has always sought to leg­is­late change. The cycle of "coun­ter­rev­o­lu­tion and reform" could only advance after defeat for the right, and these defeats were played out in the streets.10
"Com­pañeros, the great­est lib­er­tar­i­an teacher of the Venezue­lan peo­ple has died, and two days ear­li­er anoth­er equal teacher… Chávez and Sabi­no show the way." - Roland Denis
Chávez's death came as many rev­o­lu­tion­ar­ies in Venezuela were try­ing to make sense of an ear­li­er loss. On March 3, just two days before the announce­ment of Chávez's death, Sabi­no Romero was assas­si­nat­ed while trav­el­ling to a polling place for a com­mu­ni­ty elec­tion. Sabi­no was a leader of the Yuk­pa peo­ple in the West­ern Venezue­lan state of Zulia and a tire­less agi­ta­tor for indige­nous auton­o­my and rights, and the preser­va­tion of lands in the face of the Boli­var­i­an government's often devel­op­men­tal­ist dri­ve. In 2009 Sabi­no spent 18 months in prison on almost cer­tain­ly fraud­u­lent charges of arson and cat­tle rustling after he lead a cam­paign of non­vi­o­lent direct action and occu­pa­tion of lands grant­ed to the Yuk­pa, but being held ille­gal­ly by large-scale land own­ers.
Sabi­no iden­ti­fied as a rev­o­lu­tion­ary, and though he often clashed with local (and usu­al­ly right-wing) chav­ista offi­cials, was wide­ly con­sid­ered by the rad­i­cal base of the Boli­var­i­an move­ment an exam­ple to be fol­lowed in "deep­en­ing" the Rev­o­lu­tion. His death at the hands of paid gun­men will almost cer­tain­ly be eclipsed by the pub­lic mourn­ing and polit­i­cal recon­fig­u­ra­tion fol­low­ing the death of the Pres­i­dent. How­ev­er, his frac­tious rela­tion­ship with the Boli­var­i­an Rev­o­lu­tion char­ac­ter­izes the dynam­ics that have defined the last 15 years in Venezuela, and sug­gests pos­si­ble direc­tions for the future of the move­ment.
I have long won­dered if Chávez, per­haps para­dox­i­cal­ly, might have been the only thing pre­vent­ing civ­il war in Venezuela. Of course, Venezuela is noto­ri­ous­ly no stranger to every­day vio­lence and crime. How­ev­er, the assas­si­na­tion of Sabi­no sug­gests a dis­turb­ing and increased degree of ungovern­abil­i­ty and bold­ness on the part of elites, and an inten­si­fi­ca­tion of the war that pre­dates the Chávez gov­ern­ment and has pushed for a deep­en­ing of the rev­o­lu­tion. It remains to be seen whether these forces can con­tin­ue to be con­tained with­out Chávez at the helm of the Rev­o­lu­tion.
"Those who die for life can't be called dead." – Alí Primera
When Nicolás Maduro announced the death of Chávez, he insist­ed the Boli­var­i­an Rev­o­lu­tion was big­ger than its osten­si­ble leader. He quot­ed Alí Primera, the Venezue­lan folk singer and com­mu­nist mil­i­tant of the 1970s and 1980s, "Los que mueren por la vida no pueden lla­marse muer­tos" – those who die for life can't be called dead. The cho­rus has been repeat­ed count­less times since.
Primera quotes and songs are reg­u­lar fea­tures of the social and polit­i­cal life of chav­is­mo. The per­sis­tence of Primera's music high­lights the con­ti­nu­ity of strug­gles against cap­i­tal­ism, pover­ty, inequal­i­ty, and depri­va­tion in Venezuela. In this way, they are a par­tic­u­lar­ly strik­ing sum­ma­ry of the sequence of strug­gles that will inevitably, if mis­lead­ing­ly, be referred to as "the Chávez era." Chávez was the prod­uct of a sequence of strug­gles that did not end when he assumed office, nor will it end with his death. He should be remem­bered as he saw him­self: a com­rade in the strug­gle against exploita­tion and against cap­i­tal­ism.
We hon­or our dead by con­tin­u­ing the fight we shared with them.
---
1. The advances of the Boli­var­i­an project in terms human and social wel­fare are par­tic­u­lar­ly strik­ing in that Venezuela reduced absolute and rel­a­tive inequal­i­ty at the same time as the gap between rich and poor was grow­ing in the "devel­oped" North. Venezuela was declared an 'illit­er­a­cy free' coun­try by the UN by 2005, and the gov­ern­ment has pri­or­i­tized pro­vid­ing the pop­u­la­tion with free health care and edu­ca­tion as well as access to heav­i­ly sub­si­dized basic food­stuffs and dig­ni­fied hous­ing. Against doom­say­ers on the Left and Right the coun­try has weath­ered the post-2008 'great reces­sion' bet­ter than the Unit­ed States and Euro­zone and has con­tin­ued to diver­si­fy its inter­na­tion­al diplo­mat­ic and trad­ing ties both region­al­ly and glob­al­ly.
2. The phrase "man­dar obe­di­cien­do" was first made famous by the Zap­atista Rebels of Chi­a­pas, Mex­i­co for auton­o­my and against neolib­er­al­ism in 1994. As a polit­i­cal prin­ci­ple, to "rule by obey­ing" invokes hor­i­zon­tal, inclu­sive, and par­tic­i­pa­to­ry democ­ra­cy (referred to in Venezuela as "pro­tag­o­nism") and is explic­it­ly opposed to the norms of lib­er­al, rep­re­sen­ta­tive and mar­ke­tized democ­ra­cies of the North Atlantic.
3. The New York Times, for exam­ple, imme­di­ate­ly endorsed the failed 2002 coup against Chávez. The obscene obverse of the rush of US and Euro­pean media out­lets to raise con­cerns with Chávez's "divi­sive­ness" and a-lib­er­al take on demo­c­ra­t­ic gov­er­nance can be seen in the Left's equal­ly mis­guid­ed attempts to lay out Chávez's "lega­cy." Both approach­es to the death of a pub­lic fig­ure mis­take what is at stake. While it is entire­ly appro­pri­ate to mourn Chávez as a fall­en com­rade in strug­gle, it is nonethe­less equal­ly impor­tant to avoid rein­forc­ing the dis­em­pow­er­ing myth that he was some­how the Boli­var­i­an Revolution's only indis­pen­si­ble par­tic­i­pant or leader or the "sav­ior" of the Venezue­lan peo­ple.
4. Roland Denis, Rebe­lión en Pro­ce­so: Dile­mas del Movimien­to Pop­u­lar luego de la Rebe­lión del 13 de Abril, (Edi­ciones de Nues­tra Améri­ca, 2005).
5. Don­ald Kings­bury, "Between Mul­ti­tude and Pueblo: Venezuela's Boli­var­i­an Rev­o­lu­tion and the Gov­ern­ment of Ungovern­abil­i­ty," New Polit­i­cal Sci­ence 35.4 (Decem­ber 2013).
6. The round­table host­ed by the jour­nal His­tor­i­cal Mate­ri­al­ism in 2001 offers impor­tant insight into this strug­gle. See Spronk, et al. "The Boli­var­i­an Process in Venezuela: A Left Forum," His­tor­i­cal Mate­ri­al­ism, Vol­ume 19, Num­ber 1, 2011, pp. 233-270.
7. Pablo Navar­rete and Jody McIn­tyre, "Venezuela's Hip Hop Rev­o­lu­tion­ar­ies," March 4, 2012.
8. George Cic­cariel­lo-Maher, "Dual Pow­er in the Venezue­lan Rev­o­lu­tion," Month­ly Review, Vol­ume 59, issue 4, 2007, pp. 42-56, at pg. 42.
9. See, for exam­ple, Fer­nan­do Coro­nil and Julie Skurs­ki "Dis­mem­ber­ing and Remem­ber­ing the Nation" in their edit­ed vol­ume States of Vio­lence (Uni­ver­si­ty of Michi­gan Press, 2006), pp. 83-152 and George Ciccariello-Maher's forth­com­ing We Cre­at­ed Chávez: A People's His­to­ry of the Venezue­lan Rev­o­lu­tion (Duke, 2013).
10. The expres­sion "counter rev­o­lu­tion and reform" has been used by Gre­go­ry Wilpert to char­ac­ter­ize the ear­ly years of the Chávez gov­ern­ment. See his Chang­ing Venezuela by Tak­ing Pow­er (Ver­so, 2007).