On July 1st, 2012, the day of Mexico's recent pres­i­den­tial elec­tion, I vis­it­ed the Museo de Arte Mod­er­no in Mex­i­co City, hop­ing to encounter a paint­ing by Reme­dios Varo. A sur­re­al­ist painter flee­ing the Span­ish Civ­il War, Varo was among the many notable exiles to make their home in Mex­i­co City dur­ing the mid-20th cen­tu­ry. I hoped that through one of her Cim­mer­ian dream­scapes I might learn some­thing about the polit­i­cal sit­u­a­tion she expe­ri­enced in the after­math of the mas­sive Mex­i­can rev­o­lu­tions of 1910 to 1929. It was dur­ing the prime of her career fol­low­ing the end of WWII that the Insti­tu­tion­al Rev­o­lu­tion­ary Par­ty (PRI), inher­i­tors of the Mex­i­can Rev­o­lu­tion, strayed decid­ed­ly off-course to embrace a par­tic­u­lar brand of oli­garchic and author­i­tar­i­an gov­er­nance. Their 71 years of unin­ter­rupt­ed rule end­ed in 2000, but as I arrived at the muse­um that morn­ing their return to pow­er, in the con­text of an increas­ing­ly bloody "Drug War," was already pre­sumed.
As it hap­pened, Varo's paint­ings were not on dis­play and much of the muse­um was closed off, so I made my way into an open exhib­it enti­tled Sus­pe­cho, which serendip­i­tous­ly enough was con­cerned with the con­ver­gence of drug car­tel-relat­ed vio­lence and the larg­er socio-cul­tur­al shifts tak­ing place in Mex­i­co. On dis­play in this exhib­it was the clear rela­tion­ship between media tech­nolo­gies and the inabil­i­ty of the Mex­i­can media to prop­er­ly rep­re­sent the 60,000 mur­ders that dom­i­nate the country's head­lines – the fun­da­men­tal issue at stake in the elec­tion – with any depth or causal under­stand­ing . The works select­ed all med­i­tat­ed on deep­er issues relat­ing to the prop­a­ga­tion of infor­ma­tion in the era of post­mod­ernism, but they posed an imme­di­ate polit­i­cal ques­tion: how can the drug war be con­ceived as a log­i­cal piece in the whole pic­ture of Mexico's cur­rent polit­i­cal cri­sis, with­out imme­di­ate­ly reify­ing it as a spec­ta­cle in the graph­ic dailies, or in a politician's ready-made sound bite pledg­ing to pro­vide pro­tec­tion?
As a par­tic­i­pant in pub­lic edu­ca­tion strug­gles at the Uni­ver­si­ty of Cal­i­for­nia, I cou­pled my sum­mer efforts at improv­ing my Span­ish with an edu­ca­tion from the nascent stu­dent move­ment that rose up to con­front Mexico's bro­ken polit­i­cal process. The lessons: the 2008 cri­sis in the glob­al cap­i­tal­ist sys­tem is play­ing out in dis­tinct nation­al con­texts, owing in large part to the var­ie­gat­ed his­tor­i­cal expe­ri­ences of the 20th cen­tu­ry. Man­dates for cap­i­tal­ist restruc­tur­ing made by elites across the globe ("aus­ter­i­ty mea­sures") are locat­ed with­in par­tic­u­lar social com­po­si­tions and dis­tinct polit­i­cal mech­a­nisms, whether in Egypt, Iran, or Chi­na. The Mex­i­can events demon­strate that though such "local obsta­cles" have to be wres­tled with and passed through, this process is part of a more uni­ver­sal strug­gle against the glob­al con­di­tions of cap­i­tal­ism. As Arab Springs and Occu­py move­ments inevitably con­tin­ue to appear, they may be expect­ed to remain tac­ti­cal­ly and polit­i­cal­ly dis­tinct upris­ings against cap­i­tal­ism (some more explic­it­ly) with the poten­tial ele­ments to con­sti­tute a post-cap­i­tal­ist soci­ety.
What Was the PRI?
Many of the glar­ing prob­lems in Mex­i­can soci­ety today, from gov­ern­ment cor­rup­tion to stag­ger­ing inequal­i­ty, are root­ed in the country's tran­si­tion from social democ­ra­cy to neolib­er­al­ism, sym­bol­i­cal­ly com­plet­ed on Jan­u­ary 1st, 1994 with the sign­ing of the North Amer­i­can Free Trade Agree­ment (NAFTA).1 The pop­ulist poli­cies with which the PRI had ini­tial­ly solid­i­fied its base were sub­se­quent­ly rolled back and attacked by the very same par­ty, in the years before and after NAFTA's imple­men­ta­tion. How­ev­er, the one trait that pro­vides a com­mon link through the PRI's sev­en decades in pow­er was its abil­i­ty to con­tain the forces of the rev­o­lu­tion­ary left, from which it for­mal­ly took pow­er in 1929. The alliances of dis­tinct class­es and social blocs that had pow­ered sev­er­al insur­rec­tionary vol­leys in the years after 1910 were hence­forth pit­ted against each oth­er by the PRI's wily polit­i­cal machine. Pat­ri­mo­ni­al net­works and social spend­ing were used to recu­per­ate por­tions of the dis­il­lu­sioned base and geo­graph­i­cal­ly removed regions oth­er­wise vul­ner­a­ble to the pol­i­tics of auton­o­my. It was in fact under the left­ist regime of Lázaro Cár­de­nas in the 1930s that the cen­tral­iza­tion of pow­er was first solid­i­fied through the use of polit­i­cal favors and eco­nom­ic rewards, on one hand, and direct sup­pres­sion of polit­i­cal oppo­nents, on the oth­er. In the new glob­al con­fig­u­ra­tion that fol­lowed the end of World War Two, the trends were accen­tu­at­ed.2
In 1968, on the heels of an eco­nom­ic down­turn and the out­break of rev­o­lu­tion­ary move­ments across the Third World, a stu­dent move­ment arose with an as-yet unsur­passed lev­el of coor­di­na­tion and pop­u­lar sup­port, chal­leng­ing the government's increas­ing author­i­tar­i­an­ism and reformism. The youth of the '68 gen­er­a­tion iden­ti­fied with an inter­na­tion­al­ist, rather than state-pro­tec­tion­ist, social­ist cul­ture, and their abil­i­ty to pull off mas­sive strikes threat­ened to undo the PRI's strate­gic iso­la­tion and immo­bi­liza­tion of the labor move­ment. Two blood­baths suc­cess­ful­ly trun­cat­ed the stu­dent move­ment, in 1968 and then in 1971; they have been offi­cial­ly denied or under­re­port­ed by each admin­is­tra­tion in office to this day. In the imme­di­ate after­math some sur­vivors formed armed guer­ril­la groups, though these were neu­tral­ized by 1975. In the long term, the crack­downs val­i­dat­ed pop­u­lar mil­i­tan­cy, which has per­sist­ed on the fringe in some states, and mem­o­ry of the mas­sacres is deeply embed­ded in the cul­tur­al psy­che. Indeed, the recent stu­dent protests revived mem­o­ry of the poten­tial of 1968, as well as atten­tion to the government's his­to­ry of vio­lent repres­sion.
The major fig­ure to com­plete the PRI's embrace of Washington's neolib­er­al man­date was Car­los Sali­nas, pres­i­dent from 1988 to 1994. His elec­toral vic­to­ry in 1988 over Cárdenas's son, Cuauhté­moc Cár­de­nas, who ran on reform­ing the PRI, was a bla­tant fraud. The cir­cum­stances of his elec­tion alone leave Sali­nas as one of the most reviled fig­ures in Mex­i­co today, though he is close to the 2012 elec­tion win­ner Enrique Peña Nieto, and still wields con­sid­er­able pow­er with­in the PRI par­ty struc­ture. Under his admin­is­tra­tion, for­eign cap­i­tal was grant­ed widened access to Mexico's sup­ply of loose­ly reg­u­lat­ed labor, coin­cid­ing with an increase in the maquilado­ras churn­ing out cheap com­modi­ties just across from the US bor­der. His poli­cies also spawned Mexico's mas­sive media monop­o­lies includ­ing the likes of Car­los Slim, the world's rich­est man, and Tele­visa, which now owns 75% of the country's tele­vi­sion access. Wealth dis­par­i­ty sub­se­quent­ly grew rapid­ly, exac­er­bat­ing the country's class for­ma­tions. A group of 100 mega-elites now own approx­i­mate­ly 85% of the nation's wealth, while some­where near half of the pop­u­la­tion lives beneath the pover­ty line. At the same time, the post-NAF­TA access to a bevy of inter­na­tion­al prod­ucts and "lux­u­ry" items has shaped mid­dle-class con­sumer habits and cul­tur­al iden­ti­fi­ca­tions to resem­ble those of First World mar­kets. This has led some investors and ana­lysts to praise Mexico's ris­ing econ­o­my, the Finan­cial Times even now hail­ing the coun­try as the prefer­able des­ti­na­tion for inter­na­tion­al man­u­fac­tur­ing as it leaves Chi­na. Yet such analy­ses ignore both the ram­pant inequal­i­ty that these eco­nom­ic shifts have increased, as well as the chaot­ic polit­i­cal sit­u­a­tion which has come to be a neces­si­ty for con­tin­u­ing down this path.
Such inequal­i­ty has of course cre­at­ed a more hos­tile polit­i­cal envi­ron­ment, and fol­low­ing the deba­cle of 1988 Cár­de­nas went on to form the left-splin­ter PRD, sub­se­quent­ly shift­ing the country's par­ty demo­graph­ics. Mean­while the eco­nom­ic reforms installed under Sali­nas and Ernesto Zedil­lo, his suc­ces­sor, have been con­tin­ued, but by a new par­ty more con­ducive to the ecu­meni­cal image desired by inter­na­tion­al investors. Elect­ed in 2000, the Nation­al Action Par­ty (PAN) promised that their cozy rela­tion­ship to Wash­ing­ton would result in a widen­ing of pros­per­i­ty, while simul­ta­ne­ous­ly retain­ing a tra­di­tion­al Catholic base with rhetoric of cul­tur­al con­ser­vatism. PAN left behind the PRI's faint ges­tures towards labor and agri­cul­ture, instead sub­sti­tut­ing appeals to sta­bil­i­ty, democ­ra­cy, and, of course, free trade. Twelve years lat­er, the pur­port­ed ben­e­fits of a US-eco­nom­ic part­ner­ship have yield­ed a min­i­mal increase in the spend­ing capac­i­ties that sus­tain belief in a mid­dle-class. How­ev­er, the moral appeal of a pres­i­dent who would kiss the Pope's hand is now vast­ly trumped by pledges of secu­ri­ty.
"DF" Cen­ter Stage
The country's shift­ing demo­graph­ics fol­low­ing 1988 can be seen in the ascen­dance and auton­o­my of Mex­i­co City. Cár­de­nas became the capital's first elect­ed may­or in 1997, and the PRD have increased their mar­gin of vic­to­ry with each suc­ces­sive elec­tion. Spend­ing projects have improved the city's noto­ri­ous­ly bad trans­porta­tion and pol­lu­tion, while social­ly pro­gres­sive leg­is­la­tion such as the legal­iza­tion of abor­tion and gay civ­il unions speak to the con­trast form­ing between the city and rest of the coun­try. Despite the capital's greater por­tions of social spend­ing, dis­tinct class divi­sions are vis­i­ble with­in the city, reflect­ing the iden­ti­ty of the Dis­tri­to Fed­er­al (DF) as a finan­cial land­ing strip on the map of the glob­al econ­o­my. In the country's finan­cial cen­ter sev­er­al colo­nias are marked by cos­mopoli­tan bou­tiques, gat­ed com­mu­ni­ties, and expen­sive night­clubs. Alter­na­tive­ly, many indus­tri­al bar­rios and sprawl­ing shan­ty­towns on the city's out­skirts lack basic ser­vices; one in three city inhab­i­tants lack reg­u­lar access to water. The fed­er­al gov­ern­ment has in turn focused its spend­ing on rur­al areas, so that the cap­i­tal increas­ing­ly relies on local rather than fed­er­al fund­ing.
Walk­ing up the side­walk on Aveni­da Insur­gentes, the city's main North/South thor­ough­fare, one is con­front­ed by a var­ie­gat­ed stream of human traf­fic, evok­ing the "20 mil­lion sto­ries" of the DF's inhab­i­tants, and echoes of the famous extran­jeros who walked these blocks in the last cen­tu­ry. Jack Ker­ouac fell in love with a pros­ti­tute; Varo's Eng­lish-born sur­re­al­ist col­lab­o­ra­tor, Leano­ra Car­ring­ton, flam­boy­ant­ly dressed at age 90 feed­ing stray dogs around Colo­nia Roma; MN Roy, founder of both the Indi­an and Mex­i­can Com­mu­nist Par­ties, whose one-time home in Roma is now an exclu­sive nightspot called "Roy"; Bur­roughs, Trot­sky, Bre­ton, Cas­tro, Dur­ru­ti, Bolaño, Pyn­chon, B. Tra­ven, John Reed – each tale fas­ci­nat­ing and unre­peat­able. Loi­ter­ing in the Zóca­lo, the city square, dur­ing the large protests that pre­ced­ed the elec­tion, I was impressed by the prag­ma­tism and savvy of the muchachos/as (many no old­er than 14) who formed a large part of the protests. Their grasp of Mexico's polit­i­cal his­to­ry was nuanced, while dis­il­lu­sioned: they held hopes for social rev­o­lu­tion, and saw the entire elec­toral sys­tem as part of the prob­lem. Nonethe­less, most unhesi­tat­ing­ly advo­cat­ed vot­ing for the Left par­ty, to con­tribute pres­sure to the system's restruc­tur­ing.
About 10 mil­lion "sto­ries" – human lives – in the DF are lived in slums. Indeed, Mex­i­co City boasts the world's third largest slum pop­u­la­tion after Mum­bai and Dha­ka.3 The indig­ni­ty many now expe­ri­ence in the Unit­ed States of hav­ing to beg for a job is mul­ti­plied expo­nen­tial­ly in the lives of many Mex­i­cans who sell wares such as CDs, chew­ing gum, or one of an innu­mer­able array of trin­kets, an unbro­ken stream of beg­ging for a few pesos at a time. I made a friend who lost her par­ents at eight years old and sur­vived the street on her own by sell­ing orange juice, until she turned 18 and found bet­ter work. Step­ping in to orga­nize this pau­per­ized mode of sur­vival for some time has been the drug car­tels, who are thus the Mex­i­can mafia. Cas­es like the city's fleet of inde­pen­dent bus ser­vices have revealed that the car­tels play a large coor­di­nat­ing role in pro­vid­ing small busi­ness­es with pro­tec­tion, and, addi­tion­al­ly, extor­tion. Vivid accounts of slum-life by Mike Davis and Jan Bre­man are able to "enter" the slum in a way that many for­eign­ers, or for that mat­ter Mex­i­cans with mon­ey, can­not. What's more, the con­clu­sion of Davis's Plan­et of Slums – that mil­i­taries are being re-orga­nized for pur­pos­es of "urban engage­ment" – now appears par­tial­ly con­firmed by the Mex­i­can military's build-up and esca­la­tion of the car­tel war.
What­ev­er inter­ac­tion exists between the low­er and upper class­es in Mex­i­co City, then, is medi­at­ed joint­ly by the mil­i­tary, in a broad sense, and by finan­cial exchanges. Beyond the buy­ing of com­modi­ties from the street and the spar­ing of change, wealthy Mex­i­cans nav­i­gate the city so as to avoid areas where they are like­ly to be robbed. Indeed, rather than gen­tri­fi­ca­tion, for which no real word exists in Span­ish, the move­ment of wealth through the city's zones is based on the map­ping of sta­tus: here, a secure neigh­bor­hood with high prices; here, a place to go for bar­gains; there, a place nev­er to be entered by the wrong peo­ple. Despite this strat­e­gy, the city's rob­beries occur main­ly in a small clus­ter of areas such as Tepi­to, "el bar­rio bra­vo," into which tourists often mis­tak­en­ly wan­der from the near­by city cen­ter.
"Hot Spots" of the Drug War and Region­al Dis­tinc­tions
Mexico's divi­sions between "town and coun­try," and broad­ly between regions, stem orig­i­nal­ly from the process of Span­ish colo­nial­ism dur­ing the 16th and 17th cen­turies. Spain's con­quest of the great val­ley to the capital's north was swift, dec­i­mat­ing these more spread out and nomadic tribes, and Nue­va España's reli­gious and edu­ca­tion­al devel­op­ment was here sub­se­quent­ly con­cen­trat­ed. In the south, the dense­ly pop­u­lat­ed rem­nants of empires like the Maya and Zapotec were more resis­tant to inte­gra­tion, though Catholi­cism, Jesuit lib­er­al­ism, and enlight­en­ment ratio­nal­ism would all be influ­en­tial here in par­tic­u­lar ways. Mean­while, the cen­tral plane that includes the cap­i­tal rel­a­tive­ly obtains to the region's mez­cla tra­di­tions. The cap­i­tal of Nue­va España that became Mex­i­co City was orig­i­nal­ly built upon the exist­ing city of Tenochti­t­lan, an area that had for cen­turies been the cul­tur­al and polit­i­cal cen­ter of Mesoamer­i­ca. How­ev­er com­pli­cat­ed the inte­gra­tion of the two cul­tures, the rev­o­lu­tions of 1810 and 1910 both drew on the capital's mez­cla char­ac­ter in pro­mot­ing notions of nation­al iden­ti­ty. To this day, Mex­i­co remains a coun­try with deep racial bias­es direct­ed against the indige­nous, dark­er-skinned pop­u­la­tion. All of these divi­sions extend to pol­i­tics: the poor­er states of the South tra­di­tion­al­ly received the least amount of fed­er­al sup­port and eco­nom­ic devel­op­ment from the PRI, who focused on favor­ing their base in the north­ern indus­tri­al states. Recent years have seen a new push in the South for cap­i­tal inte­gra­tion, invest­ment in nat­ur­al resources, and expand­ed min­ing activ­i­ty – projects that have been resist­ed by local com­mu­ni­ties opposed to fur­ther den­i­gra­tion of their qual­i­ty of life.4 The broad peas­ant-work­er alliances under Zap­a­ta and Pan­cho Vil­la that pow­ered the Mex­i­can Rev­o­lu­tion remain the last time that major por­tions of the North and South unit­ed to advance a polit­i­cal cause.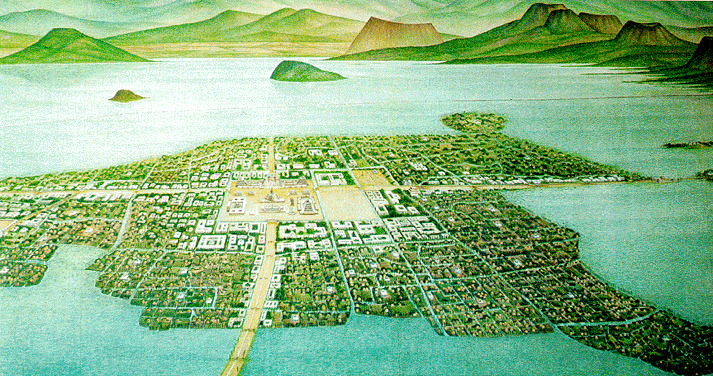 Anoth­er aspect of the devel­op­ing town-and-coun­try dynam­ic has been Mex­i­co City's rel­a­tive immu­ni­ty from the vio­lence of the car­tel war. Crime in the cap­i­tal has dra­mat­i­cal­ly decreased, while dur­ing the same peri­od the polit­i­cal process in the North has been sub­sumed by the war over lucra­tive traf­fick­ing lines into the US. A slew of assas­si­na­tions of jour­nal­ists, activists, politi­cians, and secu­ri­ty fig­ures points to the over­whelm­ing influ­ence the car­tels hold over these states. In the coastal tourist des­ti­na­tions as well, the high vol­umes of mon­ey and traf­fic mov­ing through ensure that the regions remain bat­tle­grounds for car­tel influ­ence.
Despite the uneven dis­tri­b­u­tion of vio­lence from the car­tel war, the stag­ger­ing num­ber of mur­ders over the last six years have touched most peo­ple in the coun­try per­son­al­ly and become a focus of cul­tur­al dis­course. The Sus­pe­cho exhib­it at the Museo de Arte Mod­er­no offers a unique per­spec­tive on the war through the prism of art in the post­mod­ern world. The exhibit's stat­ed themes: new tech­nolo­gies, communications/media, and un/representability. Many of the pieces fea­tured med­i­tate on the explo­sion of access to infor­ma­tion with the rise of the inter­net and the mass repro­duc­tion of images. How­ev­er, some inti­ma­tion of vio­lence is present in each piece, prob­lema­tiz­ing how vio­lence can even be prop­er­ly rep­re­sent­ed, and at the same time sug­gest­ing that a cer­tain blood­let­ting is impli­cat­ed in these tech­nolo­gies them­selves. A large wall, cov­ered in a series of mag­a­zines with strips of pages suc­ces­sive­ly ripped a few lengths apart; one can­not hope to read or dis­cern any of the images, but the medi­um of tear­ing con­sis­tent­ly regur­gi­tates three themes: illeg­i­ble ink, sex­u­al­ized images, and gore. Bod­ies of vic­tims are often dis­played here on news­pa­per cov­ers along­side women in exploita­tive pho­tos, but the caus­es of the vio­lence resist rep­re­sen­ta­tion. While vio­lence is eas­i­ly absorbed by the spec­ta­cle, rep­re­sen­ta­tion of the sys­tem itself is impos­si­ble. The artists in this series turn the in/visibility of vio­lence into a search for the sys­tem that brings these ele­ments togeth­er.
The work of Tere­sa Mar­golles approach­es this ques­tion from a dif­fer­ent van­tage point, that of the necrop­o­lit­i­ca (death itself as a medi­um of polit­i­cal engage­ment). One of Mexico's most famous con­tem­po­rary artists, Mar­golles has often includ­ed in her work belong­ings from a car­tel victim's time of death, bring­ing the mur­ders to an uncom­fort­able close­ness. One such pre­sen­ta­tion was a steam tun­nel that view­ers would walk through, and upon exit­ing learn that they had been breath­ing steam from the clothes worn by anony­mous vic­tims.
A pop­u­lar 2010 work by one of Mexico's most impor­tant jour­nal­ists, Anabel Hernán­dez, does not balk in deliv­er­ing a sys­temic, if con­spir­a­to­r­i­al, por­trait of the drug war. Hernán­dez and her col­leagues' efforts stand out all the more impor­tant­ly for main­tain­ing a crit­i­cal voice in the con­text of increas­ing­ly brazen attacks against the media. In a tire­less­ly researched expose, Los Senores del Nar­cos presents a pic­ture not dis­sim­i­lar from the one found in Steven Soderbergh's film Traf­fic a decade ear­li­er: name­ly, that the gov­ern­ment is not fight­ing a war against the car­tels, but rather as a par­ti­san for the par­tic­u­lar ben­e­fit of the pow­er­ful Sinaloa Car­tel. If these alle­ga­tions are cor­rect, the car­tels would be just one more bil­lion-dol­lar busi­ness that the gov­ern­ment has part­nered with, in this case offer­ing the ser­vice of its mil­i­tary. As the pub­lish­er of the Refor­ma news­pa­per group said recent­ly, "the nation faces a whole series of 'car­tels,' of which the drug-traf­fick­ing ones are only a minor­i­ty."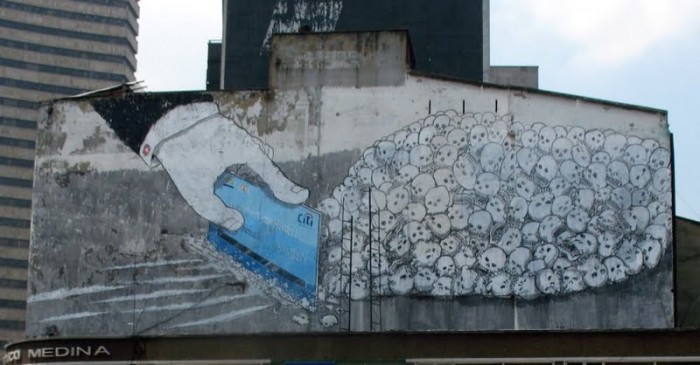 A sim­i­lar con­spir­a­to­r­i­al take ani­mates a film released in the months before the elec­tion. Colo­sio is a JFK-style thriller that tracks the inves­ti­ga­tion and cov­er-up of a PRI reformer who was a shoe-in for pres­i­dent in 1994, until his assas­si­na­tion in Tijua­na a few months before the elec­tion. A water­shed year in Mex­i­can pol­i­tics, 1994 saw the launch­ing of NAFTA, the begin­ning of the Zap­atis­tas rebel­lion, and ensu­ing repres­sion against the Mayans of Chi­a­pas. The film most bla­tant­ly con­nects that era to the present with an ensem­ble of ruth­less killings of those who get in the way of the Colo­sio cov­er-up. The mur­ders are com­mit­ted with a style of impuni­ty rem­i­nis­cent of drug-relat­ed deaths that today can be seen dai­ly in country's head­lines. In a moment of true irony, the pre­views before the film fea­tured a PRI/Green Par­ty cam­paign ad that depict­ed the "mag­i­cal" trans­for­ma­tion of tox­ic liq­uid flows into streams of pure water. The image was mir­rored in Colo­sio's final shot, a long pan through a stream blood­ied with the final vic­tim of the government's cov­er-up. The scene's inten­tion is clear: from 1994 on, blood has con­tin­ued to flow, and will keep com­ing until the truth can no longer be killed off. The irony of the PRI/Green cam­paign ads is that the PRI's social agen­da is so regres­sive that it has sought out an "envi­ron­men­tal" image; admit­ting, in short, that it's focus is on some­thing entire­ly exter­nal to the "mere­ly social." How­ev­er, the last scene of the fea­ture implies that the great­est envi­ron­men­tal impu­ri­ty has become the blood of the Mex­i­can peo­ple itself. This is the cor­rec­tive to a wide array of Green pol­i­tics – the only mean­ing­ful envi­ron­men­tal­ism today is syn­ony­mous with the advance­ment of social jus­tice.
Con­trasts to South Amer­i­ca
Mex­i­co is more than twice the size and pop­u­la­tion of the rest of both Cen­tral Amer­i­ca and the Caribbean. Its bor­der with the US is the dom­i­nant entry point for migrants from Belize to Pana­ma. Migra­tion through Mex­i­co plays a cru­cial role in the flows of mon­ey, com­modi­ties, and labor; an esti­mat­ed 20-30% of El Salvador's econ­o­my is com­posed of remit­tances from cit­i­zens in the US. Because of its size and bor­der, the atten­tion Mex­i­co receives from both the media and glob­al elites often dwarfs that of the rest of the region. Eco­nom­i­cal­ly unique as well, it astound­ing­ly "exports more man­u­fac­tured prod­ucts than the rest of Latin Amer­i­ca com­bined," accord­ing to the Finan­cial Times.
South Amer­i­can coun­tries, with the excep­tion of Colom­bia, have over­whelm­ing­ly elect­ed left and pop­ulist can­di­dates over the last two decades, tak­ing an alter­na­tive eco­nom­ic path to the Wash­ing­ton and IMF-led mod­el. The polit­i­cal process in Cen­tral Amer­i­ca and the Caribbean, on the oth­er hand, appears stunt­ed in the posi­tion of a "tran­si­tion to democ­ra­cy" fol­low­ing the bru­tal civ­il con­flicts, coup d'états, and CIA proxy wars that spanned the 1980s. For activists in the US, these con­flicts marked the great fail­ure of the anti-Viet­nam War move­ment to recon­sti­tute itself as a pop­u­lar resis­tance to a con­tin­u­a­tion and recon­sti­tu­tion of US mil­i­tary impe­ri­al­ism. The much dimin­ished num­bers that built the anti-nuclear move­ment and groups like CISPES (Com­mit­tee in Sol­i­dar­i­ty with the Peo­ple of El Sal­vador) were forced to con­cen­trate on forms of direct action and rais­ing aware­ness, in lieu of large num­bers to bring to the street. This activism was at the same time effec­tive and trag­i­cal­ly inad­e­quate. Some gains could be not­ed by the end of the 1990s: pro­tec­tion of jour­nal­ists, human rights tri­bunals, report­ing of attacks on trade union­ists, and the re-entry of left polit­i­cal par­ties in elec­tions. Yet in the last few years many of these trends have been sig­nif­i­cant­ly reversed. Rates of pover­ty have jumped, most point­ed­ly in the Caribbean, but on the con­ti­nent as well. Influ­ence of the drug car­tels is spread­ing con­sis­tent­ly, and with it vio­lence for com­mu­ni­ties in their way. The US has con­tin­ued its anti-demo­c­ra­t­ic influ­ence, includ­ing direct or tac­it sup­port for coup d'états in Haiti, Hon­duras, and Paraguay. Final­ly, pro­tec­tion for jour­nal­ists and human rights work­ers has decreased while impuni­ty for war crim­i­nals has gained, such as in Guatemala where a gen­er­al impli­cat­ed in war crimes against indige­nous Mayans dur­ing the civ­il war is now pres­i­dent. As a result, migra­tion to the US is strong­ly on the rise, accom­pa­nied by the usu­al xeno­pho­bia and reac­tionary ideas about the ills of immi­gra­tion.
Why these dif­fer­ent tra­jec­to­ries for Cen­tral and South Amer­i­ca? It is unde­ni­able that a depen­dent region south of the bor­der is the pre­ferred geopo­lit­i­cal arrange­ment of US elites and their inter­na­tion­al part­ners. The drug trade has become an essen­tial com­po­nent of Mex­i­co and Cen­tral America's econ­o­my, and undo­ing it would nec­es­sar­i­ly involve a rene­go­ti­a­tion of the coun­tries' sub­servient rela­tion­ships with the US.
Look­ing Ahead
While the pol­i­tics of the PRD can­not be clas­si­fied as rev­o­lu­tion­ary or opposed to the per­pet­u­a­tion of cap­i­tal­ist rela­tions in Mex­i­co, its politi­cians diverg­ing con­sid­er­ably from groups like the EZLN, the par­ty does at the same time sym­bol­i­cal­ly stand as an oppo­si­tion to the long tra­di­tion of impuni­ty and anti-demo­c­ra­t­ic, US-backed admin­is­tra­tions. In 2006, as a full-scale rebel­lion against the gov­ern­ment was under­way in Oax­a­ca, the tele­vi­sion duop­oly of Tele­visa and TV Azteca launched a smear cam­paign against the PRD pres­i­den­tial can­di­date, Andrés Manuel López Obrador (AMLO). In the after­math of 2006's con­test­ed elec­tion, and for the six years pri­or to last month's elec­tion, doc­u­ments con­firm that they con­tin­ued to ille­gal­ly under­mine pub­lic sup­port for AMLO and dis­sem­i­nate pro­pa­gan­da for Enrique Peña Nieto's cam­paign.
Anoth­er film released in the months before the recent elec­tion depicts how pop­u­lar rock bands had been cen­sored by the PRI because of their music's polit­i­cal con­tent. Gimme the Pow­er presents a cul­tur­al his­to­ry of the PRI's last decades in pow­er, nar­rat­ing the con­flict between the gov­ern­ment and the era's rock bands whose con­certs and music were banned. Focus­ing on "Molo­tov," a group with a huge con­tem­po­rary fol­low­ing, the film serves as a brief­ing on recent cul­ture wars that have influ­enced the out­look of today's youth.
As the 2012 elec­tion approached, young peo­ple faced increased unem­ploy­ment and the deval­u­a­tion of their edu­ca­tion, a sit­u­a­tion which the election's pre­dict­ed win­ner was expect­ed to wors­en. The PRI cam­paign, in real terms, was reducible to a region­al con­tain­ment of the drug war through strate­gic com­pro­mis­es and the dis­man­tling of the few remain­ing pub­lic unions and state insti­tu­tions built dur­ing their first tenure. Giv­en the like­li­hood of protests against these poli­cies, many empha­sized the past use of repres­sion by the PRI, and by Nieto him­self while gov­er­nor of Mex­i­co State. At a time when inno­v­a­tive solu­tions and pro­gres­sive change seemed nec­es­sary to com­bat wors­en­ing social con­di­tions, young peo­ple found that the polit­i­cal sys­tem was default­ing into a regres­sive mode of cor­rup­tion and non-trans­paren­cy. Oppo­si­tion ral­lied against the polit­i­cal system's most bla­tant fea­tures: a closed media sys­tem, "extra-demo­c­ra­t­ic" mea­sures chron­i­cal­ly tak­en by par­ties, impuni­ty for those impli­cat­ed in cor­rup­tion, and the lack of access to the polit­i­cal process for work­ers, the dis­en­fran­chised, and the left more gen­er­al­ly. For these rea­sons, the stu­dent move­ment that appeared in May drew upon these basic demands: rejec­tion of the PRI's re-impo­si­tion, dis­man­tling of the tele­vi­sion duop­oly, and legal/democratic improve­ments to the elec­toral process.
The move­ment emerged fol­low­ing a Nieto speech at Iberoamer­i­cana, one of the capital's pres­ti­gious Jesuit uni­ver­si­ties, where stu­dents protest­ed and heck­led the "tele­vi­sion can­di­date." The PRI attempt­ed to save face by blam­ing the protest on out­siders and paid provo­ca­teurs. Using social media, 131 stu­dents post­ed videos show­ing their ID cards, which in turn spawned thou­sands of sol­i­dar­i­ty state­ments by oth­ers denounc­ing the PRI machine (car­ry­ing the hash­tags #yosoy132 & más­de131). Although led by stu­dents, indig­na­tion at the PRI's tac­tics ran across dif­fer­ent seg­ments of soci­ety. The rebel­lions that have moved from Egypt to Europe to the US helped moti­vate the belief that it would take mas­sive num­bers in the streets to dis­lodge the cur­rent polit­i­cal struc­ture. The fun­da­men­tal error of media out­lets such as NPR who report that the PRI is a cen­ter-left par­ty is that the PRI's major attribute is its sup­pres­sion of the Left. This is why mas­sive num­bers in the streets revolt­ed in the con­text of an elec­toral process. While protests have con­tin­ued well after the elec­tion, stu­dents are no longer the lead­ing demo­graph­ic, but instead one group among many who feel indig­ni­ty at the polit­i­cal sys­tem. While many of the country's very poor stayed clear of the #yosoy132 protests, their num­bers were present at a mas­sive AMLO ral­ly in June as well as more recent march­es piqued by alleged elec­toral fraud.
As the Mex­i­can stu­dent move­ment stands at a cross­roads – plan­ning for protests against Nieto's inau­gu­ra­tion in Decem­ber, but more gen­er­al­ly delib­er­at­ing on its future and the pos­si­bil­i­ty of tra­vers­ing class, cul­tur­al, and region­al divides – glob­al atten­tion has moved on to out­breaks of resis­tance in oth­er parts of the world. How­ev­er, we would do well to con­sid­er the com­plex of forces that may deter­mine future con­flicts south of the bor­der. Cap­i­tal is plac­ing greater hopes on the pro­duc­tiv­i­ty of Mex­i­co, and US impe­ri­al­ism seems bent on secur­ing these invest­ments. If we pay atten­tion to the plight of Lati­no immi­grants in the US, the chance of bet­ter-paid work is revealed to come attached with seri­ous draw­backs: busi­ness­es take advan­tage of the sta­tus of undoc­u­ment­ed work­ers, and struc­tur­al racism per­vades the edu­ca­tion and prison sys­tems. The Unit­ed States employs a mas­sive sec­ond-class labor force, only occa­sion­al­ly dis­pens­ing the hon­or of cit­i­zen­ry. These con­di­tions can only breed fur­ther resent­ment against the dis­tri­b­u­tion of resources and priv­i­leges, and offer a tru­ly bar­bar­ic vision of the hav­oc the glob­al econ­o­my wreaks dai­ly, from one coun­try to the next.
---