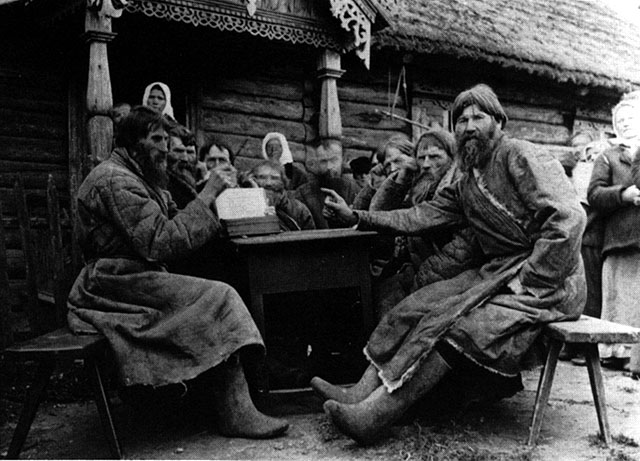 The crises con­tin­ue to accu­mu­late: the eco­nom­ic cri­sis, the eco­log­i­cal cri­sis, the social cri­sis, crises upon crises. But as we try to cre­ate "solu­tions," we dis­tress­ing­ly find our­selves up against a lim­it, dis­cov­er­ing that the only alter­na­tives we can imag­ine are mere­ly mod­i­fi­ca­tions of the same. Pro­posed solu­tions to the eco­nom­ic cri­sis toss us back and forth between two immo­bile poles: free mar­ket or reg­u­lat­ed mar­ket. When we face the eco­log­i­cal cri­sis, we decide between sus­tain­able tech­nol­o­gy or unsus­tain­able tech­nol­o­gy. What­ev­er our per­son­al pref­er­ence, a lit­tle to this side or a lit­tle to that side, we all unwit­ting­ly play accord­ing to the same rules, think with the same con­cepts, speak the same lan­guage. We have for­got­ten how to think the new – or the old.
Ivan Illich, priest, philoso­pher, and social crit­ic, is not a fig­ure that most would expect to read about in a Marx­ist mag­a­zine. But he iden­ti­fied this prob­lem long ago, and argued that the only "way out" was a com­plete change in think­ing. His sug­ges­tion, both as con­cept and his­tor­i­cal fact, was the "ver­nac­u­lar." We will not escape from cap­i­tal­ism through the ratio­nal­i­ty of the sci­en­tist of his­to­ry; nor will we get any help from the stand­point of the pro­le­tari­at. The firm ground of Illich's cri­tique was pre­cap­i­tal­ist and prein­dus­tri­al life in com­mon.
Even those who reject this posi­tion must meet its chal­lenge. Those for whom pol­i­tics is embed­ded in the pro­lif­er­a­tion of post­mod­ern "lifestyles," inflect­ed with pseu­do-Marx­ist jar­gon, will have to rec­og­nize that the only mod­el we have of forms of life based on direct access to the means of sub­sis­tence is pre­cise­ly the "ver­nac­u­lar" that Illich pro­pos­es. Alter­na­tive­ly, those who locate eman­ci­pa­tion in a Marx-inflect­ed nar­ra­tive of tech­no­log­i­cal progress must to face Illich's deep crit­i­cisms of devel­op­men­tal­ism, sci­en­tism, and pro­gres­sivism. The fol­low­ing is a chal­lenge not only to cap­i­tal­ism and the experts who defend it, but also to its crit­ics.
Mind Trap 1: the eco­nom­ic cri­sis
Ignor­ing his own con­tri­bu­tions to the fes­tiv­i­ties, George W. Bush recent­ly scold­ed those on Wall Street for get­ting drunk on the prof­its from sell­ing unpayable debts.1 The result­ing col­lapse of finan­cial mar­kets her­ald­ed the end of the par­ty. The drunks seem to have sobered up with­out them­selves suf­fer­ing the con­se­quent hang­over. Instead, in the U.S. and else­where, a grow­ing num­ber of peo­ple are left strand­ed with­out homes, jobs, food, or med­i­cines in the wake of that twen­ty-year long binge. In the opin­ion of some, the prospects of full employ­ment or secure retire­ments for US cit­i­zens are a dis­tant and unlike­ly dream. As recent­ly as April 19th 2011, The McDon­ald Cor­po­ra­tion con­duct­ed a nation­al hir­ing day. Almost one mil­lion peo­ple applied for those jobs, known nei­ther for their lav­ish pay nor for their agree­able work­ing con­di­tions. McDonald's hired a mere six per­cent of these appli­cants, as many work­ers in one day as the num­ber of net new jobs in the US for all of 2009.2
Unsur­pris­ing­ly, diag­noses of what went wrong have pro­lif­er­at­ed fast and furi­ous­ly. Of the many expla­na­tions offered, three stand out.3 First, in a spir­it of self-exam­i­na­tion, econ­o­mists have con­clud­ed that their sci­en­tif­ic mod­els of how peo­ple behave and asset prices are deter­mined were wrong and con­tributed to their inabil­i­ty to antic­i­pate the cri­sis. That is, econ­o­mists con­fessed to their igno­rance of how economies work. Since their earnest attempts to improve these mod­els are unlike­ly to ques­tion the creduli­ty that forms the shaky foun­da­tions of finan­cial mar­kets, it is like­ly that the future of finan­cial and macro­eco­nom­ics will resem­ble the epicy­cles and eccen­tric­i­ties of Ptole­ma­ic astron­o­my in the time of its decline.4
Sec­ond, jour­nal­ists, pol­i­cy mak­ers, and econ­o­mists who began to sing a dif­fer­ent tune after the cri­sis erupt­ed, find fault with the ide­ol­o­gy of neo-lib­er­al­ism. There is wide­spread recog­ni­tion now that dereg­u­lat­ed and unreg­u­lat­ed mar­kets allowed com­mer­cial and invest­ment banks to invent and trade in finan­cial instru­ments that car­ried sys­temic risks and con­tributed to the fail­ure of cred­it and cap­i­tal mar­kets. This doc­trine that unfet­tered mar­kets pro­duce the great­est eco­nom­ic ben­e­fit for the great­est num­ber, while embar­rassed, is not in full retreat, at least in the U.S.5 That neo-lib­er­al ide­ol­o­gy is not van­quished by its evi­dent fail­ures is relat­ed to the third cause iden­ti­fied in these diag­nos­tic exer­cis­es.
If igno­rance excused econ­o­mists and pol­i­cy mak­ers from antic­i­pat­ing the cri­sis and wide­ly worn ide­o­log­i­cal blink­ers exac­er­bat­ed it, then it is bad­ly designed incen­tives that are gen­er­al­ly fin­gered as the most promi­nent and prox­i­mate cause of the cri­sis. Accord­ing­ly, much ink has been spilled on redesign­ing incen­tives to more effec­tive­ly rein in the "ani­mal spir­its" that derail economies from their pre­sumed path of order­ly growth. As such, incen­tives are a flaw that rec­om­mends itself as rem­e­dy.
This con­ceit is per­haps best exposed in the report authored by the Finan­cial Cri­sis Inquiry Com­mis­sion of the US gov­ern­ment.6 For instance, in indict­ing the process and meth­ods for gen­er­at­ing and mar­ket­ing mort­gage-backed secu­ri­ties, the com­mis­sion empha­sizes that incen­tives unwit­ting­ly encour­aged fail­ures at every link of the chain. Low-inter­est rates allowed bor­row­ers to refi­nance their debts and use their homes as ATM cards; lucra­tive fees drove mort­gage bro­kers to herd up sub­prime bor­row­ers; the demand for mort­gages from Wall Street induced bankers to low­er lend­ing stan­dards; rat­ing agen­cies stamped lead as gold because paid to do so by invest­ment bankers; the lat­ter dis­trib­uted these tox­ic assets world­wide rely­ing on math­e­mat­i­cal mod­els of risk; and the C-suite of the finance, insur­ance, and real estate sec­tors presided over the house of card because hand­some­ly reward­ed for short term prof­its. Unsur­pris­ing­ly, chang­ing these incen­tives through more strin­gent reg­u­la­tions and bet­ter-spec­i­fied rewards and pun­ish­ments to guide the behav­iors of dif­fer­ent mar­ket par­tic­i­pants occu­py most of its rec­om­men­da­tions for the path for­ward.7
This pecu­liar com­bi­na­tion of igno­rance, ide­ol­o­gy, and incen­tives used to explain the eco­nom­ic cri­sis, also illu­mi­nates the space of con­tem­po­rary politi­co-eco­nom­ic thought. Most of the heat­ed debates on how to ensure order­ly growth, cen­ter on the quan­tum of reg­u­la­tion nec­es­sary to con­trol eco­nom­ic motives with­out sti­fling them. Accord­ing­ly, think­ing about eco­nom­ic mat­ters vac­il­lates on a fixed line anchored by two poles-free mar­kets on the one end and mar­kets fet­tered by legal­ly enforced reg­u­la­tions at the oth­er. Only a brief exposé can be afford­ed here of the lin­ea­ments of this thought-space cir­cum­scribed almost two cen­turies ago.8
Around 1700, Bernard Man­dev­ille acer­bical­ly exposed the mech­a­nism dri­ving eco­nom­ic growth. Poet­i­cal­ly, he point­ed out that it was the vices—vanity, greed, and envy—that spurred the expan­sion of trade and com­merce. In bar­ing the vicious­ness that nour­ished the desire to accu­mu­late rich­es, he also left to pos­ter­i­ty the prob­lem of pro­vid­ing a moral jus­ti­fi­ca­tion for mar­ket activ­i­ty.9 Adam Smith pro­vid­ed a seem­ing­ly last­ing rhetor­i­cal solu­tion to this moral para­dox. First, he col­lapsed the vices into "self-inter­est" and so removed the sting of vicious­ness from the vices by renam­ing them. Sec­ond, he ground­ed "self-inter­est" in a nat­ur­al desire to "bet­ter our con­di­tion" that began in the womb and end­ed in the tomb and so mor­al­ized it.10 Third, he invoked an invis­i­ble hand to trans­mute the self-inter­est of indi­vid­u­als into social­ly desir­able ben­e­fits. Not only was the pas­sage from the indi­vid­ual to the social there­by obscured by prov­i­den­tial means but the pri­vate pur­suit of rich­es was also jus­ti­fied by its sup­posed pub­lic ben­e­fits.
Thus, Smith hid the para­dox unveiled by Man­dev­ille behind a rhetor­i­cal­ly pleas­ing façade. The uncom­fort­able insight that pri­vate vice leads to pub­lic ben­e­fit was defanged by the notion that pub­lic ben­e­fits accrue from the unflinch­ing pur­suit of self-inter­est. Where­as the for­mer revealed the vicious mech­a­nism fuel­ing com­mer­cial­ly ori­ent­ed soci­eties, the lat­ter made it palat­able. Faith in the effi­ca­cy of the inscrutable invis­i­ble hand there­by under­wrote the pur­port­ed "nat­ur­al har­mo­ny of inter­ests," accord­ing to which the butch­er and the bak­er in each pur­su­ing his own ends unwit­ting­ly fur­thers the wealth of the nation at large.
Smith's rhetor­i­cal con­vo­lu­tions were nec­es­sary because he excised use-val­ue from polit­i­cal econ­o­my and found­ed the lat­ter entire­ly on exchange-val­ue. In con­trast to his pre­de­ces­sors for whom the eco­nom­ic could not be sep­a­rat­ed from ethics and pol­i­tics, Smith carves out a space for the eco­nom­ic by defin­ing its domain by the deter­mi­nants of mar­ket prices.11 He accept­ed Locke's argu­ments: that labor is the foun­da­tion of prop­er­ty rights; that apply­ing labor trans­forms the com­mons into pri­vate prop­er­ty; that mon­ey ignites acquis­i­tive­ness; and that accu­mu­la­tion beyond use is just.12 Smith delib­er­ate­ly ignores the com­mons and embold­ens the mar­ket because it is the sphere in which acquis­i­tive­ness flour­ish­es. He cur­tails his inquiry to exchange-val­ue in full aware­ness of the con­trast­ing "val­ue-in-use." Even if not in these pre­cise terms, the dis­tinc­tion between "exchange-val­ue" and "use-val­ue" was known to both Aris­to­tle and Smith. Yet, Smith is per­haps the first who rec­og­nizes that tra­di­tion­al dis­tinc­tion and nev­er­the­less rules out use-val­ue as a legit­i­mate sub­ject of an inquiry on wealth.13 For Aris­to­tle, it was pre­cise­ly the dis­tinc­tion between use and exchange that ground­ed the dis­tinc­tion between appro­pri­ate acqui­si­tion and inap­pro­pri­ate accu­mu­la­tion. More gen­er­al­ly, it is when con­sid­er­a­tions of jus­tice and the good con­sti­tute the start­ing point of think­ing about man that prof­it-seek­ing becomes vis­i­ble as a force that rends the polit­i­cal com­mu­ni­ty into a com­mer­cial soci­ety. By encour­ag­ing self-inter­est­ed­ness, Smith allows the vain­glo­ri­ous pur­suit of wealth to over­shad­ow virtue as the nat­ur­al end for man.14 By focus­ing eco­nom­ic sci­ence on exchange val­ues, Smith priv­i­leges the world of goods over that of the good. The price Smith pays for ignor­ing use-val­ue is the need to invoke prov­i­den­tial the mys­tery by which self-inter­est becomes social­ly ben­e­fi­cial. Since Smith, neo-clas­si­cal eco­nom­ics has either dis­avowed the dis­tinc­tion between use and exchange val­ue or con­fessed to being inca­pable of under­stand­ing use-val­ue.15 By insist­ing that the valu­able must nec­es­sar­i­ly be use­ful, Marx, unlike Aris­to­tle, could not rely on the lat­ter to crit­i­cize the for­mer.16
Nev­er­the­less, it was soon dis­cov­ered that indi­vid­ual self-inter­est did not "nat­u­ral­ly" pro­duce social ben­e­fits. Vast dis­par­i­ties in wealth, endem­ic pover­ty, mis­er­able liv­ing con­di­tions, and per­sis­tent unem­ploy­ment con­sti­tut­ed some of the many social­ly maligned con­se­quences of unfet­tered mar­ket activ­i­ty. To account for these vis­i­ble fail­ures in the nat­ur­al har­mo­ny of inter­ests, a sec­ond for­mu­la, due to Jere­my Ben­tham, was there­fore paired to it. An "arti­fi­cial har­mo­ny of inter­ests" forged through laws and reg­u­la­tions were deemed nec­es­sary to lessen the dis­junc­tion between pri­vate inter­ests and pub­lic ben­e­fits. That is, state inter­ven­tions in the form of incen­tives – whether cod­ed in mon­ey or by law- were thought nec­es­sary to prod way­ward mar­ket par­tic­i­pants to bet­ter serve the pub­lic inter­est.17
Accord­ing­ly, it is this dialec­tic between the nat­ur­al and arti­fi­cial har­mo­ny of inter­ests that encodes the poles of the Mar­ket and the State and con­sti­tutes the thought-space for con­tem­po­rary dis­cus­sions on eco­nom­ic affairs.18 Too lit­tle reg­u­la­tion and mar­kets become social­ly destruc­tive; too much reg­u­la­tion and the wealth-cre­at­ing engines fueled by self-inter­est begin to sput­ter. And yet, the con­tin­u­um con­sti­tut­ed by these two poles is uni­fied by a com­mon pre­sup­po­si­tion: that use-val­ue is of no use to com­merce and that the ego­ism implied by self-inter­est is both nec­es­sary and nat­ur­al to com­mer­cial expan­sion.
Though the eco­nom­ic cri­sis has, once again, exposed the Man­dev­il­lian foun­da­tions of com­mer­cial soci­ety, think­ing about it con­tin­ues to func­tion in the space marked out by Smith, Ben­tham and the founders of that philo­soph­i­cal rad­i­cal­ism, which erect­ed the moral­i­ty of a soci­ety ori­ent­ed by exchange val­ue on the foun­da­tion of ego­ism. When con­fined to this thought-space, one is con­demned to rely­ing, in alter­nat­ing steps, on the inter­re­lat­ed log­ics of free and reg­u­lat­ed mar­kets. The ques­tion remains whether there is an alter­na­tive to the thought-space con­sti­tut­ed by the State and the Mar­ket. Per­haps the answer to this ques­tion lies in tak­ing a dis­tance to what these log­ics pre­sume: that exchange-val­ue is of pre­em­i­nent worth and that pos­ses­sive indi­vid­u­als are to be har­nessed to that cause.
Mind Trap 2: the envi­ron­men­tal cri­sis
Board­ed up homes and idle hands are to the ongo­ing cri­sis in eco­nom­ic affairs, what dis­ap­pear­ing fish and poi­soned airs are to the oncom­ing envi­ron­men­tal cri­sis. A gen­er­a­tion after Rachel Car­son and Bar­ry Com­mon­er, sci­en­tists are now of almost one mind: humankind's activ­i­ties on the earth have so changed it, that the species is now threat­ened by dis­as­ter on a plan­e­tary scale.19 What poets and prophets once warned in verse, sci­en­tists now tell us through sta­tis­tics and mod­els. Lurk­ing beneath those dry num­bers is a grow­ing cat­a­log of hor­rors – ris­ing seas, rag­ing rivers, melt­ing glac­i­ers, dead zones in the oceans, unbear­able hot spots on land – that fore­tell an unliv­able future.
Were the pic­ture they paint not so dire, it would be laugh­ably iron­ic that sci­en­tists and tech­nocrats now dis­avow the fruits of the very tech­no-sci­en­tif­ic machine they once served to mid­wife. But it is cer­tain­ly trag­ic that in think­ing about what can be done to avert the impend­ing cri­sis, sci­en­tists and engi­neers no less than politi­cians and cor­po­rate boss­es insist on more of the same. Atten­tion is now direct­ed at invent­ing meth­ods to not only mit­i­gate the phys­i­cal effects of run­away indus­tri­al­iza­tion, but also to re-engi­neer the human psy­che to bet­ter adapt to such effects. Thus, from recy­cling plas­tic and increas­ing fuel mileage in cars to devis­ing tow­ers to sequester car­bon under­sea and engi­neer­ing car­bon eat­ing plants, the pro­posed solu­tions range from the mun­dane to the bizarre. More gen­er­al­ly, the debate on what to do about the con­flict between eco­nom­ic growth and eco­log­i­cal integri­ty is anchored by two poles: at the one end, "eco-friend­ly" or "sus­tain­able" tech­nolo­gies, and at the oth­er, pre­sum­ably "unsus­tain­able" or envi­ron­men­tal­ly destruc­tive ones.
Thus man's sur­vival appears as a choice between the Prius, solar pan­els, biodegrad­able paper bags, local foods, and high den­si­ty urban lofts on the one hand, and the Hum­mer, oil tanks, plas­tic bags, indus­tri­al­ized foods, and sub­ur­bia on the oth­er. Eco-friend­ly tech­nolo­gies may change the fuel that pow­ers our ener­gy slaves but does noth­ing to change our depen­dence on them. That the fruits of tech­no-sci­ence have turned poi­so­nous is seen as a prob­lem call­ing for more and improved tech­ni­cal solu­tions imply­ing that the domain of tech­nol­o­gy forms the hori­zon of eco­log­i­cal thought.20 That more and dif­fer­ent tech­nol­o­gy is the dom­i­nant response to its fail­ure sug­gests that the made (techne) has replaced the giv­en (physis). Eco­log­i­cal thought is con­fined to the space framed by tech­nol­o­gy part­ly because of the unstat­ed assump­tion that knowl­edge is cer­tain only when it is made.
It was Vico who announced the specif­i­cal­ly mod­ern claim that knowl­edge is made, that verum et fac­tum con­ver­tun­tur (the true and the made are con­vert­ible; have iden­ti­cal deno­ta­tion). It is true that the school­men, in think­ing through the ques­tion of the Chris­t­ian God's omnipo­tence and omni­science, argued his knowl­edge was iden­ti­cal to his cre­ations. They argued this by insist­ing that through his cre­ative act (mak­ing some­thing from noth­ing) he expressed ele­ments already con­tained with­in Him­self. God knows every­thing because he made it all from his own being. How­ev­er, the school­men humbly held that the iden­ti­ty of mak­ing and know­ing applied only to God. Man, being cre­at­ed, could not know him­self or oth­er nat­ur­al kinds in the man­ner akin to God. Since sci­en­tia or indu­bitable knowl­edge was the most per­fect kind of knowl­edge, and nature or physis was already giv­en to man, it implied that man could not sci­en­tif­i­cal­ly know the sub­lu­nary world. It took a Galileo and a Descartes to turn this under­stand­ing on its head.21
These ear­ly mod­erns were "sec­u­lar the­olo­gians" who tried to mar­ry heav­en and earth. They argued that geo­met­ri­cal objects or forms – such as tri­an­gles and squares – were unearth­ly. At best, such math­e­mat­i­cal objects were "ideas" formed by the cre­ative act of the imag­i­na­tion. The imag­i­na­tion as a site of cre­ative activ­i­ty entailed that it be unhinged from what is giv­en. Exem­pli­fied by math­e­mat­i­cal objects, whose per­fec­tion owes lit­tle, if any­thing, to the imper­fect beings of the world, the sec­u­lar the­olo­gians thus argued that the truth of ideas is guar­an­teed by the very fact that they are made.22
The per­fect and time­less shapes of geom­e­try were once thought to be applic­a­ble only to the unmov­ing heav­ens. The sub­lu­nary sphere of gen­er­a­tion, change, and decay was not sus­cep­ti­ble to immo­bile math­e­mat­i­cal forms. But accord­ing to the sec­u­lar the­olo­gians, what was good for the heav­ens was good enough for the earth. By insist­ing that the book of nature was writ­ten in "mea­sure, weight and num­ber," these ear­ly mod­erns raised the earth to the stars.
For them, beneath the bloom­ing, buzzing, phe­nom­e­nal world lurked the laws of nature inscribed in math­e­mat­i­cal­ly for­mu­lat­ed reg­u­lar­i­ties. Thus the made lay beneath the giv­en, it required ardu­ous exper­i­men­ta­tion – the vex­ing of nature – to unveil these insen­si­ble but imag­ined laws. Accord­ing­ly, math­e­mat­i­cal forms and lab­o­ra­to­ry exper­i­ments con­sti­tut­ed the pre­em­i­nent meth­ods for con­struct­ing knowl­edge of the world. Unhinged from the giv­en because com­mit­ted to the cause of the made, tech­no-sci­ence shook off its Aris­totelian roots, where expe­ri­ence was the mem­o­rable formed from long immer­sion in the reg­u­lar­i­ties of the world, gen­e­sis and move­ment were impos­si­ble to know with cer­tain­ty but only for the most part, and beings in the world were pos­sessed of sub­stan­tive natures.23
Pride­ful immod­esty was not the only rea­son that ear­ly mod­ern philoso­phers brought the heav­ens to the earth. They also did so for char­i­ta­ble rea­sons. Moved by con­cern for the poor this-world­ly con­di­tion of man, they sought to improve man's estate by escap­ing what is giv­en – food tech­nolo­gies to erase hunger, cars and planes to over­come the lim­its of time and space, med­i­cines to elim­i­nate dis­ease, and now genet­ic manip­u­la­tions to per­haps even cheat death. Thus, pride and char­i­ty infuse that potent and world-mak­ing brew we call tech­no-sci­ence.24
Mod­ern tech­no-sci­ence grew, a bit top­sy-turvy, but always cleav­ing close to these found­ing impuls­es. The pride that com­pels to know-by-con­struc­tion con­tin­ues to be wed­ded to the char­i­ty fuel­ing the pro­duc­tion of arti­facts that bet­ter our con­di­tion by trans­mo­gri­fy­ing it. Whether TV's or the­o­rems, the mod­ern tech­no-sci­en­tif­ic endeav­or is one by which, Entis ratio­nis, cre­ations or con­struc­tions of the mind, are pro­ject­ed and giv­en form as entis realis, things real­ized. Caught in this closed loop between mind and its pro­jec­tions, every­where he looks, man now sees only what he has made. Instead of recov­er­ing the gar­den of his orig­i­nal inno­cence, mod­ern man is now faced with the grow­ing desert of his own mak­ing. Yet, trapped by the premise of the iden­ti­ty between know­ing and mak­ing, con­tem­po­rary thought remains unable to think of any­thing oth­er than remak­ing what has been bad­ly made.25
Per­haps it is this com­mit­ment to the propo­si­tion that we can know only what we make, to knowl­edge by con­struc­tion, that forces us to be trapped with­in the tech­no-sci­en­tif­ic frame. The envi­ron­men­tal cri­sis has exposed the Achilles heel of unre­strained tech­no-sci­en­tif­ic progress. Yet, faith in Progress and in Knowl­edge as the cur­ren­cy of Free­dom remains unshak­en. Shut­tling between the poles of "sus­tain­able" and "unsus­tain­able" tech­nolo­gies, the for­mer is prof­fered as the new and improved cure for the dis­eases caused by the lat­ter. And once more, dis­in­ter­est­ed curios­i­ty and solic­i­tous con­cern for the wel­fare of oth­ers jus­ti­fy and reaf­firm faith in sal­va­tion through tech­nol­o­gy. To escape this debil­i­tat­ing con­fine per­haps requires being dis­abused of the prej­u­di­cial iden­ti­ty between know­ing and mak­ing, which ani­mates tech­no-sci­ence.
Plane­ly speak­ing, but not entire­ly
The space con­sti­tut­ed by the dialec­tic between a nat­ur­al and arti­fi­cial "har­mo­ny of inter­ests" enfolds the rela­tion between free and reg­u­lat­ed mar­kets. The pol­i­tics of a com­mer­cial repub­lic is ori­ent­ed to the sat­is­fac­tion of human needs through com­modi­ties. To con­tin­u­al­ly increase the sat­is­fac­tion of needs, mar­ket soci­eties must expand the sphere of com­mod­i­ty depen­dence, that is, the relent­less pur­suit eco­nom­ic growth. The pro­duc­tion and con­sump­tion of com­modi­ties pre­sup­pos­es the work­er and the con­sumer, and regard­less of who owns the means of pro­duc­tion or how prof­its are dis­trib­uted, eco­nom­ic growth requires workers/consumers. Even if work­ers are no more like­ly to find well-pay­ing jobs than are debt sat­u­rat­ed con­sumers like­ly to buy more stuff, the social imag­i­nary formed of work­ers and con­sumers per­sists. Accord­ing­ly, any effort to see beneath or beyond this con­fin­ing thought-space must take its dis­tance to this indus­tri­al mind-set formed by the thor­ough­go­ing depen­dence on com­modi­ties.
Sim­i­lar­ly, the debate on the neces­si­ty of "eco-friend­ly" tech­nolo­gies that car­ry a low­er "eco­log­i­cal foot­print" pre­sup­pos­es man as oper­a­tor instead of as user.26 The user is trans­formed into an oper­a­tor when the pow­er of a tool over­whelms that of its user. Thus, whether it is a Prius or a Hum­mer, both aim to improve man's con­di­tion by frus­trat­ing his nat­ur­al abil­i­ty and capac­i­ty to walk. Both demand skilled oper­a­tors to steer, and nei­ther per­mits the degrees of free­dom nec­es­sary for autonomous use. Whether pro­mot­ed by the tech­no­crat or eco­crat, men are dis­abled by and become depen­dent on their arti­facts when the lat­ter are designed for oper­a­tors instead of enabling users.
The ordi­nary and every­day mean­ing of use­ful­ness embeds it with­in both human pur­pos­es and human actions. A thing is use­ful inso­far as it unleash­es and extends the capac­i­ties of the user; as long as it can be shaped, adapt­ed, and mod­i­fied to fit the pur­pos­es of its users. There­fore, the capac­i­ty of a thing to be use­ful is lim­it­ed by the innate pow­ers or nat­ur­al thresh­olds of the user. For exam­ple, a bicy­cle calls for users because it only extends the innate capac­i­ty for self-mobil­i­ty. In con­trast, the auto­mo­bile requires immo­bile if adept machine oper­a­tors. In this sense, the for­mer is a con­vivial tech­nol­o­gy where the lat­ter is manip­u­la­tive. A hand-pump or a well can be used to raise water for drink­ing or bathing. In con­trast, a flush-toi­let or a dam must be oper­at­ed to pipe or store a liq­uid resource. Thus, to bring to light was has been cast into the shad­ows requires expos­ing the dis­abling fea­tures of some tech­nolo­gies.
Accord­ing­ly, what­ev­er lies beyond the thought-space marked by the dialec­tic of the State-Mar­ket on the one hand and that of the sus­tain­able-unsus­tain­able tech­nol­o­gy on the oth­er, it must be het­ero­ge­neous to both the worker/consumer and the oper­a­tor. In this search, two caveats are to be kept in mind. First, even if the ques­tion is addressed to the present, the answer must be sought for in the past. One is oblig­ed to rum­mage in the dust­bin of his­to­ry to recov­er what was once mus­cled into it. Oth­er­wise, imag­ined futures would give wing to utopi­an dreams just like those that have now turned night­mar­ish. Sec­ond, there is no going back to the past and there is no choice between the (post)industrial and the tra­di­tion­al immured in habit and trans­mit­ted by mem­o­ry. The depen­dence on com­modi­ties and manip­u­la­tive tech­nolo­gies has been and con­tin­ues to be estab­lished on the destruc­tion of alter­na­tive modes of being and think­ing. There is lit­tle of the lat­ter around, even as mil­lions of peas­ants and abo­rig­i­nal peo­ples are dai­ly uproot­ed and dis­placed in Chi­na, India, and Latin Amer­i­ca. But it would be sen­ti­men­tal and dan­ger­ous to think that one can or should bring back the past. Instead, the task for thought is to find con­cep­tu­al cri­te­ria to help think through the present.27
The Ver­nac­u­lar Domain
Ivan Illich pro­posed to reviv­i­fy the word "ver­nac­u­lar" to name a domain that excludes both the con­sumer and the oper­a­tor. The appro­pri­ate word to speak of the domain beyond depen­dence on com­modi­ties and dis­abling tech­nolo­gies is fun­da­men­tal to avoid­ing one or both of two con­fu­sions. First, the pre­sup­po­si­tions of eco­nom­ics and tech­no-sci­ence are like­ly to be anachro­nis­ti­cal­ly pro­ject­ed into forms-of-life that lie out­side or beyond the thought space con­sti­tut­ed by them. This is obvi­ous when econ­o­mists retro-project fables of the dia­mond and water "para­dox," "util­i­ty-max­i­miza­tion" and "scarci­ty" into pre-mod­ern texts. So does the his­to­ri­an of tech­nol­o­gy who indif­fer­ent­ly sees the mon­key, Nean­derthal man, and the uni­ver­si­ty stu­dent as tool users. In a relat­ed vein, forms-of-life orthog­o­nal to tech­no-sci­en­tif­i­cal­ly fueled economies are like­ly to be mis­un­der­stood. Thus, those who today refuse mod­ern con­ve­niences are labeled Lud­dites or just cussed, while those who get by out­side the tech­no-sci­en­tif­ic and com­mod­i­ty bub­bles are clas­si­fied as back­ward or poor.
A sec­ond, more potent, con­fu­sion flour­ish­es in the absence of a word ade­quate to the domain out­side tech­no­log­i­cal­ly inten­sive mar­ket soci­eties. Dis­abling tech­nolo­gies no less than wage work can pro­duce or gen­er­ate unpaid toil. That the spin­ning jen­ny and the com­put­er have put peo­ple out of work is well-known. But it is less famil­iar that waged work neces­si­tates a shad­owy unpaid com­ple­ment. Indeed, wage work is a per­haps dimin­ish­ing tip of the total toil exact­ed in mar­ket-inten­sive soci­eties. House­work, school­work, com­mut­ing, mon­i­tor­ing the intake of med­i­cines or the out­flows from a bank account are only a few exam­ples of the time and toil devot­ed to the nec­es­sary shad­ow work com­pelled by com­mod­i­ty-inten­sive social arrange­ments. To con­fuse the shad­ow work neces­si­tat­ed by the sep­a­ra­tion of pro­duc­tion and con­sump­tion with the unpaid labor in set­tings where pro­duc­tion is not sep­a­rat­ed from con­sump­tion is to mis­un­der­stand shad­ow work as either autonomous action or the threat­ened and shrink­ing spaces out­side the mar­ket.28
Indica­tive of this con­fu­sion is the use of such terms as "sub­sis­tence econ­o­my," "infor­mal economies," or "peas­ant econ­o­my" to refer to what has been cast into the shad­ows. By adding an adjec­tive to the "econ­o­my," his­to­ri­ans and anthro­pol­o­gists unwit­ting­ly rein­force the grip of what they intend to weak­en. By mere­ly mod­i­fy­ing the "econ­o­my" they are nev­er­the­less behold­en to its pre­sup­po­si­tions. A sim­i­lar weak­ness attends the term "sub­sis­tence." While its ety­mol­o­gy is noble and invokes that which is self-suf­fi­cient and stands in place, its mod­ern con­no­ta­tions are irre­deemably nar­row and uncouth. In pri­mar­i­ly invok­ing the modes by which peo­ple pro­vid­ed for their mate­r­i­al needs – food and shel­ter – "sub­sis­tence" rein­forces the eco­nom­ic by nega­tion. With its con­no­ta­tions of "basic neces­si­ties" or "bare sur­vival," sub­sis­tence des­ic­cates the var­ied and mul­ti­far­i­ous forms-of-life once and still con­duct­ed beyond the space cir­cum­scribed by the machine and the mar­ket. One can­not speak of "sub­sis­tence archi­tec­ture" as one can of ver­nac­u­lar archi­tec­tures. "Peas­ant" or "infor­mal" does not mod­i­fy dance and song, prayer and lan­guage, food and play. And yet, these are inte­gral to a life well-lived, and at least his­tor­i­cal­ly, were nei­ther com­mod­i­fied nor the prod­ucts of tech­no-sci­ence. It is to avoid such blind­ing con­fu­sions that Illich argued for reha­bil­i­tat­ing the word "ver­nac­u­lar."29
Though from the Latin ver­nac­u­lum, which named all that was home­bred, home­made, and home­spun, it was through Varro's restrict­ed sense of ver­nac­u­lar speech that the word "ver­nac­u­lar" enters Eng­lish. The his­to­ry of how ver­nac­u­lar speech was trans­mut­ed into a "taught moth­er tongue," is an exem­plar of not only what lies beyond the con­tem­po­rary thought-space but also for what may be wor­thy of recu­per­a­tion in mod­ern forms.30
Elio Anto­nio de Nebri­ja was a con­tem­po­rary of Christo­pher Colum­bus. In 1492, he peti­tioned Queen Isabel­la to spon­sor a tool to quell the unruly every­day speech of her sub­jects. In the Spain of Isabel­la, her sub­jects spoke in a mul­ti­tude of tongues. To dis­ci­pline the anar­chic speech of peo­ple in the inter­est of her pow­er Nebri­ja not­ed, "Lan­guage has always been the con­sort of empire, and for­ev­er shall remain its mate." To uni­fy the sword and the book through lan­guage, Nebri­ja offered both a rule­book for Span­ish gram­mar and a dic­tio­nary. In a kind of alchem­i­cal exer­cise, Nebri­ja reduced lived speech to a con­struct­ed gram­mar. Accord­ing­ly, this con­ver­sion of the speech of peo­ple into a nation­al lan­guage stands as a pro­to­type of the for­ays in that long war to cre­ate a world fit for workers/ con­sumers and oper­a­tors.
Nebri­ja fab­ri­cat­ed a Span­ish gram­mar as a tool to rule enlivened speech. Because stan­dard­ized and pro­duced by an expert, his gram­mar had to be taught to be effec­tive. More­over, fol­low­ing gram­mat­i­cal rules for speech con­veys the belief that peo­ple can­not speak with­out learn­ing the rules of gram­mar. By this dis­pen­sa­tion, the tongue is trained to repeat the gram­mat­i­cal forms it is taught; the tongue is made to oper­ate on lan­guage. Hence, the nat­ur­al abil­i­ty to speak that can be exer­cised by each and all is trans­formed into an alien­able prod­uct requir­ing pro­duc­ers and con­sumers. The con­ver­sion of every­day speech into a teach­able moth­er tongue thus ren­ders what is abun­dant into the regime of scarci­ty – to the realm of exchange-val­ue. Instruc­tion in lan­guage not only dis­ables the nat­ur­al pow­ers of the speak­er but also makes her depen­dent on cer­ti­fied ser­vice providers. Thus, Nebrija's pro­pos­al at once dis­clos­es and fore­shad­ows the world pop­u­lat­ed by work­ers and oper­a­tors, by the mar­ket and the machine.
The war against the ver­nac­u­lar has been pros­e­cut­ed for some 500 years.31 Once the com­mod­i­ty and mar­ket occu­pied the inter­stices of every­day life. Today, it is every­where. For most of human his­to­ry, tools were shaped by the pur­pos­es and lim­it­ed by the nat­ur­al abil­i­ties of its users. Today, their machines enslave the major­i­ty of peo­ple, par­tic­u­lar­ly in advanced indus­tri­al soci­eties. Though this trans­for­ma­tion has and is occur­ring in dif­fer­ent places at dif­fer­ent times and rates, it nev­er­the­less dupli­cates the dia­gram of how stan­dard­ized Span­ish gram­mar dis­em­bed­ded the speech of peo­ple. For instance, the rapa­cious "prim­i­tive accu­mu­la­tion" that enclosed the com­mons in the 17th cen­tu­ry, uproot­ed Eng­lish peas­ants from the land to make them ful­ly depen­dent on wages. A sim­i­lar dis­pos­ses­sion now occurs in Chi­na and India, where hun­dreds of mil­lions move from farms to fac­to­ries and slums. Abo­rig­i­nal tribes of the Ama­zon are being dis­pos­sessed and killed now with the same impuni­ty as those in Aus­tralia and the Amer­i­c­as once were. For enter­tain­ment, chil­dren now oper­ate PlaySta­tions where they once kicked around a ball on the street. Mega-church­es in the US indoc­tri­nate the flock with pow­er point slides and music, much as teach­ers, train­ers, and coach­es do in class­rooms around the coun­try. Food sci­en­tists, nutri­tion­ists, and plant pathol­o­gists pro­vide just some of the inputs that con­sumers depend on for their dai­ly calo­rie intake. Whether in sin­gle-fam­i­ly homes or box­es piled on top of each oth­er, peo­ple live in hous­es seem­ing­ly cut from an architect's tem­plate. Women in India now demand valen­tine cards with as much enthu­si­asm as Turk­ish men pur­chase hair, calf, and chest implants. The his­tor­i­cal record is rife with exam­ples that stand as wit­ness­es to the con­tin­u­ing destruc­tion of the ver­nac­u­lar –whether of food, shel­ter, song, love, or plea­sures.
It is by attend­ing to the his­tor­i­cal speci­fici­ty of our present predica­ment in the mir­ror of the past that Illich thus reveals a third axis that lies orthog­o­nal to the plane cir­cum­scribed by the axes of com­mod­i­ty inten­si­ty and dis­abling tech­nolo­gies. On this z-axis are locat­ed forms of social orga­ni­za­tion anchored by two het­ero­ge­neous forms. At the point of ori­gin of this three-dimen­sion­al space, are social arrange­ments that plug peo­ple into mar­kets and machines and there­by pre­vent them from exer­cis­ing their freely giv­en pow­ers. At the oth­er end of this z-axis is found a pro­fu­sion of social forms, each dif­fer­ent from the oth­er, but all marked by sus­pi­cion towards the claims for tech­no-sci­ence and the com­mod­i­ty.
For these modes of social orga­ni­za­tion, the dif­fer­ence between "sus­tain­able" and "unsus­tain­able" tech­nolo­gies is a chimera. Instead, what mat­ters is the real dis­tinc­tion between con­vivial and dis­abling tech­nolo­gies. Sim­i­lar­ly, the pur­port­ed dif­fer­ence between reg­u­lat­ed and free mar­kets, between pub­lic and pri­vate prop­er­ty does lit­tle to shape these social forms. Instead, they are ani­mat­ed by the dis­tinc­tion between the house­hold and the com­mons. Thus, the Amish of Penn­syl­va­nia cur­tail their use of such pow­er tools as trac­tors. The Bhutanese lim­it the num­ber of tourists to whom they play host. Some cities in Ger­many and Den­mark have banned the car to make way for the bicy­cle and walk­ing. Whether on a rooftop in Chica­go or by the rail track in Mum­bai, diverse groups rely on their veg­etable patch­es for some their dai­ly sus­te­nance. While com­mu­ni­ty sup­port­ed agri­cul­ture build bonds of per­son­al depen­dence, ceram­ic dry toi­lets and relat­ed forms of ver­nac­u­lar archi­tec­tures allow peo­ple to dwell. In a fine essay by Peter Linebaugh on the Lud­dites and the Roman­tics, one is per­suad­ed by the implic­it claim that com­mu­nism for the 21st cen­tu­ry may need to mim­ic in a new key, the coura­geous Lud­dite defense of the ver­nac­u­lar.32 Even Marx, in his last years, was less of a Marx­ist than many of those who spoke in his name. He was far more open to the peas­ant com­munes of Rus­sia and West­ern Europe than usu­al­ly assumed.33
These modes and man­ners of liv­ing in the present are informed by the past. Those engaged in the attempt to unplug from the mar­ket and the machine know that the reign of prop­er­ty – whether pri­vate or pub­lic-was erect­ed on the ruins of the com­mons and that the ubiq­ui­ty of dis­abling tech­nolo­gies-whether sus­tain­able or not-was achieved by den­i­grat­ing con­vivial tools. Yet, cru­cial­ly, know­ing what is past has gone, they are not dog­mat­ic in their fight. They prac­tice a form of brico­lage, oppor­tunis­ti­cal­ly tak­ing back what­ev­er they can get. A shared lawn­mow­er here, an over­grown and weed infest­ed gar­den there, a polit­i­cal strug­gle to retain arti­sanal fish­ing in Ker­ala, a move to the bar­ri­cades in the Chi­a­pas, the will­ing­ness to ped­dle cocaine derived home reme­dies in Peru and build­ing ille­gal ten­e­ments on pub­lic lands in Sao Paulo, each effort is aimed at reduc­ing the rad­i­cal monop­oly of com­modi­ties and dis­abling tech­nolo­gies. Such ways – of fish­ing, farm­ing, cook­ing, eat­ing, dwelling, play­ing, pray­ing or study – are as diverse and var­ied today as the peo­ple who engage in them. How­ev­er, what they have in com­mon is being ori­ent­ed by the same genus, the ver­nac­u­lar.
Epis­temic Pru­dence
The effort to fight against the con­tin­u­ing war on the ver­nac­u­lar also extends to the activ­i­ty of think­ing.34 What is con­fused for knowl­edge today is large­ly R&D fund­ed and deployed by gov­ern­ment and indus­try. Sci­en­tists, whether in the employ of uni­ver­si­ties, gov­ern­ments, or cor­po­ra­tions, pro­duce objec­tive knowl­edge for use by oth­ers. The per­ti­nent ques­tion for those affect­ed by these cir­cuits of knowl­edge pro­duc­tion and sale is to ask if there are ver­nac­u­lar styles of think­ing. Is there a kind of thought jus­ti­fied by nei­ther pride nor char­i­ty? What is the nature of rig­or­ous thought that is nev­er­the­less con­duct­ed among friends and aimed at shap­ing one's own modes of life in more beau­ti­ful ways? Are some styles of think­ing bet­ter suit­ed to com­pre­hend­ing the ver­nac­u­lar?
It is like­ly that the intel­lec­tu­al effort appro­pri­ate to bring­ing ver­nac­u­lar ways out of the shad­ows might itself be self-lim­it­ing. I sug­gest the now dis­card­ed notion of com­mon sense as a cri­te­ri­on to both com­pre­hend the ver­nac­u­lar domain and to rec­og­nize the styles of thought appro­pri­ate to it. Though the his­to­ry of com­mon sense is too tan­gled a sto­ry to be told here, it is suf­fi­cient to note its pri­ma­ry mean­ing, at least in Eng­lish. The first mean­ing of com­mon sense is the Aris­totelian "sen­sus com­mu­nis": "The com­mon bond or cen­ter of the five sens­es; the endow­ment of nat­ur­al intel­li­gence pos­sessed by ratio­nal beings."35 This under­stand­ing of the com­mon sense stretch­es from at least Pla­to to Descartes and, in this pri­mor­dial sense, refers to the fac­ul­ty nec­es­sary for the exer­cise of rea­son­able judg­ments. Con­trary to pop­u­lar prej­u­dice today, com­mon sense does not refer to the con­tent of what is known but rather how knowl­edge is achieved. Com­mon sense is not reducible to a body of propo­si­tions or of knowl­edge-claims: instead, it is the ground from which judg­ments are reached, par­tic­u­lar­ly, the judg­ment of what is appro­pri­ate, fit­ting, or ade­quate.36
Briefly, com­mon sense is that fac­ul­ty which syn­the­sizes sense impres­sions into per­cep­tions of the world. In turn, the active intel­li­gence abstracts con­cepts from these sen­si­ble per­cep­tions. An echo of this activ­i­ty of the intel­lect still res­onates in the word "con­cept," ety­mo­log­i­cal­ly relat­ed to grasp­ing or touch­ing. That con­cepts are teth­ered to per­cepts, which are root­ed in the sen­su­al, under­writes that Aris­totelian com­mon­place, "noth­ing in the intel­lect that is not first in the sens­es." Con­cepts are abstrac­tions. But pre­cise­ly because they are abstrac­tions from the real, they main­tain an accord between the world and the mind. Stat­ed sim­ply, both per­cep­tion and the con­cepts that flow from them are depen­dent on what is giv­en to the sens­es; con­cep­tions of the world depend on grasp­ing the world as it is.
Yet, tech­no-sci­ence is based on pre­cise­ly turn­ing this under­stand­ing on its head. Indeed, the announce­ment of Vico may be tak­en as the slo­gan behind which a com­mon sense under­stand­ing of the world was slow­ly suf­fo­cat­ed. From the very begin­ning of mod­ern sci­ence, know­ing is under­stood to be the same as mak­ing: the Carte­sian plane is as con­struct­ed as an air­plane; the Pois­son dis­tri­b­u­tion is as fab­ri­cat­ed as a pipette in the lab­o­ra­to­ry. Mod­ern sci­en­tif­ic ideas are not con­cepts teth­ered to the sens­es; instead they are con­structs. Con­structs, as the word sug­gests, are made and not giv­en. As Ein­stein famous­ly said, "Phys­i­cal con­cepts are free cre­ations of the human mind, and not…uniquely deter­mined by the exter­nal world." Though wrong to use the word "con­cepts," his acknowl­edge­ment that sci­en­tif­ic the­o­ries are cre­at­ed under­scores how sci­en­tif­ic con­structs frac­tures the com­mon sense tie between per­cep­tion and real­i­ty.
The sharp dis­tinc­tion between con­cepts and con­structs recalls that the mod­ern world is con­struct­ed and that peo­ple and things are often resized to fit in. Con­cepts are forms of thought engen­dered by the com­mon sense, which itself express­es the union between the world and the sens­es. Con­cepts reflect a way of know­ing things from the out­side in – from the world to the mind. In con­trast, con­structs are forms of reflex­ive thought express­ing a way of know­ing from the inside out – from the mind to the world.In mod­ern times, what is made up does not ide­al­ly con­form to what is giv­en. Instead, what is giv­en is slow­ly buried under the made-up world.
Sci­en­tif­ic con­structs are there­fore not root­ed by a sense for the world. Indeed, giv­en the con­trast between con­cepts and con­structs, it fol­lows that sci­en­tif­ic ideas are non-sense. They are not abstract­ed from expe­ri­ence but can often be used to reshape it. They can be exper­i­men­tal­ly ver­i­fied or fal­si­fied. But exper­i­ments are not the stuff of ordi­nary expe­ri­ence. No exper­i­ment is nec­es­sary to ver­i­fy if peo­ple breathe, but one is required to prove the prop­er­ties of a vac­u­um. Exper­i­ments are nec­es­sary pre­cise­ly to test what is not ordi­nar­i­ly evi­dent, which is why they are con­duct­ed in con­trolled set­tings and also used to pro­pa­gan­dize the unusu­al as ordi­nar­i­ly com­pre­hen­si­ble. Exper­i­men­tal results are nei­ther nec­es­sar­i­ly con­tin­u­ous with nor com­pre­hen­si­ble to every­day expe­ri­ence; they do not clar­i­fy expe­ri­ence but usu­al­ly obfus­cate it.
Unlike R&D, ver­nac­u­lar styles of thought are nei­ther insti­tu­tion­al­ly fund­ed nor direct­ed at the pur­port­ed hap­pi­ness and ease of oth­ers. More­over, ver­nac­u­lar think­ing also cleaves close­ly to the com­mon sense under­stood as the seat of rea­son­able judg­ments. Thus, it avoids the mon­strous heights to which thought can rise on the wings of the unfet­tered imag­i­na­tion. Accord­ing­ly, the abil­i­ty to grasp the ver­nac­u­lar demands not only the courage need­ed to buck aca­d­e­m­ic pres­sures but also to avoid those flights of the­o­ret­i­cal mad­ness pow­ered through the mul­ti­pli­ca­tion of con­structs.37
To draw out some fea­tures of the form of thought ade­quate to the ver­nac­u­lar domain, con­sid­er Illich's essay titled Ener­gy and Equi­ty, where he dis­tin­guish­es between trans­port, tran­sit, and traf­fic. Where­as tran­sit bespeaks the motion afford­ed to man the self-mov­ing ani­mal, trans­port refers to his being moved by het­eronomous means, whether car, train, or plane. There, a bul­lock cart trans­ports vil­lagers head­ed to the mar­ket. Here cars trans­port com­muters to the work­place. By com­mon sense per­cep­tion, trans­port – whether by cart or car – per­verts tran­sit, which is embod­ied in the freely giv­en capac­i­ty to walk. To those who can­not per­ceive the sen­su­al and car­nal dif­fer­ence between walk­ing and being moved as a Fedex pack­age, the dis­tinc­tion between trans­port and tran­sit is unper­sua­sive. It is equal­ly unper­sua­sive to those mired in that con­struct­ed uni­verse where all motion is iden­ti­fied with the dis­place­ment of any body in space. The rit­u­al­ized expo­sure to pas­sen­ger-miles – whether in cars or class­rooms – is the like­ly rea­son for the inabil­i­ty to per­ceive the felt dis­tinc­tion between trans­port and tran­sit. Thus, the elab­o­ra­tion of con­cepts to prop­er­ly grasp the ver­nac­u­lar domain can­not but begin by plac­ing the con­struc­tions of the econ­o­my and tech­no-sci­ence with­in epis­temic brack­ets.
Yet, if it is to be rea­son­able, such an exer­cise in epis­temic hygiene can­not be immod­er­ate.38 The con­trast between trans­port and tran­sit is clear and dis­tinct, root­ed as it is in phe­nom­e­no­log­i­cal­ly dis­tinct per­cep­tions. Yet, traf­fic is a the­o­ret­i­cal con­struct, pro­posed to com­pre­hend any com­bi­na­tion of trans­port and tran­sit. This neces­si­ty for con­structs is nev­er­the­less under­mined by their being teth­ered to and by con­cepts. Accord­ing­ly, the con­cep­tu­al grasp of the world hob­bles the free con­struc­tion of it. The dis­tinc­tion between con­cepts and con­structs does not imply refus­ing the lat­ter at all costs but rather entails see­ing the hier­ar­chi­cal rela­tion between them. That is, ver­nac­u­lar styles of think­ing do not exclude the­o­ret­i­cal con­structs but only seek to keep them in their place.
A sec­ond and relat­ed fea­ture of ver­nac­u­lar thought-styles con­firms its mod­er­ate and indeed, mod­est nature. In accord with ver­nac­u­lar ways, ver­nac­u­lar thought does not demand the exclu­sion or exci­sion of that which is anti­thet­i­cal and for­eign to its domain – the mar­ket or the machine. For instance, ver­nac­u­lar thought does not demand the era­sure of trans­port so that tran­sit can flour­ish. Instead, because root­ed in the per­ceived accord or just pro­por­tion between the tran­sit and trans­port, ver­nac­u­lar thought insists only that the capac­i­ty for auto-mobil­i­ty impose a bind­ing con­straint on trans­port. The sug­ges­tion that the speed lim­it for cars be rough­ly the same as that reached by a bicy­cle is root­ed in the argu­ment that traf­fic be cal­i­brat­ed by the lex­i­co­graph­ic pref­er­ence for tran­sit over trans­port.
Thus, ver­nac­u­lar ways of think­ing in con­so­nance with doing and being do not deny con­structs – whether imag­ined or real­ized. It mere­ly refus­es the char­ac­ter­is­ti­cal­ly mod­ern iden­ti­fi­ca­tion of know­ing and mak­ing, of reduc­ing think­ing to cal­cu­lat­ing, of dis­plac­ing the rela­tion between sub­jects and their pred­i­cates by quan­ti­ta­tive com­par­isons. In see­ing beyond the prej­u­dice that com­pares beings in terms of "mea­sure, num­ber, and weight," ver­nac­u­lar thought rean­i­mates a sec­ond form of quan­ti­ta­tive mea­sure­ment that, with it, was also cast into the shad­ows. Recall, as Ein­stein admit­ted, sci­en­tif­ic con­structs are free cre­ations of the mind, exem­pli­fied by math­e­mat­i­cal con­structs – equa­tions, cal­cu­la­tions, and the like. But such math­e­mat­i­cal mea­sure­ment is only the infe­ri­or of two kinds of quan­ti­ta­tive mea­sure­ment.
In The States­man, Pla­to argues for the dis­tinc­tion between arith­meti­cal and "geo­met­ric" mea­sures.39 While both are forms of quan­ti­ta­tive mea­sure­ments, arith­meti­cal or numer­i­cal mea­sure is inde­pen­dent of the pur­pos­es of the cal­cu­la­tor and either cor­rect or incor­rect. In con­trast, "geo­met­ric" mea­sure­ments of too much or too lit­tle are inex­tri­ca­bly bound to inten­tion­al­i­ty and there­fore nev­er sim­ply cor­rect or incor­rect but always mea­sured with respect to what is just right or fit­ting. To clar­i­fy the dis­tinc­tion, con­sid­er the fol­low­ing two points. Giv­en a con­ven­tion­al mea­sure – gal­lons or liters – a quan­ti­ty of water can be pre­cise­ly and uni­ver­sal­ly mea­sured as 4. How­ev­er, whether 4 is too much or too lit­tle depends on whether one intends to fill a 3 or 5 gal­lon pail; or to put out a blaz­ing fire or to water a horse. The frame of inten­tion­al­i­ty or pur­pose thus defines the quan­ti­ta­tive mea­sure­ment of greater or less­er, of more or less. Accord­ing­ly, the numer­i­cal mea­sure of plus or minus 1 gains its mean­ing from and is there­fore sub­or­di­nate to the non-numer­i­cal­ly mea­sure of too much or too lit­tle. More­over, it is also rel­a­tive to pur­pose that 3 or 5 is con­sid­ered fit­ting, appro­pri­ate or just right.
But there is a sec­ond point to be empha­sized about the rela­tion between so-called arith­meti­cal and "geo­met­ri­cal" mea­sure­ments. Arith­meti­cal mea­sures are utter­ly ster­ile when it comes to answer­ing the ques­tion of pur­pose, of what is to be done. That is, the ques­tion of whether a giv­en end is appro­pri­ate or fit­ting can­not be debat­ed in math­e­mat­i­cal sym­bols. In fact, the oppo­site is true. It is always pos­si­ble to ask if apply­ing arith­meti­cal mea­sures to a par­tic­u­lar sit­u­a­tion is appro­pri­ate. Thus, whether one should fill a 5-gal­lon pail, or con­struct a math­e­mat­i­cal mod­el of human behav­ior or fab­ri­cate a mea­sure called eco­log­i­cal foot­print are unan­swer­able in numer­i­cal terms.40
That arith­meti­cal mea­sure­ments can­not adju­di­cate its own appro­pri­ate­ness shows they are infe­ri­or in rank or hier­ar­chi­cal­ly sub­or­di­nate to "geo­met­ric" mea­sure­ment. The ques­tion con­cern­ing pur­pose is pre­em­i­nent­ly a ques­tion of ethics, of jus­tice among per­sons. More­over, since per­son­al rela­tion­ship can­not but be ground­ed in the embod­ied sense of and for anoth­er, it fol­lows that eth­i­cal judg­ments must be root­ed in com­mon sense. Thus, geo­met­ric mea­sures of what is just and right, of what is appro­pri­ate and fit­ting, are judg­ments formed of the com­mon sense. Accord­ing­ly it fol­lows that con­cepts should reg­u­late and serve as norms for con­structs and, anal­o­gous­ly, that ver­nac­u­lar ways should reg­u­late tech­no-sci­en­tif­ic con­struc­tions.
Past or Future?
Illich's plea to resus­ci­tate the ver­nac­u­lar must be tak­en seri­ous­ly – espe­cial­ly now, when the ongo­ing eco­nom­ic and eco­log­i­cal crises reveal the restrict­ed thought-space with­in which con­tem­po­rary debates con­tin­ue to be con­duct­ed. Just as the demand for more reg­u­lat­ed mar­kets expose exchange-val­ue as the pre­sup­po­si­tion of eco­nom­ic thought, so also the call for sus­tain­able or eco-friend­ly tech­nolo­gies expose the grip of tech­no-sci­ence on the mod­ern imag­i­nary. The ver­nac­u­lar, we could say, lies orthog­o­nal to these axes of mar­kets and machines, offer­ing us a unique stand­point from which to inter­ro­gate the present. While the object of an almost 500 year long war, it nev­er­the­less per­sists with­in the inter­stices and byways of mod­ern life, ready for reac­ti­va­tion.
---