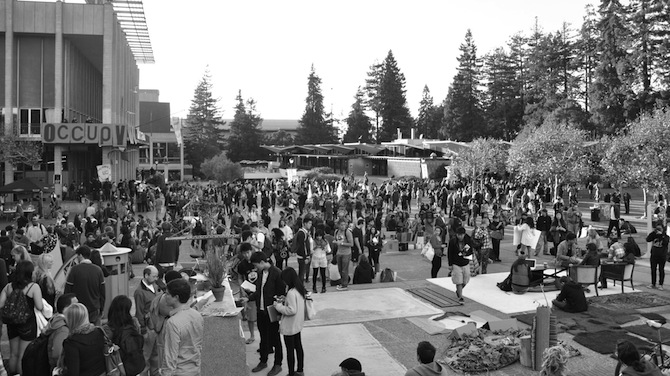 We're pass­ing through a low phase in North­ern Cal­i­for­nia – a lull that par­tial­ly par­al­lels those fac­ing orga­niz­ers from Madi­son to New York. The rebel­lious ener­gies so evi­dent recent­ly seem scat­tered these days, dor­mant. The uni­ver­si­ties are qui­et. And the forces that had gath­ered in city parks and squares, most mas­sive­ly at Oakland's Oscar Grant Plaza, are large­ly absent. The encamp­ments are bro­ken up, the assem­blies dis­solved.
It's hard to know whether this is sim­ply a peri­od of incu­ba­tion, from which anoth­er, sim­i­lar wave of class strug­gle will soon emerge, or if this moment of rel­a­tive inac­tiv­i­ty is allow­ing for the recom­po­si­tion of our forces, our alliances, the ways we take action togeth­er. If the ter­rain of strug­gle we now encounter has been remade by the past year of action – by our effec­tive acts of oppo­si­tion, by new forms of state repres­sion and co-opta­tion, and by our own mis­steps – how can we most effec­tive­ly inter­vene in the shift­ing polit­i­cal force fields we're com­ing to inhab­it?
As we offer our­selves a bit of relief from the inten­si­ties of the past year – as we heal, main­tain ties, and work through it all – it's worth col­lab­o­ra­tive­ly think­ing through these ques­tions. Strug­gles against aus­ter­i­ty in Cal­i­for­nia, which I've par­tic­i­pat­ed in and tried to think crit­i­cal­ly about, can pro­vide a con­crete con­text for this kind of reflec­tion.
While many of us have been tak­ing a rest, politi­cians have been active as ever. The recent­ly passed Cal­i­for­nia state bud­get is, as in pre­vi­ous years, crush­ing. It short­ens the amount of time peo­ple can remain in the work­fare pro­gram, reduces the program's work exemp­tions for peo­ple with young chil­dren, cuts pay­ments for and lim­its access to child­care, reduces fund­ing for in-home sup­port­ive ser­vices, and guts pub­lic health care pro­grams. In com­bi­na­tion, these cuts con­sti­tute a severe attack on work­ing-class women, and there­fore on the class as a whole. The undo­ing of wel­fare, child­care, and in-home ser­vice pro­grams fur­ther pri­va­tizes and deval­ues car­ing labor, and thus impos­es increas­ing­ly impos­si­ble bur­dens of domes­tic and waged work on all those, par­tic­u­lar­ly women of col­or, who have been denied finan­cial reserves.
Aus­ter­i­ty is still the order of the day. For all the class strug­gle that's been staged in the streets, plazas, and uni­ver­si­ties this past year, and despite what we've accom­plished, those who gov­ern and man­age cap­i­tal are still effec­tive­ly mak­ing it hard­er for work­ing peo­ple to sur­vive. And no par­tial, uncer­tain vic­to­ries in the edu­ca­tion­al sec­tor should allow us to lose sight of this stark real­i­ty.
There are a num­ber of ways to make sense of the effects this year's state bud­get will have on stu­dents and cam­pus work­ers. The basic sto­ry is that, rather than sim­ply cut­ting once again the bud­gets of schools and uni­ver­si­ties, the state has made these cuts con­tin­gent upon the poten­tial fail­ure of the com­pro­mise tax ini­tia­tive this Novem­ber. If the ini­tia­tive pass­es, we'll have a tuition freeze in the Uni­ver­si­ties of Cal­i­for­nia, and a year with­out sig­nif­i­cant cuts in oth­er sec­tors of pub­lic edu­ca­tion.
That we may have anoth­er year with­out under­grad­u­ate fee hikes in the UCs, and with­out cuts to schools and col­leges, should be under­stood as an effect of recent rounds of uncom­pro­mis­ing stu­dent protest, includ­ing the cas­cad­ing strikes and encamp­ments that shook California's uni­ver­si­ties last fall. These protests demon­strat­ed to the state and to the UC Regents that fur­ther fee increas­es would come with a cost, and helped build sup­port for the orig­i­nal Mil­lion­aires' Tax, of which the cur­rent tax ini­tia­tive – formed out of a com­pro­mise between the gov­er­nor and the pres­i­dent of the Cal­i­for­nia Fed­er­a­tion of Teach­ers – is a pale copy.
While we might be inclined to con­sid­er the pos­si­bil­i­ty of a year with­out cuts to pub­lic edu­ca­tion as a vic­to­ry, albeit an uncer­tain one, there are oth­er polit­i­cal dynam­ics shap­ing the cur­rent sit­u­a­tion that make for a murki­er pic­ture. Gov­er­nor Jer­ry Brown, in tying the fate of stu­dents to his tax ini­tia­tive, is work­ing to co-opt and neu­tral­ize stu­dent move­ments – move­ments that oth­er­wise could fur­ther dele­git­i­mate state insti­tu­tions enact­ing and enforc­ing aus­ter­i­ty, and even poten­tial­ly set off, as in Que­bec, a peri­od of gen­er­al­ized social unrest. This fall, it will be incred­i­bly dif­fi­cult for those active on cam­pus­es to resist pres­sures to put our ener­gies into cam­paign­ing for the tax ini­tia­tive, despite the fact that rel­a­tive­ly lit­tle of the rev­enue would go to edu­ca­tion (much is slat­ed to "pay down the deficit"); that the ini­tia­tive includes a tem­po­rary, regres­sive sales tax; and that elec­toral cam­paigns force us to engage on a ter­rain and in a mode of strug­gle that work to our dis­ad­van­tage, in com­par­i­son to cam­pus-based direct action and mass orga­niz­ing. As we recent­ly saw in Wis­con­sin, social move­ments that allow them­selves to be entire­ly divert­ed into elec­toral pol­i­tics risk mas­sive demor­al­iza­tion, defeat in both elec­toral and non-elec­toral domains, and the fray­ing of bonds forged through col­lec­tive strug­gle.
Still, the pres­sure to par­tic­i­pate in the ini­tia­tive cam­paign will be intense, since the effects of a defeat would be so severe. In addi­tion to the cuts that would be trig­gered, the initiative's defeat would make edu­ca­tion­al pri­va­ti­za­tion appear all the more inevitable, allow­ing those push­ing fee hikes and pen­sion reduc­tions to invoke the "will of the vot­ers" in sup­port of their efforts. The UC Regents, for instance, are rumored to already be con­sid­er­ing a 20% fee hike (approx­i­mate­ly $2,500/year), which they'd try to imple­ment in the event that the tax ini­tia­tive failed. And the ini­tia­tive very well could fail, espe­cial­ly if, for instance, the Euro­pean debt cri­sis inten­si­fies, and the eco­nom­ic depres­sion in the States sub­se­quent­ly deep­ens.
While we have lit­tle con­trol over broad­er eco­nom­ic dynam­ics, we can still pre­vent our move­ments from being co-opt­ed and neu­tral­ized by the gov­er­nor. We could, for instance, explic­it­ly reject the elec­toral process as a pri­ma­ry ter­rain of strug­gle; along the lines of the move­ment of the Indig­na­dos in Spain, we could orga­nize a series of walk­outs and occu­pa­tions in Octo­ber tied togeth­er by the slo­gan: "There's no vote against aus­ter­i­ty." Alter­na­tive­ly, we could pri­or­i­tize local strug­gles whose out­comes will not direct­ly be affect­ed by the fate of the tax ini­tia­tive. At UC Berke­ley, for instance, the admin­is­tra­tion is attempt­ing to move up to six hun­dred staff mem­bers to a build­ing locat­ed miles away from cam­pus – a move explic­it­ly designed to spur work­ers to resign rather than endure degrad­ed and iso­lat­ing con­di­tions of employ­ment. In sol­i­dar­i­ty with work­ers orga­niz­ing against their dis­place­ment, we could hold dis­rup­tive actions at the build­ing to which they would be relo­cat­ed. We could also link up with the move­ment to defend City Col­lege of San Fran­cis­co, which appears to be tak­ing shape in response to the threat of dis-accred­i­ta­tion and clo­sure levied by a recent audit – an audit per­formed by a body with ties to edu­ca­tion­al pri­va­tiz­ers and for-prof­it col­leges. Giv­en how imbri­cat­ed the var­i­ous sec­tors of pub­lic edu­ca­tion are in Cal­i­for­nia, all stu­dents have a stake in the fight at CCSF, which has the poten­tial to gen­er­al­ize strug­gles against tuition hikes and course reduc­tions.
Even if stu­dent move­ments suc­cess­ful­ly avoid get­ting direct­ly caught up in elec­toral cam­paign­ing, it's con­ceiv­able that their more rebel­lious edges might be worn off by the specter of the Novem­ber elec­tion. There's a dan­ger that stu­dents might be haunt­ed by the imag­ined judg­ment of "the vot­ing pub­lic," that we might take on this phan­tom as a kind of super­ego, avoid­ing actions that could upset a pro­ject­ed vot­er or make them less sym­pa­thet­ic to the cause of pub­lic edu­ca­tion. And there's plen­ty of rea­son to think that vot­ers in Cal­i­for­nia are inclined to be unsym­pa­thet­ic: in recent decades, they've passed a num­ber of reac­tionary propo­si­tions, includ­ing 13, 209, 8 and 36. While Gov­er­nor Brown may be con­fi­dent that vot­ers' pre­sumed clas­si­fi­ca­tion of stu­dents as mem­bers of the "deserv­ing" mid­dle class will ensure pas­sage of this year's tax ini­tia­tive, stu­dent activists ulti­mate­ly have lit­tle to gain from attempt­ing to fill the role of respectable defend­ers of exist­ing edu­ca­tion­al insti­tu­tions.
While high­er edu­ca­tion has his­tor­i­cal­ly been under­stood, with some valid­i­ty, as a mark­er and repro­duc­er of mid­dle class sta­tus, col­lege is no longer a guar­an­teed tick­et to a sta­ble, decent pay­ing job. Increas­ing­ly, it offers to the degree-hold­er lit­tle more than decades of indebt­ed­ness and pre­car­i­ous employ­ment. Our gen­er­a­tion of stu­dents is fac­ing a process of pro­le­tar­i­an­iza­tion; and rather than cling­ing to a fan­tas­ti­cal "mid­dle class" sta­tus, defin­i­tive­ly refut­ed by eco­nom­ic trans­for­ma­tions, we should act in sol­i­dar­i­ty with, and with an eye towards, the work­ing class from which many of us hail and into which we're head­ed. As we plan anoth­er round of protest, let's con­cern our­selves with the per­cep­tion of the broad­er class, those fac­ing anoth­er dev­as­tat­ing round of aus­ter­i­ty, rather than with the sanc­ti­mo­nious vision of those who fear and resent the plea­sures and pos­si­bil­i­ties of work­ing class strug­gle and mutu­al aid – plea­sures that many of us expe­ri­enced last fall at the Occu­py Oak­land encamp­ment, and dur­ing strikes on our cam­pus­es.
While things have been slow this sum­mer, we're still here; and if the recent past is any indi­ca­tion, anoth­er upsurge is like­ly immi­nent. As we attempt to deter­mine the shape com­ing strug­gles will take, the expe­ri­ence of the past year can give us con­fi­dence that direct actions, cou­pled with mass orga­niz­ing, have the poten­tial to gen­er­ate wide­spread par­tic­i­pa­tion, open up new cen­ters of grav­i­ty, and offer us lives less con­sumed with the anx­i­eties of debt, work, and uncer­tain futures.