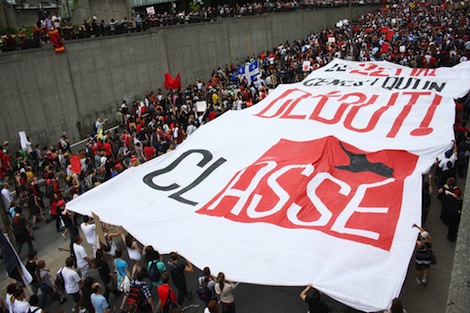 It took a lit­tle while for the stu­dent strug­gle in Que­bec to gain trac­tion with activists out­side of the province. The strike began in Feb­ru­ary, but it prob­a­bly wasn't until late March that activists in Ontario paid it much mind, and not until late April or May that large num­bers of peo­ple began pour­ing across the bor­ders into Que­bec to demon­strate along­side the Que­be­cois, to talk to Que­bec activists, and to learn from their orga­niz­ing tac­tics and strug­gles so that we could push the move­ment beyond the con­fines of the Fran­coph­o­ne province and into the rest of Cana­da.
The cur­rent strike in Que­bec has been a long time com­ing. We can real­is­ti­cal­ly say that activists there have been orga­niz­ing for this strike not only since 2010, but since 1968, when the first stu­dent strike took place – demand­ing free tuition, the demo­c­ra­t­ic admin­is­tra­tion of edu­ca­tion­al insti­tu­tions and poli­cies, and an expan­sion of the Fran­coph­o­ne uni­ver­si­ty sys­tem. Eight more stu­dent strikes were to fol­low, of vary­ing degrees of suc­cess, and in each of these stu­dent activists con­scious­ly worked to learn from their expe­ri­ences, from their suc­cess­es and fail­ures, and altered their orga­niz­ing accord­ing­ly. Tuition fees in Que­bec are direct­ly relat­ed to this his­to­ry of mil­i­tant orga­niz­ing and strik­ing. There is absolute­ly no oth­er expla­na­tion. Que­bec stu­dents orga­nized, Que­bec stu­dents fought, and Que­bec stu­dents won.
It was in 2001, with the for­ma­tion of the Asso­ci­a­tion for Stu­dent-Union Sol­i­dar­i­ty (ASSE), that a strate­gic per­spec­tive for effec­tive mobi­liza­tion devel­oped. ASSE stud­ied the his­to­ry of the Que­bec stu­dent move­ment and took on a rad­i­cal­ly demo­c­ra­t­ic activist approach to stu­dent union­ism, which has been car­ried for­ward by the Broad Coali­tion of the Asso­ci­a­tion of Stu­dent-Union Sol­i­dar­i­ty (CLASSE) in the 2012 mobi­liza­tion. This form of stu­dent union­ism sees that stu­dents, like work­ers, have col­lec­tive inter­ests, and pos­sess a col­lec­tive pow­er that must be har­nessed and orga­nized in order to defend these inter­ests. It oper­ates with direct democ­ra­cy as its core, with gen­er­al mem­ber­ship meet­ings and gen­er­al assem­blies as the site of deci­sion-mak­ing for the union. Stu­dents gath­er togeth­er, debate, dis­cuss, vote, and pass motions on the direc­tion of their union. It is in this way that stu­dents them­selves, not stu­dent lead­ers or rep­re­sen­ta­tives, decide the best direc­tion for the stu­dent move­ment, the cam­paigns to adopt, and the strate­gies to enact in pur­suit of these goals.
These direct­ly demo­c­ra­t­ic orga­niz­ing struc­tures sim­ply don't exist out­side of Que­bec in any offi­cial or orga­nized capac­i­ty in the stu­dent move­ment. Stu­dent unions and broad-based stu­dent asso­ci­a­tions exist, pri­mar­i­ly the Cana­di­an Fed­er­a­tion of Stu­dents (CFS), but the struc­ture that these stu­dent unions and fed­er­a­tions have tak­en has been far less direct­ly demo­c­ra­t­ic and grass­roots-ori­ent­ed than the tra­jec­to­ry of the stu­dent unions and orga­ni­za­tions that even­tu­al­ly gave way to ASSE and CLASSE. Much of what could be called a stu­dent move­ment in the rest of Cana­da has been, since its found­ing in the 1980s, coor­di­nat­ed and direct­ed by the CFS. The CFS has strong ties to provin­cial and fed­er­al polit­i­cal par­ties (pri­mar­i­ly the social-demo­c­ra­t­ic New Demo­c­ra­t­ic Par­ty), and uses the lob­by­ing of par­lia­men­tary rep­re­sen­ta­tives as the best way to achieve aims of low­er tuition and more acces­si­ble edu­ca­tion – a path that has for 30 years seemed woe­ful­ly inad­e­quate and has proven to be a ter­rif­ic fail­ure. Tuition fees in Ontario are wild­ly out of step with those in Que­bec, with stu­dents pay­ing an aver­age of $6640 annu­al­ly, com­pared to the $2519 annu­al tuition rate in Que­bec, despite years of CFS cam­paigns to "drop fees," an annu­al Day of Action in Feb­ru­ary (seem­ing­ly more and more sparse­ly attend­ed each year), repeat­ed "occu­pa­tions" of provin­cial and fed­er­al politi­cians' offices (end­ing at 5pm!), and lob­by­ing efforts by CFS rep­re­sen­ta­tives. Obvi­ous­ly none of these tac­tics have worked, and some­thing, it is clear, must change.
Based on my own expe­ri­ence in Ontario, I can spec­u­late on some of the rea­sons for this dis­junc­ture, and the delayed response to the cur­rent strike. One is that there is a sig­nif­i­cant lan­guage bar­ri­er between Que­bec and Canada's oth­er provinces. Although Cana­da is an offi­cial­ly bilin­gual coun­try, what this means real­is­ti­cal­ly is that eight of the ten provinces are pri­mar­i­ly Eng­lish speak­ing, Que­bec is pri­mar­i­ly French speak­ing, and only New Brunswick is offi­cial­ly bilin­gual. Stu­dents in Anglo-Cana­da study French through­out ele­men­tary school and high school, but that does not mean in any way that the major­i­ty of Cana­di­an stu­dents are able to read, let alone speak and under­stand, French. Ini­tial­ly, there was lit­tle cov­er­age in Eng­lish media – even alter­na­tive media – about the strike orga­niz­ing, strike votes, and strike prepa­ra­tions that were hap­pen­ing in Que­bec. A few men­tions would trick­le out, of course, but Trans­lat­ing the Print­emps érable, a web­site that trans­lates impor­tant doc­u­ments and new sto­ries from Fran­coph­o­ne media, was not yet in con­stant oper­a­tion. Because of lin­guis­tic bar­ri­ers that have pre­vent­ed strong col­lab­o­ra­tions between Fran­coph­o­ne and Anglo­phone activists over the years, the strike ini­tial­ly stayed below the radar for stu­dent rad­i­cals out­side of Que­bec. Of course, the even­tu­al par­tic­i­pa­tion of Anglo­phone stu­dents and orga­niz­ers in the strike move­ment has helped to accel­er­ate the process of expand­ing the strug­gle across lin­guis­tic bound­aries.
A sec­ond rea­son for the slow uptake in Ontario is that at the time the strike broke out, we were engaged in a series of labour and com­mu­ni­ty bat­tles of our own – most­ly in Toron­to, but also through­out the South­west­ern Ontario region. In Toron­to the munic­i­pal gov­ern­ment was going up against labor in a sig­nif­i­cant way, tar­get­ing indoor and out­door work­ers and work­ing to pit the pub­lic against them. The munic­i­pal bud­get was also being vot­ed on in Toron­to, and that bud­get was seek­ing to make cuts to many impor­tant ser­vices across the city, affect­ing thou­sands if not mil­lions of peo­ple. Cater­pil­lar – the own­er of a loco­mo­tive assem­bly plant in Lon­don, Ontario – had decid­ed to offer work­ers a near 50% wage and ben­e­fit cut in their recent round of con­tract nego­ti­a­tions, and on New Years' Eve uncer­e­mo­ni­ous­ly locked out work­ers. Many activists, includ­ing stu­dent activists, were engaged in both of these strug­gles, and so our minds were else­where.
Final­ly, and this is pure spec­u­la­tion on my part, we have all wit­nessed the decline of the uni­ver­si­ty over the years, and the con­tin­u­al defeat of stu­dent and even fac­ul­ty resis­tance move­ments. There is almost a mini-indus­try in pro­tract­ed inter­nal cri­tique lobbed at "the uni­ver­si­ty" these days, from stu­dents and pro­fes­sors alike, not to men­tion food ser­vice, main­te­nance, and cus­to­di­al work­ers. I think that many peo­ple in Ontario heard that there would be a strike in Que­bec and, unfa­mil­iar with the his­to­ry of Que­bec stu­dent mil­i­tan­cy, pre­sumed it would go much like the tuition increase protests in Eng­land in 2010. Mas­sive crowds, lots of ener­gy, rage in the streets, smashed win­dows, a recal­ci­trant gov­ern­ment, and ulti­mate­ly a crush­ing defeat.
All this being said, there was only, rel­a­tive­ly speak­ing, a minor lag for Ontario stu­dents. By the 22nd of March, when the mas­sive protest against tuition strikes hit Montreal's streets, Ontario stu­dents were ful­ly aware of what was hap­pen­ing, if not already in Mon­tre­al pro­vid­ing sup­port.
Of course, the desire to expand the strug­gle is great, but the land­scape of the stu­dent move­ment out­side of Que­bec is very dif­fer­ent. First of all, the stu­dent move­ment out­side of Que­bec could hard­ly even be said to exist in recent years, pri­or to the 2012 upris­ing, and sec­ond, we do not pos­sess the insti­tu­tion­al struc­tures for orga­niz­ing and chan­nelling dis­sent into a col­lec­tive strike across cam­pus­es in the same way that Que­bec does. Much of the stu­dent move­ment in Ontario has been cen­tered around the CFS, and oth­er major events in cam­pus orga­niz­ing have tend­ed to cir­cu­late around labour union strug­gles.
For exam­ple, in 2008 there was a long and bit­ter strike at York Uni­ver­si­ty in Toron­to – but this was a labour strike. The teach­ing assis­tant, grad­u­ate assis­tant, and con­tract fac­ul­ty union, which has always been one of Canada's strongest aca­d­e­m­ic unions and cer­tain­ly has one of the best con­tracts in the coun­try, went out against the employ­er. Last­ing 85 days, this strike was the longest fac­ul­ty strike in Cana­di­an uni­ver­si­ty his­to­ry. That said, a labour strike is fun­da­men­tal­ly dif­fer­ent in shape, form, and struc­ture than a stu­dent strike. For one thing, as offi­cial­ly rec­og­nized work­ers, mem­bers of labour unions have to abide by the Labour Rela­tions Act, and wait to be in a legal strike posi­tion. The insti­tu­tion­al struc­tures for labour unions and stu­dent unions are very dif­fer­ent; while labour unions have (some) coor­di­na­tion between locals and larg­er provin­cial or nation­al bod­ies, out­side of the reformist CFS, Ontario stu­dents have noth­ing of the sort. This is exact­ly the kind of coor­di­na­tion, orga­ni­za­tion, and insti­tu­tion­al struc­ture that Que­bec stu­dents have. Final­ly, as rad­i­cal as York University's union is (Cana­di­an Union of Pub­lic Employ­ees 3903), it does not oper­ate on CLASSE's prin­ci­ples of assem­blies or direct democ­ra­cy. So while the York mil­i­tants and the York strike serve as an inter­est­ing exam­ple of cam­pus orga­niz­ing and push­back in Ontario, struc­tural­ly this exam­ple is fun­da­men­tal­ly dif­fer­ent than the grass­roots stu­dent orga­niz­ing and strik­ing hap­pen­ing in Que­bec.
Process­es are already under­way to cre­ate some sort of new mod­el of orga­niz­ing in Ontario. Meet­ings have been held to launch the for­ma­tion of the Ontario Stu­dents' Mobi­liza­tion Coali­tion, but this does not seem to extend beyond a Face­book page. The CFS has tried to hold sol­i­dar­i­ty demon­stra­tions in Toron­to, but they have been only mar­gin­al­ly suc­cess­ful and low on atten­dance, pri­mar­i­ly because they were orga­nized by the CFS and not by stu­dents them­selves, and they were not decid­ed upon in a direct­ly demo­c­ra­t­ic man­ner by any rec­og­nized group of stu­dents and stu­dent activists. The first obsta­cle to over­come, then, in expand­ing the stu­dent strug­gle beyond the bor­ders of Que­bec, is to begin the dif­fi­cult process of pulling our­selves away from the top-down, bureau­crat­ic struc­tures that will impede our progress and have proven inef­fec­tive in con­sol­i­dat­ing and act­ing upon our demands, what­ev­er those may be. Over­com­ing an adher­ence to bureau­crat­ic and author­i­tar­i­an modes of orga­niz­ing will be dif­fi­cult, cer­tain­ly, but steps are already being tak­en. Stu­dents and activists from all across Cana­da have con­verged upon Que­bec in recent weeks, meet­ing with CLASSE and ASSE orga­niz­ers, with stu­dent rad­i­cals in var­i­ous uni­ver­si­ties, col­leges, depart­ments, and fac­ul­ties. Con­ver­sa­tions that have start­ed in Que­bec have been car­ried back to our home provinces, and the slow process of insti­tut­ing tru­ly demo­c­ra­t­ic struc­tures with­in our uni­ver­si­ties slow­ly begins.
Already there are plans for some activists, pri­mar­i­ly from the Anglo uni­ver­si­ties in Mon­tre­al (McGill and Con­cor­dia) to host a week­end work­shop in Ontario to train stu­dent activists in the art of push­ing for gen­er­al assem­blies at the depart­men­tal lev­el, and form­ing mobi­liza­tion com­mit­tees with­in fac­ul­ties to obtain broad par­tic­i­pa­tion in these assem­blies. And activists with­in depart­ments are already plan­ning to call gen­er­al assem­blies in Sep­tem­ber, invit­ing all stu­dents out to begin the dis­cus­sion about what cam­pus mobi­liz­ing in Ontario would look like, and whether or not we want to orga­nize towards a strike. Net­works are devel­op­ing, slow­ly and qui­et­ly, out­side of offi­cial chan­nels, between Que­bec stu­dents and those of oth­er provinces.
But simul­ta­ne­ous­ly there is a small pow­er strug­gle under­way between these more autonomous activists and the already con­sti­tut­ed (and more bureau­crat­ic) orga­niz­ers of the CFS. Entry­ist activists in Toron­to – name­ly Fight­back – have set them­selves the task of reform­ing the CFS, encour­ag­ing the Fed­er­a­tion to "orga­nize strikes." Mean­while, oth­er activists strug­gle to set the stage for direct­ly demo­c­ra­t­ic orga­niz­ing, which may or may not result in a strike. But it is only through the devel­op­ment of an assem­bly process with­in uni­ver­si­ty depart­ments and fac­ul­ties that activists and stu­dents can decide how and when to deal with the CFS, and whether or not the Fed­er­a­tion should be aban­doned alto­geth­er. Those who, like me, are ground­ed in decen­tral­ized modes of orga­niz­ing and strug­gle, see the method of direct­ly demo­c­ra­t­ic assem­blies as a nec­es­sary ele­ment of this process. Strik­ing the bal­ance between these two con­stituen­cies and learn­ing to work togeth­er, and occa­sion­al­ly around each oth­er, will be of utmost impor­tance in the com­ing year.
After all, in Ontario there is much to orga­nize and strug­gle around. Each year, 5% tuition increas­es are qui­et­ly insti­tut­ed at the major­i­ty of Ontario uni­ver­si­ties, and each year Ontario stu­dents have a hard­er and hard­er time find­ing paid work upon grad­u­a­tion. Dis­plea­sure rum­bles beneath an oth­er­wise placid sur­face. The most pow­er­ful form of sol­i­dar­i­ty that we can show to our com­rades in Que­bec is to learn from them and effec­tive­ly mobi­lize our own strug­gles – to orga­nize our­selves and spread the move­ment. With new modes of orga­niz­ing being slow­ly intro­duced into Ontario stu­dent unions and stu­dent fed­er­a­tions, the pos­si­bil­i­ty per­sists that the 2012-2013 school year will see the bur­geon­ing and burst­ing forth of stu­dent dis­con­tent­ment across the entire­ty of Cana­da.