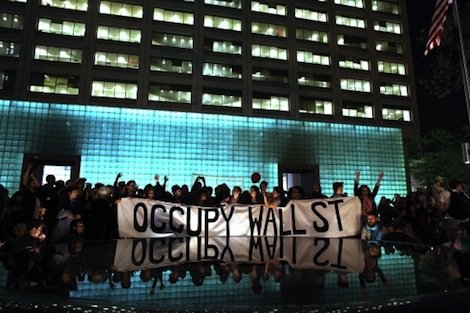 May Day was a gam­ble for Occu­py Wall Street, and a nec­es­sary one. Instead of herald­ing a nation­al renew­al, spring­time has found Occu­py short of ideas and run­ning on vapors. Life after the encamp­ments has not led to a gen­er­al­iza­tion of occu­pa­tions, and the prospect of reestab­lish­ing them in their ini­tial form is remote. The 1st of May was log­i­cal tim­ing for a revival – or at the very least, a life­line, a con­fir­ma­tion of vital­i­ty, an open door. Bol­stered by the call for an expand­ed gen­er­al strike, May Day 2012 smelled of hope, but also des­per­a­tion. Our sense at the out­set was that fail­ure in the streets – whether the result of low turnout, police out-maneu­ver­ing, or flat rep­e­ti­tion of ges­ture – would radi­ate far beyond New York, effec­tive­ly bring­ing the move­ment to an impasse. Although our fears ulti­mate­ly proved unwar­rant­ed, there was lit­tle in our expe­ri­ence of May Day that augured an esca­la­tion of strug­gle; no spark to set the sum­mer ablaze.
Our May Day begins at a morn­ing gath­er­ing in Bryant Park, the stag­ing ground for fly­ing pick­ets in and around Mid­town. En route from the sub­way, we see noth­ing out of the ordi­nary above or below ground, noth­ing to sug­gest that OWS's ambi­tious agit­prop cam­paign – which called for a ban on house­work, school, wage labor, the use of mon­ey, and even "data" – had been heard among the broad­er pub­lic. We arrive at the park short­ly after noon, where a crowd of sev­er­al hun­dred is milling about, flanked by a cadre of gui­tarists rehears­ing for the "gui­tarmy," all under the watch of a heavy police pres­ence. Though we've been expect­ing some­thing more than the usu­al fes­tive tedi­um of stand­ing and ambu­lat­ing in prox­im­i­ty of the police, the vibe here dis­ap­points; we decide to move along.
In search of live­li­er action, we catch the F train to 2nd and Hous­ton, where a group of marchers from Brook­lyn had stalled out at Sara D. Roo­sevelt Park after suc­cess­ful­ly cross­ing the Williams­burg Bridge. In antic­i­pa­tion of a "wild­cat march" (code word for black bloc) sched­uled for 1pm, police have hemmed in the crowd, num­ber­ing about 200, on three sides, leav­ing the park itself as our only egress. As we wait – again, for some­thing to hap­pen – a bike bloc rides cir­cles around the park, draw­ing a flotil­la of scoot­er cops in its wake. (A diver­sion­ary tac­tic? We think so.) Against this back­drop, a group of local dudes con­tin­ue to play hoops as the crowd gath­ers, serene­ly obliv­i­ous to the masks and ban­ners and the tense rat-a-tat­ting of drums.
Just as we're about to lapse into despair at the lethar­gy of it all, the march lurch­es into gear, throw­ing itself in the direc­tion of the police line. What ensues in the next few min­utes is a con­fused scrum of blue- and white-shirt­ed cops, media, and demon­stra­tors, dur­ing which the head of at least one occu­pi­er emerges blood­ied from the fra­cas. Then, as if by col­lec­tive reflex, the back end of the march breaks into a head­long dash through the park, accel­er­at­ing past bas­ket­ball and ten­nis courts, eas­i­ly out­pac­ing the cops. As we spill into the streets, we begin chant­i­ng: "From Oak­land to Greece, fuck the police," and the like. The march holds for­ma­tion as it veers into Chi­na­town; pet­ty black bloc ges­tures com­mence, some graf­fi­ti here and there, news­pa­per box­es dragged into the inter­sec­tion, but the over­rid­ing pri­or­i­ty is eva­sion. The pres­ence of cops at our rear sends us hurtling past befud­dled ven­dors and shop­pers. Scuf­fles break out as sev­er­al scoot­er cops try to force us onto the side­walk, but to lit­tle avail. Half an hour lat­er, the march has run its course at Wash­ing­ton Square Park, where wild­cats and cops alike dis­perse into the ver­dant milieu.
After gath­er­ing our breath for a moment, we learn that an unper­mit­ted march has depart­ed from Bryant Park en route to Union Square. We set off uptown, reach­ing the pop-up "Free Uni­ver­si­ty" at Madi­son Square Park on 23rd St., the most forth­right­ly affir­ma­tive expres­sion of OWS's ethos so far this May Day. A com­rade who has been there since the morn­ing describes a scene of earnest dis­cus­sion and co-edu­ca­tion, stu­dents and work­ers rub­bing shoul­ders with aca­d­e­m­ic types, includ­ing Occupy's pre­em­i­nent Davids, Har­vey and Grae­ber. We've only just set­tled in when the march from Bryant Park arrives along 5th Ave., sweep­ing us up in the slow slide down­town. The police are an ano­dyne pres­ence; they seem con­tent with let­ting the march pro­ceed in the streets since its des­ti­na­tion is the per­mit­ted and heav­i­ly con­trolled ral­ly at Union Square.
The Union Square ral­ly strikes us as a nec­es­sary com­pro­mise with labor orga­niz­ers and com­mu­ni­ty groups, pro­vid­ing a safe stag­ing ground for an after­noon march to the finan­cial dis­trict. Slow­ly fill­ing through the after­noon, the park plays host to a crowd of sev­er­al thou­sands by 4pm. From our perch in the shade, the ampli­fied sound sys­tem seems out of place here, as do the range of speak­ers, a hodge­podge of the usu­al boost­ers and exhort­ers. The sched­uled enter­tain­ment, includ­ing Tom Morel­lo, Dan Dea­con, and Das Racist, strikes us as redun­dant; more sig­nif­i­cant than this duti­ful, and frankly piti­ful, sam­pling of con­tem­po­rary spec­ta­cle is the pal­pa­ble live­ness of our gath­er­ing. Con­trary to our ear­li­er pes­simism, the march is shap­ing up to be a gar­gan­tu­an affair. And so, at around 5:30pm, we set off in a cir­cuitous route out of the park, chan­neled through a labyrinth of met­al bar­ri­cades on our way towards Broad­way, our yel­low brick road to Wall Street.
Along the first sev­er­al blocks of the march, police pres­ence is so thick as to give one pause. But doubt about our sov­er­eign­ty in the street fades as the extent of our num­bers becomes clear; accord­ing to some reports, the march com­pris­es around 30,000 occu­piers, activists, rank-and-fil­ers, and allies, encom­pass­ing over 30 blocks at any giv­en time. The walk down Broad­way is slow, fes­tive, and con­ge­nial. We find our­selves near the head of the march, wedged between an immi­grants' rights bloc, the musi­cians' union march­ing band, and the OWS Arts & Labor sub­group. The union pres­ence is siz­able, but the ban­ners and slo­gans that punc­tu­ate the crowd clear­ly reflect the voice and con­cerns of OWS. No one miss­es the point: this march is more a vig­il for the evict­ed encamp­ment than a cel­e­bra­tion of work­ing-class pow­er. Onlook­ers seem most­ly stunned, doc­u­ment­ing the pro­ces­sion with iPhones held rev­er­ent­ly aloft, as if unsure how to inter­act with the sud­den appear­ance of his­to­ry in their midst.
It takes sev­er­al hours for us to reach the finan­cial dis­trict, where night has fall­en and the police pres­ence is even more over­whelm­ing. A vast army of cops has blocked off Wall Street and Zuc­cot­ti Park, rul­ing out any prospect of our storm­ing capitalism's stony fortress. As we reach Bowl­ing Green, an ampli­fied voice informs us that our per­mit has expired. The OWS "after-par­ty" sched­uled for 8pm seems to have been thwart­ed. Mean­while, the bulk of the march is still stretched out along Broad­way. It is a strange scene: with a litany of union speechi­fy­ing echo­ing over the now-unper­mit­ted sound sys­tem (a dis­em­bod­ied reminder of our com­pro­mise with the estab­lish­ment Left), the march fiz­zles into the dark­ness and into the sub­way sta­tions. The only exhor­ta­tion to elic­it cheers from the crowd is the Tran­sit Work­ers' Union's pledge not to trans­port arrestees, or rather, as the spokesper­son puts it, "polit­i­cal pris­on­ers."
Even­tu­al­ly a seg­ment of the march finds its way to 55 Water Street. Here, in a post­mod­ern amphithe­ater lodged between glass-framed sky­scrap­ers, we join a thou­sand or so occu­piers in a sur­re­al people's assem­bly, the cul­mi­na­tion of the day's planned agen­da. Arrayed before a mas­sive reflect­ing pool, speak­ers take turns prais­ing the day's suc­cess­es and pledge to hold the park indef­i­nite­ly, their voic­es car­ried by a three-tiered people's mic. The sit­u­a­tion is pre­car­i­ous: sev­er­al hun­dred police in riot gear stand along the perime­ter of the park, poised to enforce the 10pm clos­ing time. As the rhythm of a drum cir­cle accel­er­ates into Dionysian fren­zy, and as speak­ers intone odes and epi­thets wor­thy of Attic dra­ma – one woman strikes the reflect­ing pool with her fist in a ges­ture intend­ed to shat­ter illu­sion – our affin­i­ty group takes a deci­sion to leave before the real tragedy arrives. The fol­low­ing day, we learn that a hand­ful of occu­piers were able to maneu­ver from 55 Water back to Zuc­cot­ti Park, a ter­rain with more and bet­ter exits and few­er restric­tions on overnight use, at which point the crowd dwin­dled to sev­er­al dozen and was most­ly left alone by the police.
On the way back to Philly, our thoughts quick­ly turned to the future of OWS: what will come of the movement's first pub­lic hol­i­day, May Day 2012, and its attempt at col­lab­o­ra­tion with orga­nized labor? How, if at all, will the lessons of spring­time be inte­grat­ed in the months ahead? Though it would be wrong to say that our expe­ri­ence on Tues­day whol­ly con­firmed our ini­tial dis­ap­point­ment, we can­not avoid sound­ing a note of con­cern. How­ev­er one spins it, this year's May Day did not ful­fill its orga­niz­ers' aims – or at least, it did not sat­is­fy the aims out­lined in the call for a gen­er­al strike, a day "with­out the 99%." Unlike the labor unions, Occu­py has no pow­er over the sphere of pro­duc­tion; its call to strike is only effi­ca­cious as an invi­ta­tion to direct action out­side the work­place, not as a pro­hi­bi­tion on wage labor, school­work, house­work, and so on. On this score, OWS might have looked to Occu­py Oak­land, which, along with oth­er West Coast occu­piers, exe­cut­ed major port shut­downs this past fall and win­ter. One way or anoth­er, OWS will have to address its offen­sive game in the com­ing months. This year's May Day was a test of the movement's strength, but it passed only nar­row­ly, by the force of num­bers alone. We hope next year's march will be not a test but a demon­stra­tion.