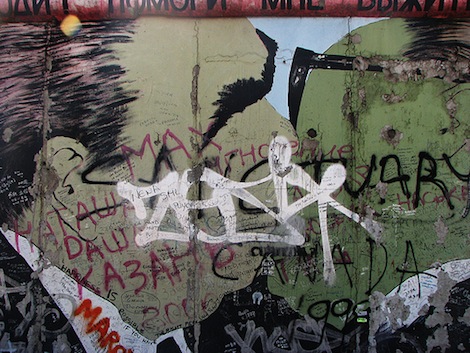 First entry in an exchange with Jacobin, by Asad Haider and Salar Mohan­desi: "Is there a Future for Social­ism?"
We all won­dered, as we watched Back to the Future, how alter­na­tive futures could change the whole uni­verse while Mar­ty McFly stayed the same. Those movies amount­ed to a Rea­gan­ite phi­los­o­phy of his­to­ry: the short-cir­cuit between the Fifties and the Eight­ies which con­verts every con­tin­gent encounter into one reac­tionary loop, cen­tered on the white man who secret­ly invents rock n' roll, seduces his moth­er, and con­quers the space-time con­tin­u­um.

Against this phi­los­o­phy, we say there's no point in his­tor­i­cal coun­ter­fac­tu­als. His­to­ry is that which is the case; while we start with the premise that his­to­ry could have hap­pened dif­fer­ent­ly, we can't escape the fact that the van­tage point of our analy­sis is his­to­ry that hap­pened the way it did. The twen­ti­eth cen­tu­ry as we know it might not have tak­en place; but our world is con­sti­tut­ed by its explo­sions, trag­ic and ecsta­t­ic.

This is why we're pleased to enter into an exchange with Jacobin, whose logo recalls that we live in the world made by Tou­s­saint L'Ouverture and the Black Jacobins. The rever­ber­a­tions of their con­fronta­tion with the colo­nial­ist uni­ver­sal­ism of the so-called "bour­geois rev­o­lu­tions" would be felt through­out the 19th cen­tu­ry – just as, in 1848, the Jacobin­ism of Blan­qui would be chal­lenged by the growth of work­ing-class neigh­bor­hood clubs.

To talk about the future of social­ism, we'll have to begin with its past. We'll have to look at the future that past social­ists pro­ject­ed – a future that was "guar­an­teed" by the lin­ger­ing ide­ol­o­gy of the bour­geois rev­o­lu­tion – and mea­sure it care­ful­ly against the real­i­ty.
Be sure to check back at Jacobin for the rest of the dia­logue.