William Bran­don Jour­dan is an inde­pen­dent film­mak­er, jour­nal­ist and writer. He is cur­rent­ly based in the Nether­lands, where is work­ing on a film about reac­tions to the finan­cial cri­sis. One of his lat­est projects is the web­site Glob­al Upris­ings. In this inter­view, he dis­cuss­es his video doc­u­men­ta­tion of the last decade's surges in pop­u­lar unrest world­wide. –Trevor Owen Jones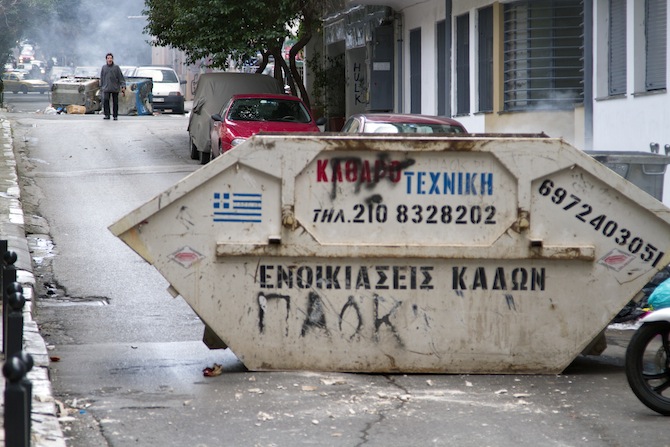 Trevor Owen Jones: Many peo­ple may be aware of your appear­ance on Democ­ra­cy Now! with Amy Good­man. You've been sub­ject­ed to lengthy search­es by ICE offi­cials and have been told you are on a "list," and this intru­sive behav­ior by the author­i­ties is now rou­tine for you. Has this past year fared any bet­ter for you going back and forth between assign­ments in oth­er coun­tries? Have you and oth­er jour­nal­ists linked up to fight these devel­op­ments under the sup­pos­ed­ly pro­gres­sive Oba­ma admin­is­tra­tion?
William Bran­don Jour­dan: My expe­ri­ences at the US bor­der have been less than pleas­ant and cer­tain­ly haven't got­ten any eas­i­er.
In the Nether­lands, where I live, I am usu­al­ly "inter­viewed" at the gate by Immi­gra­tions and Cus­toms Enforce­ment before I even get on the plane (on US bound flights). Upon arrival in the Unit­ed States, my name is announced on the inter­com and I'm tak­en to a home­land secu­ri­ty office, where I'm held for sev­er­al hours. I usu­al­ly call a lawyer right away and record my expe­ri­ences on paper right after arriv­ing.
Rou­tine­ly, I have to plan any trips to the US in regards to what I car­ry with me. My notes are always copied and any elec­tron­ic data is also copied, so I don't car­ry a jour­nal, any hard dri­ves, busi­ness cards or any writ­ten phone num­bers, video cas­settes, USB sticks, SD cards, or any­thing that I do not want to be copied. At the bor­der, one has very lit­tle rights. If one were to bring an encrypt­ed hard dri­ve, they can seize it, so you are bet­ter off avoid­ing car­ry­ing sen­si­tive mate­r­i­al. It takes biopow­er to ridicu­lous lev­els.
It's a huge ordeal, but I have not found a solu­tion to it. I've talked to lawyers, includ­ing the ACLU, but the only way that one can chal­lenge this is by chal­leng­ing the entire US bor­der appa­ra­tus. I have not found a lawyer that will file a law­suit. It would be won­der­ful to find oth­ers that are going through sim­i­lar sit­u­a­tions, so that we can chal­lenge this type of harass­ment.
Dur­ing and after "Occu­py," many inde­pen­dent jour­nal­ists have been tar­gets of harass­ment and intim­i­da­tion, and they are dis­cov­er­ing this kind of retal­i­a­tion by the state is rou­tine. Do you have any advice for oth­er young jour­nal­ists, who are now just start­ing out to observe, record and report on direct actions and mass move­ments?
They should be care­ful with mate­r­i­al that they record in gen­er­al. Espe­cial­ly video jour­nal­ists have to be cog­nizant of the fact that the state can use your mate­r­i­al as evi­dence. I've had to deal with this over and over again. For instance, I had to do a three hour depo­si­tion with the Attor­ney General's office for a case in Wash­ing­ton, DC. Since it was against an offi­cer who assault­ed a pro­test­er, I agreed to do it and was encour­aged to do the depo­si­tion by an activist lawyer who was present for the depo­si­tion. In the end, the offi­cer was fired and there was even an attempt to charge him with assault. In this case, the footage was help­ful, but I real­ized that the state pays very close atten­tion to video. Anoth­er exam­ple of how the state can use footage is what is hap­pen­ing with the Oak­land police, and its use of foren­sic video enhance­ment soft­ware to iden­ti­fy what they view as wrong­do­ers.
While one should be care­ful, it is still true that video is a valu­able tool for cre­at­ing nar­ra­tives and show­ing his­to­ry in the mak­ing. It is impor­tant to give peo­ple tools for explain­ing his­tor­i­cal events. Film­mak­ers or inde­pen­dent jour­nal­ists should take the time to do a good job. Make sure to cap­ture ele­ments that add to the sto­ry. Show loca­tion scenery and make sure to do steady inter­views with good audio. Shots of police bru­tal­i­ty may go viral and help build a case against police, but it is also good to pro­vide con­text and often times play­ing peo­ple as vic­tims just makes peo­ple feel afraid. Mak­ing films or news doc­u­men­taries requires the abil­i­ty to com­pose a good shot, manip­u­late light­ing, pay close atten­tion to audio, and the abil­i­ty to tell a good sto­ry. When you edit, make sure to actu­al­ly look at it as writ­ing a sto­ry, not nar­row­ing down clips. It should not be a col­lage of events; it should be a sto­ry, a slice of his­to­ry.
The media's atten­tion to the occu­pa­tions last year was rather nov­el – for the first time in almost a decade, main­stream jour­nal­ism was tak­ing a look at a "left" move­ment. There were some dis­mis­sive and down­right false sound­bites, but sym­pa­thet­ic ana­lysts also some­times seemed to sug­gest that the move­ment "came out of nowhere." Giv­en your pre­vi­ous atten­tion not only to the Cal­i­for­nia stu­dent move­ment in 2009 but also Greece, how do you, as a jour­nal­ist, think about and com­mu­ni­cate the nature of mass action – when it comes to por­tray­ing the spec­tac­u­lar, "explo­sive" spon­tane­ity of events, ver­sus the kind of work and activism that goes into cre­at­ing "ripe" con­di­tions, so to speak?
The occu­pa­tion move­ment devel­oped due to his­tor­i­cal con­di­tions and how social ele­ments came togeth­er as a mate­r­i­al force in the midst of these his­toric con­di­tions. I'm not sure that it was pure­ly indi­vid­u­als or even small groups that mere­ly cre­at­ed "ripe" con­di­tions and that there was then an explo­sion of spec­tac­u­lar events. This is not to say that many did not seize upon his­tor­i­cal events to cre­ate sit­u­a­tions, but that it has to be con­tex­tu­al­ized. This is often the case, though not always. Most jour­nal­ists are sim­ply fol­low­ing the phi­los­o­phy of jour­nal­ism, which is for­mu­la­ic and reduc­tion­ist in nature. Also, news cycles very rarely allow time for research and jour­nal­ists always want to make sto­ries which are char­ac­ter dri­ven. They often miss the big pic­ture.
For me the nar­ra­tive of the US occu­pa­tion move­ment starts before Adbusters' call to occu­py Wall Street and even before California's wave of uni­ver­si­ty occu­pa­tions. In my opin­ion, it goes like this. First­ly, some peo­ple in the US worked over­board to elect Oba­ma and naive­ly believed that he would ful­fill his duties as the guar­an­tor of some sort of social con­tract with the mid­dle class. He had already sup­port­ed the Bush's first round of quan­ti­ta­tive eas­ing, which basi­cal­ly cre­at­ed mas­sive amounts of mon­ey out of thin air with the hope of get­ting the econ­o­my back on track. He even left his cam­paign trail to vote on it. The first round of quan­ti­ta­tive eas­ing was seen as bailout and pro­voked the first Wall Street protest in Sep­tem­ber of 2008. This is some­thing that should be not­ed, as many peo­ple joined the Occu­py Wall Street because of a feel­ing of betray­al, which didn't actu­al­ly occur. Oba­ma knew his con­stituen­cy from the begin­ning.
Oth­er notable ear­ly reac­tions to cri­sis were fam­i­lies refus­ing to leave fore­closed prop­er­ties through­out the US, includ­ing orga­nized fore­clo­sure defense such as Take Back the Land in Flori­da, and the occu­pa­tion of the Chica­go Repub­lic Win­dow and Door fac­to­ry in Decem­ber 2008.
Then, the lan­guage of "Occu­py" start­ed in the US with the occu­pa­tion at the New School in Decem­ber 2008, which I cov­ered. Many of the signs on the walls of the cafe­te­ria, includ­ed slo­gans that were very much sup­port­ive of the waves of riots and occu­pa­tions in Greece that result­ed fol­low­ing the police mur­der of a young anar­chist in the Athen's neigh­bor­hood of Exarchia. So the New School occu­pa­tion imme­di­ate­ly con­nect­ed itself to the occu­pa­tion move­ment that was in Europe. After the end of the 3 day occu­pa­tion in Decem­ber, sev­er­al pam­phlets were pub­lished that were dis­sem­i­nat­ed and wide­ly read. Much of the writ­ing was influ­enced by the Sit­u­a­tion­ists, writ­ings by Tiqqun, Théorie Com­mu­niste, and oth­er left com­mu­nist thought com­ing main­ly from Europe. In the months fol­low­ing this occu­pa­tion, there was an occu­pa­tion of NYU and a sec­ond occu­pa­tion of the New School. The actu­al first time that I saw the expres­sion "occu­py every­thing" was at the re-occu­pa­tion of the New School dur­ing April 2009.
The April New School occu­pa­tion had a more anti-cap­i­tal­ist sen­ti­ment, even ultra-left­ist, which appealed to some orga­niz­ers in Cal­i­for­nia. Cal­i­for­nia had been hit by a wave of fore­clo­sures and was in a severe bud­get cri­sis. There was also a social cri­sis. There were the riots in Jan­u­ary 2009 fol­low­ing the death of Oscar Grant, an unarmed African-Amer­i­can who was shot by a white police offi­cer, which seemed to tap into this under­ly­ing social cri­sis. Many involved in the Oscar Grant riots were already sea­soned orga­niz­ers, who had been both involved in anti-war orga­niz­ing and involved ear­li­er in the alter-glob­al­iza­tion move­ment. Many were also inspired by the Decem­ber riots in Greece, the anti-CPE demon­stra­tions in 2006 in France, and the Oax­a­ca upris­ing that had occurred in 2006 as well. Some were stu­dents in the Uni­ver­si­ty of Cal­i­for­nia school sys­tem.
In July 2009, UC Pres­i­dent Mark Yud­of declared a state of a state of "extreme fis­cal emer­gency" with­in the UC sys­tem and used this as a pre­text for cuts and tuition hikes. This occurred fol­low­ing moves dur­ing the past years to secu­ri­tize UC bonds using stu­dent tuition as col­lat­er­al and while large con­struc­tion projects were hap­pen­ing across the UC sys­tem. In the midst of this Yud­of pro­posed a 32 per­cent fee increase for the UC. Some of the more rad­i­cal stu­dents at the Uni­ver­si­ty of Cal­i­for­nia San­ta Cruz decid­ed to occu­py a build­ing dur­ing Sep­tem­ber, while a walk­out occurred at Uni­ver­si­ty of Cal­i­for­nia at Berke­ley, where there was a failed occu­pa­tion. Dur­ing the midst of this, an influ­en­tial text called "Com­mu­niqué From an Absent Future" was released.
Over the fall, a series of occu­pa­tions occurred through­out Cal­i­for­nia. A three day stu­dent strike of UC from Novem­ber 18-20 saw a wave of occu­pa­tions on mul­ti­ple cam­pus­es. I had the oppor­tu­ni­ty to be inside one of those occu­pa­tions at Wheel­er Hall in UC Berke­ley on Novem­ber 20th. Thou­sands of peo­ple gath­ered around to defend the occu­pa­tion. This was a pret­ty inter­est­ing peri­od and I believe the notion of occu­py­ing space was pop­u­lar­ized, at least amongst stu­dents in the Unit­ed States. I've even heard that an edi­tor at at Adbuster's mag­a­zine, Mic­ah White, was at the Wheel­er Hall occu­pa­tion.
Fol­low­ing the Novem­ber events, there were more build­ing occu­pa­tions and a mini-riot in Berke­ley. A news­pa­per called "After the Fall' was released which includ­ed com­mu­niques from all of the Fall occu­pa­tions through­out Cal­i­for­nia. Then there was a nation­al mobi­liza­tion against cuts to edu­ca­tion on March 4th 2010. I man­aged to get arrest­ed fol­low­ing a march that shut down a free­way in Oak­land that was orga­nized as part of this nation­al mobi­liza­tion.
Then the nation­al stu­dent move­ment slowed down, but in Cal­i­for­nia there was anoth­er riot fol­low­ing the ver­dict of Oscar Grant's mur­der­er in July 2010. Mean­while, New York's scene at that time was fair­ly messy and slight­ly dys­func­tion­al. There were some union actions against cuts and some protests inside banks, but much of the stu­dent occu­pa­tion move­ment had died down.
Dur­ing the end of 2010 and ear­ly 2011, the Euro­pean cri­sis kicked in full gear and there was the Arab Spring. There were large stu­dent riots against tuition hikes in the Lon­don start­ing in Novem­ber 2010. In Tunisia and Egypt, there were rev­o­lu­tions and rebel­lions hap­pened through­out the Arab world. In Greece, there were more riots and gen­er­al strikes and the pop­u­lar­iza­tion of the "I Won't Pay Move­ment," a civ­il dis­obe­di­ence move­ment that encour­aged peo­ple to refuse to pay for high­way tolls, pub­lic trans­port, and even hos­pi­tal treat­ment. Spain had a gen­er­al strike in Sep­tem­ber 2010 and there were oth­er major actions against aus­ter­i­ty all over Europe.
Dur­ing Feb­ru­ary and March of 2011, there were major protests in Wis­con­sin and the occu­pa­tion of the Madi­son, Wis­con­sin state capi­tol build­ing fight­ing against Wis­con­sin Bud­get Repair Bill, which was a bud­get bal­anc­ing bill that would lim­it col­lec­tive bar­gain­ing rights. This was after Gov­er­nor Scott Walk­er gave major tax breaks to the wealthy and to cor­po­ra­tions. Despite large protests and calls by some for a gen­er­al strike, the bill ulti­mate­ly passed and protests declined.
In late spring, a major­ly influ­en­tial action in regards to the US Occu­py move­ment occurred with the May 15th move­ment in Spain and the move­ment of assem­blies in Greece. Start­ing in May, peo­ple through­out Greece and Spain occu­pied pub­lic squares, set up gen­er­al assem­blies, and man­aged to politi­cize peo­ple who were not the usu­al sus­pects. By Sep­tem­ber 2011, these move­ments vol­un­tar­i­ly dis­persed or were crushed by the state. Most of the assem­blies left the squares and moved into the neigh­bor­hoods, where they con­tin­ue.
In the US, Adbusters pro­posed that peo­ple use the May 15 "Move­ment of the Assem­blies" tac­tic while using some of the lan­guage from the orig­i­nal "Occu­py" move­ment. Local anar­chists held assem­blies and orga­nized a date of action for Sep­tem­ber 17, 2011. So then there was Zuc­cot­ti Park and the occu­pa­tions that spread through­out the world. I'm not going to talk about this much, because it was wide­ly cov­ered.
One note that I would like to include is that the US Occu­py move­ment is built upon the work of local groups protest­ing in the midst of capitalism's lat­est cri­sis. Each local "Occu­py" has had a char­ac­ter that is shaped by his­toric con­di­tions and varies in polit­i­cal con­tent. For instance Occu­py Oak­land, or the Oak­land Com­mune is a bit row­di­er than oth­er cities, because it has a recent his­to­ry that is con­sis­tent and more polit­i­cal­ly devel­oped in my opin­ion. I feel that going back to this notion of a social con­tract that Oba­ma was sup­posed to ful­fill is impor­tant when draw­ing dis­tinc­tions with­in the Occu­py move­ment. In Oak­land, there have been decades of high unem­ploy­ment, so there are less peo­ple feel­ing includ­ed in any social con­tract. There is also the lack of respect for the police, due to recent high pro­file police shoot­ings, and it's eas­i­er to push back since there are only 650 OPD. In some parts of the coun­try, Occu­py is con­nect­ing large­ly to a mid­dle class that is feel­ing neglect­ed and wants to return to some sort of con­tract where they will have employ­ment and secu­ri­ty, but in the age of low­er prof­it rates, this is not going to hap­pen any­time soon. Once peo­ple under­stand this, then it will get inter­est­ing.
Your videog­ra­phy of Greece, a coun­try per­pet­u­al­ly in the news cycle these days, is espe­cial­ly inter­est­ing to me. I felt some­thing deeply changed after the Greek insur­rec­tions of Decem­ber 2008, even here in the Unit­ed States, where there was very much an idea that it wouldn't be enough to just sit and watch "his­to­ry," that it was nec­es­sary to join in, par­tic­i­pate, and fight back; it seemed like things had fun­da­men­tal­ly changed. The aus­ter­i­ty pro­grams threat­en­ing the lives of every­day peo­ple in Europe are just one facet of this new urgency or politi­ciza­tion, but as some­one who's been cov­er­ing devel­op­ments since the days of "alter­glob­al­iza­tion" and the anti-war move­ment, does this dove­tail with your obser­va­tions?
The Greek insur­rec­tion was inter­est­ing because it showed a deep­er legit­i­ma­tion cri­sis with­in Greece. It was also a major event, because it hap­pened fol­low­ing the begin­ning of a glob­al eco­nom­ic cri­sis. Young rad­i­cals around the world looked at the youth insur­rec­tion and were inspired because there were two crises that were becom­ing more appar­ent; the cri­sis of cap­i­tal­ist accu­mu­la­tion and the legit­i­ma­tion cri­sis. The eco­nom­ic cri­sis only helped to high­light deep­er prob­lems in a con­crete man­ner. More peo­ple were pro­le­tar­i­an­ized in the West­ern world.
Glob­al­iza­tion was abstract to most West­ern­ers. The wars in the Mid­dle East had become nor­mal­ized. The eco­nom­ic cri­sis shows where capital's pri­or­i­ties lie and that is the accu­mu­la­tion of prof­its for a very small amount of peo­ple which we call cap­i­tal­ists. There will not be a return to "nor­mal­i­ty" unless this is prof­itable for the wealthy. The real strug­gle now is not push­ing for a return to some sort of social peace, but rather mov­ing for­ward.
Your films on Greece, Egypt, and Oak­land make a point of giv­ing activists, orga­niz­ers, and "reg­u­lar" peo­ple a voice. How do you, as some­one deter­mined to report on major social upheavals, com­mu­ni­cate your task as an inde­pen­dent jour­nal­ist to peo­ple on the ground?
Most of my con­nec­tions inter­na­tion­al­ly have been made through years of work­ing with or know­ing local groups of orga­niz­ers. I look at what is occur­ring in the news or through web­sites and find what areas I feel should be expand­ed on. Most orga­niz­ers trust that I am not going to burn them in an inter­view and under­stand that I'm try­ing to expand on under-report­ed sto­ries and that this is not some­thing that I am doing just to make mon­ey. Many peo­ple are hap­py to share con­tacts or go on cam­era, because often times jour­nal­ists do poor­ly researched reports, write from the state per­spec­tive, or sim­ply lie. This is not some indict­ment of the main­stream media, because often times inde­pen­dent reports are bad and occa­sion­al­ly main­stream reporters do great work.
Do you find peo­ple are more forth­com­ing or more ret­i­cent in tense, high­ly-politi­cized spaces such as Syn­tag­ma or Tahrir Square? What in your expe­ri­ence has changed about how you get sub­jects on cam­era, how you engage them, or has it changed at all?
Report­ing in places like Greece is pret­ty stress­ful, due to a hatred of the media and the spec­ta­cle. There in par­tic­u­lar, I've had to build trust and still have to be care­ful in the midst of some­times vio­lent riot­ing. Build­ing trust is hard. It's impor­tant to not have some sanc­ti­mo­nious feel­ing about being a jour­nal­ist and hav­ing cer­tain rights. That's a very bour­geois notion. Some­times peo­ple do not like their images tak­en and one should respect that right.
Just as Seat­tle '99, Que­bec, Genoa and then the Iraq War placed a new enthu­si­asm for inde­pen­dent media in the pub­lic sphere, the rebel­lions in Tunisia and Egypt as well the Occu­py move­ment have ignit­ed enthu­si­asm for "cit­i­zen-jour­nal­ism" once again – I myself took part in an inde­pen­dent jour­nal­ist train­ing work­shop once in New York. I under­stand you were involved with Inde­pen­dent Media Cen­ter, a very admirable project that is still thriv­ing, but also has been sub­ject to police trolling, delib­er­ate mis­in­for­ma­tion, and harass­ment from the FBI. How can inde­pen­dent jour­nal­ists, open source media, rad­i­cal blog­gers and oth­ers can do to counter the con­stant clos­ing of the com­mons of the Inter­net? Do com­mit­ted jour­nal­ists have any oth­er choice but to fight back? It doesn't seem like they have any cushy news­pa­per jobs wait­ing for them any­time soon…
While there are attempts to con­trol the inter­net, for the most part inde­pen­dent jour­nal­ists still have many resources at their dis­pos­al. Peo­ple have to work con­stant­ly and find as many out­lets as pos­si­ble. Since the Indy­media days, I've put out mate­r­i­al through oth­er out­lets like Coun­ter­punch, Democ­ra­cy Now!, and oth­er left-lean­ing sites, but I've also con­tributed footage to main­stream out­lets, which is rare. I reg­u­lar­ly post videos and Vimeo and YouTube and try to push these shorts out through Twit­ter, Face­book, and get as many blogs to repub­lish them as well. Recent­ly, with my col­lab­o­ra­tor Mar­i­anne Maeck­el­bergh, I also start­ed a blog called www.globaluprisings.org.
In places like Egypt, where many peo­ple don't have access to com­put­ers, groups are orga­niz­ing out­door screen­ings of human right's vio­la­tions by the mil­i­tary and police. This is anoth­er way of dis­sem­i­nat­ing infor­ma­tion and is effec­tive because it allows one to engage in dia­logue with peo­ple direct­ly. It's more reward­ing for me to meet peo­ple at screen­ings than to get a "like" on Face­book.
Paid media jobs are becom­ing more pre­car­i­ous, so you are right that jour­nal­ists will not have secu­ri­ty and will have to fight for their on sur­vival. One inter­est­ing thing in Greece is that jour­nal­ists are join­ing the gen­er­al strikes. This will become more inter­est­ing once they aren't strik­ing as jour­nal­ists.
You spent some time in Haiti, a coun­try that has prac­ti­cal­ly been for­got­ten. The cor­po­rate press rushed to cov­er Haiti with all the canned human­i­tar­i­an inter­ven­tion sto­ries they could muster, while your work cov­ered the autonomous, bot­tom-up orga­niz­ing of every­day peo­ple work­ing togeth­er. Even the more benev­o­lent NGOs often paint a pic­ture of peo­ple as help­less vic­tims who require aid, mon­ey, Amer­i­can assis­tance, etc. What was your expe­ri­ence in these mat­ters when you were there?
Haiti is a rather inter­est­ing place. It's unbe­liev­ably impov­er­ished and the pop­u­la­tion has been pun­ished ever since they rose up against the French. Now, it's occu­pied by the Unit­ed Nations, whose forces have occa­sion­al­ly raped peo­ple, giv­en them cholera, and fire tear gas into dense­ly pop­u­lat­ed tent cities where chil­dren and elder­ly peo­ple live. Lots of the mon­ey going there for recon­struc­tion has went into for­eign NGOs who use the funds to pay stipends to indi­vid­u­als who are flown in from abroad. Once there, these indi­vid­u­als have to be housed and many have to have pri­vate secu­ri­ty and trans­la­tors. So lots of recon­struc­tion aid is not going into build­ing local infra­struc­ture, where Haitians can help them­selves. I was only there once for a cou­ple weeks, so I am no expert. This is just my two cents.
Even more than the "fate of the Euro­zone" under aus­ter­i­ty, Haiti has been sub­ject­ed to cease­less destruc­tion and exploita­tion. But as Rebec­ca Sol­nit describes in A Par­adise Built in Hell, peo­ple have a ten­den­cy toward coop­er­a­tion and altru­ism, ten­den­cies that emerges fol­low­ing the anar­chis­tic after­math of a cat­a­stro­phe, nat­ur­al or oth­er­wise, but are quick­ly sup­pressed. Your videog­ra­phy of the Oak­land Com­mune draws a par­al­lel here – how impor­tant is it not only to keep build­ing this nar­ra­tive of coop­er­a­tive resis­tance and assem­bly, but to link its inter­na­tion­al impli­ca­tions and con­nec­tions?
Well in the midst of the cri­sis, peo­ple have to find ways to make sure that people's mate­r­i­al needs are met. Dur­ing a peri­od of low­er prof­it rates, states are not very gen­er­ous. Cap­i­tal­ism func­tions to pro­duce prof­its and while the super rich are still gain­ing prof­its, it's because they have restruc­tured economies to ben­e­fit them and this we can expect. In Europe, we are now offi­cial­ly in a reces­sion. Periph­er­al states like Greece and Spain have neg­a­tive growth rates and high unem­ploy­ment rates and it's going to get worse. In coun­tries that are doing fair­ly well like for instance the Nether­lands, aus­ter­i­ty mea­sures are still being imple­ment­ed, while some right-wing lead­ers argue whether or not to leave the Euro com­plete­ly (which shows that there is lit­tle uni­ty above). The cri­sis is far from over and its those at the bot­tom that will have to pay. Peo­ple would do best to squat hous­ing units in areas where peo­ple do not have hous­ing (while avoid­ing self-mar­gin­al­ized autonomous scenes), mobi­lize peo­ple to mate­ri­al­ly fight aus­ter­i­ty through social strikes such as "I Won't Pay" in Greece and now Por­tu­gal, orga­nize wild­cat strikes, get basic neces­si­ties like food, con­tin­ue occu­py­ing spaces, and take what­ev­er they need. I do want to stress that these actions in them­selves can­not be fetishized as pure­ly pre­fig­u­ra­tive devel­op­ments, since they are depen­dent on cap­i­tal­ism (exis­tence of hous­ing, reac­tions to aus­ter­i­ty, agri­cul­tur­al pro­duc­tion), but they do show peo­ple ways of liv­ing that aren't depen­dent on exchange rela­tion­ships or prof­its and that can pos­si­bly chal­lenge the rule of prop­er­ty. At the same time, peo­ple have to fight hard­er and grow faster. The right is gain­ing through­out Europe and will take advan­tage of the cri­sis and dete­ri­o­rat­ing social con­di­tions to gain pow­er. Any move­ment now needs to grow a set of teeth.
As for the US, the econ­o­my maybe seem like it's improv­ing now, but the Euro cri­sis will have effects there as well. Not to men­tion that the US econ­o­my is depen­dent on Chi­nese growth and the insane growth rate there is not at all sus­tain­able. Also, over­all unem­ploy­ment in the US has not improved dra­mat­i­cal­ly and there are still lots of peo­ple who are upset and will con­tin­ue to be unem­ployed as the gov­ern­ment cuts ben­e­fits for the poor.
There is poten­tial that exists and it's a moment that should not be tak­en for grant­ed. It is in these moments that new ideas are born. As for a coher­ent ide­ol­o­gy, we'll see what hap­pens.
Your jour­nal­ism hasn't shied away from the world­wide rever­ber­a­tions of cri­sis, revolt, strike, state bru­tal­i­ty, and spi­ral­ing con­flict. I want­ed to under­score your atten­tion to Paul Mattick, Jr. who high­lights in his book Busi­ness as Usu­al: The Eco­nom­ic Cri­sis and the Fail­ure of Cap­i­tal­ism pre­cise­ly that: the world­wide, sys­temic col­lapse of cap­i­tal­ism. Mattick has made a spe­cial point of men­tion­ing Rebec­ca Solnit's work as inspi­ra­tion for some of his thought in the book, but there is a bit of polit­i­cal pre­scrip­tion in its con­clu­sion. I want to pose the con­tro­ver­sial ques­tion as to whether people's autonomous pow­er in response to the rather grim unfold­ing of the 21st cen­tu­ry needs to be defend­ed at the lev­el of orga­ni­za­tion. If we know that dis­as­ter is loom­ing – and Mattick him­self is par­tic­u­lar­ly dire on this note – and we know that state pow­er is going to squash what­ev­er expres­sion of sol­i­dar­i­ty comes up about spon­ta­neous­ly in the rub­ble and ruin of things, is it not unrea­son­able to ask why an orga­ni­za­tion shouldn't pre­emp­tive­ly posi­tion itself to strate­gi­cal­ly exer­cise pow­er? Not only to help peo­ple, not only to net­work togeth­er in effort of mutu­al aid, but real­ly at the lev­el of pow­er, to keep things in check away from cap­i­tal, from reac­tionary groups or even mil­i­tary pow­ers?
I'm not pos­i­tive what strat­e­gy is best for deal­ing with the cur­rent sit­u­a­tion or a large scale. I've seen a lot of inter­est­ing tac­tics, but strate­gi­cal­ly we have not thought it out and it is dif­fi­cult because we are unsure where the future will take us. For the short term, there are mate­r­i­al needs that have to be filled. Glob­al­ly, cap­i­tal­ism is being restruc­tured and more peo­ple are being exposed to pover­ty and mis­ery. It is impor­tant that we come togeth­er, find out ways that we can get all of our needs met, and con­front that which is destroy­ing our lives. There is very lit­tle secu­ri­ty right now and we have to find the abil­i­ty to func­tion while being involved in what is a great his­toric moment. The stronger and more togeth­er we are, the bet­ter we will be when con­fronting cap­i­tal­ism. We have to be able to feed our­selves, while simul­ta­ne­ous­ly not drop­ping our com­bat­ive aspect and fetishiz­ing small Band-Aid reme­dies as some solu­tion. If we are able to strength­en our­selves, our net­works, then we might even­tu­al­ly start to see anoth­er way of liv­ing. This has to be on a mass scale.