In their 1972 pam­phlet The Pow­er of Women and the Sub­ver­sion of the Com­mu­ni­ty, Sel­ma James and Mari­arosa Dal­la Cos­ta pre­sent­ed an orig­i­nal and influ­en­tial analy­sis of "unwaged work." This con­cept, which iden­ti­fied the care work that women do in the home as an essen­tial ele­ment of the repro­duc­tion of cap­i­tal­ism, opened the door to pow­er­ful new forms of strug­gle among work­ing class women and men. James found­ed the Inter­na­tion­al Wages for House­work Cam­paign, based on the demand that women should be paid for their round-the-clock care work, since it repro­duces labor-pow­er day after day.
This was not an attempt to sub­ject women to the same exploita­tion as male work­ers. In 1970s Italy, the Wages for House­work move­ment was con­nect­ed to Lot­ta Fem­i­nista, a group that sought to chal­lenge male-cen­tered forms of work­ers' strug­gle. Sil­via Fed­eri­ci argued, in a 1974 essay reprint­ed in the recent issue of The Com­mon­er on care work, that the fem­i­nist strug­gle for a wage had to be under­stood in terms of "its sig­nif­i­cance in demys­ti­fy­ing and sub­vert­ing the role to which women have been con­fined in cap­i­tal­ist soci­ety." Intro­duc­ing a reprint of James and Dal­la Costa's pam­phlet in 1975, the Pad­ua Wages for House­work Com­mit­tee explained, "If our wage­less work is the basis of our pow­er­less­ness in rela­tion both to men and to cap­i­tal, as this book, and our dai­ly expe­ri­ence, con­firm, then wages for that work, which alone will make it pos­si­ble for us to reject that work, must be our lever of pow­er."
Recent­ly James has coor­di­nat­ed the Inter­na­tion­al Women Count Net­work and the Glob­al Women's Strike. Sev­er­al weeks ago, she kicked off a tour to pro­mote her new book with PM Press, Sex, Race and Class – The Per­spec­tive of Win­ning: A Selec­tion of Writ­ings 1952–2011. At Occu­py Philadelphia's Dis­sect­ing Cap­i­tal­ism series, James gave a talk on "Women, Cap­i­tal­ism, and the State," and lat­er appeared at a spe­cial women-led Inter­na­tion­al Women's Day gen­er­al assem­bly. Between her engage­ments, I spoke with her about the rel­e­vance of Wages for House­work today, her cur­rent involve­ment in US and UK wel­fare cam­paigns, and the chal­lenges fac­ing care work­ers.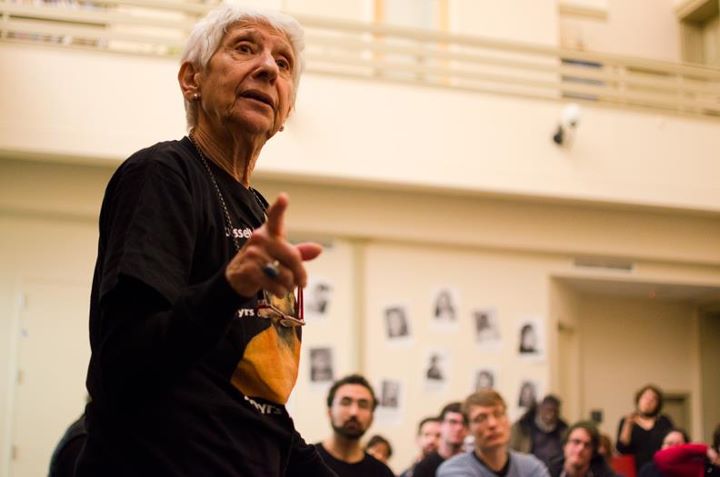 ---
I want­ed to start with The Pow­er of Women and the Sub­ver­sion of Com­mu­ni­ty and the cen­tral ideas around that, because they might not be com­plete­ly famil­iar to peo­ple who are read­ing this pub­li­ca­tion from oth­er per­spec­tives. As I under­stand it, one of the cen­tral ideas in that pub­li­ca­tion is that women's work is fun­da­men­tal to the repro­duc­tion of cap­i­tal, and that women's strug­gles are not sec­ondary to labor pol­i­tics.
In fact, that women's strug­gles are labor pol­i­tics, but they're unwaged labor pol­i­tics. And they're not less impor­tant or more impor­tant but inte­gral to the entire pic­ture. There is waged work in the soci­ety, and there is unwaged work in the soci­ety, and they're both absolute­ly cru­cial to the accu­mu­la­tion of cap­i­tal and to its destruc­tion.
Thank you. You put it much more elo­quent­ly than I could. So with that as the foun­da­tion, and the fact that this pub­li­ca­tion came out in '71-'72…
'72.
'72. I'm won­der­ing if you could explain, with changes in women's strug­gles and changes in labor, how that applies today, par­tic­u­lar­ly for younger peo­ple who are new to these ideas or com­ing into this with­out hav­ing been alive at that time.
Some things are dif­fer­ent. The first thing that's dif­fer­ent from 1972 is that we have a much more inter­na­tion­al view of unwaged work. There's not a lot in Pow­er of Women on the unwaged work on the land. And it's much more direct­ed at women in indus­tri­al coun­tries. The house­work of women in indus­tri­al coun­tries. Where­as most of the house­work in the world, and most of the car­ing work in the world, and obvi­ous­ly, most of the agri­cul­tur­al work in the world that's unwaged, as well as waged, is in the non-indus­tri­al world.
And we under­stood that not long after. There are hints of that in Pow­er of Women, because I had lived in the Third World and been involved in strug­gles in the Third World. But it was hard enough to make the case for unwaged work with women in indus­tri­al coun­tries because a lot of fem­i­nism was not inter­est­ed in that. They thought that, and said that, house­work… you could more or less elim­i­nate it. Do just a lit­tle some­thing every day, which is at best absurd, at worst sex­ist. So that was a big change.
The oth­er big change is that women went out to work in much greater num­bers, for a num­ber of rea­sons. Because we didn't think we could get wages for house­work. And we thought the impor­tant thing was to get the mon­ey to have the inde­pen­dence. And because, after the Sev­en­ties, there was an enor­mous attack on women hav­ing any mon­ey from the state. And sin­gle moth­ers were thrown off ben­e­fits. In this coun­try it was absolute­ly hor­ren­dous by the Eight­ies. But increas­ing­ly, it's hap­pened every­where, where women are dri­ven out to work, irre­spec­tive of what hap­pens to their chil­dren. Their chil­dren are nobody. Their chil­dren are irrel­e­vant. The impor­tant thing is that the state not give any­thing, and that the women give more. That's a big change.
What is not a change, is that women do the house­work. And that the house­wife is hid­den behind her wage. That is, the fact that she goes home every day to see that her child has clean socks for the morn­ing, and that her old­est son has his sports gear, and that her moth­er has some­body to look in on her, because she just lost her hus­band.
I mean, all of that enor­mous car­ing work has not gone away at all – except, and to the degree that it has gone away, to that degree, we're not dis­traught that [women] don't know what's hap­pen­ing to their chil­dren, they don't know what's hap­pen­ing to their par­ents, their elder­ly par­ents.
The rela­tion­ships on which the whole soci­ety rests are in wreck con­di­tion, are in dis­as­trous con­di­tion because women are going out to work. It's not just a few min­utes a day. It's tak­ing care of the rela­tion­ships that are the foun­da­tion of our lives. That's what women do. And when we can't do that, when most of us can't do that, we are either furi­ous, resent­ful, or we begin to be uncar­ing our­selves. And that has hap­pened to some women.
It's hap­pened to all of us to some degree. That we don't want to know about how the peo­ple that we would ordi­nar­i­ly have been tak­ing care of, how they're suf­fer­ing. We don't want to know. We can't cope with the knowl­edge of the mess that peo­ple we love are in, as a result of the fact that we have no time to take care of them. I think there are real­ly a lot of women in that sit­u­a­tion. They call it the Sand­wich Gen­er­a­tion. They call it what­ev­er they like. Any nice lit­tle name they give it, it's def­i­nite­ly the suf­fer­ing of the car­er as well as those that they care for, obvi­ous­ly, which is why the car­er is suf­fer­ing.
Now some­thing else has hap­pened which I was not aware of until I read an arti­cle very recent­ly by a woman called Alli­son Wolfe, who seems to be from Britain, who says that a major change among women, has been that the elite of women – and there is now much more of an elite, as a result of fem­i­nism – has result­ed in a class divide among women as it has nev­er been seen before. In fact, I was read­ing that arti­cle again this morn­ing, and I can give you one or two quotes, like: "The rev­o­lu­tion has tak­en place at the top. A major­i­ty of trainee bar­ris­ters and almost two thirds of med­ical stu­dents are now female (up from 29 per cent in the ear­ly 1960s), and the major­i­ty of doc­tors will be women by 2012 on cur­rent trends."
As a result of that, [Wolfe sug­gests that] the wage hier­ar­chy based on gen­der does not apply to them. Hmm. It applies to us more than before, okay?
So that, she says, I want to just find anoth­er quote that I was kind of mind-blown by. She says: "Aca­d­e­m­ic experts on the female labour mar­ket occu­py very dif­fer­ent points on the polit­i­cal spec­trum, but they agree on the polar­i­sa­tion of women's expe­ri­ences. The fem­i­nism of the 1960s and 1970s, reflect­ing and feed­ing into a rev­o­lu­tion in women's lives, spoke the lan­guage of sis­ter­hood – the assump­tion that there was a shared female expe­ri­ence that cut across class, eth­nic and gen­er­a­tional lines. The real­i­ty was that at that very moment, sis­ter­hood was dying."
Sis­ter­hood was dying because most of us were not gain­ing pay equi­ty. Most of us were deeply suf­fer­ing from sex­ism, and the ones who were the lead­ing fem­i­nists were not.
In fact, every once in a while, they got very angry and said, "It hasn't all dis­ap­peared." And they would men­tion some­thing that they are still affect­ed by, still attacked by, which they thought they would no longer be affect­ed by. In oth­er words, it's a shock to find out that they're still suf­fer­ing as women when they thought, once you got the job, once you got the pres­tige, once you got the posi­tion, once you got equal­i­ty, all that [would be] left behind.
Now I men­tioned this to an audi­ence last night, and I said, "I'm not absolute­ly cer­tain she's right." But I think there's a lot to be said, and the fig­ures do prove that she is right in terms of the wage gaps in the board­room are not what they are on the shop floor. I mean there isn't even a shop floor any­more. You know, in the call cen­ter or in gen­er­al, nurs­ing as opposed to doc­tors and all the rest.
So that's a change. Those are the things that have changed. We have changed; we are more inter­na­tion­al. But the sit­u­a­tion for women has changed. More of us are doing the dou­ble day, and there is a change in the class, the extent of the class split in fem­i­nism… That's a very big answer.
I was at your talk last night, so, informed by that and by things I've tried to read up on, I was hop­ing that you could talk about par­tic­u­lar strug­gles or sites of strug­gle that you're involved in today or that you think are impor­tant and linked to that orig­i­nal under­stand­ing of unwaged work. Par­tic­u­lar­ly the work around wel­fare that you had men­tioned last night, if you could com­ment a lit­tle more on that.
We're just get­ting a peti­tion togeth­er. That's what Phoebe [Jones] and I were work­ing on with women on the West Coast because [Con­gress­woman] Gwen Moore has put for­ward the Rise Out of Pover­ty Act. And a num­ber of us, that is, the Glob­al Women's Strike, the Wel­fare War­riors in Wis­con­sin, who have fought wel­fare reform every minute. You see, I'm just famil­iar­iz­ing myself with this. I knew the Act had come up at a meet­ing, which we have often on Skype, between the US and the UK and Guyana, in par­tic­u­lar, and some­times with Ire­land. We can't do it with Peru or India because the lan­guage bar­ri­ers are too great. But this is the core of the strike. Those are the coun­try cores. They're the coun­tries that are part of the core.
And it's some­thing that we absolute­ly must pur­sue. Michael Moore has done us a great ser­vice in his film where he deals with the fact that this lit­tle boy who was unguard­ed while his moth­er was at work, work­ing for work­fare, had killed anoth­er child. Did you see that movie?
Yes, yes. A while ago.
Well, I was deeply affect­ed by that. And I have been a sin­gle moth­er, rais­ing a child, by myself. His father was there and ready to take him for one or two nights a week. I have no com­plaints about the father, but the sit­u­a­tion is unbear­able. You are, every minute, wor­ry­ing about what's hap­pen­ing to your kid. And you don't want to ruin his life because that will ruin your life, among oth­er effects. And yet, when we said "wages for house­work," there were fem­i­nists who didn't take that seri­ous­ly, and that is not very nice.
Any­way, we think it's real­ly impor­tant. In 1977, some of us in the US went to the con­fer­ence in Hous­ton. US Pres­i­dent Carter had orga­nized that. He was dif­fer­ent. He was a white south­ern anti-racist; that's what made him dif­fer­ent on every­thing. And we said, with the wel­fare rights move­ment, the wel­fare rights move­ment was still vig­or­ous, that women receiv­ing income trans­fer pay­ments – that's wel­fare but in legalese or some­thing – should have the dig­ni­ty of hav­ing that pay­ment called a wage, not wel­fare. And we said, "right on."
There's a pho­to­graph in the book of that con­fer­ence where Mar­garet Prescott and John­nie Till­mon and – I can't remem­ber the name of the oth­er woman who was so great from the wel­fare rights move­ments – cel­e­brat­ing this deci­sion, which tran­scend­ed the divi­sions between the North women and the South and between the Left women and the Right. There were white south­ern women who joined with these black women to say that wel­fare should be called a wage, because of course, most women on wel­fare at that time were white farm work­ers. But the move­ment was spear­head­ed by black city women. So we've always been involved in the defense of wel­fare and tried to pre­vent wel­fare reform, as Mr. Clin­ton and his lady fem­i­nist wife socked it to us.
Now there's a pos­si­bil­i­ty of, again, get­ting wel­fare with­out work­fare, and we're gonna fight like hell for it. And we're also fight­ing the same bat­tle in the UK.
So, I had men­tioned, I'm a teacher. I work in a non-union­ized con­text, and I think in the UK, from what I under­stand, the same sort of ten­den­cy towards pri­va­tiz­ing pub­lic edu­ca­tion is hap­pen­ing.
Yes, it's ter­ri­ble.
Per­ceiv­ing of school­ing as intri­cate­ly con­nect­ed with the fam­i­ly in the repro­duc­tion of cap­i­tal­ism, I was think­ing a lot about how, since these things are already con­nect­ed, teach­ers and edu­ca­tors might ally in these strug­gles. Because there's all of this rhetoric about putting chil­dren first, which is, you know, not hap­pen­ing in the home, and not hap­pen­ing in the school…
Any­where!
But it seems to be dri­ving force for pri­va­ti­za­tion. So I was won­der­ing if you had any thoughts about link­ing these edu­ca­tors' strug­gles.
My sis­ter had been a teacher, but she's no longer with us. In the UK, from Mar­garet Thatch­er, 1979, equat­ing to Ronald Rea­gan, 1980 – the best of friends, they were – they attacked teach­ers as a way of attack­ing edu­ca­tion, and the unions did not defend teach­ers as edu­ca­tors. They defend­ed teach­ers as work­ers. But they did not defend teach­ers as car­ers.
My son was edu­cat­ed in that sys­tem in the UK, and from when he was lit­tle, he used to love to go to school. This was not my expe­ri­ence in this coun­try, but the teach­ers were – many, not all, but many of the teach­ers – were ded­i­cat­ed to the kids, fought for the kids, sup­port­ed the kids. If they were study­ing a play, they would work out which of the kids were inter­est­ed and take them to the play at the West End to see Olivi­er or who­ev­er else. They were inter­est­ed in edu­ca­tion. It was a voca­tion, and, the union nar­rowed the demand to where you were just doing a job and how much mon­ey am I get­ting.
When one of the women at our cen­ter in Lon­don com­plained that police were in the school, and she want­ed police out of the school where her chil­dren were going, her two daugh­ters, the teach­ers didn't agree with her because they said, "They can keep order." And we thought, "You mean a teacher can't keep order? What kind of a teacher is it who can­not keep even the atten­tion of the kids?" What are they doing in that class­room, you know, that these kids are undis­ci­plined, rau­cous, and feel that there is no dif­fer­ence between the repres­sion they may find in the soci­ety gen­er­al­ly and what's going on in this class­room, that they need the polic­ing of the kids? So, I feel that the unions have not helped to main­tain the dig­ni­ty and the mis­sion – not a word I use often because I'm an athe­ist – and the mis­sion of the teacher as a civ­i­liz­ing influ­ence, as an enhance­ment of the lives of the chil­dren.
I think that some­thing sim­i­lar has hap­pened with nurs­es – and nurs­es are fight­ing to take care of patients, you know. They're not only fight­ing that they're over­worked and under­paid. They're fight­ing so that they can take the prop­er care of the patients. You know, one of the nurs­es was com­plain­ing to me that his boss on the ward says that, "You spend too much time with the patients. If you have to go ban­dage a leg, just ban­dage a leg, but then you sit and talk with them, and that's no good!"
So, I think there's a real cri­sis – this is in gen­er­al – between us car­ers and those who exploit us. On the one hand, we want to care. But on the oth­er hand, we don't want that wish to care to be used against us as work­ers. And we have always to decide, as car­ers, as teach­ers, as nurs­es, as moth­ers, as neigh­bors, we have to decide how to defend our car­ing but not allow our­selves to be exploit­ed because we have this "weak­ness," and in fact, this vul­ner­a­bil­i­ty is the right word. We have to say, "You have to pay us to do the right thing." And we don't take the lit­tle bit that [either] we want to do the right thing, or we want to take the mon­ey. We want both. That's real­ly cru­cial, and it took a lot of years, I think, to be absolute­ly clear, to be able to say that in that suc­cinct way because it's very hard to fig­ure out, if you are a car­er, if your work is the health and well-being of oth­er peo­ple, how to be ded­i­cat­ed to it but not exploit­ed, not allow your­self to be exploit­ed by it.
I think that that is what the teach­ers should be say­ing and doing. They should be spelling it out. They should be telling the par­ents, "If you want me to teach, fight for my wages, and fight for my time. Fight for the facil­i­ties, and fight for the chil­dren to have instru­ments to play in band and things like that, on school time, with school mon­ey." You know, we want to give these chil­dren an edu­ca­tion that real­ly fits them to have a hap­py life, not fits them to be a repressed indi­vid­ual at the ser­vice of the state.
In the new anthol­o­gy – there's only one anthol­o­gy, of course it's new because there wasn't any before – I edit­ed a speech that I was asked to make by Pres­i­dent Aris­tide in Haiti, to the stu­dents, because my hus­band was a great his­to­ri­an and an his­to­ri­an of Haiti. He thought, "Well, let's take a chance on you." And I said there was a dis­tinc­tion, a cru­cial dis­tinc­tion that kids have to make – kids, but teach­ers should help them – between ris­ing out of pover­ty and destroy­ing pover­ty. Do you use edu­ca­tion to get out of it, or do you use edu­ca­tion for all of us to get out of it? That's also some­thing that the teach­ers haven't made clear. They've entered into the com­pe­ti­tion – I must be jet lagged because a lot of these words I can't remem­ber, and I did, I was alright in Eng­land, so it must be jet lag – entered into the com­pe­ti­tion which schools invit­ed chil­dren to be part of. And teach­ers should be say­ing, "Yes, I want you to know this. This will be use­ful to you. You'd like to learn this. Yes, you might want to know this, and this is the way that every­body can move. You know, you have to pass exams, but the few­er exams, the bet­ter. The more edu­ca­tion the bet­ter."
And I think this is some­thing that that new move­ment, which Occu­py real­ly sig­nals and per­son­i­fies, real­ly has to address. The teach­ers with­in it have to address that. What do you think of that?
I think par­tic­u­lar­ly, this ten­sion between want­i­ng to care, feel­ing that your work has mean­ing and know­ing that it's still work, is real­ly dif­fi­cult. I want to pro­vide chil­dren with these won­der­ful, eye-open­ing expe­ri­ences and sup­port but at the same time, resist the exploita­tion that that work can involve. It's a major ten­sion that I, per­son­al­ly, feel.
You have to speak about it as that. It's ter­ri­bly impor­tant that you spell it out, and you say exact­ly how it is, and how some peo­ple do one thing, and some peo­ple do anoth­er, and that you want to do both.
Yeah.
You know, I think it's very impor­tant to say that and to say that loud and clear in every sin­gle quar­ter, in every sin­gle place where this ques­tion would be suit­able to be raised.
It can be hard to say, par­tic­u­lar­ly in con­texts where, you know, there's no union, there's no pro­tec­tion. But it's essen­tial, I agree.
It is. But when you're orga­niz­ing for a union, that's the basis on which you want to orga­nize for it. Because if you orga­nize on the nar­row stuff, you'll nev­er get to the wider stuff, you know. Even if it takes you longer get the union, when you get it, it will be for the right rea­sons.
I had an Inter­na­tion­al Women's Day con­ver­sa­tion with all of my stu­dents today. I teach high school Eng­lish.
How old are they?
They're tenth graders.
Tenth is what?
15, 16.
Teenagers.
Yeah. And I told them a lit­tle bit about what I was doing this after­noon, and what I did last night, and tried to give them a lit­tle back­ground infor­ma­tion. I asked if they had any ques­tions for you based on the lit­tle they knew.
Oh!
So one com­mit­ted and inter­est­ed stu­dent had a ques­tion. I was won­der­ing if I could ask you…
Cer­tain­ly, you can.
She was won­der­ing: "What keeps you moti­vat­ed in con­tin­u­ing the cam­paign?" I talked a lit­tle bit about Wages for House­work, and so I think that's the cam­paign she was talk­ing about. I explained that you had been around through a lot of strug­gles for a lot of time, and she was like, "Wow! Why is she still doing it?"
What keeps me moti­vat­ed is that I want to enjoy my life, and the clos­est I can get to full enjoy­ment is to attack my ene­mies. And I find that, if I do it hon­est­ly and with oth­ers in a col­lec­tive way, I have a good chance to know what's hap­pen­ing in my own life. So my own life is not mys­ti­fied, so I don't believe the lies they tell me about what I think and what I feel or should feel and should think. That I real­ly begin to see oth­er mem­bers of the human race in the round rather than with the non­sense that all of us spew out from time to time when we don't know what bet­ter to say. And that's what real­ly keeps me moti­vat­ed. I have a very high opin­ion of my own life, and there­fore, I want to use it in a way that is ele­vat­ing to me but also to all those who are down here with us. I don't know if I've said that very clear­ly, but you know, it's some­thing that I want for myself. To be part of this strug­gle is to be learn­ing, all the time. And that's more fun than any­thing I know, I mean, like any­thing. To learn what's real­ly going on is such a major thrill that it's what real­ly keeps me moti­vat­ed.
---
Julie McIn­tyre is an edu­ca­tor who has worked with chil­dren and youth in schools, libraries, art orga­ni­za­tions, and res­i­den­tial deten­tion cen­ters. She lives and works in Philadel­phia, PA.