In 2007, Wash­ing­ton Post colum­nist Gene Wein­garten and Gram­my Award-win­ning clas­si­cal vio­lin­ist Joshua Bell teamed up to play a prank on com­muters in Wash­ing­ton, DC's pub­lic trans­porta­tion sys­tem. Weingarten's account of what he called "an exper­i­ment in con­text, per­cep­tion and priorities—as well as an unblink­ing assess­ment of pub­lic taste" appeared in a Post arti­cle called "Pearls Before Break­fast." It describes how Bell stood in the L'Enfant Plaza Sta­tion pos­ing as a sub­way busker, and per­formed a selec­tion of clas­si­cal pieces typ­i­cal of his con­certs. He played them on his Gib­son ex Huber­man Stradivarius—a 300-year-old piece of wood that is val­ued at $3.5 mil­lion.
The com­muters in what Wein­garten calls one of DC's most "ple­beian" stations—he takes care to men­tion that Metro employ­ees fre­quent­ly mis­pro­nounce its name—mostly passed Bell by. Though he quotes a Kant­ian philoso­pher and a muse­um cura­tor as say­ing con­text is a part of an art­work, and that he can't call these busy work­ing peo­ple philistines, Wein­garten does just that. He was award­ed a Pulitzer Prize for his trou­ble.
In 2012, this insult to users of pub­lic trans­porta­tion has acquired Infor­ma­tion Age immor­tal­i­ty: it has become a meme. A sum­ma­ry of the arti­cle is mak­ing the rounds, par­rot­ing Weingarten's lament that we mod­ern peo­ple "can't take the time out of our lives to stay a moment and lis­ten to one of the best musi­cians on Earth play some of the best music ever writ­ten."
Accord­ing to Wein­garten, the exper­i­ment is sound because Bell did not play "pop­u­lar tunes whose famil­iar­i­ty alone might have drawn inter­est." Instead, he played "mas­ter­pieces that have endured for cen­turies on their bril­liance alone, soar­ing music befit­ting the grandeur of cathe­drals and con­cert halls." But for Wein­garten, cul­tur­al val­ue isn't just a mat­ter of Euro­cen­tric tra­di­tion, it's a mat­ter of mon­ey – peo­ple who passed by Bell were sup­posed to notice, and care, that he was saw­ing away on a very expen­sive vio­lin.
Wal­ter Ben­jamin wrote that so-called "cul­tur­al trea­sures" – like Stradi­var­ius vio­lins, or Bach par­ti­tas, or Joshua Bell per­for­mances – should be viewed with "cau­tious detach­ment." They owe their exis­tence not only to their authors, "but also to the anony­mous toil of their con­tem­po­raries."
Who are Joshua Bell's con­tem­po­raries? Weingarten's most offen­sive assump­tion, which has insid­i­ous­ly repro­duced itself through email and social media, was that in order to con­duct his exper­i­ment, it was nec­es­sary to take a musi­cian from the con­cert hall and bring him to the sub­way.
But there are already musi­cians in the sub­way. Damon C. Scott, for exam­ple, is a work­ing musi­cian who sings in the sub­way every day. He has spent years fac­ing the same con­di­tions of anonymi­ty that a big shot like Joshua Bell couldn't han­dle for an after­noon.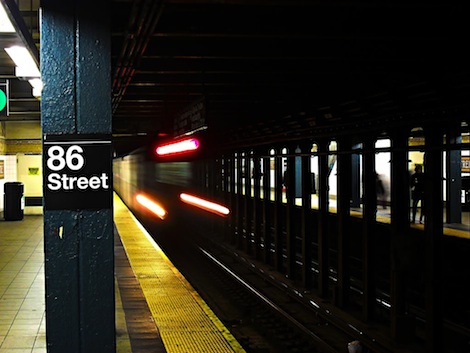 You've heard of Scott, or at least you've heard him. His pub­lic pro­file increased sud­den­ly when a recent per­for­mance at New York's 86th Street Sta­tion went viral. But Scott didn't rely on a clas­si­cal reper­toire, and he didn't play a mul­ti­mil­lion dol­lar instru­ment. He sang Adele's hit pop song "Some­one Like You," accom­pa­ny­ing him­self on a djem­be.
The per­for­mance was cap­tured on video by Refinery29, and it spread rapid­ly. Con­tra Wein­garten, per­form­ing a pop­u­lar song won't make you an instant suc­cess; you're not only com­pet­ing with a com­fort­ably famil­iar orig­i­nal, you're up against count­less oth­er cov­er ver­sions by hob­by­ists and wannabes. But Scott's ren­di­tion of Adele's retro-soul bal­lad bests her own, the del­i­ca­cy in his voice cut with wiz­ened grit, the propul­sion of his djem­be beat adding a rhyth­mic and emo­tion­al dynamism the weepy orig­i­nal nev­er dreamed of.
In my social media sphere, most reposts came from an arti­cle on Jezebel, but it was also fea­tured in many oth­er wide­ly read venues. After all, it was a great sto­ry. Damon Scott came out of nowhere, and cap­tured the hearts of view­ers every­where.
Except he didn't come out of nowhere. If the reporters who cov­ered the sub­way video had done their home­work, they would have found that Scott is a record­ed singer with at least two major releas­es to his name. His voice isn't just heard at the 86th Street sta­tion – it has been echo­ing through dance clubs all over the world for the past two years.
Scott's record­ed releas­es are col­lab­o­ra­tions with Mor­gan Geist, a vet­er­an pro­duc­er of elec­tron­ic dance music who has remixed The Rap­ture, The Junior Boys, and Franz Fer­di­nand. But he is best known for his col­lab­o­ra­tion with Dar­shan Jes­rani in the late nineties, in a project called Metro Area. Geist became inter­est­ed in elec­tron­ic music when, as a stu­dent at Ober­lin, he heard Tech­no music in its birth­place – the black neigh­bor­hoods of Detroit. His debut album, The Dri­ving Mem­oirs, shows a strong influ­ence of the Motor City style. It was an aus­pi­cious begin­ning to a career ded­i­cat­ed to car­ry­ing on the Amer­i­can tra­di­tion of dance music.
With Metro Area, Geist and Jes­rani par­tic­i­pat­ed in a late-90's revival of aspects of Dis­co, R&B, and New Wave music that had become uncom­mon in loop-based dance pro­duc­tions of the day, embed­ding com­plex chord pro­gres­sions and live instru­men­ta­tion with­in an elec­tron­ic tem­plate. Now-clas­sic Metro Area sin­gles like "Atmo­sphrique" and "Miu­ra" (avail­able in an essen­tial epony­mous com­pi­la­tion) antic­i­pat­ed the sub­se­quent boom in nu-dis­co, and the orig­i­nal press­ings have become collector's items. Geist's 2004 mix CD, Unclas­sics, helped pop­u­lar­ize the art of the DJ as archivist, res­ur­rect­ing out­mod­ed arti­facts of recent musi­cal his­to­ry.
But unless you're a fol­low­er of dance music's alter­nate econ­o­my, con­sist­ing of all those 12-inch vinyl records and DJ mix­es, you may nev­er have heard of Mor­gan Geist. Though Geist feels that DJ cul­ture final­ly "jumped the shark com­plete­ly as a spec­ta­cle" at this year's Gram­mys, artists like him, and inde­pen­dent labels like his Env­i­ron, still strug­gle to reach lis­ten­ers.
Now this sto­ry repeats itself as farce. Damon Scott is back in the news for res­cu­ing a com­muter who fell into the sub­way tracks, but the online media stead­fast­ly con­tin­ues to refuse to men­tion Storm Queen, Geist and Scott's col­lab­o­ra­tive project.
Geist didn't dis­cov­er his Storm Queen part­ner on the sub­way, as some pub­li­cists have assumed. As a work­ing musi­cian from a musi­cal fam­i­ly – his moth­er used to be in Earth, Wind & Fire – Scott had already done some stu­dio work that Geist heard about through a friend. Geist had begun for­ays into song-ori­ent­ed pro­duc­tion, using Junior Boys vocal­ist Jere­my Greenspan, with his under­rat­ed 2008 solo album Dou­ble Night Time, enter­ing into a dance song­writ­ing tra­di­tion that includes Chica­go House like Fin­gers, Inc. and Detroit Tech­no like Mod­el 500. Inspired by Scott's voice, Geist began writ­ing songs to fit his range.
I asked Mor­gan Geist to describe the col­lab­o­ra­tive process he and Scott use to cre­ate the Storm Queen tracks:
I write every­thing includ­ing the lyrics and vocal melodies. I usu­al­ly do a mock-up with my awful singing, then I send it to him to learn from. How­ev­er, Damon is a tal­ent­ed impro­vis­er and I fre­quent­ly use his amaz­ing ad-libs. Usu­al­ly it's a lot of edit­ing and play­ing Tetris with the parts since I like to keep Storm Queen stripped down, so I cut and time and arrange his ad-libs after­wards.
The results are noth­ing short of incred­i­ble. "Look Right Through," from 2010, and "It Goes On," from 2011, are not only the best dance tracks of their respec­tive years, they are strong con­tenders for the best songs of those years, peri­od. In a just soci­ety, they would be stuck in your head already.
Like music itself, "Look Right Through" begins with a clap. The clap leads to a drum­beat, which leads to a woozy sine-wave synth melody. A bass line fol­lows, fil­ter­ing a chord pro­gres­sion rem­i­nis­cent of a 50s pop bal­lad through stut­ter­ing syn­co­pa­tion. The music's decep­tive bright­ness is soon com­pli­cat­ed by the entry of Scott's plain­tive voice, which laments the loss of a lover. Minor chords descend with the cho­rus, flut­ter­ing and chim­ing.
Geist's lyrics com­pare estrange­ment from a roman­tic part­ner to the alien­ation of a walk­er in the city:
Sev­en long years of mov­ing through the streets
Let­ting peo­ple in, but they don't talk to me
They look right through
Just like you
These words are ren­dered all the more poignant for being sung by a sub­way busker, whose liveli­hood depends on encoun­ters with strangers in New York City. Geist sees some degree of sim­i­lar­i­ty between Damon Scott's work and his own, which also requires him to face "poten­tial­ly chal­leng­ing or hos­tile crowds" dur­ing DJ sets. Yet he rec­og­nizes that Scott's job is the more pre­car­i­ous of the two. "You can't get arrest­ed DJ'ing," he points out. "You're not com­pet­ing with the noise of trains."
"It Goes On" also begins with a clap, which intro­duces a dri­ving, descend­ing bass line. It's anoth­er breakup song, this time address­ing the drudgery of every­day life with­out inti­mate human con­tact. The monot­o­ny of lone­li­ness is echoed in the insis­tent rep­e­ti­tion of the song's refrain: "day after day after day." The track is an even bet­ter show­case for Scott's artistry, as he impro­vis­es and har­mo­nizes with him­self over shift­ing per­mu­ta­tions of the groove. By the end, the loop that ini­tial­ly forms the basis of the song swells into near­ly aton­al rehar­mo­niza­tions, as if to musi­cal­ly enact the ner­vous break­down described in the lyrics.
Like "Look Right Through" before it, "It Goes On" appeared on 2011 year-end lists by promi­nent dance music web­sites Res­i­dent Advi­sor, Lit­tle White Ear­buds and Infi­nite State Machine. But in spite of their acces­si­bil­i­ty, both tracks were gen­er­al­ly over­looked by main­stream pub­li­ca­tions. The media's will­ful igno­rance of dance music, par­tic­u­lar­ly inde­pen­dent Amer­i­can dance music, may have some­thing to do with why no one told you about Damon Scott's record­ed career. It doesn't sur­prise Mor­gan Geist. "I think it's just that most peo­ple love what they're fed," he told me, "and what they're fed is pop music like Adele."
It's remark­able that even Scott's own cov­er of Adele could over­shad­ow his record­ed work, but that isn't stop­ping Storm Queen. Geist plans to expand the project and may even bring in oth­er guest singers. Still, Damon Scott will remain Storm Queen's "defin­ing voice," and there won't be long to wait for more tracks that fea­ture him. "I'm work­ing on two or three we've record­ed already," Geist says.
Scott is still singing at 86th Street. Geist reports that he has even tak­en to per­form­ing the Storm Queen songs there. Sub­way sta­tions and dance clubs may be art­less envi­ron­ments to a celebri­ty like Joshua Bell or a snob like Gene Wein­garten, but they are Scott's con­cert halls, his cathe­drals. It appalled Wein­garten that Bell, who often charges a few hun­dred bucks a tick­et, only made $32 in the sub­way. But this is a real­i­ty that work­ing musi­cians like Damon Scott face dai­ly.
In an essay on the study of intel­li­gence, evo­lu­tion­ary biol­o­gist Stephen Jay Gould wrote, "I am some­how less inter­est­ed in the weight and con­vo­lu­tions of Einstein's brain than in the near cer­tain­ty that peo­ple of equal tal­ent have lived and died in cot­ton fields and sweat­shops."
So don't go into a sub­way look­ing for Joshua Bell. If you do, you might end up miss­ing Damon C. Scott.