Last Thurs­day night, work­ers for Seri­ous Mate­ri­als in Chica­go occu­pied their fac­to­ry. Seri­ous Mate­ri­als had announced that pro­duc­tion would be shut down, leav­ing work­ers job­less. The occu­piers, mem­bers of Unit­ed Elec­tri­cal Radio and Machine Work­ers of Amer­i­ca, demand­ed the option to run the fac­to­ry as a work­er-owned coop­er­a­tive.
By the ear­ly hours of Fri­day morn­ing, the com­pa­ny had agreed to let their employ­ees work for anoth­er 90 days. In the inter­im, the com­pa­ny will work with the union to find a way to con­tin­ue pro­duc­tion under new own­er­ship.
The night before, Occu­py Philly's Edu­ca­tion and Train­ing Work­ing Group held a meet­ing of its ten-week "Dis­sect­ing Cap­i­tal­ism" work­shop, at the Lan­cast­er Avenue Autonomous Space. View­point edi­tor Salar Mohan­desi spoke on the top­ic "Con­tem­po­rary Labor and Work­place Strug­gles," along with Sean West Wispy, an orga­niz­er at Occu­py Philly with expe­ri­ence in the labor move­ment. The work­shop addressed many of the same issues that would be addressed in the fac­to­ry occu­pa­tion.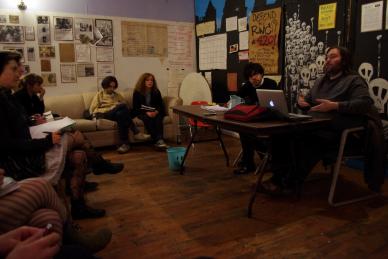 Mohan­desi gives a brief account of changes in the regime of work since the 1970s, and presents his research on pro­le­tar­i­an activ­i­ty dur­ing the 1848 rev­o­lu­tion in Paris. We've embed­ded the audio below, and you can down­load an mp3 here. Vis­it LAVA's site and check out Wispy's talk as well.
Pre­vi­ous speak­ers have includ­ed George Caf­fentzis, and next week View­point con­trib­u­tor Ben Web­ster will be speak­ing along with Occu­py Philly orga­niz­er Cindy Mil­stein on "Cap­i­tal­ism, Social Rela­tions, and Pow­er." The fol­low­ing week (Wednes­day, March 7), Sel­ma James, co-author of "Women and the Sub­ver­sion of Com­mu­ni­ty" and the new col­lec­tion Sex, Race, and Class – The Per­spec­tive of Win­ning (PM Press, 2012), will give a pre­sen­ta­tion on "Women, Cap­i­tal­ism, and the State."