Twen­ty-four hours into my incar­cer­a­tion in San­ta Rita Jail, I found myself in yet anoth­er tac­ti­cal con­ver­sa­tion, dis­sect­ing the numer­ous fail­ures that had led to the ket­tling and mass arrests of about 400 Occu­py Oak­land demon­stra­tors. This is one of the few upsides of a mass arrest. After get­ting the row­dy activists off the streets, the police find them­selves host­ing a three-day strat­e­gy con­fer­ence inside the jail. When­ev­er a con­ver­sa­tion begins to get stale, the guards show up and shuf­fle peo­ple into new dis­cus­sion groups, and the debate begins afresh.
For the most part, the atmos­phere in my cell was not one of defeat, but rather of rig­or­ous self-crit­i­cism. This is a nec­es­sary moment in the growth of any move­ment – com­ing up against the lim­its of the premis­es that under­lie a prac­tice – and it seemed to be get­ting under­way just hours after that prac­tice had col­lapsed on the streets of Oak­land. This was decid­ed­ly not the unre­flect­ing group of mil­i­tants that Chris Hedges has recent­ly accused of a patho­log­i­cal aver­sion to strate­gic thought.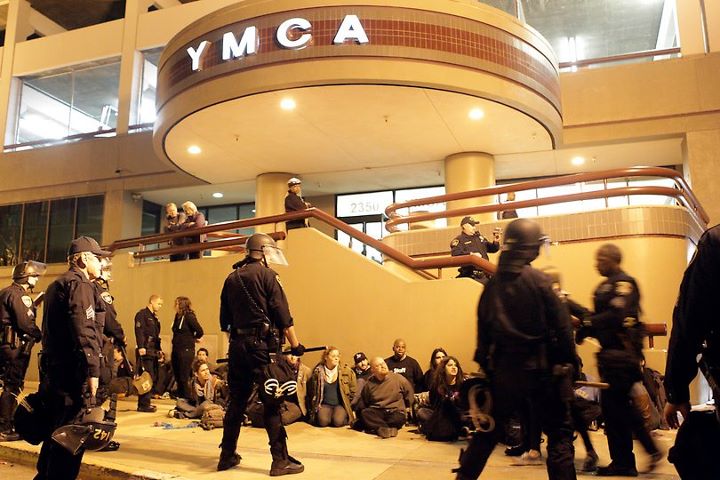 Out­side of jail, the con­ver­sa­tion seems to have been some­what dif­fer­ent. The focus with­in the move­ment over the past week has increas­ing­ly been on the bru­tal­i­ty that we expe­ri­enced in jail. We were denied food and nec­es­sary med­ica­tion, lead­ing to seizures; we were abused both phys­i­cal­ly and ver­bal­ly; we were crammed into over­crowd­ed and inad­e­quate­ly ven­ti­lat­ed cells in which the tear gas that still clung to our clothes made breath­ing unbear­able. All of this is true. This was a trau­mat­ic expe­ri­ence for many of us, and the sup­port from cheer­ing crowds wait­ing with cof­fee and cig­a­rettes when we were released was pow­er­ful. This col­lec­tive heal­ing is impor­tant; it builds sol­i­dar­i­ties.
But we need to be care­ful. The dis­course about police bru­tal­i­ty that has been dis­pro­por­tion­ate­ly fill­ing the Occu­py echo cham­ber this week is an essen­tial­ly lib­er­al one, and it tends to mask oth­er prob­lems that sur­faced on Sat­ur­day. There is always some­thing tau­to­log­i­cal about the com­plaint that one was treat­ed bad­ly in jail. It's jail, after all. To focus on the bru­tal­i­ty of the expe­ri­ence as though this is some­how excep­tion­al is to mis­un­der­stand the basic func­tion of jails and police forces in soci­ety. The vio­lence that we came up against on Sat­ur­day is the vio­lence that is required dai­ly to main­tain and repro­duce soci­ety as it is present­ly con­sti­tut­ed. What we expe­ri­enced for a few nights, while awful, is sim­ply dai­ly life for the unpaid prison labor­ers who cleaned out our cells when we went home.
I know that this will not strike most of the peo­ple that were arrest­ed on Sat­ur­day as a par­tic­u­lar­ly con­tro­ver­sial point. Many of them are no strangers to the penal sys­tem them­selves. Indeed, Oakland's rad­i­cal edge with­in the Occu­py move­ment large­ly comes from the fact that the quo­tid­i­an vio­lence that is required to repro­duce cap­i­tal­ism is clos­er to the sur­face here than in many oth­er com­mu­ni­ties.
But there comes a point at which these con­ver­sa­tions can hin­der fur­ther thought. I don't want to nor­mal­ize or apol­o­gize for the bru­tal­i­ty of the sys­tem, nor do I want to lapse into a debate over what con­sti­tutes an "authen­tic" expe­ri­ence of this bru­tal­i­ty. Nev­er­the­less, we as a move­ment have to stop and ask our­selves what con­ver­sa­tions are being dis­placed by this exclu­sive focus on police bru­tal­i­ty. More than that, we have to look at this focus as itself a symp­tom of deep con­tra­dic­tions in our prac­tice, which we have been unable to come to terms with.
Chief among these is the fact that up until now Occu­py has expe­ri­enced its growth spurts as a result of con­fronta­tions with the police. The gen­er­al strike in Novem­ber was in large part made pos­si­ble by the exces­sive force with which the police evict­ed the campers at Oscar Grant Plaza. Sim­i­lar­ly pub­lic instances of bru­tal­i­ty at UC Berke­ley and UC Davis led to mas­sive mobi­liza­tions on all cam­pus­es across the UC sys­tem. The basic premise under­ly­ing Saturday's action was in keep­ing with this pat­tern. By pick­ing a suf­fi­cient­ly ambi­tious tar­get and cast­ing the action in suf­fi­cient­ly antag­o­nis­tic rhetoric, a con­fronta­tion was with cops was assured.
Orga­niz­ers were ready for this. I was ready for this. If "Move-in Day" was suc­cess­ful, so much the bet­ter – if not, the inevitable clash with cops would unmask the absur­di­ty of a sys­tem that would use such force to keep an emp­ty build­ing from becom­ing a com­mu­ni­ty cen­ter.
The prob­lem is that police forces can adapt. On Sat­ur­day there was no dra­mat­ic image that crys­tal­lized the bru­tal­i­ty of the police state, just a whole lot of the stan­dard vio­lence that is inher­ent to the nature of polic­ing. Even the tear­gassing of chil­dren is, by this point, more or less nor­mal. Whether we admit it or not, we were implic­it­ly rely­ing on the spec­ta­cle of police bru­tal­i­ty to catch nation­al atten­tion. This didn't hap­pen as it did in Novem­ber. And it couldn't hap­pen, pre­cise­ly because it already hap­pened in Novem­ber.
When this nar­ra­tive of vic­tim­iza­tion was not imme­di­ate­ly forth­com­ing, we kicked into high gear to man­u­fac­ture one. This is ulti­mate­ly what under­lies the focus on bru­tal­i­ty. It's not that any­thing that is being said about our expe­ri­ences in San­ta Rita Jail is incor­rect, and of course we need to denounce police bru­tal­i­ty wher­ev­er it exists. The Nation­al Lawyers Guild class action law­suit should go for­ward, and for those who had their first mate­r­i­al encounter with the vio­lence of the state, the lessons learned last week­end can only have a rad­i­cal­iz­ing effect. But we also need to under­stand why this essen­tial­ly lib­er­al dis­course about rein­ing in police excess­es has become so hege­mon­ic amongst rad­i­cals. It points to a deep­er prob­lem with­in Occu­py: so many of our actions are premised on pro­duc­ing nar­ra­tives for lib­er­al con­sump­tion. Scott Olsen was one such sto­ry. The attack on stu­dents on the "Mario Savio Steps" in Berke­ley is an even clear­er exam­ple. These can be use­ful orga­niz­ing tools when they present them­selves but they can­not be the basis of the actions we plan from here on out.
I don't want to gloss over the huge advances that Occu­py Oak­land is con­tin­u­ing to make. There has been a chron­ic prob­lem with build­ing occu­pa­tions in the recent past. Typ­i­cal­ly, the bulk of plan­ning goes into the actu­al takeover of a build­ing, while the ques­tion of what to do with the space once it's occu­pied is an after­thought. Saturday's action marked an advance inso­far as there was clear­ly a tremen­dous amount of work that had gone into "plan­ning for suc­cess." A sched­ule of events was made, mate­ri­als were gath­ered, and it seemed like there were the num­bers to sus­tain an indef­i­nite occu­pa­tion. But at a more fun­da­men­tal lev­el, suc­cess was not the point. It was more or less a con­tin­gency plan for what to do in case we acci­den­tal­ly suc­ceed­ed. The roman­ti­cized con­fronta­tion was still the uncon­scious premise of our actions, no mat­ter how many peo­ple out­ward­ly believed we would win the day.
In the hold­ing tanks of San­ta Rita, we dis­cussed these ques­tions. Many of us were com­ing to grips with the recog­ni­tion that we went into Sat­ur­day think­ing that there was a crew of rad­i­cals in Oak­land who had it all fig­ured out. All we had to do was show up at their event and things would go off with­out a hitch, which is how it had worked at the gen­er­al strike and the port shut­down.
This log­ic broke down on Oak Street. Sat­ur­day clear­ly demon­strat­ed the lim­its of a mode of orga­niz­ing that has thus far been suc­cess­ful. Up until now, Occu­py has involved a con­tra­dic­to­ry and unsta­ble mix­ture of lib­er­al and more rad­i­cal ele­ments held togeth­er by a thin tis­sue of sto­ries of injus­tice and vio­lat­ed "rights." This fact has led to end­less unpro­duc­tive dis­putes about the role of "vio­lence" in our move­ment, of which Chris Hedges is just the most recent and banal exam­ple. The prob­lem is that if our uni­ty can be reduced to our shared vic­tim­iza­tion, we are reliant on police and civic offi­cials to con­tin­u­al­ly give us these sto­ries. As police tac­tics adapt, and as the demands we make of the sys­tem become more rad­i­cal, this will become increas­ing­ly dif­fi­cult. The basis of the con­nec­tions we make with­in the move­ment must involve a deep­er sort of rad­i­cal­iza­tion. The cen­tral antag­o­nism is not between the police state and the peo­ple, but between labor and cap­i­tal. The anti-police repres­sion march­es that are now hap­pen­ing week­ly in Oak­land, while focused on a cru­cial issue, tend to side­line this larg­er point. To the extent that this dis­course dom­i­nates our prac­tice, we are oper­at­ing with exact­ly the same lim­it­ed and mor­al­iz­ing con­cep­tion of our movement's uni­ty as our lib­er­al crit­ics. The roman­ti­cized pic­ture of the bru­tal repres­sion of peace­ful demon­stra­tors that Hedges fetishizes is on a con­tin­u­um with the images of vic­tim­iza­tion in many of our own actions. We need to tell a new sto­ry.
After we expe­ri­enced the mate­r­i­al lim­its of this type of orga­niz­ing, some very nec­es­sary con­ver­sa­tions began in San­ta Rita in earnest. The focus on the bru­tal­i­ty has its uses, but to the extent that it stands in as a sub­sti­tute for this more sub­stan­tial self-crit­i­cism, it allows the ten­u­ous alliance between adven­tur­ism and human­i­tar­i­an lib­er­al­ism to per­sist. While we are all jus­ti­fi­ably angry at the Oak­land Police Depart­ment and the Alame­da Coun­ty Sher­iffs, what comes out of this expe­ri­ence needs to be more than sim­ply a strength­ened con­vic­tion that we hate the cops. If we don't swift­ly move towards the self-crit­i­cism that we need, the oppor­tu­ni­ty will be missed.
---
Jeb Puruck­er is a grad­u­ate stu­dent in Lit­er­a­ture at UC San­ta Cruz and a mem­ber of UAW Local 2865.