I have been asked to say a few words about Mar­ty Glaber­man and Stan Weir. It may be that the request is prompt­ed in part by recent events on the West Coast water­front. I have fol­lowed those events with inter­est, but I am not there and I have not had an oppor­tu­ni­ty to talk with par­tic­i­pants. Accord­ing­ly, please con­sid­er my remarks about my depart­ed friends and com­rades on their own mer­its, such as they may be, and accept my assur­ance that no implic­it mes­sage about cur­rent events is intend­ed.
An Injury to One Is an Injury to All
Before con­sid­er­ing them indi­vid­u­al­ly, let's take a look at their joint sig­nif­i­cance.
The Indus­tri­al Work­ers of the World (IWW) was cre­at­ed in 1905 in the belief that indus­tri­al union­ism, could it come into being, would tend to be rev­o­lu­tion­ary.1 The labor rad­i­cals who cre­at­ed the IWW, like Eugene Debs, Moth­er Jones, and Bill Hay­wood, believed that the great obsta­cle to labor rad­i­cal­ism was the craft basis of trade unions. At that time a work­place such as a steel mill was orga­nized into sep­a­rate crafts, each with its own col­lec­tive bar­gain­ing con­tract. Typ­i­cal­ly these con­tracts had dif­fer­ent expi­ra­tion dates. As it appeared to a Debs, Jones, or Hay­wood, the Amer­i­can Fed­er­a­tion of Labor (AF of L) amount­ed to the Amer­i­can Sep­a­ra­tion of Labor. Once work­ers were brought togeth­er on an indus­tri­al rather than craft or trade basis, a labor move­ment would emerge in which sol­i­dar­i­ty – the prin­ci­ple that "an injury to one is an injury to all" – would pre­vail.
Debs could offer an espe­cial­ly poignant ver­sion of this the­sis. He had been induct­ed into the Broth­er­hood of Loco­mo­tive Fire­men and labored to "build it up." Expe­ri­ence taught him that he must bring all rail­road work­ers into a broad­er coali­tion, the Amer­i­can Rail­way Union.
The dif­fi­cul­ty that young rad­i­cals like Glaber­man and Weir were oblig­ed to con­front in the years dur­ing and after World War II was that, yes, indus­tri­al unions in steel, auto, pack­ing­house, elec­tri­cal man­u­fac­ture, and many oth­er sec­tors of the econ­o­my had come into being, and fed­er­at­ed in the Con­gress of Indus­tri­al Orga­ni­za­tions (CIO), but these new unions were not much more rad­i­cal than the old unions of the AF of L.
One might have expect­ed the IWW to come for­ward with a com­pre­hen­sive cri­tique of CIO union­ism. This did not occur. And so indi­vid­ual "organ­ic intel­lec­tu­als," like Mar­ty and Stan, stepped into the gap and tried to explain what had gone wrong.
Off the top, it seems, it was nec­es­sary to con­sid­er the last phase of Eugene Debs' self-edu­ca­tion. In 1895 he led the Amer­i­can Rail­way Union into bat­tle against the great rail­road cor­po­ra­tions of that day in the Pull­man Strike, only to have the Unit­ed States gov­ern­ment send troops to Chica­go. Debs was impris­oned and the ARU defeat­ed. Behind bars, it seems, Debs con­clud­ed that it was also nec­es­sary to be a social­ist.
Mar­ty and Stan were both social­ists, indeed were both Trot­sky­ists, but they belonged to dif­fer­ent streams of Trot­sky­ist self-activ­i­ty. Mar­ty adhered to the extra­or­di­nary group that called itself "Fac­ing Real­i­ty," made up of fol­low­ers of CLR James who includ­ed, beside Mar­ty, James and Grace Lee Bog­gs and Raya Dunayevskaya. Stan was a fol­low­er of Max Shacht­man, who led a par­tic­u­lar clump of Trot­sky­ists into oppo­si­tion not only against the Com­mu­nist Par­ty but also against ortho­dox Trot­sky­ism. One of the sor­rows of my life is that, some­how, dur­ing the entire quar­ter-cen­tu­ry that I knew both Mar­ty and Stan, I was nev­er able to bring them togeth­er in the same room.
Mar­ty Glaber­man
In 1952 the Fac­ing Real­i­ty group pub­lished a pam­phlet called "Punch­ing Out," writ­ten by Mar­ty Glaber­man.2
The pam­phlet began with the unusu­al sen­tence: "Not long ago two men in a Detroit auto plant were dis­cussing their stew­ard." The stew­ard Mar­ty had in mind was named John­ny Zupan. Pre­vi­ous­ly a mil­i­tant rank and fil­er, Zupan, when elect­ed as a stew­ard, had dis­ap­point­ed his fel­low work­ers. His behav­ior raised the ques­tions: "Why does a work­er, when he is elect­ed to union office, turn against his own kind? How does an ordi­nary rank and file work­er become a pork-chop­per, a pie-card, a bureau­crat?"
Mar­ty insist­ed that the answer was not per­son­al. The answer he offered had to do with the con­tent of the col­lec­tive bar­gain­ing con­tract that the stew­ard admin­is­tered. To be sure, ordi­nar­i­ly (in those days) the con­tract con­tained sub­stan­tial ben­e­fits. But the typ­i­cal CIO con­tract also con­tained a quid pro quo: a clause pro­hibit­ing slow­downs and strikes until the expi­ra­tion of the agree­ment. The stew­ard, oblig­at­ed to enforce all aspects of the con­tract, nec­es­sar­i­ly became a cop for the boss.
In lat­er writ­ing and talks, Mar­ty fur­ther explained his advo­ca­cy of shopfloor direct action. In 1980 he pub­lished a book enti­tled Wartime Strikes: The Strug­gle Against the No-Strike Pledge in the UAW Dur­ing World War II. At the begin­ning of the war, the UAW bureau­cra­cy, like that of most oth­er unions, had com­mit­ted itself not to strike for the dura­tion. Prices, how­ev­er, rose steadi­ly, and the rank and file brought to the nation­al union con­ven­tion a demand to aban­don the no-strike pledge. The union hier­ar­chy sought to side­step that pres­sure by arrang­ing to mail to each mem­ber of the union a form ask­ing recip­i­ents to say whether they wished the pledge to con­tin­ue. Mar­ty con­ced­ed that most of those who returned a form vot­ed Yes. But, Mar­ty coun­tered, records demon­strat­ed that more than half of the work­ers in Detroit auto­mo­tive plants had tak­en part in wild­cat strikes! Action togeth­er with one's fel­low work­ers was a bet­ter indi­ca­tor of what work­ers real­ly felt than forms filled out by each indi­vid­ual in the pri­va­cy of his home.
Mar­ty believed strong­ly that, as Marx set forth in his The­ses on Feuer­bach, action pre­cedes and super­sedes the­o­ry. A favorite anec­dote imag­ined a work­er at his machine. He observes a group of fel­low work­ers com­ing down the aisle. There are too many of them to be going to the store­room for mate­r­i­al. It is too ear­ly for them to be going to lunch. So the work­er turns off his machine and joins the oth­ers head­ing for the park­ing lot. Once there, he turns to a fel­low work­er and asks: "What the hell is this all about?"
Sim­i­lar­ly Mar­ty dis­put­ed the idea that work­ers must be con­vert­ed to social­ism before a social­ist rev­o­lu­tion is pos­si­ble. Rather, he thought, they become social­ists in the process of mak­ing a rev­o­lu­tion. In Rus­sia, for exam­ple, work­ers who abused their wives, were fre­quent­ly drunk, were anti-Semit­ic and often illit­er­ate, nev­er­the­less became rev­o­lu­tion­ar­ies as they com­bat­ed the pow­ers that be.
I do not agree with every­thing Mar­ty Glaber­man assert­ed in "Punch­ing Out." He describes the Lit­tle Steel Strike of 1937 as a loss, indeed as a cat­a­stro­phe. How­ev­er, about the time I encoun­tered "Punch­ing Out" I had the oppor­tu­ni­ty to inter­view John Sar­gent, first pres­i­dent of the 18,000 mem­ber CIO local union at Inland Steel. John insist­ed that the set­tle­ment of the Lit­tle Steel Strike was "a vic­to­ry of great pro­por­tions."3 He explained that the strike set­tle­ment direct­ed a com­pa­ny to bar­gain col­lec­tive­ly with any group of its work­ers, whether or not they were a major­i­ty. As a result there was nego­ti­a­tion of indi­vid­ual issues but, because the Steel­work­ers were not yet an exclu­sive col­lec­tive bar­gain­ing rep­re­sen­ta­tive and there was no con­tract with a no-strike clause, work­ers could back up their demands with direct action.
At a forum I helped to arrange on labor his­to­ry from the view­point of the rank and file, Sar­gent main­tained:
With­out a con­tract we secured for our­selves work­ing con­di­tions and wages that we do not have today [1970], and that were bet­ter by far than what we do have today in the mill. For exam­ple as a result of the enthu­si­asm of the peo­ple in the mill you had a series of strikes, wild­cats, shut-downs, slow-downs, any­thing work­ing peo­ple could think of to secure for them­selves what they decid­ed they had to have.
Nick Migas, an open hearth griev­ance man at Inland Steel in the late 1930s, described an inci­dent when the com­pa­ny "increased the ton­nage on the fur­naces with­out increas­ing the rate." Pro­duc­tion slowed down and by the next morn­ing the com­pa­ny had to shut off two fur­naces. By that evening six fur­naces were down. "They set­tled that griev­ance in a hur­ry. Nobody told any­body to strike. There was just that close rela­tion­ship, work­ing with the peo­ple, where they knew what was nec­es­sary."4
Aside from such dif­fer­ences about par­tic­u­lar episodes of labor his­to­ry, Mar­ty Glaber­man and John Sar­gent saw things in the same way. Why was it that the CIO union move­ment, the watch­dog of the work­ing class, had become a dog that "don't bark no more"? The answer lay in the prac­tice of giv­ing up, or "waiv­ing," the right to strike, or more broad­ly, the right to take direct action on the shopfloor when, where, for how long, and in what­ev­er man­ner, rank-and-file work­ers desire.
Stan Weir
Stan Weir was a sailor, truck dri­ver, auto­mo­bile work­er and long­shore­man. He nev­er com­plet­ed the book he had hoped to write on the cul­ture of West Coast dock work­ers before con­tainer­iza­tion. But he left a col­lec­tion of short­er pieces edit­ed by Norm Dia­mond and George Lip­sitz, a long inter­view with my wife and myself enti­tled "The Infor­mal Work Group," and an essay he wrote for a book I edit­ed called "Unions with Lead­ers Who Stay on the Job."5
As a mer­chant sea­man dur­ing World War II Stan encoun­tered two old Wob­blies, Black­ie and Chips, who con­duct­ed for­mal class­es on ship­board in which the two passed on the lore of the 1934 San Fran­cis­co gen­er­al strike.
[T]hey pumped all this his­to­ry into me. And then they would quiz me. "What hap­pened on such-and-such a date?" "What's Bloody Thurs­day?" "What were the big demands?" "What was the 1934 award?" "Why were we able to win vic­to­ries before get­ting a col­lec­tive bar­gain­ing con­tract?"6
There came times when "Red" Weir act­ed as spokesper­son for a crew of sailors who refused to go to sea until their pro­vi­sions, mat­tress­es, and oth­er mate­r­i­al con­di­tions of employ­ment were improved.7 Stan told me that as he wrote about this sto­ry for my book, tears were pour­ing down his face.
At the end of the war, Max Shacht­man encour­aged Stan to get a job as an auto work­er, and he joined an assem­bly line in Oak­land. On the street car to work one morn­ing, he stum­bled into the Oak­land gen­er­al strike of 1946. The women who worked at two local depart­ment stores were on strike. Police­men were pro­tect­ing "a string of trucks… Some truck dri­ver or some bus dri­ver or street car con­duc­tor asked some police­man about the trucks (this is now part of the mythol­o­gy) and the police­man told him, 'This is a scab truck­ing firm com­ing in from LA to take stuff to Kahn's and Hast­ings'.'" And the truck dri­ver, or bus dri­ver, or street car con­duc­tor, didn't start up his vehi­cle again. Pas­sen­gers like Stan climbed out. The gen­er­al strike had begun.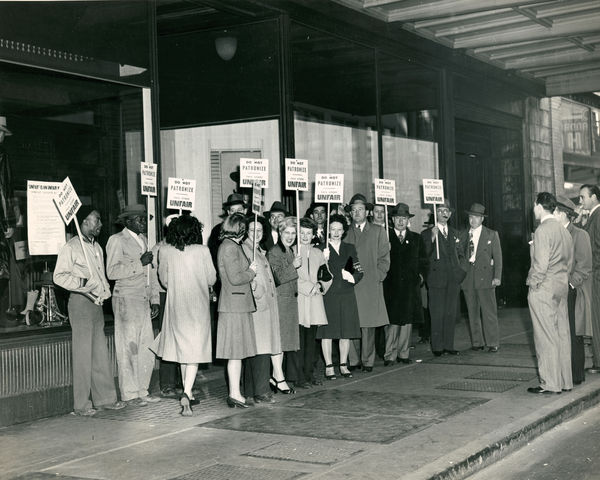 ---
No one had called it. No one knew what to do and there were no lead­ers. Pret­ty soon some store­keep­ers were told to close and drug stores were told to stay open. "Bars could stay open if they didn't serve hard liquor, and they had to put their juke­box­es out on the side­walk. Peo­ple were lit­er­al­ly danc­ing in the streets in antic­i­pa­tion of some kind of new day… It last­ed fifty-four hours."
"It was that vision and the expe­ri­ences in that strike," Stan wrote, "that I expe­ri­enced and which my wife saw, the vision in actu­al life of peo­ple deter­min­ing their own des­tinies that sus­tains one and makes one stand fast for a long, long time."8
Years lat­er, in an episode that should be of inter­est to all rad­i­cals, Stan Weir describes how he ceased to be an "orga­niz­er" and became a work­er, and at the same time, more him­self.9 Under pres­sure from McCarthy­ism his Left polit­i­cal group "dis­in­te­grat­ed… con­sid­er­ably." Stan got a job at Gen­er­al Motors not as a polit­i­cal assign­ment but because he need­ed a job.
"A whole new world opened up to me. I began to see that to approach any sit­u­a­tion like this with a whole set of pre­con­ceived slo­gans was way off the beam." Stan was work­ing swing shift, and when his shift punched out at mid­night they would go to the home of one of his friends from work for food. "And the pol­i­tics that I inject­ed into that group? I didn't even have to try. It came in the nat­ur­al course of life."
Like Mar­ty Glaber­man a foe of union bureau­cra­ti­za­tion, Stan believed that union mem­bers should con­duct their busi­ness on the shop floor, not in an office away from the plant. It was his obser­va­tion that in every work­place there is a de fac­to deci­sion-mak­ing struc­ture, which he called the "infor­mal work group." In the same way that street-cor­ner com­mit­tees formed dur­ing the Oak­land gen­er­al strike, and admin­is­tered their com­mon affairs quite hand­i­ly, he thought that infor­mal work groups should net­work with each oth­er and build up a struc­ture of rep­re­sen­ta­tion. At an inter­na­tion­al con­fer­ence of dock work­ers in Den­mark he learned that there was such a net­work in Spain, called "La Coor­di­nado­ra," went to Spain and, like Lin­coln Stef­fens, came home with the feel­ing that he had been into the future and it worked.
Stan Weir, it should be empha­sized, was a work­ing-class intel­lec­tu­al in the lit­er­al mean­ing of the words: he was born into the work­ing class and became a read­er and writer. He was com­fort­able with oth­er work­ers. When for a spell of a few years he taught in a work­ers' edu­ca­tion pro­gram at a Mid­west­ern uni­ver­si­ty he often began a class with the ques­tion, "What's the fun­ni­est thing that ever hap­pened where you work?" He liked to tell the sto­ry of how he helped to cause – but did not "orga­nize" – a wild­cat action on the shop floor. He was work­ing in a shop where the work­ers were for­ev­er hav­ing to get new gloves, which they were required to pay for them­selves. Grip­ing arose as to why the com­pa­ny didn't pay for the gloves, but no one could think of way to bring this about. It was gen­er­al­ly rec­og­nized that, under the col­lec­tive bar­gain­ing agree­ment, man­age­ment was oblig­ed to pay for "tools." Stan said, "Well, gloves are tools, aren't they?" and went about his busi­ness. There was a sit-in the next day.10
Organ­ic Intel­lec­tu­als
I first heard the term "organ­ic intel­lec­tu­al" from Stan Weir. But what does it mean? Mar­ty Glaber­man was born into a mid­dle-class fam­i­ly and, in the term pop­u­lar at the time, became a "col­o­niz­er" in a Detroit auto­mo­bile plant. He wrote good poet­ry and liked to watch movies. Stan Weir grew up with no father and a moth­er who did dress­mak­ing and worked at the Post Office. He loved to dance to the "big bands" of his ado­les­cence and would tele­phone me long dis­tance from Cal­i­for­nia to tell me a new joke. They both devot­ed their lives to the idea of a bet­ter world and, in the words of Stephen Spender's poem, "left the vivid air signed with their hon­or."
---
1. See the Man­i­festo of Jan­u­ary 2-4, 1905, sum­mon­ing work­ers to a found­ing con­ven­tion in June, reprint­ed in Rebel Voic­es: An IWW Anthol­o­gy, ed. Joyce L. Korn­bluh, new edi­tion (Oak­land, CA: PM Press, 2011), pp. 7-9, and Debs' speech in Chica­go on Novem­ber 25, 1905, avail­able in Amer­i­can Labor Strug­gles and Law His­to­ries, ed. Ken­neth M. Case­beer (Durham, NC: Car­oli­na Aca­d­e­m­ic Press, 2011), pp. 91-99.
2. Mar­tin Glaber­man, Punch­ing Out & Oth­er Writ­ings, ed. and intro­duced by Staughton Lynd (Chica­go: Charles H. Kerr, 2002), pp. 2-23.
3. John Sar­gent, "Your Dog Don't Bark No More," in Rank and File: Per­son­al His­to­ries by Work­ing-Class Orga­niz­ers, ed. Alice & Staughton Lynd, expand­ed edi­tion (Chica­go: Hay­mar­ket Books, 2011), pp. 105-110.
4. Nick Migas, "How the Inter­na­tion­al Took Over," in Rank and File, p. 168.
5. Sin­gle­jack Sol­i­dar­i­ty, ed. by George Lipzitz with a Fore­word by Norm Dia­mond (Min­neapo­lis: Uni­ver­si­ty of Min­neso­ta Press, 2004); Stan Weir, "The Infor­mal Work Group," in Rank and File, pp. 179-200; Stan Weir, "Unions with Lead­ers Who Stay on the Job," in "We Are All Lead­ers": The Alter­na­tive Union­ism of the Ear­ly 1930s, ed. Staughton Lynd (Urbana and Chica­go: Uni­ver­si­ty of Illi­nois Press, 1996), pp. 294-334.
6. Rank and File, p. 183; "We Are All Lead­ers," pp. 310-315.
7. "We Are All Lead­ers," pp. 296-307.
8. Rank and File, pp. 193-195; "We Are All Lead­ers," pp. 326-330. Stan Weir is thought to have been the mod­el for the char­ac­ter Joe Link in Har­vey Swa­dos' nov­el, Stand­ing Fast.
9. Rank and File, pp. 196-197.
10. Rank and File, pp. 192-193.