"I want to win. I want our build­ing occu­pa­tions to last."
-signed, a medic
"The preva­lence of vacant and aban­doned prop­er­ty in U.S. cities has reached cri­sis pro­por­tions despite efforts to fos­ter reuse of these sites."
-The Lin­coln Insti­tute
Fol­low­ing the recent four-day occu­pa­tion of an emp­ty bank build­ing at 75 Riv­er Street in San­ta Cruz and the attempt­ed occu­pa­tion of an emp­ty ware­house in Seat­tle, the con­tro­ver­sial tac­tic of attempt­ing to seize and hold vacant pri­vate prop­er­ty has been tak­en up as a new front of a sprawl­ing social move­ment. These actions move beyond protest­ing the enclo­sure of pub­lic space and sti­fling of free speech; they aim to expand the scope of cri­tique to the role that pri­vate prop­er­ty plays in our cur­rent cri­sis. This change in scope has not been lost on the land­lords. "I'm def­i­nite­ly not in agree­ment with this group tak­ing over pri­vate prop­er­ty," a local prop­er­ty own­er told the Mer­cury News.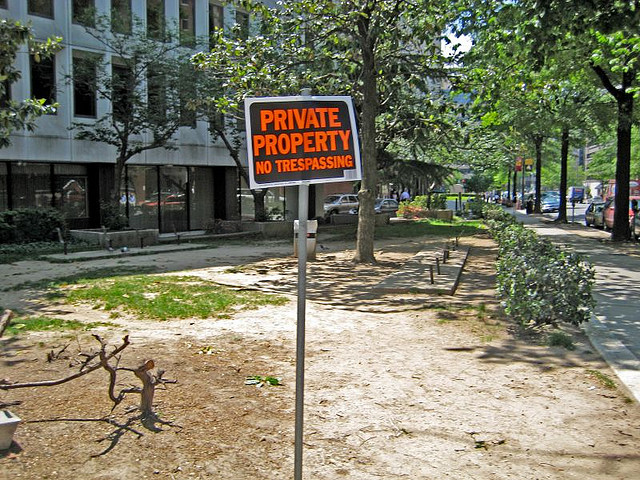 Any under­stand­ing of prop­er­ty laws must first acknowl­edge that these are agree­ments between human beings. They have had dif­fer­ent mean­ings for ancient Sumer­ian kings, ear­ly Roman jurists, Chi­nese peas­ants, and the CEO of Chase Bank, and they change when the gen­er­al assump­tions of a giv­en soci­ety no longer match up with real­i­ty. Giv­en the per­va­sive mis­in­for­ma­tion about pri­vate prop­er­ty in the Unit­ed States, let's intro­duce some dis­tinc­tions about what prop­er­ty is, and take a look at the legal frame­works that place con­di­tions on the own­er­ship of prop­er­ty.
What is Prop­er­ty?
First, it should be not­ed that the ide­o­log­i­cal defense of "pri­vate prop­er­ty" is both vague and mis­lead­ing. The seizure, or even abo­li­tion of pri­vate prop­er­ty doesn't refer to the water bot­tles or homes that many of us have pur­chased; pri­vate prop­er­ty in the con­text of anti-cap­i­tal­ist pol­i­tics refers to the own­er­ship by boss­es and land­lords of the resources peo­ple need to sur­vive. Most peo­ple have no access to the tools and sup­plies required to build their own fur­ni­ture, pro­vide all their own food, or main­tain a home entire­ly on their own. In a cap­i­tal­ist soci­ety, we depend on the mar­ket to pro­vide these for us in exchange for mon­ey. We work waged jobs, where we receive only a por­tion of the val­ue we add to the com­modi­ties we pro­duce, and go into debt in order to afford them. When anti-cap­i­tal­ists talk about pri­vate prop­er­ty, they're not refer­ring to the pos­ses­sions con­sumers have pur­chased in order to live; they're refer­ring to those pos­ses­sions that the wealthy have accu­mu­lat­ed in order to rent or sell to those who must work a waged job to sur­vive.
Accord­ing to the lat­est US cen­sus, last year there were 15 mil­lion homes – over 11% of all US hous­es – that are now emp­ty year round. Some groups have begun occu­py­ing a minis­cule frac­tion of these build­ings, or mov­ing to pro­tect dwellings threat­ened by fore­clo­sure. An Occu­py Our Homes Nation­al Day of Action took place on Decem­ber 6 in order to pro­tect or claim these prop­er­ties from the preda­to­ry banks that have already destroyed mil­lions of lives. These groups have a lot of sup­port, since they're only oblique­ly attack­ing the notion of pri­vate prop­er­ty. Their legit­i­ma­tion rests on the vis­cer­al appeal of com­mu­ni­ties sup­port­ing their mem­bers – even though, accord­ing to US prop­er­ty law, the prop­er­ty does belong to the banks. The argu­ment cen­ters on the idea that the wel­fare of peo­ple is more impor­tant than the prof­it mar­gins of banks. Cur­rent Unit­ed States law dis­agrees, and sheriff's depart­ments around the coun­try have sup­port­ed the law against peo­ple in need. The state has judged this form of occu­pa­tion to be rev­o­lu­tion­ary, how­ev­er sur­pris­ing or dis­may­ing that may be.
Many autonomous groups have decid­ed that a more open and frontal assault on the notion of pri­vate prop­er­ty is also nec­es­sary. In the actions in San­ta Cruz, Seat­tle, and oth­er loca­tions, vacant build­ings owned by pri­vate enti­ties have been seized by activists in order to lib­er­ate them for pub­lic use. In San­ta Cruz, occu­piers of 75 Riv­er attempt­ed to use prop­er­ty laws them­selves to denat­u­ral­ize the cur­rent rights of prop­er­ty own­ers, invok­ing "adverse pos­ses­sion," a legal cat­e­go­ry by which tres­passers can claim own­er­ship of prop­er­ty. By claim­ing pos­ses­sion of the build­ing and the land, the occu­piers took an impor­tant first step towards an argu­ment – in action and word – against the way that we in the Unit­ed States think about and val­ue pri­vate prop­er­ty. After all, as I argued to the press at the time, many peo­ple con­sid­er neg­li­gent dis­use of emp­ty struc­tures immoral in the face of ris­ing home­less­ness and pover­ty. Fol­low­ing the evac­u­a­tion of the for­mer bank, some com­mu­ni­ty activists, in sol­i­dar­i­ty with Occu­py San­ta Cruz and 75 Riv­er trans­formed a vacant lot into a com­mu­ni­ty gar­den and park. The "lib­er­at­ed" space has since been bull­dozed replaced by a fence.
That many in San­ta Cruz opposed the action was not a sur­prise: the rul­ing class of this small beach town are land own­ers, whose pow­er and wealth comes from rent and tourism. How­ev­er, some in Occu­py San­ta Cruz had also opposed this action on two grounds: first, they'd been led to believe that the march was to occu­py a fore­closed home and they were not pre­pared for or sup­port­ive of the occu­pa­tion of an emp­ty bank; sec­ond, while they thought the occu­pa­tion of fore­closed homes was jus­ti­fied, they con­sid­ered the occu­pa­tion of emp­ty "pri­vate prop­er­ty" unjus­ti­fi­able. While the dis­tinc­tion seems strange – they're both, after all, pri­vate prop­er­ty – it was argued that a fam­i­ly could imme­di­ate­ly use a fore­closed home, while claim­ing 75 Riv­er just pro­voked the cops and the rul­ing landown­ers. Indeed, soon after 75 Riv­er was ced­ed to the author­i­ties and the police made it known that they would be pur­su­ing the lead orga­niz­ers of the action for arrest, the encamp­ment of Occu­py San­ta Cruz, ten­u­ous­ly tol­er­at­ed for months, was tram­pled and cleared on Decem­ber 7.
The dis­pute is inter­est­ing since it reveals an ide­ol­o­gy about types of pri­vate prop­er­ty that will have to be sub­ject­ed to scruti­ny. For some, dor­mant com­mer­cial pri­vate prop­er­ty is to be respect­ed; only if that prop­er­ty was zoned res­i­den­tial should it be avail­able to the peo­ple. Emp­ty and vacat­ed build­ings, even if they were built by seiz­ing and raz­ing the homes of the work­ing class, should be off lim­its. This dis­agree­ment is fun­da­men­tal­ly about how best to "cre­ate a new rela­tion­ship between land and com­mu­ni­ties, so com­mu­ni­ties can con­trol resources to serve peo­ple rather than just cre­ate prof­it," as Occu­py Our Homes coor­di­na­tor Michael Pre­mo put it in an inter­view with Moth­er Jones. The implic­it argu­ment of these new occu­pa­tions is that com­mu­ni­ties com­prise not just res­i­dences, but also the sky­lines and build­ings sloughed off by the 1%.
Strat­e­gy and Con­sen­sus
If these build­ings are ever going to be more than good pho­to-ops and anx­ious hours spent wait­ing for police evic­tion, occu­piers should con­sid­er the strate­gic and prac­ti­cal pur­pos­es of each action. If the build­ings are to be opened, defend­ed and made to flour­ish, occu­piers must think through at least three issues: the use of gen­er­al assem­blies in ille­gal and pos­si­bly dan­ger­ous sit­u­a­tions, actu­al uses of build­ings, and their rela­tion­ship to the law.
Activists today run the risk of fetishiz­ing gen­er­al assem­blies. While it's a nec­es­sary means by which large and diverse bod­ies make deci­sions, there is lit­tle room for delib­er­a­tion in the crit­i­cal first days and weeks of an ille­gal occu­pa­tion intent on cre­at­ing pub­lic space. Those who plan an occu­pa­tion must instead have clear plans for a num­ber of con­tin­gen­cies. There is no room for inde­ci­sive­ness. It's no secret that a par­tic­u­lar aggre­ga­tion of indi­vid­u­als has planned and ini­ti­at­ed the action – that group must deter­mine how to com­mu­ni­cate direc­tions based on devel­op­ing con­di­tions. Plans for defense or evac­u­a­tion of the space in response to inevitable con­fronta­tions with police should be made avail­able to occu­piers and sym­pa­thiz­ers. Those who were less involved or aware of the action then have a chance to gauge their own lev­el of sup­port, and can plan their own actions based on clear infor­ma­tion. If the plan­ning stage of the action was not accom­plished with­in the space of a gen­er­al assem­bly, use of the gen­er­al assem­bly to legit­i­mate the action seems to miss not just the oppor­tu­ni­ty, but also the point.
Gen­er­al­ly, these build­ing occu­pa­tions have made over­tures towards open­ing the space to the com­mu­ni­ty. At 75 Riv­er, an announce­ment claimed that the space would be used "to orga­nize human­i­tar­i­an efforts, house a library, and pro­vide a forum for dis­cus­sions." This is all good rhetoric, but very lit­tle was actu­al­ly done to build such insti­tu­tions in the space. I have been told that this is part­ly because no one thought it could actu­al­ly be held, and part­ly because open­ly look­ing for orga­ni­za­tions to use the space – such as Food Not Bombs/Lawns, home­less orga­ni­za­tions, among oth­ers – could alert the author­i­ties to the action. What's more, these groups risk los­ing their scarce sup­plies in the event of police repres­sion. While the 75 Riv­er action remains an impor­tant moment in our col­lec­tive attempt to rethink pri­vate prop­er­ty, if com­mu­ni­ties around the world are to see these occu­pa­tions as ben­e­fi­cial, the occu­piers them­selves must take steps to make this a mate­r­i­al fact.
Had the occu­pa­tion imme­di­ate­ly tilled the front yard and plant­ed it, the cops would still have come. Had the occu­pa­tion passed out fly­ers through­out town announc­ing a dance par­ty the next night, the cops would still have come. Had the occu­pa­tion imme­di­ate­ly set up a feast to cel­e­brate, or invit­ed the Food Net­work to rework their space, the cops would still have come. But the occu­pa­tion would have made a claim on that space. As I spoke with peo­ple in San­ta Cruz over the fol­low­ing few days, I encoun­tered resis­tance to the idea that the occu­piers could have done any­thing con­struc­tive. Many peo­ple, after all, don't con­sid­er graf­fi­ti and fur­ni­ture bar­ri­cades much of an improve­ment.
Oth­ers con­tin­ue to feel that those who plan these occu­pa­tions are them­selves either elite youths rebelling against their priv­i­lege, or mind­less hip­pies inca­pable of build­ing any­thing. With­in the move­ment we can dis­miss these judg­ments, but only action to the con­trary can actu­al­ly dis­pel them. This is not to say that we'll change every mind; we don't need to do that. We do, how­ev­er, need to stop expect­ing "the mass­es" to auto­mat­i­cal­ly under­stand our ideas. Mak­ing seri­ous strides toward intel­li­gi­bil­i­ty doesn't just mean writ­ing arti­cles or re-tweet­ing pithy obser­va­tions, but actu­al­ly tak­ing the steps nec­es­sary to build a mass move­ment.
Break­ing the Law
If we are to actu­al­ly trans­form the rela­tions that con­sti­tute soci­ety, this new stage of occu­pa­tions needs to artic­u­late its oppo­si­tion to the cur­rent con­fig­u­ra­tion of pri­vate prop­er­ty in the US. By cit­ing "adverse pos­ses­sion," the 75 Riv­er orga­niz­ers gave a legal jus­ti­fi­ca­tion for rethink­ing the sov­er­eign­ty of pri­vate prop­er­ty. While nei­ther US nor Cal­i­for­nia law allows "adverse pos­ses­sion" to be used for the imme­di­ate seizure of land, they do place this action along a con­tin­u­um of oth­er pri­vate appro­pri­a­tions of pri­vate prop­er­ty. As a lawyer for an East Coast eco­nom­ic jus­tice group, who asked to remain anony­mous, told me in a phone con­ver­sa­tion, "push­ing the enve­lope of the per­mis­si­ble is one of the things that has got­ten the move­ment such media attrac­tion, and appears as one of the main goals – a huge­ly suc­cess­ful­ly achieved one at that." Since "the per­mis­si­ble" relies on social agree­ment, rad­i­cal actions cre­ate the space with­in which our his­tor­i­cal­ly recent idea of "pri­vate prop­er­ty" can be inter­ro­gat­ed.
In this case, the only use that the legal cat­e­go­ry of "adverse pos­ses­sion" allows is the ide­o­log­i­cal chal­lenge. As cur­rent­ly writ­ten, "adverse pos­ses­sion" laws are of no legal use to the move­ment. A friend at Har­vard Law School told me,
Unlike Europe, where there is a pre­mi­um on space such that a par­ty that occu­pies an emp­ty dwelling/building for a brief peri­od of time has rights to that space, we have a com­pli­cat­ed sys­tem that takes time. We also have such an empha­sis on per­son­al prop­er­ty in the legal code, that prop­er­ty is almost nev­er adverse­ly pos­sessed in urban areas.
How­ev­er, this law does have an ide­o­log­i­cal and polit­i­cal valence that helps to illu­mi­nate the tran­si­tive nature of pri­vate prop­er­ty. It takes into account the pop­u­lar con­cep­tion that the pub­lic good is a con­di­tion for the own­er­ship of pri­vate prop­er­ty, and argu­ments about the laws can take this as their start­ing point.
Sec­tions 315-330 of the Cal­i­for­nia Code of Civ­il Pro­ce­dure deal with this issue, though the mat­ter is specif­i­cal­ly tak­en up in begin­ning in Sec­tion 321. Here, Cal­i­for­nia code estab­lish­es that legal own­ers of prop­er­ty have the right to repos­sess their for­mer­ly vacant prop­er­ty, "unless it appear[s] that the prop­er­ty has been held and pos­sessed adverse­ly to such legal title, for five years before the com­mence­ment of the action." There are con­di­tions, then, on the "recov­ery of real prop­er­ty" by legal own­ers. Sec­tions 322 and 324 also make a dis­tinc­tion between "claim of title" through writ­ten instru­ment, such as a prop­er­ty deed or court injunc­tion, and non-writ­ten instru­ment – adverse, or hos­tile, pos­ses­sion with­out the per­mis­sion of the deed own­er. Sec­tion 325 lays out the spe­cif­ic con­di­tions under which "claim of title" can be used with­out writ­ten instru­ments: land must have been claimed, occu­pied and man­aged for at least five con­tin­u­ous years; state, coun­ty, and munic­i­pal tax­es must have been paid dur­ing those five years; and records of that pay­ment must appear in offi­cial records.
Giv­en that these polit­i­cal occu­pa­tions have been both very open and very ille­gal, there is lit­tle rea­son to think that any of them would last the req­ui­site five years. What is of cru­cial impor­tance right now, how­ev­er, is that the law rec­og­nizes a means where­by the legal own­er of prop­er­ty can lose it through inat­ten­tion or lack of use. There are con­di­tions upon the own­er­ship of prop­er­ty!
Adverse pos­ses­sion is often used in rur­al areas where prop­er­ty bound­aries might be dif­fi­cult to main­tain or notice. As Cal­i­for­nia law states:
Ques­tions about own­er­ship often wind up in court after an absent own­er of rur­al prop­er­ty dis­cov­ers that some­one is liv­ing on his land or, when a piece of urban prop­er­ty is sold, a title insur­ance com­pa­ny refus­es to issue insur­ance because the neighbor's garage is found to be stand­ing square­ly on the prop­er­ty. If the peo­ple involved can't work some­thing out, the prop­er­ty own­er may sue the tres­pass­er, or the tres­pass­er may bring a law­suit to qui­et title – a request for the court to set­tle who owns what.
Here, "adverse pos­ses­sion" appears relat­ed to the Pre­emp­tion Act of 1841 and the Home­stead Act of 1862, which allowed for squat­ters to take pos­ses­sion of "emp­ty land." After improv­ing it and liv­ing on it for five con­tin­u­ous years, they could gain pos­ses­sion of up to 160 acres.
Today, in most states, tres­passers can take legal own­er­ship of prop­er­ty if the fol­low­ing con­di­tions are met: the tres­pass is hos­tile, actu­al, open, noto­ri­ous, and con­tin­u­ous. (Indeed, some enter­pris­ing real estate agents have made this their busi­ness.) In Cal­i­for­nia, the pay­ment of prop­er­ty tax­es is also required. "Hos­tile," here, doesn't mean ban­danas and linked arms; the legal def­i­n­i­tion is that the occu­piers know that they're tak­ing pos­ses­sion of land that isn't their own. (In some states, there's also prece­dent for mere­ly pos­sess­ing the land with­out knowl­edge that it belongs to some­one else). It should be not­ed that while the require­ment to main­tain con­tin­u­ous open pos­ses­sion applies to occu­piers, it doesn't appear to apply to the legal own­ers.
Legal­ly, Cal­i­for­nia prop­er­ty own­ers can't pre­vent the seizure of their prop­er­ty just by post­ing "No Tres­pass­ing" signs. If, how­ev­er, own­ers give per­mis­sion to occu­piers to be in that space, and give that per­mis­sion in writ­ing, own­er­ship will nev­er trans­fer because the occu­piers have been invit­ed to use the land. It is no longer hos­tile. If "adverse pos­ses­sion" is being claimed, own­ers may have to file a law­suit to eject. But again, since meet­ing the five-year require­ment is an extra­or­di­nary chal­lenge, it seems unlike­ly that any occu­piers will be able to use the legal def­i­n­i­tion of "adverse pos­ses­sion."
There are also a vari­ety of "ease­ments" through which the use or pos­ses­sion of another's pri­vate prop­er­ty might be grant­ed, though these typ­i­cal­ly revolve around issues of use of land and require con­tin­u­ous and hos­tile use of that land for between 10 and 20 years. Since there is no trans­fer of own­er­ship, ease­ments will nev­er require the pay­ment of prop­er­ty tax­es. Anoth­er impor­tant dif­fer­ence is that ease­ments do not require soli­tary pos­ses­sion: even if the own­er has used the prop­er­ty, an ease­ment can still be grant­ed because its speci­fici­ty relies on use, not own­er­ship. Ease­ments, again, can be avoid­ed by sim­ply grant­i­ng per­mis­sion, in writ­ing, for the use of prop­er­ty, which elim­i­nates the nec­es­sary "hos­tile" ele­ment. Like adverse pos­ses­sion, ease­ments denat­u­ral­ize the idea that one per­son or cor­po­ra­tion ever has exclu­sive and per­ma­nent use of land, if there are legit­i­mate rea­sons for oth­ers to have access to that land.
Begin­ning to See the Blight
There are, of course, oth­er ways that pri­vate prop­er­ty is open to de-pos­ses­sion. In cas­es of blight­ed and dilap­i­dat­ed prop­er­ty, states and munic­i­pal­i­ties have found it expe­di­ent, the Cen­ter for Com­mu­ni­ty Progress writes, set up "land banks" in order to take pos­ses­sion of "prob­lem prop­er­ties" and "dis­pose of them in a man­ner con­sis­tent with the public's inter­est." In this way, the Lin­coln Insti­tute of Land Pol­i­cy explains, "vacant, aban­doned and tax-delin­quent" prop­er­ties can either be put to use or bull­dozed: "The prop­er­ties are acquired pri­mar­i­ly through tax fore­clo­sure, and then the land bank devel­ops or, more like­ly, holds and man­ages the prop­er­ties until a new use or own­er is iden­ti­fied."
An Ivy-league law pro­fes­sor who wished to remain anony­mous informed me that own­er­ship of these prop­er­ties must be proven, and that this is not always as sim­ple as mere­ly pro­vid­ing the title. In his words,
Maybe a good defense attor­ney could show that the own­er can­not prove own­er­ship and then can­not claim tres­pass. This has worked in many fore­clo­sure cas­es where the banks, because of numer­ous bundling of mort­gages, can't find the orig­i­nal paper­work and can't pro­ceed with the fore­clo­sure because they can­not prove right­ful own­er­ship.
Such a sit­u­a­tion might, at the very least, remove the police from the equa­tion and send the case to civ­il court – allow­ing occu­piers cru­cial time to make repairs and improve the these build­ings for com­mu­ni­ty use.
Com­mu­ni­ty Devel­op­ment Cor­po­ra­tions (CDCs) have also been orga­nized to act on behalf of com­mu­ni­ties to repur­pose vacant and derelict prop­er­ties. As the Lin­coln Insti­tute of Land Pol­i­cy notes, how­ev­er, there are often dif­fi­cult bar­ri­ers to pass before CDCs can repur­pose prop­er­ty, and they all rely on exist­ing prop­er­ty laws. Munic­i­pal­i­ties can some­times force absen­tee land­lords to sell, though this is typ­i­cal­ly only in cas­es of aban­don­ment and requires the per­sis­tent use of munic­i­pal issuances for code vio­la­tions. Munic­i­pal­i­ties can also place liens on prop­er­ties and there­by force fore­clo­sures; often derelict prop­er­ties will have sev­er­al liens, pur­chased by sev­er­al dif­fer­ent cor­po­ra­tions, and own­er­ship can be extreme­ly dif­fi­cult to sort out. Alter­na­tive­ly, if a build­ing is a "clear nui­sance," munic­i­pal­i­ties can some­times be peti­tioned to either hand the prop­er­ty over to a CDC through receiver­ship or, if the own­er is amenable, force pay­ment for improve­ments to the lot. This is both rare and con­tro­ver­sial. Fur­ther­more, title is usu­al­ly unclear in these sit­u­a­tions. Final­ly, cities can claim prop­er­ty for the pub­lic good through "emi­nent domain." This has been used to seize blight­ed prop­er­ties and con­vert them to "com­mu­ni­ty" use – usu­al­ly shop­ping malls and expen­sive con­dos. Fol­low­ing a recent New Lon­don, CT case, where non-blight­ed prop­er­ty was seized for eco­nom­ic rede­vel­op­ment, state and munic­i­pal enti­ties have been very wary of using emi­nent domain.
While many of us no doubt pic­ture "blight" as dilap­i­dat­ed, ram­shackle, or dan­ger­ous, the legal def­i­n­i­tion is a bit more slip­pery. A lawyer based in Cal­i­for­nia, who also request­ed anonymi­ty, alert­ed me to the mal­leable def­i­n­i­tion of "blight." Accord­ing to a Dai­ly Tran­script Arti­cle from 2005, which fol­lowed in the wake of the New Lon­don, CT case, "blight" can exist only where "80 per­cent of the land in the area has been devel­oped for urban use, or has irreg­u­lar and inad­e­quate sized lots in mul­ti­ple own­er­ship; or is an inte­gral part of an urban area sur­round­ed by devel­op­ment parcels." After estab­lish­ing this as the base, a struc­ture must be deemed unsafe or unhealthy or exhib­it signs that "hin­der eco­nom­ic use of build­ings and lots" or be made up of incom­pat­i­ble bits such that eco­nom­ic devel­op­ment is hin­dered. If the struc­ture meets these cri­te­ria, it must fur­ther be deemed an eco­nom­ic blight: there must be either "depre­ci­at­ed or stag­nant prop­er­ty val­ues" or "high busi­ness vacan­cies, low lease rates, high turnover rates, or exces­sive vacant lots" or too many res­i­dences for the land to sup­port or high crime in the area. Once these con­di­tions are met, it must fur­ther be estab­lished that only rede­vel­op­ment could alter the present sit­u­a­tion: "mean­ing the blight can­not be reversed or alle­vi­at­ed by: pri­vate enter­prise; or gov­ern­ment action; or both pri­vate enter­prise and gov­ern­men­tal action."
Giv­en the cur­rent state of eco­nom­ic depres­sion, the sag­ging prop­er­ty val­ues of struc­tures in many urban areas, and the vast num­ber of vacant build­ings through­out the coun­try, blight might actu­al­ly be a use­ful cat­e­go­ry for such appeals. As emi­nent domain schol­ar Tim Sande­fur notes, Cal­i­for­nia law "means that vir­tu­al­ly any­thing short of pure spec­u­la­tion will qual­i­fy. And while it speaks of 'spe­cif­ic con­di­tions,' these 'con­di­tions' are the ones already list­ed in sec­tion 33031 [of the Cal­i­for­nia Health and Safe­ty Code]." Of course, it is noto­ri­ous­ly dif­fi­cult to claim emi­nent domain (even, these days, for devel­op­ers) and few city coun­cils appear to have the inter­ests of the poor and the work­ing class in mind when they act. Again, how­ev­er, built into US prop­er­ty law is the idea that pri­vate prop­er­ty is reg­u­lat­ed by his­tor­i­cal­ly spe­cif­ic social agree­ments that estab­lish a pub­lic good, and that the sov­er­eign­ty of pri­vate prop­er­ty is there­fore not an immutable fact of life.
All of these are long process­es, and entail respect­ing prop­er­ty laws that will always give prece­dence to the whims of landown­ers over local com­mu­ni­ties. While the strug­gle to pos­sess emp­ty and aban­doned build­ings in the name of com­mu­ni­ties will cer­tain­ly require ded­i­cat­ed and inno­v­a­tive lawyers and legal tools, this can only fol­low the action of the move­ment. Direct action to oppose and con­front the enclo­sure and mis­use not just of space, but of entire com­mu­ni­ties, has become a legit­i­mate front in the strug­gle.
SQUAT Team
It's impor­tant to note a dif­fer­ence in squat­ting between the US and oth­er coun­tries. In Eng­land, which has a robust squat­ting com­mu­ni­ty, squat­ting is a civ­il mat­ter and doesn't require the same lev­el of police enforce­ment that it does in the US. Some states have more lenient laws: in Flori­da, squat­ters can post notices that a prop­er­ty is under siege, and if they man­age to hold it for sev­en years, they may take pos­ses­sion.
Still, it appears that most squats that sur­vive do so by avoid­ing notice by police and land­lords. There don't appear to be any mech­a­nisms in the Unit­ed States to shift these actions from the realm of crim­i­nal tres­pass into the realm of civ­il lit­i­ga­tion. There are sev­er­al squat­ters' rights orga­ni­za­tions that make an imme­di­ate impact on people's lives, though they have not yet been able to make much of a dent in the prop­er­ties con­trolled by absen­tee and preda­to­ry own­ers. Homes Not Jails has opened up "hun­dreds of build­ings for use," though most of them last no longer than six months. Take Back the Land hopes to "ele­vate" hous­ing to the lev­el of a human right and has seen an enor­mous amount of pub­lic­i­ty with­in the months since occu­pa­tions burst onto the scene.
There are no inalien­able rights to own pri­vate prop­er­ty. Pri­vate prop­er­ty means dif­fer­ent things in dif­fer­ent coun­tries and com­mu­ni­ties, and the lim­its and respon­si­bil­i­ties of its use are con­stant­ly chang­ing accord­ing to polit­i­cal pres­sure. It took statu­to­ry laws, the Pre­emp­tion Act and Home­stead Act, to make pub­lic lands pri­vate.
Claim­ing pri­vate spaces by a social move­ment is ille­gal with­in a leg­isla­tive and juridi­cal frame­work that equates the "pub­lic good" with gross domes­tic prod­uct. Notions of the "pub­lic good" in the Unit­ed States have tend­ed to rely on the per­ceived abil­i­ty of com­mer­cial activ­i­ty to make life bet­ter for for the major­i­ty. For this rea­son, blight­ed prop­er­ty can be seized by "pub­lic ser­vants" and hand­ed over to "pri­vate enter­prise"; cham­bers of com­merce have more impor­tance in local pol­i­tics than asso­ci­a­tions of com­mu­ni­ty gar­den­ers; and the stock mar­ket is the bear­er of US eco­nom­ic wealth, rather than the num­ber of unem­ployed or home­less. The last forty years, how­ev­er, have demon­strat­ed that all of these assump­tions hide the real­i­ty of a class soci­ety. Argu­ments about what con­sti­tutes the "pub­lic good" in the Unit­ed States have been increas­ing­ly revealed to be argu­ments about what is good for "job cre­ators" – the wealth­i­est men, women and cor­po­ra­tions in the world.
Against this ide­ol­o­gy, the strat­e­gy of occu­py­ing dor­mant pri­vate prop­er­ty artic­u­lates the inter­ests of the work­ing class. Pub­lic-space occu­pa­tions have pre­sent­ed them­selves as the estab­lish­ment of new forms of com­mu­ni­ty, based on the mutu­al exchange of vol­un­tary labor. But for the mass­es of peo­ple whose time is in short sup­ply, whose days are entire­ly struc­tured by work, it is clear that labor remains the fun­da­men­tal ele­ment of a sys­tem of exploita­tion. By attack­ing pri­vate prop­er­ty itself, a strat­e­gy of ille­gal occu­pa­tions – which nev­er­the­less takes advan­tage of the gaps and open­ings of the exist­ing laws – can move us past the "pub­lic good" to the foun­da­tions of work­ing-class pow­er.
---
Mark Paschal is a grad­u­ate stu­dent at UC-San­ta Cruz, a mem­ber of UAW 2865, and an orga­niz­er with­in the UCSC Gen­er­al Assem­bly.