"For they are women's chil­dren, and we moth­er them again."
– "Bread and Ros­es"
---
Some­day my daugh­ter will ask me how I met her father, and I will tell her about when we occu­pied the Grad­u­ate Stu­dent Com­mons at UC San­ta Cruz.
At the end of the sum­mer of 2009, a group of col­lege stu­dents, grad­u­ate stu­dents, and staff set about plan­ning a cam­pus build­ing occu­pa­tion. News of the next school year's dras­tic bud­get cuts had come to the sur­face, leav­ing many of us out of jobs and in debt. On top of that, entire depart­ments were being defund­ed, while class sizes, tuition, and admin­is­tra­tor salaries were being increased. The word "cri­sis" start­ed to echo among us.
With­in weeks, a new milieu arose, cen­tered on the idea of an occu­pa­tion. It brought togeth­er for­mer strangers, each of whom offered some­thing dif­fer­ent. Due to the prac­ti­cal con­cerns of con­struct­ing bike lock bar­ri­cades, bring­ing in sup­plies, and orga­niz­ing jail sup­port, the group was unlike one of those beard­ed Marx­ist echo cham­bers that so often devel­op out of moments of cri­sis in a uni­ver­si­ty. Everyone's skill sets proved instru­men­tal, and the notion of a "leader" could only be a fan­ta­sy of a few periph­er­al com­pe­ti­tions. An unfa­mil­iar, utopi­an feel­ing sur­round­ed every­one involved. Part of it, for me, was falling in love with Kyle.
At the time, Kyle and I were both in our sec­ond year of grad­u­ate school, and com­ing to terms with our absent futures. Kyle was about to com­plete his MFA in Dig­i­tal Art and New Media, only to be launched into a rather hope­less job mar­ket in which he some­how expect­ed him­self to begin pay­ing off his stu­dent loans. In my case, the job mar­ket seemed too dis­tant a prospect – I was more fix­at­ed on find­ing work as a teach­ing assis­tant, waged labor for the uni­ver­si­ty, so that I could fin­ish my PhD in Lit­er­a­ture. We had been brought to the verge of extinct oppor­tu­ni­ties, and yet the lies that had brought us there remained invis­i­ble. Stuck in such a predica­ment, Kyle and I found our­selves sud­den­ly exhil­a­rat­ed by the notion of "occu­py every­thing," as an open­ing to pos­si­bil­i­ties rather than yet anoth­er expe­ri­ence of fore­clo­sure.
On Sep­tem­ber 24, 2009, the Grad­u­ate Stu­dent Com­mons became "the com­mons." Pri­mar­i­ly, it was a space of intel­lec­tu­al exchange, which gen­er­at­ed teach-ins, dis­cus­sions, read­ing groups, com­mu­niqués, and speech­es. From the out­side, I'm sure it was unclear what was actu­al­ly going on – and the protest's insis­tent demand­less­ness only added to that lack of clar­i­ty. Years lat­er, how­ev­er, it is at least appar­ent to a core group of us that what came out of this event was a new set of poten­tial­i­ties. We were tired of hear­ing about the gold­en age of Six­ties protests on our cam­pus­es. Occu­pa­tions, as we said then, are back on the table.
Two years lat­er, Kyle and I became par­ents, while "occu­py every­thing" pro­lif­er­at­ed as part of the glob­al lex­i­con. Our daugh­ter was born on the tenth day of Occu­py Wall Street, and she quick­ly acquired the nick­name "occu-baby" – a term of iron­ic endear­ment, you might say. Occu­py San­ta Cruz start­ed a few days after we returned from the hos­pi­tal, and it was the des­ti­na­tion of our first fam­i­ly out­ing. Our fam­i­ly had devel­oped out of this move­ment, and we were excit­ed to con­tin­ue our lives with "occu­pa­tion" as the basis of our every­day pol­i­tics. Now, that pol­i­tics is about par­ent­ing a child in the midst of a cri­sis.
There are oth­er things I expect my daugh­ter to ask me about – and per­haps she will ask with the same heart-thump­ing curios­i­ty that I felt when I was a child, and I asked my father about the Six­ties. Except my daugh­ter, I hope, will feel a part of these sto­ries. I hope that "Occu­py" will not feel closed, end­ed, peri­odized.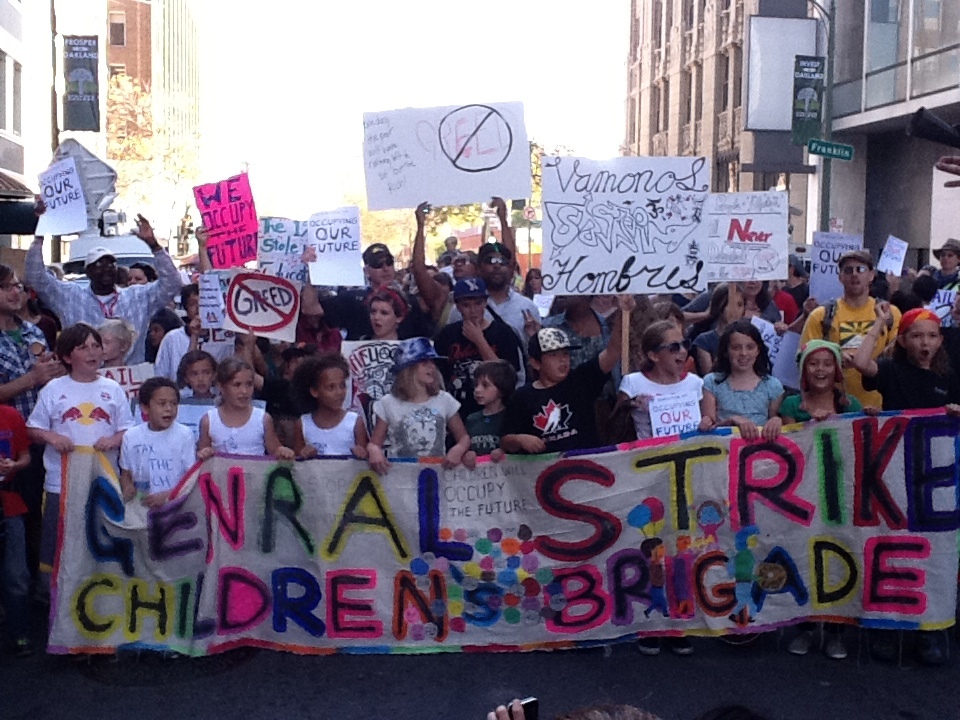 ---
Unfor­tu­nate­ly, in our community's col­lec­tive mem­o­ry, the San­ta Cruz occu­pa­tion most promi­nent­ly marks the incep­tion of "elec­tro-com­mu­nism," a term which cat­a­pult­ed the move­ment from tragedy to farce. In its defense, "elec­tro-com­mu­nism" can be under­stood through the tac­tic of the dance par­ty bar­ri­cade, which kept a crowd around the occu­pa­tion dur­ing the dark and cold hours of night, when riot cops were most like­ly to swarm the build­ing. And yet, the prac­ti­cal­i­ty of this tac­tic is often over­looked. Instead, "elec­tro-com­mu­nism" opened up the occu­pa­tion to eas­i­ly car­i­ca­tured crowds of drunk­en par­ty-hop­ping col­lege bros, lured to the scene by French elec­tro-pop, who took off their shirts, spun them over their heads, and chant­ed "occu­py every­thing."
Among our "elec­tro-com­mu­nist" com­rades, Kyle and I are now some­what anom­alous as par­ents. There was no pre-estab­lished com­mu­ni­ty of rad­i­cal par­ent­ing for us, so it was an incred­i­ble feel­ing to have my daugh­ter strapped to my chest in a front-pack as we joined old friends at a ral­ly in Oak­land, fol­low­ing the police raid of the Oak­land Com­mune on Octo­ber 25. The deci­sion to attend this ral­ly was rather impul­sive: our daugh­ter was a cou­ple days shy of a month old, she had been in the car only a few times, and Oak­land is about an hour and a half away from home. Occu­py Oak­land seemed like a dream to us, and it was already over – we thought. We took our chances. We want­ed our fam­i­ly to be a part of a poten­tial­ly rev­o­lu­tion­ary moment. But we nev­er antic­i­pat­ed our expe­ri­ence that after­noon.
The protest began at the pub­lic library, where a few hun­dred peo­ple gath­ered in the late after­noon. Though there were cer­tain­ly a lot of oth­er chil­dren in the crowd, our daugh­ter was per­haps the only new­born baby. When the ral­ly at the library became a march to reclaim the park, we fol­lowed our plan to move at the periph­ery of the crowd, mak­ing eye con­tact with the police who had lined up along the side­walks. We thought that the police should be made aware that there were chil­dren among us, so they would act with appro­pri­ate pre­cau­tion.
Since that after­noon, I have real­ized this was a fool­ish assump­tion. About half an hour into this march, the police first tear-gassed the crowd. I know that near­ly each and every one of those police offi­cers saw chil­dren as they began their attack, which con­tin­ued with the use of con­cus­sion grenades and batons. Ter­ri­fied, I pushed my daughter's head under my shirt, hold­ing her close to my chest, as we quick­ly turned the cor­ner, only about a hun­dred feet away. I had that bizarre feel­ing of being on a movie set: these were the sights and sounds of war, and I was there, with­out defens­es, clutch­ing my one-month old baby.
The move­ment began spin­ning itself as a nar­ra­tive of sen­sa­tion­al­ized police bru­tal­i­ty, espe­cial­ly after that day in Oak­land – and, of course, the pre­ced­ing sto­ry may pro­vide yet anoth­er episode to this nar­ra­tive. By the next morn­ing, the large crowd with chil­dren that had been tear-gassed was eclipsed by the sto­ry of vet­er­an Scott Olsen, who briefly cap­tured the lim­it­ed imag­i­na­tions of those who need a hero in the move­ment. And now, espe­cial­ly since the pas­tiche phe­nom­e­non of UC Davis police offi­cer Pike, the police have become vil­lains, whose inhu­man­i­ty glo­ri­fies a new set of heroes with every sin­gle hyper-medi­at­ed arrest action. Of course, it was with this attack on priv­i­leged, white col­lege stu­dents that main­stream out­rage could be gen­er­at­ed by the movement's obses­sive self-doc­u­men­ta­tion. From afar, this doc­u­men­ta­tion frames its scenes with a keen sense of dan­ger – which is per­haps why I am so often sub­ject to crit­i­cism, as the moth­er of the "occu-baby."
With my par­tic­i­pa­tion in the occu­pa­tion move­ment some­what trans­par­ent on Face­book, I have received numer­ous mes­sages from peo­ple who claim that I have been sub­ject­ing my daugh­ter to "vio­lent riots." One such mes­sage came to me in ear­ly Decem­ber, after I shared a pho­to of an occu­pa­tion in San­ta Cruz, which took over an aban­doned bank at 75 Riv­er Street. The mes­sage, which poor­ly rep­re­sents the writ­ing skills of a fel­low grad­u­ate stu­dent, reads:
I have no sym­pa­thy with women who had the ludi­crous idea of bring­ing chil­dren to protests. Espe­cial­ly with­in a crowd­ed and occu­pied build­ing. Where pow­er was cut and ade­quate san­i­ta­tion was unavail­able. DURING THE FRIGGING FLUE SEASON WHEN THOSE CHILDREN SHOULD HAVE BEEN WITH RELATIVES OR BABY-SITTERS!!! What the bloody hell were those idiots think­ing? That the protests were more impor­tant than the health of their chil­dren???
In addi­tion to this kind of harass­ment, I was taunt­ed by the pub­lic threats of Deputy Chief Steve Clark, who told an inter­view­er of his plans for cer­tain pro­test­ers in this occu­pa­tion: "Moth­ers are going to jail. Babies are going to Child Pro­tec­tive Ser­vices."
I nev­er brought my daugh­ter into the 75 Riv­er Street occu­pa­tion. By now, I go to protests cer­tain that, at a crit­i­cal junc­ture, the police will begin to bru­tal­ize the crowd. I have had to learn to pre­pare for this cer­tain­ty as a moth­er, which means that I make deci­sions about how to par­tic­i­pate accord­ing to a dif­fer­ent sense of "safe­ty" than any of my com­rades, with whom I used to offer myself as a body that could be beat­en, gassed, shoved to the ground, arrest­ed, and detained by the police. Instead, I now go to protests know­ing that the police are dan­ger­ous to my daugh­ter, and I pro­tect her from their reach.
We stood out­side of that occu­pa­tion, and through the glass win­dows, we could see our com­rades mov­ing about, dis­cov­er­ing the new space and imag­in­ing all its pos­si­bil­i­ties. We stood just at the edge of what I felt was safe for us, because we want­ed that line to be vis­i­ble – so that more par­ents and more chil­dren can rec­og­nize that so much of this is already with­in our con­di­tions of pos­si­bil­i­ty.
---
For the three and a half days that the aban­doned bank was occu­pied, the occu­piers dis­cussed plans for the build­ing to become a com­mu­ni­ty cen­ter in which chil­dren could some­day have access to day­care, med­ical atten­tion, food, and books. The space would have become an amaz­ing resource for my daugh­ter. And there were many who would have made that hap­pen, if the group was not under con­stant threat of a police attack.
Today, a few months into the glob­al phe­nom­e­non of park encamp­ments, the "occu­py every­thing" move­ment needs to uproot itself and seek out indoor spaces like one of the many emp­ty or fore­closed build­ings in down­town San­ta Cruz, along with those in every oth­er town or city in the Unit­ed States. Win­ter is upon us, and it is time to rec­og­nize that many peo­ple "occu­py every­thing" not because they read Marx in col­lege, and have a lot of free time to attend gen­er­al assem­blies due to the flex­i­ble hours of a part-time job, but because they have nowhere else to go. When I think of some of the women who bring their chil­dren to many of these occu­pa­tions, I feel for­tu­nate that I am able to access stu­dent loans – adding to the more than one tril­lion dol­lars of nation­al stu­dent debt – so that I can some­how rent out a roof over my daughter's head.
And yet, these women and chil­dren are mar­gin­al­ized by the dom­i­nant con­cept of "occu­py every­thing." They are pushed to the mar­gins by the sen­sa­tion­al­ized nar­ra­tive of police bru­tal­i­ty that now utter­ly dom­i­nates the movement's self-con­cep­tion. Since the threat of police attacks has increased – and a coor­di­nat­ed war planned by may­ors across the coun­try has been brought down upon civil­ians – the cul­ture of these protests has been altered by a sort of adven­tur­ist machis­mo. To par­tic­i­pate, one must be arrestable, and arrests must be afford­able: one must have the funds, the spare time, the free­dom from respon­si­bil­i­ties. Ulti­mate­ly, the arrestable are those who rep­re­sent the move­ment. They speak of the move­ment as what "we are doing," as if to address a you who is not doing.
Mean­while, par­ents who bring their chil­dren to protests are called idiots, self­ish peo­ple who use their babies as "human shields." I'm fine with being called an idiot by peo­ple who I think are idiots, but I'm extreme­ly offend­ed by the notion of using my daugh­ter as a shield from the police. And more­over, it's clear by now that such a shield wouldn't work any­way: the police will tear gas my baby, they will take her as col­lat­er­al dam­age, and then I will be blamed for their inhu­man­i­ty.
What's unfor­tu­nate for every child in the Unit­ed States is that once they are no longer being fetishized as a fetus, they are born into a world that only knows how to exploit them. Chil­dren are always exploit­ed as means of pre­vent­ing the agency of their moth­ers – and con­se­quent­ly, moth­ers are shamed for what­ev­er choic­es they make, begin­ning with con­cep­tion. This is what hap­pened to Jen­nifer Fox, the preg­nant woman who said she suf­fered a mis­car­riage after the Seat­tle police assault­ed her with batons and pep­per spray on Novem­ber 15. Ever since the sto­ry broke, Fox has been called a liar, and there are still blog dis­cus­sions ded­i­cat­ed to piec­ing togeth­er the woman's tes­ti­monies. How­ev­er ambigu­ous the facts, it is clear that this woman is being tried for mur­der on the Occu­py blo­gos­phere, in full accor­dance with the log­ics of patri­archy and state repres­sion. By now, sto­ries like this rep­re­sent an epi­dem­ic with­in the occu­pa­tion move­ment which, as far as I can tell, has been steadi­ly ignored.
While I was thrilled to sup­port the occu­pa­tion of 75 Riv­er Street – the aban­doned bank that is only a few blocks away from my home – my role out­side the build­ing left me feel­ing iso­lat­ed, with­out a com­mu­ni­ty dur­ing this new adven­ture of hav­ing a fam­i­ly. I found myself feel­ing more intense­ly afraid of the police, and wor­ried about the safe­ty of my daugh­ter, even as an out­side observ­er.
---
A week lat­er, Occu­py San­ta Cruz request­ed that peo­ple gath­er at San Loren­zo park, where the encamp­ment was being evict­ed. Most of the peo­ple who were liv­ing in the encamp­ment were home­less, and spent the after­noon sav­ing their belong­ings from being tak­en by police, thrown into dump­sters, and crushed. Our fam­i­ly walked to the park at an already cold hour. I wrapped my daugh­ter in my coat and sat down next to a friend, who has been espe­cial­ly thought­ful in updat­ing me on the details of gen­er­al assem­blies and more dis­creet meet­ings that I haven't been able to attend.
A few min­utes lat­er, I noticed that a woman sit­ting near us was cry­ing, and star­ing at my daugh­ter.
"How old's your baby?" she asked me.
"Two months old," I told her.
Just then, an acquain­tance of mine – one of these adven­tur­ist sorts, who I might now say is a friend from a pre­vi­ous life – came to whis­per some­thing in my friend's ear. Some­thing about meet­ing in one of the remain­ing tents to plan for an arrest action. My friend encour­aged me to join him, but I told him just to count on me as his con­tact for jail sup­port.
When he left, the cry­ing woman came clos­er. She was silent, with tears flow­ing from her eyes, which were locked on the face of my sleep­ing baby. An old­er man walked by us, strum­ming his gui­tar and singing "Swing Low, Sweet Char­i­ot," and I put my hand on the woman's shoul­der. Her cry­ing turned to sob­bing, when final­ly she explained, "I lost my new­born last year, on Decem­ber 12." I held her more firm­ly, and, near­ly dumb­struck, could only think to repeat to her, "it's okay, it's okay." A few min­utes lat­er, the woman gath­ered her things and head­ed into the dark, leav­ing behind a home that could only be tem­po­rary.
That night, as Kyle and my daugh­ter slept beside me in our bed, I lay awake think­ing about the life of that woman, alone in the world that killed her baby. In the Occu­py move­ment, these invis­i­ble peo­ple are every­where. Peo­ple who can­not feel safe in the front lines, who are not the priv­i­leged col­lege stu­dents being pep­per-sprayed, or the hero­ized arrestees who are bailed out hours lat­er.
Hav­ing a child exclud­ed me from the adven­tur­ist lifestyle I had two years ago. And yet, in becom­ing a par­ent, and in being exclud­ed from some of my pre­vi­ous priv­i­leges, I've been giv­en access to a form of sol­i­dar­i­ty that I nev­er had before, with those whose pre­car­i­ty has been ren­dered unsen­sa­tion­al by the obses­sion to the­o­rize and demon­strate for them, rather than with them. For moth­ers with chil­dren, and so many oth­ers on the mar­gins, the Occu­py move­ment has pro­vid­ed every­one who par­tic­i­pates an oppor­tu­ni­ty to gen­er­ate and mate­ri­al­ize sol­i­dar­i­ty with those who must live in the shad­ow of the move­ment.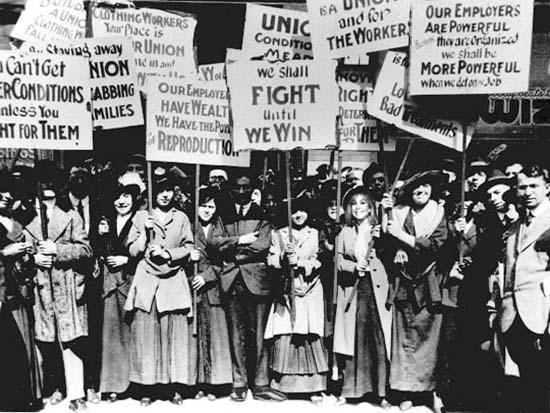 ---
Made­line Lane-McKin­ley
is a grad­u­ate stu­dent at UC San­ta Cruz. She has con­tributed to the Uni­ver­si­ty of Chica­go
Media The­o­ry Glos­sary
, and is prepar­ing a series of essays on glob­al­iza­tion and utopia for pub­li­ca­tion.