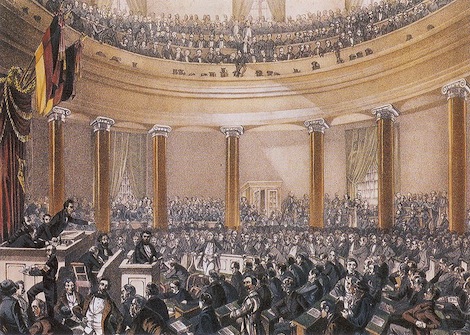 Com­ing out of the city on the train one morn­ing, I passed by Occu­py Frank­furt – maybe three dozen large tents, a con­cen­trat­ed but stead­fast group. It was pour­ing rain – my run from the tram to the main train sta­tion left me soak­ing, despite umbrel­la – but the encamp­ment seemed unper­turbed, perched as it is under­neath some of the largest sym­bols of Europe's finance sec­tor.
The speci­fici­ty of Occu­py broke US bor­ders in Octo­ber and land­ed in Lon­don, Berlin, Frank­furt. As Axel Hon­neth has recent­ly point­ed out, Occu­py is a new form of col­lec­tive agent – we might add that its mod­el reacts dif­fer­ent­ly with dif­fer­ent set­tings.1 In the US, Occu­py lit­er­al­ly fills in a hole in the polit­i­cal-eco­nom­ic log­ic of the present. As we learned this week, even politi­cians of the high­est lev­el in the US are "pro­tect­ed" from the inter­nal deal­ings of the Fed­er­al Reserve (where "inter­nal" includes the mem­ber banks, emphat­i­cal­ly not pub­lic cor­po­ra­tions). It is as if Occu­py had respond­ed to this con­spir­a­to­r­i­al state of affairs in advance, point­ing out the lack of the slight­est pub­lic or insti­tu­tion­al focus on the real­i­ties of finance pol­i­tics. Not that we don't talk pub­licly of finance – we do that almost con­stant­ly. But the polit­i­cal ele­ment of this dis­cus­sion has been miss­ing, drowned in the tech­ni­cal­i­ties of "sur­vival." What Occu­py occu­pies, we could say, is a log­i­cal hole in the glob­al finan­cial land­scape. It stakes its claim where the voice of pol­i­tics seems to dis­ap­pear into the machi­na­tions of an ana­lyt­ic eco­nom­ics. To para­phrase one of the movement's bet­ter slo­gans: you can't evict a neces­si­ty.
To see that neces­si­ty in cor­po­re­al form this morn­ing was strik­ing. Mil­i­tary-grade tents pro­tect­ed sol­i­dar­i­ty from the cold down­pour in the tra­di­tion­al cen­ter of Germany's war between cap­i­tal­ism and cri­tique. The encamp­ment lay between the finance dis­trict and the Paulskirche, where the 1848 rev­o­lu­tions in Ger­many began. And Hon­neth is now direc­tor of the Insti­tut für Sozial­forschung, the root insti­tu­tion of what came to be known as the Frank­furt School. Frank­furt – already an eman­ci­pat­ed city-state when Goethe was born there in 1749 – is the present con­tra­dic­tion between finan­cial tech­nics and polit­i­cal insis­tence incar­nate. Incar­nate – but also trans­formed. Occu­py occu­pies dif­fer­ent­ly in Europe, and I want to sug­gest a few points of dif­fer­ence here.
The biggest head­lines here are about sav­ing the Eurozone's cur­ren­cy-based uni­ty. Inter­nal con­tro­ver­sies – should the Euro­pean Cen­tral Bank issue bonds? what per­cent­age of GDP is appro­pri­ate as debt-share? – are inter­na­tion­al, but the sense of nation­al stand­point is strong. (There is much talk of the dou­ble-nation­al jug­ger­naut "Merkozy.") In fact, the con­tro­ver­sies are car­ried out in an inter­na­tion­al dia­logue which is nev­er­the­less only half insti­tu­tion­al­ized. The Com­mis­sion in Brus­sels has rel­a­tive­ly lit­tle polit­i­cal pow­er in the Unit­ed States of Europe, which is an ad-hoc democ­ra­cy of states. The real­i­ty of the Euro­zone is pre­car­i­ous because it is not clear that any polit­i­cal uni­ty remains in the event of a sys­temic cri­sis.
To save the Union, the eco­nom­i­cal­ly stronger mem­bers have implic­it­ly sup­port­ed regime-change in the weak­er mem­bers, lead­ing to the "cor­rect" result that tech­nocrats like Mon­ti in Italy (whose expe­ri­ence, as the media do not tire of point­ing out, is in the Com­mis­sion, not in Ital­ian par­lia­ment) must be entrust­ed with the task of reduc­tion of debt below a cer­tain, unde­ter­mined point. (Germany's debt, stand­ing in the low 80s of per­cent of GDP, is itself already far out­side the mar­gin estab­lished in the con­sti­tu­tion.) The real­i­ty of the Union wavers between its eco­nom­ic and tech­no­crat­ic forms and its ad-hoc polit­i­cal inter­na­tion­al­ism. The Union is there­fore per­haps the best case-study in the emer­gent forms of finance cap­i­tal­ism. While in the US we face con­gres­sion­al dead­lock and the increas­ing secre­cy of the exec­u­tive branch (and its coop­er­a­tion with finance in par­tic­u­lar), in Europe Occu­py responds to a less uni­fied, less mil­i­ta­rized, less exec­u­tive polit­i­cal-eco­nom­ic real­i­ty. If Occu­py is inter­na­tion­al – if it wants to become glob­al – its pos­si­bil­i­ties in Europe must be explored for just this rea­son. As de fac­to inter­na­tion­al as the US is, Europe's nego­ti­a­tions present us with a sort of pur­er exam­ple of finance capitalism's polit­i­cal super­struc­ture. In the con­tin­u­al redraw­ing of inter­nal and exter­nal lines in a space sin­gu­lar­ly reac­tive to both nation­al and local polit­i­cal exi­gen­cies and finan­cial "neces­si­ties," we are wit­ness to finan­cial class pol­i­tics, a pol­i­tics which artic­u­lates itself as a class­less reduc­tion to tech­ni­cal ques­tions, to eco­nom­ic "health."
Occupy's US branch­es are already react­ing to an insti­tu­tion­al lack: no major US insti­tu­tion makes any pre­tense to lev­el­ing wealth inequal­i­ty, nor to a con­fronta­tion with finance in any crit­i­cal reg­is­ter. In Europe, this is also true, but with a dif­fer­ence. Where in the US the pos­si­bil­i­ty of a left-wing par­ty in Con­gress robust­ly defend­ing some oth­er bal­ance between finance and indus­try is cer­tain­ly think­able (wit­ness Robert Reich's nos­tal­gia for post-war cap­i­tal­ism), in Europe the "new col­lec­tive agent" is respond­ing to the pos­i­tive need for some­thing entire­ly new: a "Finance Left," a Left for a new mode of pro­duc­tion, nec­es­sar­i­ly inter­na­tion­al, which must seek forms of col­lec­tiv­i­ty and insti­tu­tion­al­iza­tion in response to the half-insti­tu­tion­al­ized finan­cial unit "Europe." This move­ment, which Occu­py has con­jured the basis of, needs to rec­og­nize its real­i­ty, but not its ide­ol­o­gy, in finance cap­i­tal. For that, it must look to Europe.
US Occu­py might take a few ques­tions into account on this basis. Is the movement's inter­est inter­na­tion­al? Is its finance-cri­tique aimed at the insti­tu­tion­al depth and breadth of finance cap­i­tal as such? If so, I think it should keep an eye on Europe, both on Merkozy and on the protests here, for the sim­ple rea­son that the eco­nom­ic real­i­ty of finance-cap­i­tal is reflect­ed in the national/international con­tra­dic­tion in Europe at the polit­i­cal lev­el. Europe presents the inter/national pol­i­tics of finance in a lit­er­al­ly exem­plary man­ner, bear­ing the famil­iar marks of finan­cial­iza­tion in the econ­o­my: pre­car­i­ty, mobil­i­ty, dis­so­lu­tion, tech­ni­cal­i­ty, reduc­tion of deci­sions to the log­ic of "sur­vival."
The "prob­lem" of Europe's full tech­ni­cal insti­tu­tion­al­iza­tion in the Com­mis­sion and polit­i­cal ad-hoc (dis)unity is not neg­a­tive, in finance-polit­i­cal terms, but enabling. Europe crys­tal­lizes the asym­met­ri­cal rela­tion­ship between power's base and its insti­tu­tion­al­iza­tion, pre­cip­i­tat­ing in a strug­gle over nation­al sov­er­eign­ty which is explic­it­ly pushed into the back­ground by the "prag­ma­tists" Merkozy. The uni­lat­er­al clar­i­ty of the mil­i­tary-finan­cial com­plex of the US and its Bret­ton Woods insti­tu­tions (the WTO, the IMF, and the World Bank) now has a par­al­lel mod­el, mul­ti­lat­er­al finance pol­i­tics in Europe. If the crises leave the US in a mid­dling posi­tion in glob­al geopol­i­tics, we will be con­front­ed with the pri­ma­cy of this lat­ter form. The Glob­al Left might need not be fur­ther insti­tu­tion­al­ized, at least not as its first task, but it cer­tain­ly needs to define its pow­er-base. If the indus­tri­al strug­gle was based on the own­er­ship of sur­plus-val­ue – who gets the results of human productivity's excess – then finan­cial strug­gle might be about debt. Per­haps the ana­lyt­i­cal focus of the inter­na­tion­al move­ment must be the (ulti­mate­ly) dol­lar-val­ue each of us – and each nation – must bear. The uncan­ny pos­si­bil­i­ty that one could sum up neg­a­tive is for all that not the less real. How does a glob­al col­lec­tive pro­pose to address real neg­a­tive quan­ti­ties?
---
1
. "Mich fasziniert, dass [die Occu­py-Bewe­gung] einen neuen Typus von kollek­tivem Akteur her­vorzubrin­gen scheint." In "Das Finanzkap­i­tal ent­macht­en,"
philoso­phie Mag­a­zin
Nr. 01/2012, p. 60. ["It fas­ci­nates me that [the Occu­py move­ment] appears to be pro­duc­ing a new type of col­lec­tive agent."]
---
Leif Weath­er­by is a grad­u­ate stu­dent at the Uni­ver­si­ty of Penn­syl­va­nia, and cur­rent­ly a guest in the depart­ment of phi­los­o­phy at the Hum­boldt Uni­ver­si­ty in Berlin.