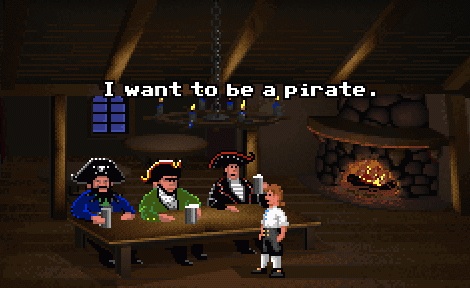 "The rul­ing class in the Unit­ed States," as McKen­zie Wark puts it in the recent spe­cial issue of The­o­ry and Event on the Occu­py move­ment, "is less and less one that makes things, and more and more one that owns infor­ma­tion and col­lects a rent from it." Every time you buy a CD or DVD, even every time you stream from YouTube or Net­flix, you're not fund­ing artists. You're fund­ing the 1% and their per­son­al army of met­ro­pol­i­tan police, whose major inter­est right now seems to con­sist of gassing stu­dents and tear­ing down barns. What's a polit­i­cal­ly informed media junkie to do? Prob­a­bly what you're already doing – pirate.
You already know how pira­cy gets you stuff for free while keep­ing your dwin­dling finan­cial resources away from evil multi­na­tion­als such as Time Warn­er, Sony, and Apple. But as we're find­ing out, pira­cy pro­vides a lot of oth­er pos­i­tives, resources that we'll need in the com­ing strug­gle. Here are a few:
1. Pira­cy edu­cates. Adri­an Johns, who lit­er­al­ly wrote the book on pira­cy, cred­its scofflaws with spread­ing the Enlight­en­ment through­out 17th cen­tu­ry Europe, in con­tra­ven­tion of estab­lished pub­lish­ing rights. Right now, a clus­ter of stu­dents near you are set­ting up their own crash course in rad­i­cal thought using a trove of PDFs they've snagged from a pirate e-library. I'm not going to name names pub­licly, lest I bite the hand that just yes­ter­day fed me a .zip file of every­thing Stu­art Hall has ever pub­lished. But you can find what you're look­ing for with­out too much trou­ble using Google. Or why not read some­thing free, legal, and sub­ver­sive at marxists.org?
2. Pira­cy builds local infra­struc­ture. Bri­an Larkin's work on Niger­ian video pira­cy shows how domes­tic infra­struc­ture "preys on the offi­cial dis­tri­b­u­tion of glob­al­ized media… but at the same time cre­ates pos­si­bil­i­ties for new actions." Niger­ian dis­trib­u­tors got their start by dub­bing Hol­ly­wood flicks. (Before we shed a tear for Jer­ry Bruck­heimer, note that the MPAA stopped releas­ing films in Nige­ria in 1981.) After their dis­tri­b­u­tion net­works sta­bi­lized, they moved on to releas­ing cheap domes­tic films, which now dom­i­nate the Niger­ian mar­ket. A sim­i­lar thing hap­pened with boot­leg­gers of hip hop – now, instead of going through major label has­sles only to have their core audi­ence rip them off, the biggest rap­pers work with boot­leg­ger net­works, releas­ing mix­tapes on what­ev­er beat they like, and usu­al­ly craft­ing a bet­ter lis­ten­ing expe­ri­ence than the focus-group feel of offi­cial albums. In DC, you can't even find "offi­cial" releas­es of local urban music – prac­ti­cal­ly all go-go sales go through infor­mal chan­nels. Buy local, buy pirate.
3. Pira­cy is keep­ing you free. Pirates are supreme­ly inter­est­ed in pri­va­cy – just check out the plat­form of Germany's Pirate Par­ty. They are break­ing the law in an act of civ­il dis­obe­di­ence and they don't want to be caught by track­ers, bots, or hack­ers work­ing for the state or busi­ness. Their inter­ests are per­fect­ly aligned with rev­o­lu­tion­ar­ies. Whether you want to order LSD online or trade strate­gies for tak­ing down the Egypt­ian mil­i­tary regime, you'll prob­a­bly want to use Tor or anoth­er form of anonymiz­er. The elec­tron­ic noos­es are tight­en­ing, and pirates and hack­ers – not gov­ern­ments of, by, and for the 1% – are the ones who will keep us breath­ing.
4. Pira­cy is cheap. As Ravi Sun­daram points out, "pirate moder­ni­ty" is the only one the mass­es of poor coun­tries get to expe­ri­ence. But this doesn't just apply to the Glob­al South. As the work­ing class­es in rich coun­tries get squeezed, we'll find pira­cy an increas­ing­ly use­ful pad to our incomes while we save up for that den­tist vis­it. I used to buy a lot of records. And though my income has dipped and my expens­es have gone up, I still want to lis­ten to music. So I do. Should I feel guilty? Maybe, but it's not like I have the mon­ey to throw at lim­it­ed run twelve-inch­es. And I find myself lis­ten­ing to more and more freely dis­trib­uted mix­es and remix­es on sites like Sound­Cloud and 4shared. I'm sure that some sump­tu­ous pro­duc­tions are com­ing out of nice stu­dios, but real­ly, I'm on more of a 16-year-old-Domini­can-kid-with-Fruity-Loops bud­get. Larkin describes pirate video as degrad­ed and dis­tort­ed: that pira­cy has a form and an aes­thet­ic in addi­tion to an econ­o­my. But every form is its own acquired taste – for instance, I still hate HD. So learn to love the slop­py ener­gy of rough reg­gae­ton remix­es, and devel­op a fond­ness for the Russ­ian cam­corder guy munch­ing pop­corn through the lat­est X-Men sequel – after all, we're all on the same side.
---
Gavin Mueller is a grad­u­ate stu­dent in cul­tur­al stud­ies at George Mason Uni­ver­si­ty. He lives in Wash­ing­ton DC.