Novem­ber 8, 2011. I was shoot­ing pool at State College's best dive bar when the bounc­er came run­ning in, his face flushed with excite­ment. Accord­ing to TV news, he told us, the Penn State Board of Trustees had just fired foot­ball coach Joe Pater­no. Though Pater­no had already declared his inten­tion to retire at the end of the sea­son, after alle­ga­tions that he had con­doned an ongo­ing pat­tern of child molesta­tion by assis­tant coach Jer­ry San­dusky, the trustees decid­ed they couldn't wait. Pater­no would not be coach­ing that Saturday's home game.
My friends and I real­ized that Penn State kids would not be tak­ing this well. Joe Pater­no may have been a minor nation­al celebri­ty, but he was Pre­mier of State Col­lege, with sovi­et real­ist pro­pa­gan­da ded­i­cat­ed to him all over town—including a bronze stat­ue. The trustees had announced the beloved figurehead's dis­missal at a time when many stu­dents were already drunk, a deci­sion inter­im Pres­i­dent Rod­ney Erick­son would have trou­ble defend­ing in days to come. Even though Penn State kids become com­plete­ly dif­fer­ent peo­ple every four years, they always seem to be more like­ly to riot than your aver­age col­lege stu­dents.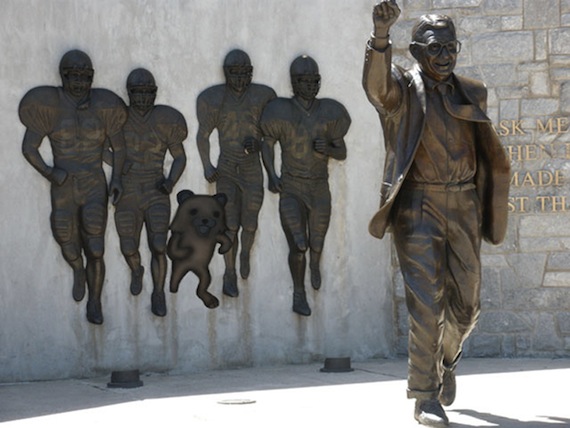 I don't know whether sports are always what Noam Chom­sky has called "train­ing in irra­tional jin­go­ism," but that night I became con­vinced that in State Col­lege, they are lit­tle more than that. In his land­mark study of ide­ol­o­gy, Louis Althuss­er point­ed out that "the role of sport in chau­vin­ism is of the first impor­tance." But it isn't only the sense of assumed region­al loy­al­ties and resent­ment for for­eign ene­mies that sports instill in par­tic­i­pants and spec­ta­tors alike. Althuss­er elab­o­rates:
The repro­duc­tion of labour pow­er requires not only a repro­duc­tion of its skills, but also, at the same time, a repro­duc­tion of its sub­mis­sion to the rules of the estab­lished order, i.e. a repro­duc­tion of sub­mis­sion to the rul­ing ide­ol­o­gy for the work­ers, and a repro­duc­tion of the abil­i­ty to manip­u­late the rul­ing ide­ol­o­gy cor­rect­ly for the agents of exploita­tion and repres­sion.
The imag­i­nary rela­tions rep­re­sent­ed by sports are high­ly effi­cient train­ing for life under cap­i­tal­ism. Play­ers are work­ers, their bod­ies instru­ments of labor, apply­ing a Protes­tant work eth­ic to an appar­ent com­pet­i­tive mer­i­toc­ra­cy. In the case of col­lege sports, as a damn­ing arti­cle in The Atlantic recent­ly addressed, the sur­plus val­ue extract­ed from their labor is at a max­i­mum: col­le­giate ath­letes are not finan­cial­ly com­pen­sat­ed for their many hours of work. Mean­while, the oli­garchic struc­ture of the indus­try pro­duces sym­bol­ic wealth for the admin­is­tra­tive rul­ing class in the form of wins, not to men­tion actu­al prof­it for the uni­ver­si­ty itself. To be sure, play­ers enjoy their brief moments of glo­ry. But there are no stat­ues of foot­ball play­ers in State Col­lege.
Paterno's dis­missal threw Penn State into ide­o­log­i­cal cri­sis, as we saw that night after climb­ing the stairs out­side. Sure enough, the streets were flood­ed with young peo­ple dressed in blue and white. It was unclear at this point where they were head­ed. Some car­ried signs defend­ing Pater­no. Some cheered. Oth­ers fol­lowed with indig­nant resolve. Oth­ers fol­lowed just to fol­low, gid­dy with the thrill of being part of the crowd.
Nerds like us often play a dan­ger­ous game in sit­u­a­tions like this, the point of which is to find a guy big­ger than you and insult him as much as pos­si­ble with­out let­ting him real­ize he's being insult­ed. Bonus points if he real­izes he's being insult­ed but you talk him out of beat­ing you up. You lose if he beats you up. I've nev­er lost.
We played this game for much of the night. To the ubiq­ui­tous call-and-response chant, "We are?" "Penn State!" we answered "Pedophiles!" We informed cou­ples that some­day their own chil­dren would ask them why they defend­ed a child moles­ter. Some we just asked why they were there. We nev­er got much of an answer. When I shout­ed after one kid that his actions were an endorse­ment of child rape, he looked as though he was seri­ous­ly con­sid­er­ing turn­ing around and tak­ing the time to kick my ass. But after regard­ing me with con­tempt for a moment, he dis­missed me with log­i­cal rea­son­ing: "You're not even Amer­i­can," he scoffed, and walked on.
He had a point. What he meant, though, was not quite the same as what he said. What he meant was, "you're not even white," and he was right. I'm not white at all. In fact, at that moment I was prob­a­bly the only non­white per­son on the whole block. But when it comes to being Amer­i­can, my cre­den­tials are impec­ca­ble: I was born and raised in State Col­lege, PA.
"There's only one good use for a small town," goes a song by Lou Reed. "You hate it, and you know you'll have to leave." I hat­ed State Col­lege. Many accounts of the San­dusky affair by cur­rent and for­mer res­i­dents would have you believe that this scan­dal is a fall from grace. There was once a con­sen­sus, they say: we loved Penn State, and we loved foot­ball. Most of all, we loved Uncle Joe and his Blue and White Army.
I didn't. To me and the kids I hung out with, Penn State foot­ball didn't mean "suc­cess with hon­or," as Paterno's now-infa­mous slo­gan would have it. It didn't mean we were part of a com­mu­ni­ty, or a tra­di­tion. What Penn State foot­ball meant was that in State Col­lege, there were no all-ages con­certs, no cin­e­mas that screened for­eign films, no radio sta­tions with any­thing but Top 40 hits or clas­sic rock. Like many lit­tle col­lege towns, State Col­lege is infused with a sub­mis­sive parochial­ism that finds its stark­est expres­sion in team spir­it.
The sub­mis­sion to the rul­ing ide­ol­o­gy Althuss­er iden­ti­fied in the struc­ture of spec­ta­tor sports has been the defin­ing char­ac­ter­is­tic of the ugly state of affairs at Penn State. The sto­ry begins, at least in legal terms, with grad­u­ate stu­dent Mike McQueary alleged­ly dis­cov­er­ing San­dusky rap­ing a 10-year-old boy, after he heard a "rhyth­mic slap­ping sound" ema­nat­ing from the lock­er room show­ers. McQueary has had trou­ble keep­ing his sto­ry straight since then, but his Grand Jury tes­ti­mo­ny is incrim­i­nat­ing. He made eye con­tact with both San­dusky and his vic­tim, but he didn't stop the rape, and he didn't call the cops. He told Uncle Joe.
The most dis­turb­ing thing about McQueary's pas­siv­i­ty is not the con­duct of one man, but that his ide­o­log­i­cal con­di­tion­ing to walk away from an atroc­i­ty may not be so unique. For­mer NFL full­back Jon Ritchie, who was men­tored by San­dusky ear­ly in his career, spec­u­lat­ed on ESPN with dis­arm­ing hon­esty on how he would react to the scene Mike McQueary said he saw:
This is the guy who was sec­ond-in-com­mand to Joe Pater­no. In State Col­lege, where Mike was born and raised, Joe Pater­no is a deity. This man was sec­ond-in-com­mand dur­ing Mike's stay in State Col­lege as a play­er. I hear guys say­ing, "Hey, I would have gone in and stopped it." I don't think I could have.
It's no sur­prise; Amer­i­can sports repli­cate the cor­rup­tion char­ac­ter­is­tic of the rul­ing class­es, and leave its wit­ness­es pow­er­less. The Chica­go Tri­bune points out that Penn State is not an iso­lat­ed inci­dent, cit­ing reports of sex crimes by coach­es of youth foot­ball teams in Texas, Rhode Island, Nebras­ka, Illi­nois, and Virginia—all episodes from this year alone. Even legal pro­ceed­ings sur­round­ing the Penn State case appear to be lit­tle more than an invo­ca­tion of blind faith in the ide­o­log­i­cal under­pin­nings of Amer­i­can sports cul­ture. "He's a jock," Sandusky's lawyer told CNN, as though that explains every­thing. "The bot­tom line is jocks do that—they kid around, they horse around." And they get away with it.
This sick sense of enti­tle­ment is inevitable any­where these sorts of hier­ar­chies flour­ish. Pier Pao­lo Pasolini's noto­ri­ous film Salò, based on the Mar­quis de Sade's nov­el 120 Days of Sodom, explores these libid­i­nal dimen­sions of polit­i­cal pow­er. A group of Ital­ian fas­cists in the last days of Mussolini's regime kid­nap and tor­ture 18 teenagers, enact­ing their basest sex­u­al fan­tasies. Inter­na­tion­al impe­ri­al­ism is not enough; they crave an impe­ri­al­ist expan­sion into flesh. Pasoli­ni shows sol­diers and house staff look­ing on indif­fer­ent­ly, some­thing like Europe's com­pla­cent bystanders to the rise of fas­cism. Some­thing like the admin­is­tra­tive offi­cials at Penn State Uni­ver­si­ty, who let San­dusky live out his own days of Sodom.
We may nev­er know the full extent of Paterno's involve­ment in cov­er­ing up Sandusky's bad habit, but he is unques­tion­ably impli­cat­ed. For­mer Penn State assis­tant coach Mike Pak­nis has no patience for Paterno's denials. "Joe knows every­thing," he told NBC Sports, claim­ing that Pater­no abet­ted San­dusky from the begin­ning. This alle­ga­tion is con­sis­tent with Paterno's long­stand­ing ten­den­cy to manip­u­late the uni­ver­si­ty sys­tem to his advan­tage. The Wall Street Jour­nal has report­ed that in 2007, after six Penn State foot­ball play­ers assault­ed stu­dents in an off-cam­pus inci­dent, the university's Vice Pres­i­dent of Stu­dent Affairs called for an appli­ca­tion of the same dis­ci­pli­nary stan­dards that would apply to any oth­er stu­dents, instead of the cus­tom­ary brush­ing-under-the-rug Penn State foot­ball play­ers enjoyed. Pater­no used his finan­cial clout to force her to resign.
Why, then, did stu­dents take to the streets to oppose the top­pling of a dic­ta­tor? Their out­rage was blind, and it was bar­bar­ic. The Nation's sports cor­re­spon­dent, Dave Zirin, sum­ma­rized the antics of the kids I saw in down­town State Col­lege that night:
Stu­dents over­turned a media truck, hit an ESPN reporter in the head with a rock and made every effort at arson, attempt­ing to set aflame the very heart of their cam­pus. They raised their fists in defense of a man fired for alleged­ly cov­er­ing up the actions of a revered assis­tant who dou­bled as a ser­i­al child rapist. The almost entire­ly male stu­dent mob was giv­en the space by police to seethe and destroy with­out restraint.
That same day, Zirin point­ed out, stu­dents at Berke­ley were peace­ful­ly protest­ing as part of the nation­al Occu­py move­ment. Cops beat them bru­tal­ly with riot sticks. If Penn State stu­dents won't join the nation­al protest against the eco­nom­ic cor­rup­tion plagu­ing their country—a cir­cum­stance that leads to relent­less tuition increas­es for them and their families—can't they at least protest against the cor­rup­tion at their own uni­ver­si­ty that allows a vio­lent pedophile easy access to vic­tims? Appar­ent­ly not. Thou­sands of stu­dents ral­lied in sup­port of his spon­sor.
There was some dis­sent. The next day, stu­dents and com­mu­ni­ty mem­bers held a can­dle­light vig­il in hon­or of the vic­tims, a valu­able act that is nonethe­less no replace­ment for hold­ing the pow­er­ful account­able. Those attend­ing the fol­low­ing Saturday's game orga­nized what they called a "Blue-Out." In con­trast to the usu­al "White-Out," in which fans show their sol­i­dar­i­ty at Penn State's Beaver Sta­di­um by dress­ing in white, the Blue-Out called for game-goers to wear blue, a col­or that is asso­ci­at­ed with pro­mot­ing aware­ness of child abuse. Blue and white, of course, are coin­ci­den­tal­ly Penn State's team col­ors. The result was an almost com­i­cal dis­play, with the stadium's seats full of spec­ta­tors wear­ing the same old Penn State shirts. Noth­ing real­ly changed.
For the first time in my life, I watched a foot­ball game. I was glued to the tele­vi­sion, hop­ing Penn State would lose. I was against my home team not out of any resent­ment for the play­ers or the fans. I feared that a win would incite a tri­umphal­ist fer­vor in the mis­guid­ed kids who riot­ed before, and they would destroy our town.
We lost. Of course we lost. It was the first game Penn State played with­out Coach Pater­no on the side­lines since Dylan went elec­tric. Uncle Joe still holds the record for win­ning more games than any col­le­giate foot­ball coach, a record he broke a week before the San­dusky alle­ga­tions sur­faced. But that isn't going to be his lega­cy. At best, Joe Pater­no is guilty of doing too lit­tle in the face of evil. It's dif­fi­cult not to con­clude that the stu­dents, the admin­is­tra­tion, and the local com­mu­ni­ty have been guilty of the same. I've wait­ed my whole life for this town to snap out of it.
I'm still wait­ing.