A week ago, may­ors across the coun­try, work­ing with shad­owy law enforce­ment orga­ni­za­tions, coor­di­nat­ed a crack­down on the occu­pa­tions in their respec­tive cities. Wash­ing­ton DC's own occu­pa­tion was untouched. As cops cleared parks and trashed tents and famil­iar cities made it into the head­lines – Den­ver, Oak­land, Man­hat­tan – DC, yet again over­looked, felt like it hadn't been asked to the dance. My feel­ings were com­pound­ed when a few days lat­er, on Novem­ber 17 – a day of action in response to the crack­down, with thou­sands march­ing on Wall Street – Occu­py DC marched in sup­port of a jobs bill with the SEIU, who that day had endorsed Oba­ma for pres­i­dent. As police beat jour­nal­ists in New York, DC pro­tes­tors tweet­ed pho­tos stand­ing with arms around cops, wav­ing. As 30,000 peo­ple took over the Brook­lyn Bridge, Occu­py DC boast­ed of bare­ly imped­ing the flow of rush-hour traf­fic over the Key Bridge in George­town.
It was a rough week that seemed to crys­tal­ize all my mis­giv­ings about the city I've lived in for two years: its mis­recog­ni­tion of pol­i­cy for pol­i­tics, the com­pla­cen­cy of its well-com­pen­sat­ed fed­er­al work­ers, the bar­ri­er of seg­re­ga­tion between its pro­fes­sion­al class and its res­i­dents. As oth­er occu­pa­tions grad­u­al­ly formed their local char­ac­ters, Occu­py DC, its down­town loca­tion remote from the neigh­bor­hoods of long-time res­i­dents, looked like it was get­ting sucked into the vor­tex of mere­ly sym­bol­ic protest. I won­dered if this was the final unrav­el­ing and co-opta­tion of our lit­tle piece of the move­ment. With­out a gal­va­niz­ing rad­i­cal action, DC looked ready to dis­si­pate under its own con­tra­dic­tions.
For­tu­nate­ly, an action was already under­way. The tar­get was the Franklin School, an enor­mous brick Vic­to­ri­an build­ing, a spot of warmth and col­or among K Street's impos­ing, face­less cubes of met­al and glass – a bit of human­ism break­ing up the riot-cop aes­thet­ic of late cap­i­tal­ist bureau­cra­cy. The Franklin School hadn't been a school for some time. Declared a his­toric place and refur­bished in the 1990s, it had nev­er­the­less been closed down for years, its breath­tak­ing inte­ri­or walled off from the pub­lic behind board­ed-up win­dows. In 2002, new­ly formed hous­ing advo­ca­cy group MAYDAY DC occu­pied the build­ing as part of a suc­cess­ful cam­paign to turn the build­ing into an emer­gency shel­ter for the home­less. In 2008, cap­i­tal reclaimed the space by fiat: then-may­or Adri­an Fen­ty (whose plans for improv­ing the city inevitably relied on pri­va­ti­za­tion and gen­tri­fi­ca­tion) went against the wish­es of city coun­cil, evict­ed the ten­ants, and sold the build­ing to a con­do devel­op­er for a song. The sub­se­quent win­ter, a for­mer ten­ant died on the streets from hypother­mia. The build­ing has remained derelict ever since its sale.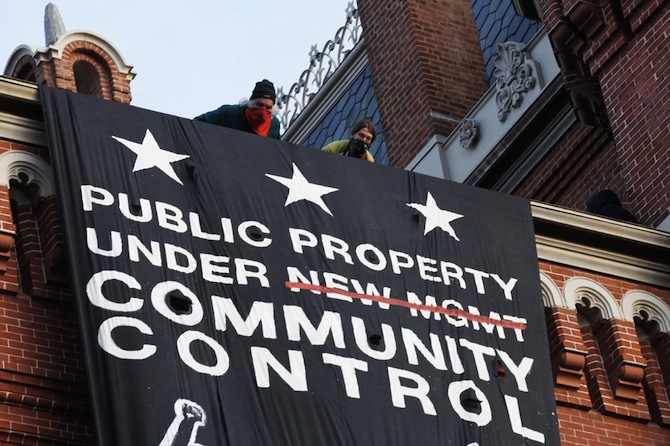 ---
The action was announced by a few tweets: Occu­py DC was now occu­py­ing the Franklin School. All my reser­va­tions about the occu­pa­tion were imme­di­ate­ly shoved aside. Every­thing I thought was good strat­e­gy for the occu­pa­tions – tak­ing over build­ings, work­ing with com­mu­ni­ty activists, call­ing atten­tion to the rav­ages of gen­tri­fi­ca­tion (wide­ly assumed to be an unal­loyed pos­i­tive in the Dis­trict), engag­ing in actu­al civ­il dis­obe­di­ence instead of just protest – had sud­den­ly, unex­pect­ed­ly come into play. A few min­utes lat­er: an announce­ment of police con­verg­ing on the build­ing. I hopped on my bike and made a bee­line to the school.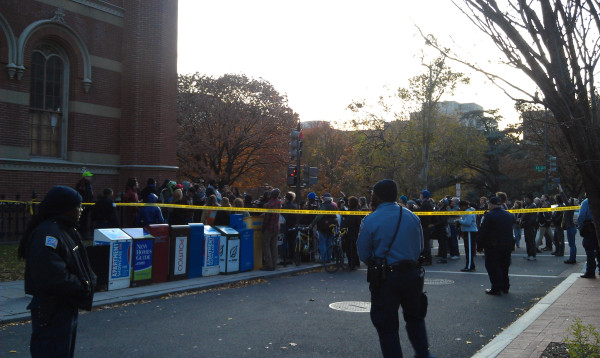 I arrived to a rau­cous protest of about 70 peo­ple on the cor­ner of 13th and K. An impres­sive black ban­ner had been dropped from the roof of the build­ing, about 40 feet up. Inside, occu­piers in col­or­ful hood­ies and ban­dana masks waved and raised fists. Across 13th street, in Franklin Park, some­one was blast­ing hip-hop with freestyles over top – I could only make out some of the words, but "Occu­py DC" was clear­ly among them. Cops had already start­ed block­ing off the streets and enclos­ing areas with police tape, stand­ing around look­ing bored. Some­one said the cops were going to wait us out, that we should get food and water to the build­ing. It turned out to be unnec­es­sary. As the sun set, a mic check went up – the cops are com­ing in! The occu­piers inside shout­ed that they would block police entry with their bod­ies. It was the last I heard from them for the rest of the night. Flash­lights danced around the walled-in court­yard amid sharp crack­ing sounds – the door being smashed in.
What fol­lowed were the slight­ly con­fused efforts of the rest of the protest to sup­port the occu­piers inside. An alley ran east-west along­side the school from 12th to 13th street, already roped off by cops. The police would have to take the occu­piers out the alley, so the plan was to block it. The group split into three – one group at each side of the alley, and a cen­tral ral­ly point at the cor­ner of 13th and K. A few peo­ple hopped on top of the wall, grab­bing an iron fence, to keep tabs on what was going on inside the build­ing. While the num­bers of peo­ple had dou­bled since when I first arrived, com­mu­ni­ca­tion between the three groups was dif­fi­cult. We have phones and cam­eras and Twit­ter and iPads, but when an action ramps up, every­one is too in-the-moment to use them. You become present in your sur­round­ings, the cocoon of swirling dig­i­talia in which so many of us nav­i­gate urban spaces sud­den­ly becomes a dis­trac­tion, an imped­i­ment, obscur­ing places instead of mak­ing them intel­li­gi­ble. I went to the alley entrance on 12th. "Lock arms, boy-girl-boy-girl," some­one shout­ed. There was some uncer­tain­ty as to why we would do this, but peo­ple did it. "We don't have resources for every­one to go to jail," I over­heard some­one say. A cop stepped harm­less­ly through the seat­ed peo­ple to snick­ers from skep­ti­cal occu­piers. Anoth­er cop who iden­ti­fied him­self as "Offi­cer Ron Paul" called one of the action com­mit­tee lead­ers over. "We are going to pull a van through one way or anoth­er, so you do what you have to do and we'll do what we have to do." It wasn't clear if that was a "hard way or easy way" threat. The action com­mit­tee leader sug­gest­ed that each per­son call a "trust­ed per­son" to say there was a pos­si­bil­i­ty of arrest. To kill time, peo­ple start­ed to say why they occu­pied; I went to check the oth­er end of the alley. A boy of about 10 rode up on an over­sized cruis­er bike. "I bet they got in through the back door there. You can get in if you jim­my it with a knife." This kid is clear­ly an asset to the move­ment, I thought. The traf­fic along K crawled as peo­ple gawked at the spec­ta­cle. A man in a white van – work­ing – rolled down his win­dow and asked what was going on. I explained the action to re-open the shel­ter. "Sounds like a great idea, I hope it hap­pens."
The oth­er end of the alley was a sim­i­lar sit­u­a­tion: about 30 peo­ple sit­ting, treat­ing their con­fu­sion and uncer­tain­ty with bemuse­ment and the occa­sion­al chant. DC's occu­pa­tion is not Oakland's – we are inex­pe­ri­enced in deal­ing tac­ti­cal­ly with cops, we are still fum­bling at how to coor­di­nate groups of peo­ple effi­cient­ly. Our activists come large­ly from NGOs and human rights orga­ni­za­tions and non-prof­its, not the street. The sit­u­a­tion was uncer­tain, but not tense. The DC police weren't in riot gear. They ambled about, look­ing bored. We mir­rored their actions. Every­one wait­ed as more peo­ple showed up on each side – cops with sirens and lights, pro­tes­tors on bikes. Police and pro­tes­tors chat­ted idly across yel­low tape.
The occa­sion­al chant went up, includ­ing "We are Yoshi Onoka­ta," the home­less man who died in the cold after the Franklin School was closed. In spite of the intend­ed sol­i­dar­i­ty with the plight of the home­less, some­thing both­ered me about young col­lege-edu­cat­ed peo­ple claim­ing this man's strug­gle as their own, so I didn't chant along. I can't claim to be vic­tim­ized in the same way as Yoshi Onoka­ta. The pad­dy wag­ons on 12th swung around to the entrance of the alley on 13th. The cops had taped off a sec­tion of the street with about 20 alley block­ers inside. Cops start­ed drag­ging limp pro­tes­tors from the build­ing to the vans, masks and hoods removed, arms and legs in cuffs. The crowd cheered. Passers­by stopped and asked what was going on. A boy on top of his dad's shoul­ders asked what was going on. "There are pro­tes­tors in the build­ing." "What are those?" A mid­dle-aged cou­ple with gro­cery bags slowed down. The woman start­ed film­ing with her phone – "Oh, some­one is get­ting in trou­ble," she mused. Her hus­band, look­ing con­sid­er­ably more somber, said noth­ing.
"Block the vans!" some­one shout­ed. But no one moved. Our num­bers – maybe 150 at the most – couldn't real­is­ti­cal­ly shut down the whole street, even if all of us had been will­ing to be arrest­ed. We are only begin­ning to build the bold­ness that comes from con­crete expe­ri­ences of sol­i­dar­i­ty, the con­fi­dence that comes from num­bers, the inspi­ra­tion that grows from dis­plays of brav­ery and sac­ri­fice from your com­rades. The first van took off with three occu­piers inside, pro­tes­tors bang­ing on the sides as it pulled away. As the sec­ond van start­ed to move, some­one threw him­self in front of it and was knocked to the ground. Police and pro­tes­tors swarmed around. I heard he was hurt, but no ambu­lance came – he must have been spir­it­ed away in the back of a cop car. The cops pushed peo­ple back – the only real con­tact between the crowd and the police – and the last two vans sped off. Police tape was ripped down, and peo­ple milled about on 13th Street. Cops start­ed pulling up stakes and leav­ing.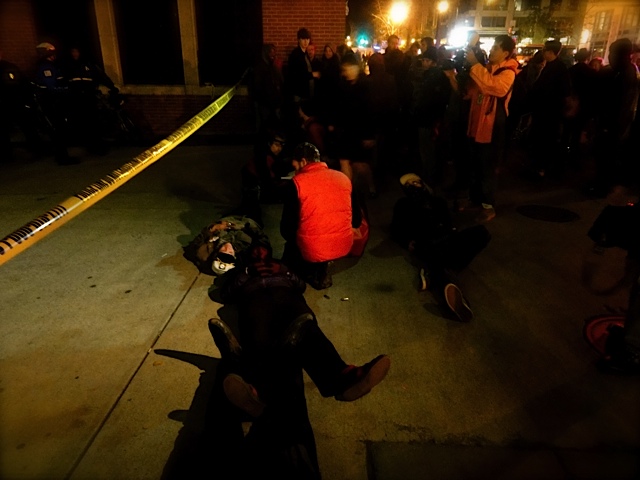 A mic check went up. "We are going to go back to McPher­son Square for a GA." The crowd seemed reluc­tant to go. Peo­ple grouped into hushed cliques. I noticed that most actions have had this char­ac­ter: some­one shouts out an action, there is hes­i­tan­cy as every­one gauges whether or not to do it and if oth­er peo­ple are going to, and then, maybe, some peo­ple act. Or they don't. It took sev­er­al mic checks to gath­er the crowd and get them to go back to McPher­son for a gen­er­al assem­bly. Some peo­ple start­ed chant­i­ng "We'll be back!" – a per­son­al favorite of mine. "We're already here!" some­one cracked. He had a point. We were here, full of ener­gy, in larg­er num­bers than I've seen at a GA. Bystanders were talk­ing about the action with occu­piers, express­ing enthu­si­as­tic sup­port. Reporters were con­duct­ing inter­views. Trudg­ing to the camp for a long meet­ing didn't appeal to me. I biked back down K Street, towards home. Cop cars, cabs, and even a stretch lim­ou­sine buzzed past me. Just a few blocks east of the Franklin School, it was like enter­ing anoth­er world, one unscathed by what had just hap­pened. For now, at least.
A meet­ing on Mon­day between hous­ing advo­cates and occu­piers was infor­ma­tive, if a bit rud­der­less. It's not clear to any­one how best to incor­po­rate civic groups into the Occu­py move­ment. A lot of time was spent giv­ing per­son­al sto­ries, envi­sion­ing alter­na­tive approach­es to pub­lic space, voic­ing utopi­an visions of how these build­ings could be repur­posed. These are all well and good. But what should be empha­sized is the way the Franklin House was turned into a shel­ter the first time, which aligns per­fect­ly with exist­ing tac­ti­cal abil­i­ties of Occu­py DC. After MAYDAY DC's occu­piers were removed from the build­ing, the group har­ried May­or Antho­ny Williams, repeat­ed­ly break­ing up his cam­paign fundrais­ers with rau­cous protests until he relent­ed and turned over the Franklin School to the activists.
---
Gavin Mueller is a grad­u­ate stu­dent in cul­tur­al stud­ies at George Mason Uni­ver­si­ty. He lives in Wash­ing­ton DC.