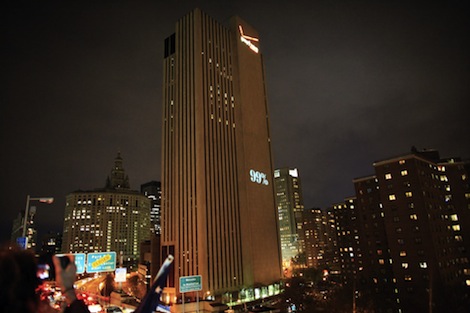 Even if it were to dis­ap­pear tomor­row, Occu­py Wall Street would have already scored a mas­sive vic­to­ry. It has fun­da­men­tal­ly altered one of the dom­i­nant nar­ra­tives that under­lies the major­i­ty polit­i­cal and eco­nom­ic thought in this coun­try: that as much as Amer­i­cans might be dis­sat­is­fied with politi­cians, they have no real com­plaint with inequal­i­ty, or the eco­nom­ic sys­tem that makes it pos­si­ble and per­pet­u­ates it – name­ly cap­i­tal­ism. Occu­py Wall Street rup­tured this nar­ra­tive through the occu­pa­tions and mas­sive pop­u­lar sup­port. Before Sep­tem­ber the sen­tence, "Amer­i­cans are dis­sat­is­fied with social inequal­i­ty" would have been debat­able to say the least, per­tain­ing only to a small fac­tion of left­ists and aca­d­e­mics. Now it can be stat­ed as fact, a fact that the exist­ing forces and pow­ers do not know what to say about.
One does not rup­ture a dom­i­nant nar­ra­tive with­out being rein­cor­po­rat­ed some­how. The two-month his­to­ry of Occu­py Wall Street has been a strug­gle on the part of the man­agers of pub­lic opin­ion, the pun­dits, news­cast­ers, and come­di­ans, to make sense of this event, to place it in anoth­er nar­ra­tive. First, there was the dis­cus­sion of demands, or the lack there­of; "What are their demands?" became the dom­i­nant ques­tion. This was fol­lowed with the focus on the con­di­tions of the camps, the sto­ries of rats and pub­lic uri­na­tion. When these failed to catch on, failed to con­tain grow­ing sup­port for the move­ment, vio­lence became the issue. Not the vio­lence of pep­per spray, rub­ber bul­lets, flash­bang grenades, and clubs, but the "vio­lence" of bro­ken win­dows and garbage cans set on fire. Accord­ing to the time-hon­ored tra­di­tion, vio­lence is the pre­ferred nar­ra­tive to dis­cred­it the move­ment. It is per­fect because of its ambi­gu­i­ty; head­lines that state, "Vio­lence Mars Protest," nev­er need to men­tion who was the sub­ject or object of vio­lence, or con­cern them­selves with the dis­tinc­tion between bro­ken win­dows and bro­ken skulls.
All of this is a pre­am­ble for my obser­va­tions on Novem­ber 17, a day of action in New York City. This day was called months ago, as a com­mem­o­ra­tion of two months of occu­pa­tion, but it took on added sig­nif­i­cance after the evic­tion of Zuc­cot­ti Park ear­li­er that week. Now the ques­tion was whether the move­ment could out­last the occu­pa­tion. This was the ques­tion every­one was ask­ing, or at least the reporters, and there seemed to be reporters every­where. I spoke with four over the course of the day. More than my per­son­al moti­va­tion and back­ground, they want­ed to know what I thought about the events of the day, what did they mean? The day had not even end­ed, we had not even learned that the New School was occu­pied or that over 30,000 peo­ple would gath­er in Foley Square, but it was impor­tant to inter­pret pre­emp­tive­ly, in advance of the day's events.
The inter­rup­tion of the dom­i­nant nar­ra­tive is an impor­tant event. It is a great accom­plish­ment to get pun­dits and politi­cians to talk about inequal­i­ty and exploita­tion; to see the media dis­cuss what it is usu­al­ly so ded­i­cat­ed to obscur­ing – inequal­i­ty, exploita­tion, and the point­less suf­fer­ing of so many. Inter­rupt­ing the dom­i­nant nar­ra­tive is not the same thing as con­trol­ling it, how­ev­er, and the lat­ter is near­ly impos­si­ble. The indi­vid­u­als who police protests, defend­ing the win­dows of Bank of Amer­i­ca and Whole Foods against rocks and paint with their fists, are try­ing to do this, as are those who would cast out every home­less per­son from occu­pa­tions all over the coun­try. Such attempts to "con­trol the mes­sage," to appear non­vi­o­lent and respectable at all costs, are futile. Win­dows will get bro­ken, and there is no end to what can be con­strued as vio­lence, link­ing arms being the lat­est. More­over, they end up repro­duc­ing all too quick­ly the very struc­tures of dom­i­na­tion that are being resist­ed. They are dic­ta­tor­ships with­out the pro­le­tari­at.
This does not mean that any event, any inter­rup­tion, must then become the play­thing of the dom­i­nant forces. It does mean, how­ev­er, that one has to extend the inter­rup­tion as much as pos­si­ble, cre­ate new ways of dis­turb­ing the dom­i­nant nar­ra­tives and ideas. I saw two in New York on that day. The first was seem­ing­ly small, the Occu­py the Sub­way action, which brought the "people's mic" and sto­ries about unem­ploy­ment, debt, and pre­car­i­ous exis­tence onto sub­way cars, cut­ting through the fil­ters that sep­a­rate peo­ple from each oth­er. The sec­ond was the mas­sive pro­jec­tion onto the Ver­i­zon build­ing, a beau­ti­ful work of polit­i­cal poet­ry with the cen­tral mes­sage, "We are Win­ning."
While the two worked in oppo­site direc­tions, one cut­ting through the spec­ta­cle and the oth­er cre­at­ing its own spec­ta­cle on a mas­sive cor­po­rate edi­fice, they both con­tributed to a cen­tral task, build­ing col­lec­tiv­i­ty, form­ing in con­crete ways, the "We" of the 99%. One cre­at­ed lat­er­al con­nec­tions, the oth­er cre­at­ed an image of pow­er, of pos­si­bil­i­ty, that is just as impor­tant: peo­ple act out of sol­i­dar­i­ty and a sense of their own pow­er. Final­ly, in this task of inter­rupt­ing and break­ing dom­i­nant nar­ra­tives, a task that is insep­a­ra­ble from cre­at­ing new ways of mak­ing sense and relat­ing, one can­not dis­count the way in which the loss of the system's legit­i­ma­cy works to under­mine itself as well. On Novem­ber 17 I saw police lash out in acts that seemed more like rage than even orga­nized repres­sion, punch­ing peo­ple behind bar­ri­cades and forcibly grab­bing peo­ple from crowds. Oth­ers saw this as well, live or on YouTube, and with this anoth­er nar­ra­tive falls, that of the police as neu­tral guardian of order.
We are repeat­ed­ly asked what this event, this evic­tion, this gen­er­al strike, means for the Occu­py Move­ment. Per­haps we should also ask what this move­ment means for the nar­ra­tives that legit­i­mate exist­ing pow­er struc­tures.
---
Jason Read is Asso­ciate Pro­fes­sor of Phi­los­o­phy at the Uni­ver­si­ty of South­ern Maine. He is the author of The Micro-Pol­i­tics of Cap­i­tal: Marx and the Pre­his­to­ry of the Present and is cur­rent­ly work­ing on a book on the pol­i­tics and polit­i­cal econ­o­my of transin­di­vid­u­al­i­ty for His­tor­i­cal Mate­ri­al­ism.