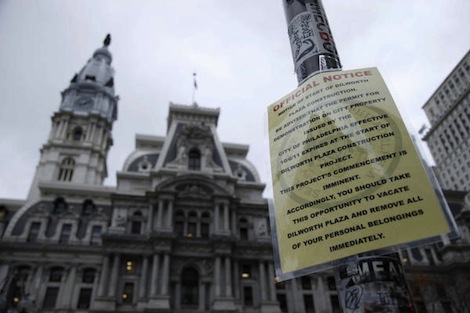 The emer­gency ses­sion of the Occu­py Philly Gen­er­al Assem­bly this past Thurs­day decid­ed, at around 10PM, to imme­di­ate­ly move from Dil­worth Plaza, where Occu­py Philly is cur­rent­ly ground­ed, to Thomas Paine Plaza. When the pro­pos­al passed, every­one broke into small­er groups, rushed to grab what­ev­er was around, and began mov­ing to the oth­er side of the street. Soon after, the police arrived, con­fu­sion descend­ed, and, not hav­ing decid­ed on any plan ahead of time, we spon­ta­neous­ly broke into three groups: the first regrouped back at Dil­worth, the sec­ond was left at Thomas Paine, and the third decid­ed to storm City Hall. At the end of it all, we were forced to aban­don our objec­tive, with­draw back to the orig­i­nal encamp­ment, and rethink the whole affair.
Some called it a skir­mish, oth­ers an exper­i­ment, but I think we have to rec­og­nize that it was a defeat, albeit a nec­es­sary defeat – one that, if con­front­ed direct­ly, might para­dox­i­cal­ly prove to be our great­est suc­cess. Part reflec­tion, part aut­o­cri­tique, what fol­lows is my attempt to think through the events of that night.
State of Emer­gency?
An announce­ment was made, before intro­duc­ing the pro­pos­al to move to Thomas Paine Plaza, remind­ing every­one to stay calm, to avoid spread­ing rumors, and to stymie the cir­cu­la­tion of fear. Imme­di­ate­ly after­wards we were told that evic­tion from Dil­worth Plaza was immi­nent. "They could come at any moment: tomor­row morn­ing, tonight, or even right now." Indeed, the City had post­ed ambigu­ous­ly-word­ed yel­low posters at the occu­pa­tion remind­ing us that our per­mit will expire as soon as con­struc­tion begins, that con­struc­tion was in fact "immi­nent," and that we should all take this oppor­tu­ni­ty to vacate. So an abridged Gen­er­al Assem­bly hur­ried­ly met ear­li­er in the day to draft a pro­pos­al, the evening meet­ing was – per­haps unwise­ly – dubbed an "emer­gency ses­sion," and we were repeat­ed­ly remind­ed through­out that we would have to vacate the room in which we were gath­ered (gen­er­ous­ly made avail­able to us by the Friends Cen­ter) by 9PM. Lit­tle sur­prise that a per­va­sive atmos­phere of urgency, alarm, and even dis­tress filled the air.
But the rumors about imme­di­ate evic­tion were just that. It was the city itself that had devi­ous­ly cir­cu­lat­ed the threat of an immi­nent con­fronta­tion, false­ly announced that it had already giv­en the notice, and con­niv­ing­ly spread the assump­tion that any such crack­down would be legal­ly jus­ti­fied. And we bought it. The loom­ing sense of omi­nous dis­as­ter set the tone for the entire assem­bly: we rushed through the pro­pos­al, trun­cat­ed the stack, tabled amend­ments, encour­aged speak­ers to be brief, revert­ed heav­i­ly to straw polls – in short, we did every­thing in our pow­er to move as quick­ly as demo­c­ra­t­i­cal­ly pos­si­ble that night. And this would have all been jus­ti­fied had the rumors been true. But they weren't.
There was no con­flict around the cor­ner, no offi­cial notice of evic­tion, and no legal legit­i­ma­cy for such an action. After the whole affair, we final­ly learned – much to our cha­grin – that those yel­low posters were not real­ly offi­cial evic­tion notices. The city had lied. Of course, we didn't know, so the spec­tre of evic­tion weighed heav­i­ly on us all that whole night. It was used to shoot down a friend­ly amend­ment post­pon­ing the move until the next morn­ing, when we would have more sup­port, orga­ni­za­tion, and vis­i­bil­i­ty. It was used to jus­ti­fy the argu­ment that if we failed to move imme­di­ate­ly we would forefeit the ini­tia­tive. It was used, in sum, to con­vince us that the only thing we real­ly could do was respond as quick­ly as pos­si­ble – even if that meant respond­ing with­out any real prepa­ra­tion.
To Ground Our Pol­i­tics on Revenge?
A few days pri­or it was dis­cov­ered that the so-called "Rea­son­able Solu­tions Work­ing Group" had entered into secret nego­ti­a­tions with the City. The group, which already had a rather sor­did his­to­ry of red-bait­ing, col­lab­o­ra­tion, and gen­er­al unco­op­er­a­tive­ness, made it clear that they would no longer accept the deci­sions of the Gen­er­al Assem­bly. So in direct oppo­si­tion to the deci­sion made last week to hold our ground, "Rea­son­able Solu­tions" chose to act alone by ask­ing the city for a per­mit for Thomas Paine Plaza. The sov­er­eign­ty of the Gen­er­al Assem­bly was imme­di­ate­ly under­mined and the weak­ness of the occu­pa­tion itself as a form of strug­gle was made painful­ly appar­ent. Now every­one knew for cer­tain, with­out the shad­ow of a doubt, that there were not only ene­mies in our own ranks, but there were seri­ous con­tra­dic­tions at the heart of the move­ment.
This, of course, was on everyone's minds as they walked into the Friends Cen­ter Thurs­day night to dis­cuss the emer­gency pro­pos­al. But more than con­fu­sion, dis­ap­point­ment, or even anger, there was a pal­pa­ble desire for revenge. Sev­er­al occu­piers made the explic­it con­nec­tion: vot­ing to occu­py Thomas Paine Plaza tonight would pre­empt "Rea­son­able Solu­tions." They under­mined us, now we will under­mined them. Wild applause. To tell you the truth, I can't say I wasn't among them. We felt betrayed. But instead of inter­ro­gat­ing this betray­al fur­ther, instead of try­ing to ratio­nal­ly under­stand what this said about the cohe­sive­ness of our move­ment, or the polit­i­cal effec­tive­ness of the Gen­er­al Assem­bly, or the nature of the encamp­ment as a viable tac­tic, we let our instincts take over. Too afraid to find a solu­tion to the deep­er caus­es of this betray­al, we hoped to sim­ply efface it by smoth­er­ing the affair as quick­ly as pos­si­ble.
For the Union Makes Us Strong?
The move to Thomas Paine Plaza was in part moti­vat­ed by the admirable desire to build stronger con­nec­tions to the unions. As we have men­tioned else­where, for the move­ment to suc­ceed, it is obvi­ous that it will have to form deep­er ties with oth­er sec­tors of the work­ing class. This means both the hyper­ex­ploit­ed work­ers that always go unrep­re­sent­ed as well as those more tra­di­tion­al sec­tors of the class that con­tin­ue to be orga­nized in the trade unions. It was argued that hold­ing Dil­worth Plaza, and there­fore indef­i­nite­ly delay­ing its pro­posed ren­o­va­tion, would actu­al­ly pre­vent thou­sands of jobs for union­ized work­ers. If we moved, the argu­ment went, it would show our sol­i­dar­i­ty with those work­ers in way that might bring them clos­er to Occu­py Philly.
The same argu­ment reap­peared Thurs­day night, but this time, it was for­mal­ized in a let­ter read aloud by the Labor Work­ing Group, and sup­port­ed by sev­er­al union rep­re­sen­ta­tives in atten­dance. We were now told that the unions would not only sup­port the move, but that they would even be will­ing to help us move, and that they might even call a march in sol­i­dar­i­ty. This, of course, was nev­er a guar­an­tee. But many of us took our desires for real­i­ty by assum­ing that the unions would all be behind us when we made the move. As though all we had to do was shine the bat-sig­nal into the sky for all the unions to tri­umphant­ly appear in the mid­dle of the night. Pre­dictably, of course, there were no unions in sight when we did make that move lat­er that night.
First, while we must draw our­selves clos­er to union­ized work­ers, we must bear in mind that the rank and file is not the bureau­cra­cy. While we might be able to trust our fel­low work­ers in the unions, we should nev­er delude our­selves into trust­ing those who man­age those unions. Sec­ond, we have to ask our­selves what sol­i­dar­i­ty real­ly means. Is it enough for the unions to issue a state­ment sup­port­ing our move? Is it enough for them to tell us that they would be open to speak­ing with us about future actions? Or must we some­how try to make sol­i­dar­i­ty mate­r­i­al again? We have to clar­i­fy the word­ing of our pro­pos­als. And this was, in fact, done that night. We would make the action not with the unions, as was false­ly stat­ed in the orig­i­nal, but we would do so with the expect­ed sup­port of the unions. Sad­ly, this was passed off by every­one, includ­ing the facil­i­ta­tors, as a mere chang­ing in word­ing, one that would not in any way make a sub­stan­tial change to the con­tent of the pro­pos­al itself. But, in real­i­ty, this was a first step toward rethink­ing the prac­tice of sol­i­dar­i­ty. The unions will sup­port us only when they bring their work­ers out in union col­ors to stand by us. Until then, all we have is our words, not real sol­i­dar­i­ty. Why should we give so much weight to the argu­ments in sup­port of the unions when the unions have not giv­en any sup­port to our argu­ments? We need to stop fetishiz­ing the unions.
What Are Our Ene­mies Think­ing?
After the pro­pos­al to move was passed we all set to work. I joined the Library Work­ing Group in fill­ing crates with books, mov­ing book­shelves, and secur­ing all the lit­er­a­ture. A few of us made a kind of library car­a­van from one plaza to the oth­er, vic­to­ri­ous­ly cross­ing the street, to the oth­er side, filled with a sense of gen­er­al excite­ment. Just as we got there we saw a police van dri­ve up, sirens ablaze, and stop right in front of the Plaza. We all stared. Then came the fre­net­ic cry for the Legal Work­ing Group. Legal ran over, spoke with the police, and we stood by as more police­men began to amass on the Plaza. There was gen­er­al con­fu­sion when it became clear that the Police were going to destroy every­thing we had just moved to Thomas Paine Plaza. Some said we should hold the new Plaza, some said we should return, some thought we should esca­late the con­flict by storm­ing City Hall. In brief, the mere pres­ence of the police was enough to throw the entire oper­a­tion into dis­ar­ray.
But why should it have? Shouldn't we have expect­ed the police to arrive? Shouldn't we always expect them to oppose all of our actions in some way or anoth­er? In oth­er words, why should the pres­ence of an expect­ed ele­ment cause so much dis­or­der in the equa­tion?
In ret­ro­spect, it is sim­ply aston­ish­ing that none of the con­cerns raised dur­ing the sev­er­al hours of the Gen­er­al Assem­bly direct­ly men­tioned the pos­si­bil­i­ty of hav­ing to face the police that night. None of them asked what we should do in case the police arrived. None of them won­dered if there were any con­tin­gency plans. In fact, almost no one was seri­ous­ly think­ing about what our ene­mies might be doing at that moment. We were just star­ing at our own camp, decid­ing whether we should move to Rit­ten­house or Thomas Paine, rather than talk­ing about what might be going on the camp of the oppo­si­tion, rather than think­ing two moves ahead.
It should be admit­ted, how­ev­er, that the police were them­selves unusu­al­ly unpre­pared that night. Sev­er­al occu­piers recall how the police seemed uncer­tain about how to pro­ceed, that many of them were almost entire­ly unaware that we had made a deci­sion to move the entire camp. But, at the end of the day, even though the police were rel­a­tive­ly unpre­pared, the truth is that we were even more unpre­pared. And that cost us an oppor­tu­ni­ty.
I think it's safe to say that in large part the pecu­liar police détente at Occu­py Philly lulled many of us into a sense of pas­siv­i­ty. We hadn't expe­ri­enced crack­downs like those in New York or Oak­land. We were giv­en a per­mit, giv­en our space, and large­ly left alone. The con­se­quence was that we sim­ply assumed such a state of affairs would con­tin­ue into the future. We were unop­posed when we entered Dil­worth so why should they oppose us when we move to Thomas Paine? One might say we mis­tak­en­ly took an excep­tion­al case for a gen­er­al con­di­tion.
Per­haps the most impor­tant con­se­quence of that night, how­ev­er, was this changed atti­tude towards the police. It imme­di­ate­ly dawned on us all that hence­forth we had to think about what we would do if we were in the police's shoes, we had to study their posi­tion, we had to plan for all pos­si­ble respons­es on their part, and we had to pre­pare respons­es to their respons­es. We can't afford to take anoth­er action with­out antic­i­pat­ing the actions of the forces of order.
Who's Got The Map?
As we relo­cat­ed to Thomas Paine Plaze we were met by var­i­ous occu­piers try­ing to help rebuild the camp as coher­ent­ly as pos­si­ble. With hun­dreds of occu­piers rush­ing from one plaza to the oth­er, it was imper­a­tive that we had some peo­ple orga­niz­ing the whole process, to let every­one know were the new Library, for exam­ple, would have to be con­struct­ed, where the Infor­ma­tion Work­ing Group would have to reset­tle, where all the tents would have to be erect­ed, and so on. But while some occu­piers had already sketched out a map to help recon­struct the camp, few knew about it, and what's worse, the map itself seemed to be miss­ing. So the arrival of the first wave pre­dictably caused a bit of con­fu­sion. "Should we send them back until we fig­ure out where every­thing goes?" Impos­si­ble. So the waves kept com­ing, the dis­or­der grew, and quite a num­ber of occu­piers didn't know where to go. The library, for exam­ple, end­ed up in the wrong place. But before we could relo­cate it, the police arrived.
This sit­u­a­tion was unsur­pris­ing­ly aggra­vat­ed once they entered the pic­ture. First we decid­ed to move every­one from Dil­worth to Thomas Paine to for­ti­fy the new­ly cap­tured posi­tion. Then, when the Police gave the order to dis­perse, many began to move every­thing back from Thomas Paine to Dil­worth. As I already men­tioned, one group stayed at Thomas Paine to decide what to do, anoth­er regrouped back at Dil­worth, and the third decide to storm City Hall. So instead of com­ing togeth­er in a com­mon refusal, the move­ment shat­tered into sev­er­al iso­lat­ed groups. Only after the dust set­tled, after are defeat had been con­firmed, did we recon­vene again as a total­i­ty.
If there is any­thing we learned from that night, it's that even the most seem­ing­ly sim­ple oper­a­tion – mov­ing one camp just across the street – requires sig­nif­i­cant prepa­ra­tion. A clear set of plans has to be com­posed before the action, it has to be dis­trib­uted to all par­tic­i­pants so every­one can oper­ate in har­mo­ny, and it has to include con­tin­gency mea­sures. Every­one has to agree ahead of time, for instance, that if the police arrive, we will hold our ground. Instead, that deci­sion had to be made on the spot, with­in var­i­ous affin­i­ty groups, and by then, every­thing was irrepara­bly split. I'm not say­ing we shouldn't make these kinds of imme­di­ate deci­sions on the spot, as it were, but only that every­one has to be pre­pared – and every­one must expect – to make them. In oth­er words, we have to pre-orga­nize the space for suc­cess­ful spon­ta­neous action.
A Meet­ing of the Tribes?
My imme­di­ate sense is that while the occu­pa­tion as a whole suf­fered from con­fu­sion, there was sig­nif­i­cant orga­ni­za­tion, effi­cien­cy, and celer­i­ty among the indi­vid­ual work­ing groups, cau­cus­es, or affin­i­ty groups that com­pose Occu­py Philly. Those involved with the library, for instance, fer­ried books, shelves, crates, tables, and posters – in fact the entire library – from one Plaza to the oth­er in just fif­teen min­utes. Then, when the order was giv­en to dis­perse, we deter­mined our options, dis­cussed the choic­es before us, and quick­ly made the deci­sion to move every­thing back from Thomas Paine to Dil­worth – some of us mak­ing the move while oth­ers went to get a van in which to secure all the mate­r­i­al in case of an imme­di­ate evic­tion. The books were then loaded into the van, unloaded at anoth­er site, and the group recon­vened at Dil­worth. A small endeav­or, no doubt, but one which speaks to the effec­tive­ness of small groups com­posed of indi­vid­u­als who are accus­tomed to work­ing with one anoth­er.
The prob­lem, how­ev­er, seemed to be while there was much cohe­sive effi­ca­cy with­in each of these groups – and the library was only one of many – there was lit­tle inter-group cohe­sive­ness. Despite its many suc­cess, Occu­py Philly, it appears, has not yet dis­cov­ered a way to make affin­i­ty groups work with each oth­er in moments of ten­sion. Per­haps we need to look to dif­fer­ent forms of orga­ni­za­tion, like the "Spokes Coun­cil" mod­el, which has been test­ed at oth­er occu­pa­tions. Or per­haps we have to look beyond the occu­pa­tion as tac­tic. It may be that the very struc­ture, or log­ic, of the occu­pa­tion tac­tic has itself fore­closed the pos­si­bil­i­ty of pro­duc­tive inter-group rela­tion­ships. I think, in Philly at least, it may be time to move on to some­thing else.
Lost Illu­sions
It seems Thurs­day night was a nec­es­sary defeat. It dis­abused many of us of cer­tain illu­sions, it reframed our rela­tion­ship with the state, and it changed our broad­er under­stand­ing of this move­ment, its rela­tion­ship to spe­cif­ic tac­tics, and the con­tra­dic­tions with­in it. There is no ques­tion that Thurs­day rep­re­sents an implic­it rup­ture in the tra­jec­to­ry of the move­ment here in Philadel­phia. Our task now, I think, is to make it explic­it. The worst thing we can do is – to para­phrase a sug­ges­tion made Thurs­day night after the police with­draw­al – to regroup and try to take Thomas Paine again in the morn­ing. This would be noth­ing oth­er than a doomed com­pul­sion to repeat. It would mean ignor­ing our mis­takes by try­ing to efface them, it would sig­ni­fy a fail­ure to exploit the numer­ous oppor­tu­ni­ties that have emerged from this defeat.
On May 15, 1848 an immense demon­stra­tion was orga­nized in Paris in response to the pre­cip­i­tous degen­er­a­tion of the rev­o­lu­tion that had begun just under three months ago. When the Pro­vi­sion­al Gov­ern­ment was declared on Feb­ru­ary 25, 1848 in the Hôtel de Ville, the pro­le­tari­at saw a chance to deep­en their autonomous pow­er. Things turned sour, the rev­o­lu­tion­ary clubs were harassed, elec­tions were invoked to under­mine the momen­tum of the oppo­si­tion, and now, find­ing them­selves on the verge of defeat, the work­ing class decid­ed to make a show of their pow­er. Con­fused, unable to inter­ro­gate the rea­sons behind their con­tin­u­ing defeat, unwill­ing to con­front the changed con­junc­ture, and fear­ing an immi­nent crack­down, they made the last-minute deci­sion to invade the Nation­al Assem­bly, storm the Hôtel de Ville, and announce a new, this time more rev­o­lu­tion­ary, Pro­vi­sion­al Gov­ern­ment in the very same room in which the first one was declared back in Feb­ru­ary. All we had to do, they thought, was repeat it again; this time, with new peo­ple, it will be dif­fer­ent. It wasn't. They lost that night, and they would have lost even if they had suc­cess­ful­ly held City Hall – the his­tor­i­cal con­junc­ture had shift­ed in such a way that the entire tac­tic had to be changed.
I think it's time we changed ours.
---
Salar Mohan­desi is a grad­u­ate stu­dent at UPenn, and an edi­tor of View­point.