Philadel­phia has a large pop­u­la­tion of black, dis­af­fect­ed youth. It also has a black may­or. But when some of these young peo­ple began to spon­ta­neous­ly protest the obscene lev­el of urban seg­re­ga­tion and sys­tem­at­ic pover­ty of the city with "flash mobs," it was May­or Michael Nut­ter who launched the counter-attack, impos­ing the dis­ci­pli­nary mea­sure of an ear­li­er cur­few in wealthy white areas. Cur­fews, as George Cic­cariel­lo-Maher points out, "have his­tor­i­cal­ly served as a racist weapon for the con­tain­ment of Black bod­ies" – but Nut­ter him­self made the point by accom­pa­ny­ing this mea­sure with an ide­o­log­i­cal assault on black Philadel­phi­ans in gen­er­al. In a speech at a church, he said:
Pull your pants up and buy a belt, because no one wants to see your under­wear or the crack of your butt… Comb your hair. And get some groom­ing skills… Run­ning round here with your hair all over the place. Learn some man­ners. Keep your butt in school… And why don't you work on extend­ing your Eng­lish vocab­u­lary… beyond the few curse words that you know, some oth­er grunts and grum­bles and oth­er things that none of us can under­stand what you're say­ing.
We want to jux­ta­pose this with a com­ple­men­tary sto­ry that took place in Europe, when the Nor­we­gian ter­ror­ist Anders Behring Breivik set out to attack "cul­tur­al Marx­ism." In spite of the fact that he shot young white social­ists, Breivik con­ceived of this project as sys­tem­at­ic with the destruc­tion of "mul­ti­cul­tur­al­ism." The impor­tance of his project for cap­i­tal was appre­ci­at­ed by the bour­geois press, who made a con­sid­er­able effort to argue that this ter­ror­ism was only an extreme expres­sion of "legit­i­mate con­cerns about gen­uine prob­lems" result­ing from wide­spread Mus­lim immi­gra­tion.
What these strange events – a black elite per­pet­u­at­ing racist stereo­types to attack the poor, and a neo-fas­cist mur­der­ing white left­ists on the basis of racist ide­ol­o­gy – seem to sug­gest is that racism, as a strat­e­gy of con­trol­ling and divid­ing the work­ing class, exists today in an abstract but still pow­er­ful form. By abstract, we only mean that racism can't be reduced to indi­vid­ual acts of dis­crim­i­na­tion; it's part of the dynam­ic log­ic of cap­i­tal­ism. There is, of course, a dra­mat­ic empir­i­cal his­to­ry; Stephen Stein­berg has recent­ly described how the right-wing back­lash against affir­ma­tive action, along­side the stigma­ti­za­tion of "the black fam­i­ly," served as the foun­da­tion for the bipar­ti­san "counter-rev­o­lu­tion" that would dis­man­tle the wel­fare state for all races.
But what we're inter­est­ed in here is the struc­tur­al role of racism. Through­out Europe the Right has clear­ly con­nect­ed its projects of pri­va­tiz­ing soci­ety and destroy­ing the pow­er of labor with the attack on immi­grants and the bru­tal dis­ci­plin­ing of the ban­lieue pop­u­la­tion. Éti­enne Bal­ibar has point­ed to "the het­ero­gene­ity of the his­tor­i­cal forms of the rela­tion­ship between racism and the class strug­gle" in Europe, rang­ing "from the way in which anti-Semi­tism devel­oped into a bogus 'anti-cap­i­tal­ism' around the theme of 'Jew­ish mon­ey' to the way in which racial stig­ma and class hatred are com­bined today in the cat­e­go­ry of immi­gra­tion." From this his­to­ry he con­cludes that "each of these con­fig­u­ra­tions is irre­ducible," that it is ulti­mate­ly "impos­si­ble to define any sim­ple rela­tion­ship of 'expres­sion' (or, equal­ly, of sub­sti­tu­tion) between racism and class strug­gle."
It's hard to find evi­dence of Euro­pean left­ists who see the right-wing racist back­lash as a "legit­i­mate con­cern about gen­uine prob­lems" with the "mul­ti­cul­tur­al­ist" ide­ol­o­gy of neolib­er­al­ism, and who go on to con­clude that mul­ti­cul­tur­al­ism is the main ene­my. In fact, many of them have turned to Amer­i­can debates on "white­ness" and "bor­der cross­ing" to under­stand their own polit­i­cal sit­u­a­tion. But strange­ly enough, such the­o­ries are gain­ing atten­tion here.
The most vocal rep­re­sen­ta­tive of this ten­den­cy is a lit­er­ary crit­ic named Wal­ter Benn Michaels, who wrote in a New Left Review arti­cle called "Against Diver­si­ty" that "Amer­i­can lib­er­als feel a lot bet­ter about a world in which the top 20 per cent are get­ting rich­er at the expense of every­one else, as long as that top 20 per cent includes a pro­por­tion­ate num­ber of women and African-Amer­i­cans." Michaels' argu­ment is that in spite of major legal and cul­tur­al mea­sures against racism and sex­ism, eco­nom­ic inequal­i­ty has only grown. This indict­ment of lib­er­al apolo­gies for cap­i­tal­ism is pow­er­ful enough. But the argu­ment is tak­en much fur­ther: polit­i­cal strug­gles against racism and sex­ism are not only dis­trac­tions from the strug­gle against inequal­i­ty, they are jus­ti­fi­ca­tions for inequal­i­ty, the guilty con­science of neolib­er­al­ism. As he wrote in the Lon­don Review of Books, anti-racism and anti-sex­ism "have noth­ing to do with left-wing pol­i­tics, and… inso­far as they func­tion as a sub­sti­tute for it, can be a bad thing."
To real­ly under­stand what he means by this, we should step back to Michaels' ear­li­er work. He became well-known for a man­i­festo co-authored with Steven Knapp called "Against The­o­ry" – Michaels is appar­ent­ly fond of such titles – in which he argued that the decon­struc­tivist inter­est in the "mate­ri­al­i­ty" of signs mis­tak­en­ly sep­a­rat­ed the mean­ing of a text from the author's inten­tion. "The­o­ry," as a set of meth­ods that addressed how to inter­pret things in gen­er­al, was a use­less project, Michaels argued, pre­cise­ly because the mean­ing of the text and the inten­tion of the author are the same. In oth­er words, because there is no space, or slip­page, between the two, there should be no need for "the­o­ry." His elab­o­ra­tion of this view claimed that the empha­sis on inter­pre­ta­tion rest­ed on a con­cept of iden­ti­ty: who the read­er is mat­ters more than what the text says. What real­ly counts, Michaels claimed, is ideas, the beliefs elab­o­rat­ed by authors inde­pen­dent of their iden­ti­ties.
It's a strange notion, since "who you are" clear­ly has a lot to do with the lan­guages you speak, and the ideas con­tained in a text you write are no more "real" than "who you are." Sure­ly, after all, ideas don't have pri­ma­cy on their own; unless you believe that ideas make the world, you'll be inter­est­ed in study­ing the his­tor­i­cal process that these ideas are a part of, which involves who's speak­ing, who's lis­ten­ing, and how they're com­mu­ni­cat­ing. Anto­nio Gram­sci put it this way: "The start­ing point of crit­i­cal elab­o­ra­tion is the con­scious­ness of what one real­ly is, and of 'know­ing thy­self' as a prod­uct of the his­tor­i­cal process to date, which has deposit­ed in you an infin­i­ty of traces with­out leav­ing an inven­to­ry."
And in fact it was the argu­ment of Fredric Jame­son that Michaels' prac­tice as a lit­er­ary crit­ic in a work like The Gold Stan­dard and the Log­ic of Nat­u­ral­ism, by absorb­ing itself in his­tor­i­cal detail, end­ed up redis­cov­er­ing these the­o­ret­i­cal ques­tions: study­ing the con­sti­tu­tion of iden­ti­ty "on the mod­el of pri­vate prop­er­ty," ask­ing whether the log­ic of the mar­ket in Theodore Dreiser's Sis­ter Car­rie could be con­sid­ered ide­ol­o­gy or cri­tique, rein­ter­pret­ing the nat­u­ral­ist fan­ta­sy of "some Utopi­an space out­side the dynam­ics of the mar­ket" as an ide­o­log­i­cal sup­ple­ment to the mar­ket itself – reca­pit­u­lat­ing themes famil­iar from Lukács to Adorno, but with­out the self-crit­i­cal per­spec­tive often called "the­o­ry." This con­spic­u­ous absence, Jame­son con­clud­ed, is exact­ly what led Michaels to dis­pas­sion­ate­ly ana­lyze mar­ket log­ic as the log­ic of Amer­i­can cul­ture, and ignore the Marx­i­an cri­tique that begins with the "pri­ma­cy of pro­duc­tion," ulti­mate­ly ori­ent­ed by the polit­i­cal project called "social­ism."
But since Michaels has extend­ed this argu­ment to the more vis­i­ble and prac­ti­cal issues of Amer­i­can pol­i­tics, many on the Left have signed on with this odd ide­ol­o­gy. It's the same argu­ment: polit­i­cal move­ments that are based on the demands of par­tic­u­lar groups are just locked into autho­r­i­al iden­ti­ty. What counts is the right idea – the idea of equal­i­ty – and not the par­tic­u­lar­i­ty of the actu­al sub­jects involved. Any iden­ti­ty-based move­ment may change the col­or of those who suf­fer inequal­i­ty, but inequal­i­ty will remain. This doesn't mean, Michaels argued in the LRB, that there should be a strug­gle against "clas­sism" that would offer "pos­i­tive affir­ma­tion for the work­ing class­es." Class is not an iden­ti­ty; it's the dif­fer­ence between a good life and pure depri­va­tion. For Michaels, turn­ing the poor into an iden­ti­ty to be defend­ed would be reac­tionary – you'd be cel­e­brat­ing lives that are defined by abjec­tion.
Con­sid­er­ing that fos­ter­ing "diver­si­ty" has become a replace­ment for the elim­i­na­tion of pover­ty and inequal­i­ty, espe­cial­ly among aca­d­e­mics with large salaries, it's no sur­prise that com­mit­ted left­ists are drawn to Michaels' argu­ments. It's cer­tain­ly impor­tant to resist this con­demnable ten­den­cy on the part of afflu­ent lib­er­als to aban­don the white work­ing class, and indeed the work­ing class in gen­er­al, in favor of polit­i­cal­ly cor­rect polic­ing of tele­vi­sion shows. How­ev­er, this is no excuse for a dis­tor­tion of real­i­ty, or for aban­don­ing the foun­da­tions of rad­i­cal pol­i­tics. Just like "mul­ti­cul­tur­al­ism," the dis­course of equal­i­ty can only emerge from a lib­er­al view­point. Michaels cer­tain­ly has the right to a lib­er­al view­point. But it's hard to under­stand why Marx­ists would endorse it.
The unique thing about Marx­ist pol­i­tics is that it doesn't aim for a more enlight­ened dis­tri­b­u­tion of wealth, the Proud­hon­ian dream of a soci­ety man­aged by egal­i­tar­i­an accoun­tants. Marx­ism breaks from the view that class is a mat­ter of priv­i­lege or rel­a­tive wealth. Class is the fun­da­men­tal social rela­tion of soci­ety inso­far as it rep­re­sents the divi­sion between peo­ple who own the means of pro­duc­tion and those who are forced to sell their abil­i­ty to work. The con­se­quence is that the cap­i­tal­ist class dom­i­nates and exploits the work­ing class. This is a total­ly dif­fer­ent phe­nom­e­non from dis­tri­b­u­tion, and the Marx­ist analy­sis takes it one admirable step fur­ther. The way to change this sys­tem is not for intel­lec­tu­als to decry its moral degra­da­tion and admin­is­tra­tors to reor­ga­nize it more equi­tably. Instead, it can only be changed when the exploit­ed them­selves express their polit­i­cal pow­er – when they abol­ish this whole rela­tion­ship of dom­i­na­tion and run soci­ety for them­selves.
An abstract pol­i­tics of equal­i­ty on behalf of the poor total­ly buries the agency of the work­ing class – it falls prey to the ide­ol­o­gy of the bour­geois utopi­ans who, Marx wrote in The Pover­ty of Phi­los­o­phy, "see in pover­ty noth­ing but pover­ty, with­out see­ing in it the rev­o­lu­tion­ary, sub­ver­sive side, which will over­throw the old soci­ety." Those who define the work­ing class by its depri­va­tion obscure the fact that peo­ple make their lives with what they have avail­able to them, often imag­i­na­tive­ly refus­ing the lim­its imposed on them by cap­i­tal­ism. Most impor­tant­ly, they for­get that what the work­ing class does on a dai­ly basis – work – is what the cap­i­tal­ist class requires to accu­mu­late prof­it and to build all of soci­ety. A pure­ly neg­a­tive def­i­n­i­tion of the work­ing class leaves no space for it to strug­gle for its own eman­ci­pa­tion. And per­verse­ly, it ends up cel­e­brat­ing the very cul­ture of the rich, the cul­ture of enti­tle­ment, that engages in "mul­ti­cul­tur­al­ism." This kind of "equal­i­ty" seems to rest on the premise that we will one day all become lat­te-sip­ping mul­ti­cul­tur­al­ists.
What this means is that call­ing for equal­i­ty on the basis of class is also a form of iden­ti­ty pol­i­tics. Michaels illus­trates this the­o­ret­i­cal twist when he declares in an inter­view that he comes down on the "redis­tri­b­u­tion side" of Nan­cy Fraser's the­o­ry of "redis­tri­b­u­tion and recog­ni­tion." But Fraser's argu­ment has been pre­cise­ly that redis­tri­b­u­tion and recog­ni­tion should be under­stood as two ele­ments of one larg­er frame­work of jus­tice, which is based on "par­i­ty of par­tic­i­pa­tion." This con­cep­tion of jus­tice is actu­al­ly derived from Fraser's rework­ing of iden­ti­ty pol­i­tics into "sta­tus," since sta­tus hier­ar­chies inter­fere with the capac­i­ty of indi­vid­u­als to par­tic­i­pate as "full part­ners in social inter­ac­tion." Whether you're crit­i­ciz­ing unequal dis­tri­b­u­tion of wealth or dis­crim­i­na­tion on the basis of sex­u­al pref­er­ence, the nor­ma­tive frame­work is some­where between a Sil­i­con Val­ley board meet­ing and the "safe space" of a con­scious­ness-rais­ing group. Ulti­mate­ly, though Fras­er rather incred­i­bly describes an ide­al pol­i­tics based on a "com­bi­na­tion of social­ism and decon­struc­tion," her social­ist utopia amounts to New Deal nos­tal­gia.
Indeed, the prob­lem is that terms like iden­ti­ty, sta­tus, jus­tice, and equal­i­ty all belong to debates with­in the same lib­er­al dis­course. What they don't address is the fact that the rela­tion­ship between the cap­i­tal­ist class and the work­ing class isn't fun­da­men­tal­ly about "inequal­i­ty"; it's about pow­er. It was a pol­i­tics lim­it­ed to "equal right" and "fair dis­tri­b­u­tion" that Marx railed against in his Cri­tique of the Gotha Pro­gramme, con­trast­ing these ideas with the "real rela­tion" that deter­mines dis­tri­b­u­tion.
Of course, this doesn't mean that demands for equal­i­ty based on class iden­ti­ty are irrel­e­vant. They are extreme­ly impor­tant at the lev­el of pro­pa­gan­da, ethics, and pol­i­tics, because they mobi­lize a wide range of peo­ple, they alle­vi­ate real suf­fer­ing, and they empow­er work­ers. But they are reforms which don't address the fun­da­men­tal struc­ture of cap­i­tal­ism. This, after all, is the cru­cial issue: the fun­da­men­tal struc­ture of cap­i­tal­ism. White pop­ulists are fond of argu­ing that cap­i­tal­ism has adapt­ed to racial equal­i­ty. It doesn't need racism, and now its dam­age is done pure­ly at the lev­el of class.
This is a pecu­liar argu­ment. It seems to imag­ine that cap­i­tal­ism is some kind of beau­ti­ful jew­el hid­den in an uncut stone. If we just carve away all the extra­ne­ous and unnec­es­sary trap­pings, we will arrive at the essence of cap­i­tal­ism, a pure and unadul­ter­at­ed con­cept that has been wait­ing since the 17th cen­tu­ry to be dis­cov­ered.
But cap­i­tal­ism isn't an essence; it's a social rela­tion that assumes his­tor­i­cal­ly spe­cif­ic forms. Race and class are not total­ly inde­pen­dent lay­ers of exploita­tion; they con­sti­tute dif­fer­ent aspects of a rec­i­p­ro­cal­ly impli­cat­ed rela­tion­ship. Since they are not just exter­nal­ly relat­ed but actu­al­ly inter­pen­e­trate one anoth­er, it's ridicu­lous to argue that com­bat­ing racism would have absolute­ly no effect on cap­i­tal­ism. These two strug­gles have always been relat­ed, but the irre­ducible speci­fici­ties of this rela­tion­ship have always var­ied from one con­junc­ture to the next.
The oth­er side of the argu­ment that race and class are entire­ly unre­lat­ed is the equal­ly crude asser­tion that class now includes race with­in itself: any seri­ous prob­lem suf­fered by peo­ple of col­or in Amer­i­ca results from their class posi­tion, not their race. In this view, the com­pli­cat­ed rela­tion­ship between race and class has been abrupt­ly resolved by sub­sum­ing the for­mer into the lat­ter. Instead of close­ly exam­in­ing the ways in which the rela­tion­ship between these dis­tinct forms has changed over time, we get a world where all par­tic­u­lar­i­ties have been swal­lowed up by an overfed – though para­dox­i­cal­ly under­nour­ished – con­cep­tion of class.
In this light, we have to recon­sid­er the mean­ing of the move­ments against racism. It's inad­e­quate to argue that strug­gles against racism have now grown irrel­e­vant because they achieved a few vic­to­ries in the past. After all, cap­i­tal­ism itself has also adapt­ed to a wide range of class-based demands: the eight-hour work­day, the abo­li­tion of child labor, safer work­ing con­di­tions. Does this mean these demands, and their con­tin­u­a­tion or rad­i­cal­iza­tion, are some­how epiphe­nom­e­nal and irrel­e­vant?
Instead of imag­in­ing these strug­gles as cut­ting a pro­gres­sive and irre­versible inci­sion through each lay­er of exploita­tion, we have to rec­og­nize that they addressed spe­cif­ic ele­ments of capitalism's con­crete his­tor­i­cal exis­tence. Strug­gles waged against cap­i­tal­ist dom­i­na­tion put forth trade-union demands and forced cap­i­tal to restruc­ture itself, to adapt to a mil­i­tant labor move­ment. Sim­i­lar­ly, his­tor­i­cal strug­gles against racism were an attack on the his­tor­i­cal­ly spe­cif­ic form of cap­i­tal­ism, which emerged from a racial­ized slave state. In response, cap­i­tal restruc­tured the hier­ar­chies imposed on the work­ing class. Instead of uni­lin­ear progress, we have to see these actions as part of the dynam­ic restruc­tur­ing of a his­tor­i­cal rela­tion­ship.
The same has always been true of gen­der. "The labour of women and chil­dren," Marx wrote in Cap­i­tal, "was the first thing sought for by cap­i­tal­ists who used machin­ery." The intro­duc­tion of machin­ery, which over­came the need for mus­cu­lar strength, allowed cap­i­tal­ists to put women and chil­dren to work while simul­ta­ne­ous­ly atten­u­at­ing capital's pre­vi­ous depen­dence on male labor. Cap­i­tal­ists could there­fore gen­er­ate more sur­plus-val­ue and frac­ture the uni­ty of the work­ing class at the same time. Cap­i­tal took advan­tage of the rel­a­tive inex­pe­ri­ence and gen­er­al polit­i­cal dis­or­ga­ni­za­tion of these new work­ers by work­ing them hard­er and pay­ing them less, ulti­mate­ly increas­ing the gen­er­al lev­el of com­pe­ti­tion with­in the work­ing class. With women now able to do their husband's old jobs for less, cap­i­tal­ists were freed to come down hard­er on recal­ci­trant male work­ers. The men's polit­i­cal resis­tance was under­mined while women – who now had to bal­ance the waged labor of the fac­to­ry with the unwaged labor of the house­hold – came to occu­py, as the most exploit­ed and least orga­nized sec­tor of the class, the most vul­ner­a­ble posi­tion.
Recent changes in Amer­i­can cap­i­tal­ism attest to the con­tin­u­ing sig­nif­i­cance of the mutu­al­ly involved rela­tion­ship between gen­der and class. Accord­ing to a recent study by the Pew Research Cen­ter, men – who were hit hard­est by the reces­sion – are actu­al­ly regain­ing jobs far more quick­ly than women. From June 2009 to May 2011 men gained 768,000 jobs while women lost 218,000. But the strik­ing fact is that men are out­pac­ing women because cap­i­tal is allow­ing them to take over the very voca­tions that have been tra­di­tion­al­ly gen­dered fem­i­nine: health care, edu­ca­tion, and ser­vices in gen­er­al. This is noth­ing less than a destruc­tur­ing of the work­force. Women are forced to reen­ter the house­hold as unwaged domes­tic work­ers while hus­bands do their wives' old jobs for low­er wages. The strat­e­gy of decreas­ing real wages and increas­ing the cost of liv­ing attacks the pro­le­tari­at as a whole, but focus­es its ter­ror on unem­ployed moth­ers. This restruc­tur­ing of the sex­u­al divi­sion of labor, now cou­pled with major cuts to ser­vices like social secu­ri­ty, pre­cise­ly the ser­vices that unpaid domes­tic work­ers depend on most, serves to break the uni­ty of female work­ers by forc­ing them to absorb the undue strain placed on the rest of the pro­le­tari­at.
Such inter­sec­tions of class and social cat­e­gories mis­la­beled "iden­ti­ty" are exact­ly what make it impos­si­ble to aban­don strug­gles against racism and sex­ism inso­far as they have a con­crete rela­tion to class strug­gle. Oth­er­wise we lapse into the assump­tion, as Robert McCh­es­ney said in anoth­er con­text, that the Amer­i­can work­ing class is entire­ly made up of "mid­dle-aged, over­weight white men." The polit­i­cal con­se­quences of such a view are dis­as­trous; imag­ine a labor orga­niz­er going up to North Philadel­phia and telling black work­ers that they should for­get about how the cop dis­re­spects them, because what mat­ters is the white work­ers on strike in Cen­ter City.
To avoid such embar­rass­ments, we'll need to care­ful­ly exam­ine pre­vail­ing ideas about class and iden­ti­ty, and trace their his­to­ry. Seth Ack­er­man has writ­ten an inter­est­ing arti­cle dis­sect­ing the num­bers in opin­ion polls. He points out that "racial resent­ment" is mea­sured, for exam­ple, by agree­ment to state­ments like "It's real­ly a mat­ter of some peo­ple not try­ing hard enough; if Blacks would only try hard­er they could be just as well off as Whites." The num­bers show that while 59% of white peo­ple agreed with this state­ment, 86% of them agreed with the non-racial­ized state­ment that "any per­son who is will­ing to work hard has a good chance of suc­ceed­ing," a mea­sure of "indi­vid­u­al­ism." Ack­er­man argues that the for­mer is mere­ly a con­se­quence of the lat­ter – a "span­drel," to use the con­cept made famous by Richard Lewon­tin and Stephen Jay Gould, an acci­den­tal result of a wider struc­ture that nev­er­the­less monop­o­lizes our atten­tion, due to its spec­tac­u­lar appear­ance. In oth­er words, white peo­ple aren't racist, they are just express­ing a much broad­er indi­vid­u­al­ist ide­ol­o­gy.
We only want to sug­gest that both of these beliefs are span­drels, as indeed are most inco­her­ent expres­sions of polit­i­cal ide­ol­o­gy. The indi­vid­u­al­ist dream of social mobil­i­ty is not nec­es­sar­i­ly com­pat­i­ble with a soci­ety that is based on the preser­va­tion of a sys­tem­at­i­cal­ly exploit­ed work­ing class. In cer­tain cas­es, it is ide­o­log­i­cal­ly effec­tive in encour­ag­ing peo­ple who are exploit­ed to work hard, as they dream of one day becom­ing mil­lion­aires. But this is a spe­cif­ic expres­sion of indi­vid­u­al­ism, which belongs to a more gen­er­al con­cep­tion Marx described in the Cri­tique of the Gotha Pro­gramme as "bour­geois right." After all, it would be impos­si­ble for some­one to suc­ceed sim­ply as a func­tion of work­ing hard with­out the wider social val­ue of reward­ing peo­ple in pro­por­tion to their hard work. An indi­vid­u­al­ist con­cep­tion of "right" like that cer­tain­ly enables the con­ser­v­a­tive Hor­a­tio Alger the­o­ry of soci­ety, but it also enables a trade-union demand for bet­ter pay for more work, and even, as Marx wrote, serves as a con­tin­gent basis for the social­ist reor­ga­ni­za­tion of the labor process.
So let's return to these com­ple­men­tary span­drels. As we have not­ed, Ack­er­man points out that 59% of whites believe that black peo­ple could get ahead if they work hard­er, while 86% of whites believe that hard work is reward­ed with suc­cess in gen­er­al. With­out get­ting too deeply into the data, let's accept Ackerman's argu­ment that the for­mer is an exten­sion of the lat­ter – so 59% of whites believe it is impor­tant to spec­i­fy that this "indi­vid­u­al­ist" log­ic applies in spite of any his­to­ry of struc­tur­al racial inequal­i­ty. What Ack­er­man wants us to under­stand is that black peo­ple agreed with the gen­er­al, non-racial­ized dec­la­ra­tion of indi­vid­u­al­ism even more strong­ly than white peo­ple.
The ques­tion is what this inter­sec­tion of views rep­re­sents. It would be an over­sim­pli­fi­ca­tion to con­clude that black and white peo­ple sim­ply share an indi­vid­u­al­ist false con­scious­ness. It is pos­si­ble – and in fact high­ly like­ly – that the over­all ide­o­log­i­cal mean­ing of these state­ments is com­plete­ly dif­fer­ent, depend­ing on who is utter­ing them. When white peo­ple agree with a state­ment that racial­izes the indi­vid­u­al­ist sen­ti­ment – that is, a state­ment that intro­duces race as a vari­able and dis­miss­es its struc­tur­al impor­tance – this is sys­tem­at­ic with an entire his­to­ry of racial divi­sions and hier­ar­chies with­in the work­ing class, a mod­el in which white suc­cess is pred­i­cat­ed on black dis­ad­van­tage. When a black per­son makes such a state­ment, it has far greater prox­im­i­ty to a ten­den­cy in African-Amer­i­can pol­i­tics that extends from Mar­cus Gar­vey to the Nation of Islam. Though this ten­den­cy addressed poor blacks and told them to get jobs, stop drink­ing, and wear bowties, it did so as part of a black nation­al­ist pol­i­tics that sought to devel­op black polit­i­cal pow­er, to fight the wider polit­i­cal and eco­nom­ic struc­tures that kept racism in place.
Just like any oth­er ide­o­log­i­cal span­drel, this is a con­tra­dic­to­ry belief – it can just as eas­i­ly be assim­i­lat­ed into the lin­eage that goes from Book­er T. Wash­ing­ton to Bill Cos­by, which tells poor black peo­ple to buck up and get to work, while dis­miss­ing the struc­tur­al exploita­tion that occurs at the nexus of race and class.
In the ear­ly 20th cen­tu­ry, one of the major tasks under­tak­en by the Amer­i­can com­mu­nist move­ment was to take this "self-help" phi­los­o­phy of black nation­al­ism and make it part of rev­o­lu­tion­ary anti-cap­i­tal­ism – the prin­ci­ple, above all, was uni­ty of the pro­le­tari­at, which was impos­si­ble if black peo­ple remained in a state of hyper-exploita­tion, but­tressed by the extra-eco­nom­ic coer­cion that comes from seg­re­ga­tion of urban space, hier­ar­chiza­tion of the work­force, and polic­ing by repres­sive state appa­ra­tus­es.
For exam­ple, William Z. Fos­ter described in 1926 the effect of racial divi­sions on the class strug­gle in gen­er­al:
The pol­i­cy of the employ­ers is to devel­op the Negroes as a great reserve army of strike­break­ers. They refuse to give the Negroes employ­ment in many indus­tries and trades unless they come in as strike­break­ers. They force them to accept the low­est wages and the most ter­ri­ble work­ing con­di­tions. They leave no stone unturned to exploit the deep race antag­o­nism between whites and blacks in order to force the Negro to scab. And in many great strikes, such as for exam­ple the 1919 steel strike, where at least 50,000 Negroes were brought into the mills dur­ing the strike, they are only too suc­cess­ful.
This real­i­ty was rein­forced by the craft unions, whose white chau­vin­ism led them to block black work­ers from join­ing. The solu­tion, said Fos­ter, was for white and black work­ers to strug­gle togeth­er – but this could only be achieved if black work­ers were able to orga­nize on their own terms, with­out their inter­ests being sub­or­di­nat­ed to those of white work­ers.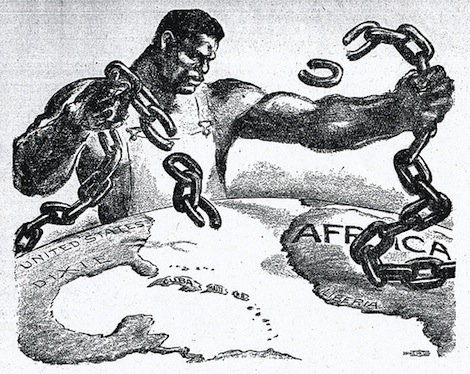 ---
Ulti­mate­ly this led the com­mu­nist move­ment to incor­po­rate the demands made by black nation­al­ist move­ments, rep­re­sent­ed by Mar­cus Gar­vey but also by black com­mu­nist groups like the African Black Broth­er­hood. This pol­i­cy, based on the Bol­she­vik endorse­ment of move­ments for nation­al self-deter­mi­na­tion, was insti­tu­tion­al­ized in the 1928 and 1930 Com­intern Res­o­lu­tions on the "black nation­al ques­tion," but what is inter­est­ing above all is its prac­ti­cal effect. Com­mu­nist Par­ty USA mem­bers risked their lives to engage in activism that includ­ed orga­niz­ing armed self-defense from lynch­ing in the South, anti-evic­tion cam­paigns in Harlem, and the Sharecropper's Union that won a strike for bet­ter cot­ton prices.
The polit­i­cal impor­tance of this pol­i­cy was not lost on the rest of the com­mu­nist move­ment. Some Trot­sky­ists sug­gest­ed reject­ing the nation­al­ist line in favor of "social, polit­i­cal and eco­nom­ic equal­i­ty for Negroes." But Trot­sky him­self con­sid­ered this a "lib­er­al demand," and in fact a "con­ces­sion to the point of view of Amer­i­can chau­vin­ism."
"I under­stand what 'polit­i­cal equal­i­ty' means," Trot­sky said. "But what is the mean­ing of eco­nom­i­cal and social equal­i­ty with­in cap­i­tal­ist soci­ety?" Ulti­mate­ly he con­clud­ed that "the Negro can be devel­oped to a class stand­point only when the white work­er is edu­cat­ed." It was those white work­ers who fought for black self-deter­mi­na­tion, who defend­ed black work­ers from the police, who Trot­sky looked to: "those are rev­o­lu­tion­ists, I have con­fi­dence in them." This strug­gle against racism was the con­di­tion for a class strug­gle: "The Negroes will through their awak­en­ing, through their demand for auton­o­my, and through the demo­c­ra­t­ic mobi­liza­tion of their forces, be pushed on toward the class basis."
The impli­ca­tions of this his­to­ry must be seri­ous­ly elab­o­rat­ed. First of all, it would be impos­si­ble to speak today of a unit­ed labor move­ment if this ear­ly nation­al­ist turn had not laid the foun­da­tion for the Civ­il Rights Move­ment. But even fur­ther, the wider polit­i­cal log­ic must be con­tin­ued, since such prac­ti­cal activ­i­ty has impor­tant analo­gies today. With­in the com­mu­nist prac­tice enabled by the black nation­al ques­tion, the anti-lynch­ing move­ment was insep­a­ra­ble from the "eco­nom­ic" bat­tles against evic­tions and for unem­ploy­ment ben­e­fits. It's dif­fi­cult not to notice that these links are still present – the past year saw the mur­der of Troy Davis by the prison-indus­tri­al com­plex, and the police bru­tal­i­ty against the occu­pa­tions move­ments recalls the sys­tem­at­ic attacks on black com­mu­ni­ties. The eco­nom­ic bat­tles of yes­ter­day per­sist along­side the clear­ly racial­ized issues of migrant labor, wel­fare, and "school reform." There was and still is no way to orga­nize black work­ers for their self-eman­ci­pa­tion with­out frankly acknowl­edg­ing the racist artic­u­la­tions of class pow­er, and it's clear­ly the only way for move­ments against eco­nom­ic exploita­tion to incor­po­rate the sec­tors of the work­ing class that suf­fer the most from evic­tions and fore­clo­sures.
Obvi­ous­ly, it would be illog­i­cal to sim­ply repeat unre­con­struct­ed claims about nation­al­ism today. It is cru­cial to use a Marx­ist the­o­ry of self-deter­mi­na­tion to con­front "essen­tial­ist" nation­alisms. Black nation­al­ism is a way to defend the inter­ests of one sec­tor of the class, to uni­fy it, ground its auton­o­my, and strength­en its strug­gle. But it can also pro­duce inter­nal oppres­sion, arti­fi­cial­ly homog­e­nize the group, and force the com­mu­ni­ty as a whole to sub­or­di­nate itself to the rep­re­sen­ta­tion of one of its seg­ments – say, black men. And these risks are clear from Gar­vey to Far­rakhan.
But from the point of view of the Amer­i­can rev­o­lu­tion­ar­ies of the 1920s and 1930s, black nation­al­ism was a weapon that could be strate­gi­cal­ly reap­pro­pri­at­ed. What is impor­tant is that this clas­si­cal left prac­tice wasn't at the lev­el of iden­ti­ty. It con­front­ed the his­tor­i­cal speci­fici­ty of cap­i­tal­ism, which is artic­u­lat­ed at the lev­el of the nation-state – and advanced a pol­i­tics based on the self-eman­ci­pa­tion of an agent, there­fore the uni­ty of this agent, that social process­es have reduced to a cer­tain func­tion. Our his­tor­i­cal pre­de­ces­sors rec­og­nized that the slo­gan of self-deter­mi­na­tion came far clos­er to the self-eman­ci­pa­tion of the pro­le­tari­at than any lib­er­al plat­i­tude about equal­i­ty.
Such a prac­tice demon­strates the only effec­tive means of com­bat­ing neolib­er­al iden­ti­ty pol­i­tics: a pol­i­tics based on the pri­ma­cy of class strug­gle, which care­ful­ly address­es the medi­a­tion of class by oth­er ele­ments of the social for­ma­tion in order to con­struct the uni­ty of the pro­le­tari­at. It is this les­son, from the Amer­i­can rev­o­lu­tion­ar­ies whose lega­cy is worth reclaim­ing, that we should recall as we debate the com­plex rela­tion­ship between race and class. We can start by ask­ing a sim­ple ques­tion: why have the black youth who par­tic­i­pat­ed in the Philadel­phia flash mobs been so con­spic­u­ous­ly absent from the occu­pa­tion at City Hall? Projects like Occu­py the Hood pose the next ques­tion: how can this divi­sion be over­come? The future of an anti-cap­i­tal­ist move­ment depends on the answer.
---
Asad Haider is a grad­u­ate stu­dent at UC-San­ta Cruz. Salar Mohan­desi is a grad­u­ate stu­dent at UPenn. They are the edi­tors of View­point.