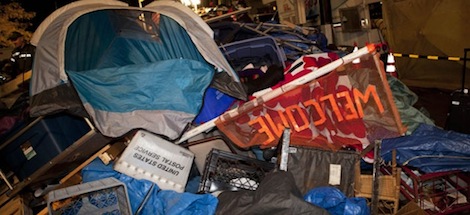 After the raid on Zuc­cot­ti Park ear­ly this morn­ing, what remains of Occu­py Wall Street? The library was destroyed and thrown in the garbage; the kitchen and com­mune that fed and housed hun­dreds now gone. But what about the gen­er­al assem­bly?
The police vio­lence demon­strates that the rel­e­vance of Occu­py Wall Street as a polit­i­cal sit­u­a­tion is by no means in its attempts, fail­ures and very real suc­cess­es at direct democ­ra­cy. It is instead a ques­tion: what is beyond democ­ra­cy in the spir­it of Occu­py Wall Street?
This is not some ter­ri­ble, reac­tionary decon­struc­tion of the impor­tance of con­sen­sus, dis­cus­sion, and the cama­raderie of equals; I mere­ly mean to pin­point tac­tics of affin­i­ty that force plat­forms of shar­ing and lev­el­ing to occur in the first place. As Rosa Lux­em­burg said,"free­dom is always and exclu­sive­ly free­dom for the one who thinks dif­fer­ent­ly" – to not dis­cuss this, and bring it forth­with, is to say only end­less opin­ions mat­ter.
Why should mere "opin­ions" be inter­est­ing? Why should any­thing like Occu­py Wall Street be sup­posed to be a mono­lith of prac­tices and ideas? Even if it were, why should it con­tin­ue as it is? The pow­er of Occu­py Wall Street is in its mul­ti­plic­i­ty of demo­c­ra­t­ic forms, not end­less rote assem­blies. The recent raids on Oak­land, Port­land and New York (most like­ly coor­di­nat­ed) are forc­ing Occu­py Wall Street to rad­i­cal­ize its for­ma­tions – autonomous affini­ties are nec­es­sary to pro­pel the "move­ment," but in order to do this, they can­not be whol­ly iden­ti­fied with it.
At 5PM on Sat­ur­day, Octo­ber 22, a group of activists, artists and oth­ers occu­pied Artists Space, a project of the New York State Coun­cil on the Arts which had the goal of assist­ing young and emerg­ing artists. Deemed "Occu­py 38" (for 38 Greene Street, Soho), over the course of the next 28 hours they drew dis­mis­sive com­ments, if not out­right ven­om, from every would-be ana­lyst of Occu­py Wall Street. Vil­lage Voice feigned con­fu­sion. Anony­mous decried it with "this 'occu­pa­tion' sucks !!!" On Twit­ter, the hash­tag #occupy38 was bizarrely filled with vit­ri­ol against the action, with numer­ous New York blog­gers and jour­nal­ists claim­ing under­stand­ing and sym­pa­thy with Occu­py Wall Street at Zuc­cot­ti Park and the move­ment as a whole, but eager to denounce "Take Artists Space" as "imma­ture" and "stu­pid." Despite hold­ing open gen­er­al assem­blies, Occu­py 38 was quick­ly con­strued as "elit­ist." Though they did not try to pro­mote exclu­siv­i­ty, it is true that their goal was to cir­cum­vent the Gen­er­al Assem­bly – with its under­cov­er cops, wet blan­ket lib­er­als, and bleat­ing obses­sions with process – in order to advance the move­ment.
Trees for the For­est
Of course, those behind Take Artists Space were well aware of their actions – the com­mit­tees and process of Zuc­cot­ti were becom­ing over­wrought and sti­fling, and it was a neces­si­ty to take indoor space, espe­cial­ly before the cold weath­er began, to renew the rad­i­cal­i­ty of OWS's ini­tial ges­tures. In oth­er words, to con­tin­ue a ser­i­al com­po­si­tion of what occu­pa­tion is, not defen­sive­ly and hys­ter­i­cal­ly cry­ing out "quid juris?" Occu­py­ing a more com­mu­ni­ty-ori­ent­ed art gallery was a cal­cu­la­tion to avoid an imme­di­ate crack­down – Artists Space failed in this regard, even­tu­al­ly snitch­ing on the occu­piers, because by all anec­do­tal reports, they were, in sum­ma­ry, mean.
Why does any of this mat­ter? The obvi­ous response was includ­ed on the Take Artists Space tum­blr. They found them­selves "amidst accu­sa­tions of moral defi­cien­cy and polit­i­cal imma­tu­ri­ty, the same accu­sa­tions wield­ed by the own­ers of Zuc­cot­ti Park at the start of its occu­pa­tion." But this cri­tique was unfor­tu­nate­ly lost on the lib­er­als of the blo­gos­phere.
The lib­er­als felt that Take Artists Space drew atten­tion away from the main strug­gle of Occu­py Wall Street and its Zuc­cot­ti Park ori­gin sto­ry, imply­ing that if the tal­is­man of that place were to be tak­en away, the "move­ment" would some­how cease to grow. As though the pow­er of the gen­er­al assem­blies were in their uni­ty, and not their mul­ti­ple ele­ments! The occu­pa­tions sym­bol­i­cal­ly uphold their occu­pied spaces, but any aber­ra­tion is deemed "poor­ly orga­nized" adven­tur­ism by peo­ple who insist on sym­bols alone. The "friend­ly," "rad­i­cal" media rel­ished in call­ing out the per­ceived turpi­tude and audac­i­ty of Take Artists Space, and effec­tive­ly did the work of the police's PR depart­ment.
But nev­er mind that. Giv­en the real arc of affairs sup­ply­ing the back­drop to the dra­ma that is OWS – the break­down of glob­al cap­i­tal­ism as a world sys­tem – why not sup­port eman­ci­pa­to­ry revolt in all its forms? Giv­en the very real­is­tic long-term con­se­quences of today's events, why stunt the trans­for­ma­tive poten­tial of every­thing that emerges from capitalism's struc­tur­al con­tra­dic­tions?
The mis­take today is to look at Greece, Spain, Lon­don, Chile, and else­where, and hold them in relief as parts of a whole, a sin­gle phe­nom­e­non. Actu­al­ly, this is what a sin­gle phen­e­menon looks like as it is being ripped apart. We should par­tic­i­pate in its com­ing apart – it's not as if we could do any­thing to pre­vent it! Are there some peo­ple – even those who claim sup­port for Occu­py Wall Street – who still believe a return to the sta­tus quo is pos­si­ble, but with maybe a lit­tle more democ­ra­cy and jobs thrown in?
The gen­er­al assem­blies, while excit­ing and res­o­nant, are not sacred cows. The gen­er­al assem­blies sus­tain a refusal of today's dis­mal sit­u­a­tion not only inas­much they do just that – sus­tain the refusal. They must meet at the inter­sec­tion of rev­o­lu­tion­ary sequence and insur­rec­tionary act: where they are a process, they should also be an act of trans­gres­sion, and where they are trans­gres­sive, they should also move toward a real goal. When they are nei­ther, they should be scrapped for some­thing else. They do not rep­re­sent any­one, and do not speak for the move­ment, strict­ly because there is not a move­ment, but thou­sands of move­ments, in full flo­ral bloom.
Still Not Get­ting It
Sim­ply put, there isn't any stop­ping what is under way – what is impor­tant is to fos­ter the cre­ation of groups, agi­tate and edu­cate in and out of the work­place, and splin­ter what­ev­er uni­ty the present pos­sess­es into many oth­er fac­tions and affini­ties. Forc­ing encoun­ters – those moments when busi­ness does not go as usu­al – is the pre­rog­a­tive for new assem­blies and meth­ods. Glob­al cap­i­tal pre­serves a sit­u­a­tion in which there are no encoun­ters, because busi­ness must always go as planned, and noth­ing exists but busi­ness. Take Artists Space was an attempt at cre­at­ing an encounter – to draw out the con­se­quences of haste and audac­i­ty, and adher­ing not to schisms in gen­er­al, but to gen­er­at­ing schism and play­ing it out until the music stops. If exper­i­men­ta­tion rubs peo­ple the wrong way when its hap­pen­ing, this is the symp­tom that some­thing new is occur­ring.
The last com­mu­niqué from Occu­py 38, or Take Artists Space, affir­ma­tive­ly reads,
We bat­tle with sabo­teurs, cam­ou­flaged social­ists, intel­lec­tu­al skep­ti­cism; and we say: Let's occu­py some­thing else. Now we know who we can invite. The ones that don't wish only for progress to our move­ment, but the efforts of our bod­ies to expose and threat­en, to break struc­tures and clichés which are not bound only in the are­na of a bureau­crat­ic vil­lage. In this process we are edu­cat­ed about tac­tics of friend and ene­my.
It is Pollyan­naish to con­tin­ue to assume that every­one will be Occu­py Wall Street's friend, just as it is obtuse to believe there are ene­mies around every cor­ner. We must con­tin­ue to dis­cov­er who our friends real­ly are.
The first sequence of the Occu­py move­ment, as events in Oak­land and Chapel Hill attest, is over. On Take Artists Space tum­blr log, the key to the action was in the lan­guage used: "Take That Which is Already Yours." It's impos­si­ble to "occu­py" some­thing that is already yours – but it must be tak­en back, indef­i­nite­ly. Zuc­cot­ti Park and Oscar Grant Plaza must not be just "reoc­cu­pied" in response to this recent wave of state repres­sion. They must be tak­en per­ma­nent­ly. Now the real work begins. We must change the polit­i­cal sit­u­a­tion. "Occu­py Every­thing" is lit­er­al, and because of that, stop say­ing "Occu­py."
---
Trevor Owen Jones is a librar­i­an and a writer.