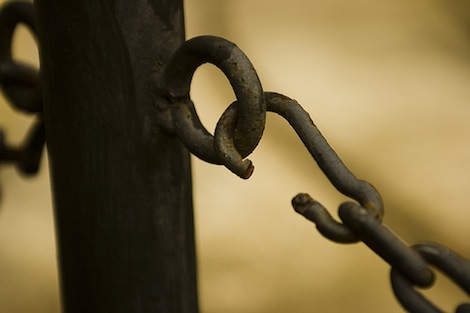 All eyes are on Oak­land. And right­ful­ly so. Oak­land has shown the oth­er occu­pa­tions how the move­ment can be suc­cess­ful­ly esca­lat­ed. By trans­form­ing the occu­pa­tion of a park into a gen­er­al strike, Oak­land has indis­putably emerged as the most mil­i­tant sec­tion of the nation­al occu­pa­tion move­ment. All the oth­er occu­pa­tions across the coun­ty are ask­ing them­selves how they can fol­low in its foot­steps. But, as strange as it may sound, the best way to repro­duce the lev­el of mil­i­tan­cy that has erupt­ed in Oak­land may actu­al­ly be to not fol­low in that city's foot­steps.
Last Wednes­day, while the strike raged in Oak­land, nine occu­piers staged a sit-in at the Com­cast Cen­ter in Philadel­phia. A num­ber of us met at the jail lat­er that night in sol­i­dar­i­ty with those arrest­ed as well as those strik­ing on the oth­er side of the coun­try. Con­ver­sa­tion quick­ly turned to Oak­land. There was a sense of fas­ci­na­tion, won­der, almost envy. It was almost as though Oak­land had become the St. Peters­burg of our cycle of strug­gle. Some of those I spoke with thought about how we could do the same, con­sid­ered what they could do here to make it hap­pen, and won­dered when it would all come to Philly.
There is a ten­den­cy that will argue that the best way to deep­en the move­ment here would be to do exact­ly what they did in Oak­land: brace for a spec­tac­u­lar con­fronta­tion that might ulti­mate­ly advance the move­ment fur­ther. The strat­e­gy is sim­ple, tele­o­log­i­cal, for­mu­la­ic: if we wait until the Novem­ber 15 evic­tion, then there will be a con­fronta­tion; if there is a con­fronta­tion, then we can gath­er more sup­port; if we have more sup­port, then we can be like Oak­land. Though it's cer­tain­ly not the only sen­ti­ment, it does seem to be gain­ing some ground. There is talk at Occu­py Philly about "for­ti­fy­ing" the occu­pa­tion in antic­i­pa­tion of a crack­down. The for­mal deci­sions will come Fri­day.
To look to Oak­land for inspi­ra­tion is one thing; to fetishize it into an immutable par­a­digm is quite anoth­er. The strate­gic line tossed around in Occu­py Philly threat­ens to reify an inspi­ra­tion into a for­mu­la. What worked there may not work else­where; the strate­gies devel­oped in one city should not be per­func­to­ri­ly applied in anoth­er. Philadel­phia is not Oak­land. In Oak­land, we are deal­ing with a unique his­to­ry that stretch­es from the 1946 Gen­er­al Strike to the Black Pan­thers to Oscar Grant.
The 1946 action, which began with women work­ing at down­town retail stores, saw the con­sol­i­da­tion of near­ly the entire Oak­land work­ing class; just two decades lat­er, the Black Pan­thers pro­vid­ed a mod­el for oth­er groups to fol­low, paving the way for a unique alliance between Asian, Native Amer­i­can, and Chi­cano com­mu­ni­ties; the mur­der of Oscar Grant in 2009 sparked a wave of upris­ings that rocked the city; and low hous­ing prices since then have allowed mil­i­tants from the 2009 stu­dent move­ment to enter the fold. And let's not for­get the his­toric role of the dock work­ers who shut down the ports against South African Apartheid and the impris­on­ment of Mumia Abu-Jamal. These con­tra­dic­tions have pro­duced a sit­u­a­tion that made Oak­land the "weak­est link" in the Amer­i­can con­junc­ture; they pro­duced a sit­u­a­tion in which con­fronta­tion with police could become a rad­i­cal­iz­ing force. Philadel­phia has not yet accu­mu­lat­ed its own con­tra­dic­tions in the same volatile man­ner; it has its own his­to­ry, its own strug­gles, and its own par­tic­u­lar com­po­si­tion. It needs its own strate­gies.
The abortive Octo­ber Putsch of 1923 is a valu­able illus­tra­tion of some of the risks inher­ent in this kind of think­ing. In 1923 the French invad­ed the Ruhr in order to secure repa­ra­tion pay­ments from the Ger­man Weimar Repub­lic. The inva­sion con­joined with soar­ing unem­ploy­ment, ram­pant infla­tion, height­ened pro­le­tar­i­an mil­i­tan­cy, and a gen­er­al legit­i­ma­tion cri­sis, to pro­duce a dan­ger­ous­ly volatile sit­u­a­tion. Sens­ing an oppor­tu­ni­ty, the Sovi­et Union, along with the Ger­man Com­mu­nist Par­ty (KPD), decid­ed to plan an insur­rec­tion mod­eled on the suc­cess­ful Bol­she­vik par­a­digm: the Russ­ian Octo­ber Rev­o­lu­tion would pro­vide the for­mu­la for the Ger­man Octo­ber Putsch. All sides assumed that if it worked in St. Peters­burg, then sure­ly it would also work in Berlin.
But the whole affair result­ed in a cat­a­stroph­ic fias­co. Sens­ing that it prob­a­bly would not get the sup­port it need­ed, the KPD lead­er­ship called off the upris­ing at the last minute. Ham­burg received the news too late and its insur­rec­tion was crushed in iso­la­tion. Ger­many was not Rus­sia and 1923 was not 1917. The con­tra­dic­tions that marked one con­junc­ture were entire­ly dif­fer­ent from those that marked the oth­er; it made no sense to apply the same gen­er­al strat­e­gy to both sit­u­a­tions.
This les­son should be borne in mind today. Each local­i­ty is marked by its own dis­tinct set of con­tra­dic­tions; each has its own his­to­ry, its own rules, and its own dynam­ic. This does not mean that we should ignore every­thing out­side of our own city; nor does it mean that dif­fer­ent strug­gles can nev­er res­onate with one anoth­er. Louis Althuss­er, reflect­ing on the unique­ness of the Russ­ian Rev­o­lu­tion, tried to find a more pro­duc­tive way of think­ing through this prob­lem. In For Marx, he argued that rev­o­lu­tions do not hap­pen when some essen­tial con­tra­dic­tion explodes; they hap­pen when a plu­ral­i­ty of dis­tinct con­tra­dic­tions encounter one anoth­er in a way that ampli­fies their poten­tial explo­sive­ness. In oth­er words, we can't enshrine the con­tra­dic­tions of one local­i­ty as the essen­tial ones; we have to find strate­gic ways of "fus­ing" these unique con­tra­dic­tions in a way that det­o­nates them all. Rev­o­lu­tions, to put it anoth­er way, are overde­ter­mined. We have to cre­ate a sit­u­a­tion in which:
a vast accu­mu­la­tion of "con­tra­dic­tions" comes into play in the same court, some of which are rad­i­cal­ly het­ero­ge­neous – of dif­fer­ent ori­gins, dif­fer­ent sense, dif­fer­ent lev­els and points of appli­ca­tion – but which nev­er­the­less "merge" into a rup­tur­al uni­ty…
This means, before all else, dis­cov­er­ing which con­tra­dic­tions seem to pre­dom­i­nate at a giv­en moment:
Indeed, the great les­son of prac­tice is that if the struc­ture in dom­i­nance remains con­stant, the dis­po­si­tion of the roles with­in it changes; the prin­ci­pal con­tra­dic­tion becomes a sec­ondary one, a sec­ondary con­tra­dic­tion takes it place, the prin­ci­pal aspect becomes a sec­ondary one, the sec­ondary aspect becomes a prin­ci­pal one. There is always one prin­ci­pal con­tra­dic­tion and sec­ondary ones, but they exchange their roles in the struc­ture artic­u­lat­ed in dom­i­nance while this lat­ter remains sta­ble.
Although there always seems to be one prin­ci­pal con­tra­dic­tion, Althuss­er would warn us that "this prin­ci­pal con­tra­dic­tion pro­duced by dis­place­ment only becomes 'deci­sive', explo­sive, by con­den­sa­tion (by 'fusion')." This applies to each local­i­ty – as they are all com­posed of a mul­ti­plic­i­ty of con­tra­dic­tions – as well as the col­lec­tion of all the local­i­ties that com­pose the move­ment. In oth­er words, at one moment, the con­tra­dic­tions in New York seem to dom­i­nate, the next, pri­ma­cy has been dis­placed onto Oak­land. More con­crete­ly, we have to take the best that each local­i­ty has to offer, we have to exac­er­bate the par­tic­u­lar con­tra­dic­tions in each of these local­i­ties, and we have to fuse these dif­fer­ent strate­gies in a way that det­o­nates them all. But first, we have to start by tak­ing advan­tage of our own par­tic­u­lar con­tra­dic­tions.
Oak­land has the fifth largest port in the coun­try; so its dis­tinct con­tra­dic­tions pro­duced a sit­u­a­tion in which a mass march on the docks could have a dra­mat­ic polit­i­cal effect. Philadel­phia has its own set of pecu­liar char­ac­ter­is­tics – the high­est con­cen­tra­tion of uni­ver­si­ties in a sin­gle city is one – and the con­tra­dic­tions that emerge from this will have to play a role in Occu­py Philly's next steps.
---
Salar Mohan­desi is a grad­u­ate stu­dent at UPenn and an edi­tor of View­point.