We expect his­to­ry to pro­vide us with expla­na­tions – to place the imme­di­a­cy of expe­ri­ence with­in a wider sto­ry whose terms will be pro­gres­sive­ly elab­o­rat­ed and illu­mi­nat­ed. Polit­i­cal action, which aims at inter­ven­ing into his­to­ry and alter­ing its move­ment, has an entire­ly dif­fer­ent kind of truth – a sub­jec­tive truth pro­duced in the act of par­tic­i­pat­ing.
The events of yes­ter­day in Oak­land, on the oth­er hand, strike me as unin­tel­li­gi­ble. And I am not sure fur­ther infor­ma­tion and spec­u­la­tion will shed more light on my expe­ri­ence. The actions we take to devel­op cer­tain pos­si­bil­i­ties present in yesterday's "gen­er­al strike" may pro­duce a lan­guage that will con­tribute to the intel­li­gi­bil­i­ty of future events.
It's not sur­pris­ing when the pro­pa­gan­da machine takes advan­tage of this kind of ambi­gu­i­ty to total­ly dis­tort real­i­ty. But it is obscene, idi­ot­ic, and crim­i­nal.
Before I left for a night­time trip to Oscar Grant Plaza, the New York Times web­site had this as its lead­ing head­line: "Oakland's Port Shut Down as Pro­test­ers March on Water­front."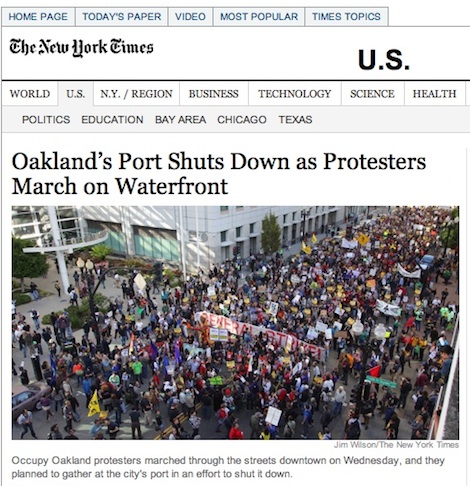 When I got home last night the head­line had shift­ed to "Protest in Oak­land Turns Vio­lent," with essen­tial­ly the same text. As of this morn­ing, this head­line is accom­pa­nied by a pho­to of a man wav­ing a flag in front of a fire, with no expla­na­tion of the nature of the fire. It describes "a rov­ing group of about 100 most­ly young men" who "broke from the main group of pro­test­ers in a cen­tral plaza and roamed through down­town streets spray­ing graf­fi­ti, burn­ing garbage and break­ing win­dows." The police, we are told, warned these van­dals to dis­perse, and then fired tear gas.
All over the inter­net lib­er­als are warn­ing of agents provo­ca­teurs who are try­ing to dis­cred­it the move­ment, or con­demn­ing the dan­ger­ous anar­chist ele­ment that seeks con­fronta­tion with police. Such posi­tions could be debat­ed if they had any bear­ing on real­i­ty.
I will try to recon­struct the day. My account will be impres­sion­is­tic; it will be marked with bursts of frag­men­tary analy­sis. The chronol­o­gy is framed by three hege­mon­ic ele­ments.
Black Bloc
I arrived in Oak­land just in time for the anti-cap­i­tal­ist march at 2PM. "Anti-cap­i­tal­ist" seems like a broad umbrel­la term, and in some ways it is; there were red flags in the crowd, but also peo­ple with main­stream signs, includ­ing some who seemed to be from unions and non­prof­its, who are per­haps begin­ning to ask some fun­da­men­tal ques­tions.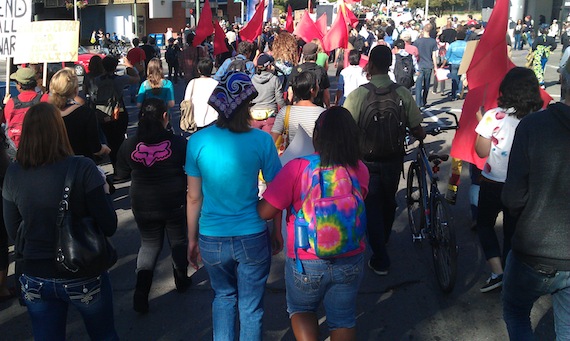 But "anti-cap­i­tal­ism" has a very spe­cif­ic mean­ing at a protest. It typ­i­cal­ly refers to the mil­i­tant wing asso­ci­at­ed with the 1999 WTO protests in Seat­tle, and it's a good indi­ca­tion of the pres­ence of the "black bloc," the nin­jas of the Amer­i­can left who wear masks and break cor­po­rate win­dows.
The black bloc was there yes­ter­day, and they met expec­ta­tions. I saw win­dows and ATMs bro­ken at Chase, Wells Far­go, and Bank of Amer­i­ca. Bank of Amer­i­ca had "1946" spray-paint­ed on one of its total­ly shat­tered win­dows, to recall the pre­vi­ous gen­er­al strike in Oak­land.
I saw no police. I saw no arrests for prop­er­ty destruc­tion. I want to empha­size this, against reac­tionar­ies who smear the whole move­ment by reduc­ing it to one ele­ment, and against lib­er­als who think that police vio­lence sim­ply brought a minor­i­ty of extrem­ists under con­trol. Prop­er­ty destruc­tion did not start at mid­night when the tear gas came out. The major­i­ty of prop­er­ty destruc­tion – the only prop­er­ty destruc­tion I per­son­al­ly saw – took place in the after­noon with no police response.
Mor­al­iz­ing reac­tions to the black bloc are absurd, but I believe it must be eval­u­at­ed from the stand­point of strat­e­gy. Prop­er­ty destruc­tion is not the same as vio­lence against peo­ple, and if destroy­ing the win­dows of a bank reduced the preda­to­ry exploita­tion prac­ticed by these insti­tu­tions it would be eth­i­cal­ly unim­peach­able. Unfor­tu­nate­ly, I see no way in which it does that. Black-bloc prop­er­ty destruc­tion seems above all else to be a form of self-expres­sion. It does not fit its tac­tics into a long-term strat­e­gy, and it does not move towards dis­man­tling the social struc­ture of cap­i­tal­ism, rather than the phys­i­cal struc­tures that some­times rep­re­sent it. Nei­ther does the high­ly secre­tive and elite group­ing of the black bloc pre­fig­ure com­mu­nist rela­tions.
This does not mean, how­ev­er, that we should mis­rep­re­sent the com­po­si­tion and prac­tice of the black bloc. Dur­ing the attack on Wells Far­go, a man bicy­cled up to the bar­ri­cade, point­ed, and said, "some of you are cops." He repeat­ed it know­ing­ly and biked away. Count­less peo­ple who weren't there are say­ing this on the inter­net today. But to me it seems total­ly implau­si­ble.
First of all, two police infor­mants were iden­ti­fied. I have no way of con­firm­ing whether they were under­cov­er. But they sure seemed like it. A woman point­ed at two rather burly men, one white and one black, with aggres­sive pos­tures and clothes that seemed exact­ly like what a police offi­cer would imag­ine a pro­test­er to wear. She said they had been pick­ing up items peo­ple dropped to use as evi­dence; they could come up with no bet­ter defense than to say, "I ain't under­cov­er," and accuse the woman of not being from Oak­land. (She was not in the black bloc.) If these two men were police – which, giv­en pre­vi­ous Oak­land Police Depart­ment (OPD) poli­cies, is not far­fetched – they were lit­er­al­ly the only police I saw that after­noon.
A few min­utes after hear­ing this exchange I saw a gath­er­ing in the street. One of these men had been encir­cled by the black bloc, who were shout­ing and pound­ing the road with their sticks. He left rather quick­ly. I have tried a few thought exper­i­ments, but I can't quite under­stand why the OPD would send infil­tra­tors of vary­ing qual­i­ty into the march, turn them against each oth­er, and then do noth­ing when the win­dows actu­al­ly got bro­ken.
The sec­ond impor­tant point is that the black bloc did extreme­ly orga­nized hits on spe­cif­ic sites. It was not wan­ton destruc­tion. They attacked no local shops, no street lights; not even Star­bucks. They tar­get­ed banks and did so with effi­cien­cy and focus.
The only loca­tion they attacked which was not a bank was Whole Foods. They man­aged to splash paint on the win­dows; as far as I saw they had not actu­al­ly bro­ken the win­dow. It was when we passed by Whole Foods that I first began to hear the crowd chant, "peace­ful protest." This was the main­stream of the crowd, the ones wear­ing union t-shirts or hold­ing signs about cam­paign finance reform, who had for what­ev­er rea­son decid­ed to join the anti-cap­i­tal­ist march. Some of them phys­i­cal­ly pro­tect­ed the Whole Foods and the black bloc had to move on.
"Peace­ful protest" is a mean­ing­less chant, inco­her­ent and poten­tial­ly reac­tionary. At best it is a call to present a media image that will please those who are already against you; at worst it is a defense of pri­vate prop­er­ty won by exploita­tion. The response from the black bloc, how­ev­er, was some­what incred­i­ble: "union bust­ing is dis­gust­ing."
Black-bloc anar­chism does not tend to align itself with union pol­i­tics. But the idea that the black bloc should use focused prop­er­ty destruc­tion to defend the right of work­ers to union­ize gives a total­ly dif­fer­ent pic­ture than the one we see in glib lib­er­al com­men­tary.
What we will have to accept is that the black bloc is our clos­est cur­rent mod­el of van­guardist orga­ni­za­tion­al prin­ci­ples, in a range of con­tra­dic­to­ry ways. They are a select coterie of indi­vid­u­als who attempt to enact the con­tents of their "advanced" con­scious­ness. What is miss­ing is the inter­change between the van­guard and the broad­er mass of work­ers – espe­cial­ly the ele­ments of the broad­er mass that are alien­at­ed by these tac­tics. Those who call uncrit­i­cal­ly for a par­ty today will have to ask them­selves if they are pre­pared to embrace a line that runs from Stal­in the bank rob­ber to the black bloc; I don't mean to dis­cred­it lead­er­ship or under­ground activ­i­ty, but sim­ply to empha­size that his­to­ry does not fit neat­ly into our prej­u­dices. Those who reject orga­ni­za­tion­al struc­tures in gen­er­al will have to ask them­selves if they believe it is con­sis­tent with anar­chist prin­ci­ples to impose their tac­tics upon the work­ers for whom they claim to speak. Per­haps seri­ous strate­gic answers to these ques­tions will bring more peo­ple into anti-cap­i­tal­ist march­es.
Long­shore­men
The next event, at 5PM, was the march on the docks. The dock work­ers of the Bay Area were the ones who led the way in the 1934 gen­er­al strike in San Fran­cis­co, in the union that lat­er became the Inter­na­tion­al Long­shore and Ware­house Union (ILWU). Oak­land was the first major Amer­i­can port on the Pacif­ic Coast, and is still the fifth busiest in the coun­try. This is not only the site of a his­to­ry of mil­i­tant labor strug­gle, it is also a nodal point of glob­al cap­i­tal­ism.
This was a far more diverse march than the one I had been in that after­noon. Not only was it extreme­ly inclu­sive, with fam­i­lies, union mem­bers, and a whole range of young and old par­tic­i­pat­ing, it was far larg­er. I believe the police esti­mate was 7,000; some have gone as far as to sug­gest 100,000 par­tic­i­pat­ing through­out the day.
The path we walked along was dot­ted with sev­er­al sta­tion­ary trucks that had come to pick up ship­ments. It is cer­tain­ly pos­si­ble, as some reports sug­gest, that there were truck dri­vers who were angry. But I didn't see any of them, and I saw a lot of truck dri­vers. Most of the ones I saw were honk­ing their horns, smil­ing, tak­ing pic­tures, and rais­ing fists.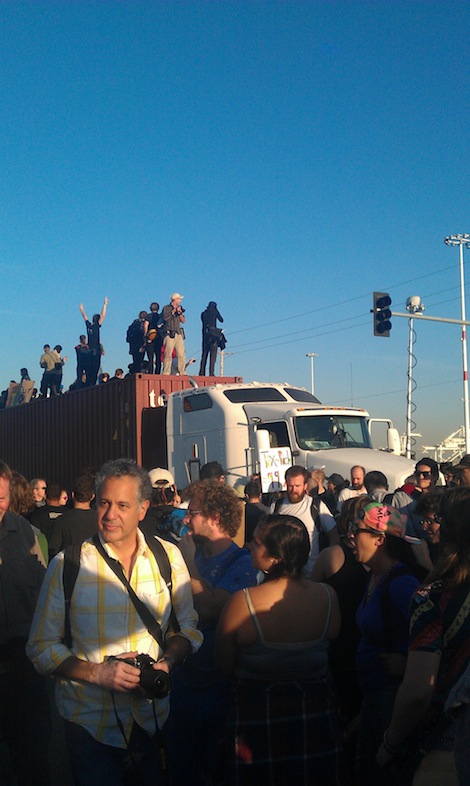 As we marched, we had to nav­i­gate the huge and com­plex geog­ra­phy of the port, and our num­bers were divid­ed as we went on. Peri­od­i­cal­ly we stopped and the peo­ple at the front called mic checks. Nobody could hear the human mic. Deci­sions had to be made, but it was hard to under­stand what they were, and who was going to make them. I got the impres­sion that the lead­er­ship was dis­cour­ag­ing us from going to the docks, and want­ed us to return to down­town Oak­land to build an ongo­ing strike there; oth­ers did not get the impres­sion that they were biased in either direc­tion. We also seemed to be debat­ing whether to go to the bridge to march to meet Occu­py San Fran­cis­co. Some­times oth­er peo­ple spoke, and one per­son said that the dock work­ers need­ed our sup­port. Peo­ple chant­ed, "shut down the ports," and we head­ed that direc­tion.
Dock work­ers sign up for jobs and get tick­ets indi­cat­ing the time of their shifts. There are some reports that many work­ers sim­ply did not take jobs yes­ter­day morn­ing. But oth­ers did. When we final­ly arrived at the port there were police at the very end of the path, but the impor­tant space was the park­ing lot where the work­ers were wait­ing. We gath­ered in that space and did sev­er­al mic checks. Some­one who seemed to know how the union worked remind­ed us that like most oth­er unions, ILWU work­ers could not sim­ply choose to join a gen­er­al strike; but they do have a con­tract which allows them to refuse to cross pick­et lines. He said we need­ed to form a pick­et, poten­tial­ly for a cou­ple hours, until the union sent an arbi­tra­tor to deter­mine whether the work­ers could go home.
We went to talk to the dock work­ers, who were all watch­ing the scene with inter­est and wait­ing to see the result. They were hap­py to talk to us. One told us that we had to stay until mid­night; bet­ter, until 3PM the next day; best, until the week­end. He explained their sched­ul­ing and sug­gest­ed that we need­ed to inter­rupt sev­er­al con­sec­u­tive shifts to seri­ous­ly inter­fere with the ship­ping sched­ule. The dock work­ers had already been engaged in a slow-down, for sev­er­al weeks – or months, I don't remem­ber. Since they were being pushed to put a larg­er por­tion of their pay towards med­ical ben­e­fits, they were using every pos­si­ble tech­ni­cal­i­ty in their con­tracts to avoid doing tasks, and gen­er­al­ly just dri­ving too slow­ly.
He hadn't heard about the Occu­py move­ment until he got a call about a poten­tial work stop­page. So he turned on the TV to learn more. "We're in the same strug­gle," he said. "We all work for them."
We stayed on the pick­et until the arbi­tra­tor showed up. The night shift got can­celled, but work­ers on anoth­er berth whose 8PM shift was can­celled were being asked to report to work at 3AM. This didn't mat­ter, our con­tact explained; since their tick­ets said 8PM, they could sim­ply refuse to come.
The pick­et line part­ed so the dock work­ers could dri­ve home, which they did to cheers and applause. They did not join the pick­et – this is a rea­son­able choice, since they have lives to live that were momen­tar­i­ly lib­er­at­ed from work. I was immense­ly proud to have par­tic­i­pat­ed in a pick­et that allowed two shifts to refuse to work, and to have shut down this cen­ter of the glob­al mar­ket for prob­a­bly 24 hours – to have actu­al­ly, in some small sense, inter­rupt­ed the dai­ly oper­a­tion of cap­i­tal­ism. But I did won­der how the mil­i­tan­cy of the dock work­ers could be incor­po­rat­ed into the gen­er­al move­ment beyond that day, and how we could have been bet­ter pre­pared to find them and work with them.
Tear Gas
First you hear the car­tridge crack­ing through the air. By that point you should already have your mask and gog­gles on. It's not so much that the air changes, as the fun­ny feel­ing that your throat and eyes have sud­den­ly start­ed to mal­func­tion. The atmos­phere is filled with the chem­i­cal par­tic­u­late but also a spon­ta­neous cama­raderie, home­made reme­dies passed around and peo­ple lead­ing each oth­er to safe­ty. It is hard not to recall the words of Anto­nio Negri in Dom­i­na­tion and Sab­o­tage:
Noth­ing reveals the immense his­tor­i­cal pos­i­tiv­i­ty of the work­ers' self-val­oriza­tion more com­plete­ly than sab­o­tage, this con­tin­u­al activ­i­ty of the sniper, the sabo­teur, the absen­tee, the deviant, the crim­i­nal that I find myself liv­ing. I imme­di­ate­ly feel the warmth of the work­ers' and pro­le­tar­i­an com­mu­ni­ty every time I don the ski mask.
But this time it was not sab­o­tage that count­ed. Let's all take a moment to remem­ber that the police launched the tear gas at mid­night. The black bloc did not set up tear gas can­is­ters at 3PM to explode lat­er in the day. If you blame the black bloc for police vio­lence that hap­pened nine hours lat­er, I don't know what I can do to help you.
What mat­tered instead was this "self-val­oriza­tion," a term close­ly tied to the estab­lish­ment of "occu­pied self-man­aged social cen­ters" in 1970s and 1980s Italy, when young rad­i­cals went beyond refus­ing work; they squat­ted in aban­doned build­ings and estab­lished cul­tur­al spaces, some of which still exist today. This was the autonomous pro­duc­tiv­i­ty that the police came last night to sup­press. A group of activists had occu­pied a build­ing that used to house the Trav­el­ers Aid Soci­ety, a non­prof­it that pro­vides shel­ter and ser­vices to the home­less. Due to fund­ing cuts the orga­ni­za­tion had lost its lease; the build­ing was aban­doned.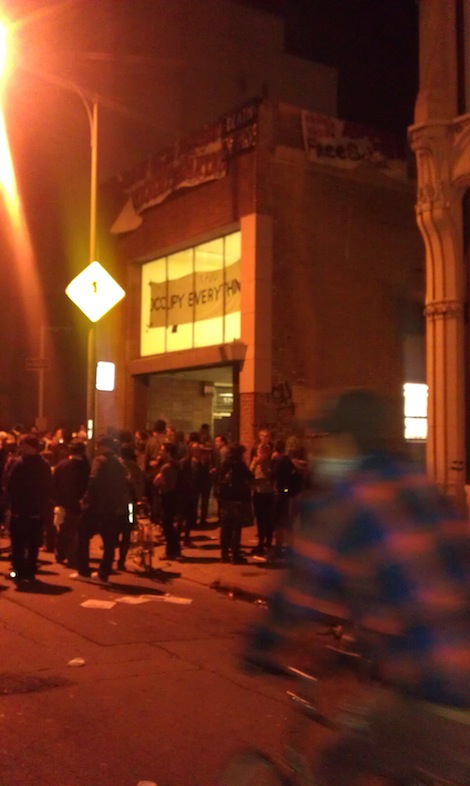 The occu­piers wrote:
In this aban­doned build­ing that once pro­vid­ed ser­vices to those in need, we open the Occu­pa­tion Cri­sis Cen­ter… We are reclaim­ing space that has been unused, used against us, left emp­ty while we sleep out­doors, while we cook and orga­nize and strug­gle out­doors.
This morn­ing, they wrote more about their plans:
We want this move­ment to be here next Spring, and claim­ing unused space is, in our view, the most plau­si­ble way for­ward for us at this point. We had plans to start using this space today as a library, a place for class­es and work­shops, as well as a dor­mi­to­ry for those with health con­di­tions. We had already begun to move in books from the library.
I did not enter the build­ing, but some com­rades did. The space was being recon­struct­ed; some­one brought speak­ers and a dance par­ty start­ed on the street in front of it. By the time I arrived, about 11:30PM, the mood was shift­ing; every­body knew the police were on their way. The Alame­da Coun­ty Police came first and were lat­er joined by police from around the Bay Area (includ­ing, as far as I know, the OPD).
The pro­test­ers were not attacked for engag­ing in van­dal­ism. They were not attacked for prop­er­ty destruc­tion. They occu­pied a build­ing; they erect­ed bar­ri­cades to defend the build­ing; they lined up in front of police to defend the build­ing.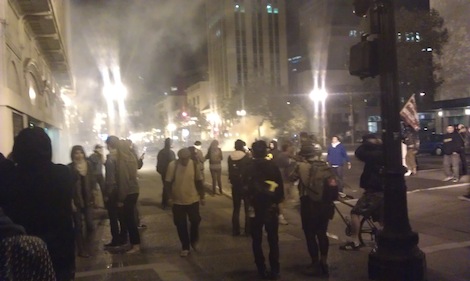 I don't know when the fires start­ed. We were hit with tear gas at least three times, start­ing a lit­tle after mid­night. We stood in Oscar Grant Plaza and took off our masks, and a woman came by and told us a fire had just been lit. This was the first I had heard about fire, but I had not actu­al­ly seen the front lines where the police were. What's impor­tant to under­stand is that reports were com­ing in through Twit­ter and else­where that police from around the Bay were mass­ing, with full riot gear, with their badge num­bers blacked out. The occu­piers were on the defen­sive. The goal of light­ing fires was to use smoke to reduce the effects of the tear gas. Whether this was done after the tear gas was launched, or before, in antic­i­pa­tion of a bru­tal attack like the one last week, strikes me as com­plete­ly and rad­i­cal­ly irrel­e­vant.
I left at about 1:00AM, after which the vio­lence esca­lat­ed and the police swarmed upon the camp in Oscar Grant Plaza. My under­stand­ing is that they eject­ed the occu­piers by enter­ing the build­ing by the roof. Some pro­test­ers fought back, and at this point appar­ent­ly broke some win­dows and threw bot­tles at police. The police react­ed by shoot­ing bean­bag bul­lets, hit­ting an unarmed home­less man in the leg, and launch­ing flash­ing grenades and more tear gas.
I have no fur­ther details about the extent of the prop­er­ty destruc­tion that took place ear­ly this morn­ing. What I do know is that it was a response to police vio­lence.
What mat­ters here is that police vio­lence was not a response to any act of van­dal­ism. It was an attempt to repress the occu­pa­tion of an aban­doned build­ing, and its con­ver­sion into a social cen­ter for the occu­pa­tion.
We are at a moment when occu­pa­tions are seri­ous­ly con­sid­er­ing an expan­sion of strate­gies. Every­thing in this move­ment points to the occu­pa­tion of spaces that are in a state of dis­use caused by fore­clo­sure and bud­get cuts. The state is attempt­ing to delude you into think­ing that it uses vio­lence to pre­vent destruc­tion. Do not let them mis­lead you. Last night it used vio­lence to pre­vent the pro­duc­tion of a new space. And if you let it put the blame on Oak­land, you will help it one day bring that vio­lence against you. You will help them defend capital's destruc­tion, the fur­ther hol­low­ing of the urban land­scape and the expul­sion of human bod­ies onto des­o­late streets.
I sug­gest refus­ing to blame Oak­land, but simul­ta­ne­ous­ly shelv­ing prop­er­ty destruc­tion as a tac­tic. The police didn't care about it. The banks have mon­ey to repair their win­dows. What threat­ened the state was the cre­ative restora­tion of the city. Imag­ine a strength that could force the state to retreat: a mass move­ment that walks out of work and occu­pies every­thing.
---
Asad Haider is a grad­u­ate stu­dent at UC-San­ta Cruz, a mem­ber of UAW 2865, and an edi­tor of View­point.