Occu­py Oakland's call for a day-long gen­er­al strike on Novem­ber 2 has revived inter­est in the tac­tic, calls for which were also heard over the win­ter in Madi­son, Wis­con­sin. Yet the gen­er­al strike is prac­ti­cal­ly unknown today in the Unit­ed States, func­tion­ing more as a rhetor­i­cal index of mil­i­tan­cy than a seri­ous pro­pos­al for uni­fied action. In sol­i­dar­i­ty with this movement's pro­found rup­ture in polit­i­cal lan­guage, we've select­ed a few impor­tant moments in the his­to­ry of the con­cept to illus­trate its poten­tial direc­tions.
A high­ly influ­en­tial cri­tique of the gen­er­al strike is found in Rosa Luxemburg's "The Mass Strike, the Polit­i­cal Par­ty, and the Trade Unions" of 1906. Reflect­ing on the 1905 Russ­ian Rev­o­lu­tion, Lux­em­burg crit­i­cized the syn­di­cal­ist con­cep­tion of the gen­er­al strike as a "pock­etknife" that can mere­ly be opened at any moment to achieve the rev­o­lu­tion. Instead, she cham­pi­oned the "mass strike," an unpre­dictably expand­ing move­ment of inter­con­nect­ed eco­nom­ic and polit­i­cal strug­gles cir­cu­lat­ing across soci­ety, exem­pli­fied by the events in Rus­sia:
The gen­er­al strikes of Jan­u­ary and Feb­ru­ary broke out as uni­fied rev­o­lu­tion­ary actions to begin with under the direc­tion of the social democ­rats; but this action soon fell into an unend­ing series of local, par­tial, eco­nom­ic strikes in sep­a­rate dis­tricts, towns, depart­ments and fac­to­ries. Through­out the whole of the spring of 1905 and into the mid­dle of the sum­mer there fer­ment­ed through­out the whole of the immense empire an unin­ter­rupt­ed eco­nom­ic strike of almost the entire pro­le­tari­at against cap­i­tal – a strug­gle which caught, on the one hand, all the pet­ty bour­geois and lib­er­al pro­fes­sions, com­mer­cial employ­ees, tech­ni­cians, actors and mem­bers of artis­tic pro­fes­sions – and on the oth­er hand, pen­e­trat­ed to the domes­tic ser­vants, the minor police offi­cials and even to the stra­tum of the lumpen­pro­le­tari­at, and simul­ta­ne­ous­ly surged from the towns to the coun­try dis­tricts and even knocked at the iron gates of the mil­i­tary bar­racks.

This is a gigan­tic, many-coloured pic­ture of a gen­er­al arrange­ment of labour and cap­i­tal which reflects all the com­plex­i­ty of social organ­i­sa­tion and of the polit­i­cal con­scious­ness of every sec­tion and of every dis­trict; and the whole long scale runs from the reg­u­lar trade-union strug­gle of a picked and test­ed troop of the pro­le­tari­at drawn from large-scale indus­try, to the form­less protest of a hand­ful of rur­al pro­le­tar­i­ans, and to the first slight stir­rings of an agi­tat­ed mil­i­tary gar­ri­son, from the well-edu­cat­ed and ele­gant revolt in cuffs and white col­lars in the count­ing house of a bank to the shy-bold mur­mur­ings of a clum­sy meet­ing of dis­sat­is­fied police­men in a smoke-grimed dark and dirty guard­room.
Unlike the open-end­ed and deep-root­ed Russ­ian mass strike, Lux­em­burg wrote, a strike that is "born of pure dis­ci­pline and enthu­si­asm will, at best, mere­ly play the role of an episode, of a symp­tom of the fight­ing mood of work­ing class upon which, how­ev­er, the con­di­tions of a peace­ful peri­od are reflect­ed."
But wide­spread strike action was not just a Russ­ian phe­nom­e­non – the Russ­ian Rev­o­lu­tion of 1905 coin­cid­ed with one of the most mil­i­tant strike waves in Amer­i­can his­to­ry. Per­haps the most sig­nif­i­cant gen­er­al strike in Amer­i­can his­to­ry occurred in Seat­tle in Feb­ru­ary 1919. All the city's major unions, and cru­cial­ly those in pub­lic util­i­ties and tran­sit, joined in a work stop­page with 35,000 strik­ing ship-yard work­ers, effec­tive­ly hand­ing social con­trol for a brief peri­od to a Gen­er­al Strike Com­mit­tee. A his­to­ry pro­duced by par­tic­i­pants empha­sized the nov­el­ty of this uni­fied met­ro­pol­i­tan work stop­page:
A gen­er­al strike was seen, almost at once, to dif­fer pro­found­ly from any of the par­tic­u­lar strikes with which the work­ers of Seat­tle were famil­iar. It was not enough, as some of the hasty enthu­si­asts declared, to "just walk out." The strik­ers were at once brought face to face with the way in which the whole com­mu­ni­ty, includ­ing their own fam­i­lies, is inex­tri­ca­bly tied togeth­er. If life was not to be made unbear­able for the strik­ers them­selves, prob­lems of man­age­ment, or selec­tion and exemp­tion, had to take the place of the much sim­pler prob­lem of keep­ing every­one out of work.
The Seat­tle gen­er­al strike reflect­ed not only the advance of work­ing-class orga­ni­za­tion in many sec­tors of pro­duc­tion and social repro­duc­tion at the time, but also the abil­i­ty of work­ers in these dif­fer­ent sec­tors to coor­di­nate on the shared ter­rain of the city.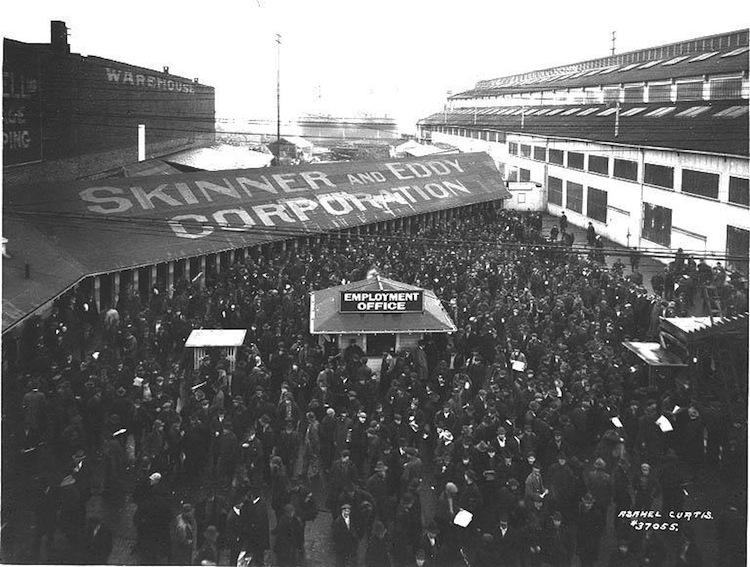 ---
The work­erist his­to­ri­an Ser­gio Bologna reflect­ed on the con­text of the Amer­i­can strikes in his essay "Class Com­po­si­tion and the The­o­ry of the Par­ty at the Ori­gins of the Work­ers' Coun­cil Move­ment":
The spe­cif­ic char­ac­ter­is­tic of this first cycle is not easy to fix in pre­cise chrono­log­i­cal terms, but it stands out clear­ly: it is the mass strike aris­ing out of a sit­u­a­tion of endem­ic strug­gle and lead­ing to vio­lent and insur­rec­tion­al actions. This is best exem­pli­fied in the US. Start­ing in 1901, a series of vio­lent mass strikes shakes the whole US indus­tri­al struc­ture. With its cen­tre, its class pole, locat­ed with the Rocky Moun­tain min­ers, these strug­gles spread pri­mar­i­ly among steel, tex­tile and trans­porta­tion work­ers, but, above all, con­struc­tion work­ers. In 1905, at the peak of the strug­gle, while the Sovi­ets were com­ing into being in Rus­sia, in the USA the Inter­na­tion­al Work­ers of the World (IWW) was formed; the most rad­i­cal pro­le­tar­i­an organ­i­sa­tion ever in the USA, the only rev­o­lu­tion­ary class organ­i­sa­tion before the rise of the Afro-Amer­i­can move­ment. Today there is much to be said and learned from the IWW. Although many of its mil­i­tants were anar­chists and anar­cho-syn­di­cal­ists who had migrat­ed to the US from East­ern and West­ern Europe, the IWW can­not mere­ly be writ­ten off as the Amer­i­can equiv­a­lent of French anar­cho-syn­di­cal­ism.

What was there in the IWW that is so extra­or­di­nar­i­ly mod­ern? Although it was based on an old class nucle­us, the West­ern Fed­er­a­tion of Min­ers, the mer­it of the IWW was that it attempt­ed to organ­ise the Amer­i­can pro­le­tari­at in terms of its intrin­sic char­ac­ter­is­tics. It was pri­mar­i­ly an immi­grant pro­le­tari­at, and there­fore a mix­ture of eth­nic groups which could only be organ­ised in a cer­tain way. Sec­ond­ly, it was a mobile pro­le­tari­at, a fact which very much mil­i­tat­ed against iden­ti­fi­ca­tion with any par­tic­u­lar job or skill, and which also mil­i­tat­ed against work­ers devel­op­ing ties to indi­vid­ual fac­to­ries (even if only to take them over). The IWW made the notion of the social fac­to­ry a con­crete real­i­ty, and it built on the extra­or­di­nary lev­el of com­mu­ni­ca­tion and coor­di­na­tion pos­si­ble with­in the strug­gles of a mobile work­force. The IWW suc­ceed­ed in cre­at­ing an absolute­ly orig­i­nal type of agi­ta­tor: not the mole dig­ging for decades with­in the sin­gle fac­to­ry or pro­le­tar­i­an neigh­bour­hood, but the type of agi­ta­tor who swims with­in the stream of pro­le­tar­i­an strug­gles, who moves from one end to the oth­er of the enor­mous Amer­i­can con­ti­nent and who rides the seis­mic wave of the strug­gle, over­com­ing nation­al bound­aries and sail­ing the oceans before organ­is­ing con­ven­tions to found sis­ter organ­i­sa­tions.
Bologna's insight was that the mass strikes called by the IWW were effec­tive because they res­onat­ed so close­ly with the spe­cif­ic com­po­si­tion of the Amer­i­can pro­le­tari­at in the first decade of the twen­ti­eth cen­tu­ry. For us in the present, this means that we have to inves­ti­gate how class com­po­si­tion has changed as we recall old­er forms of strug­gle. If we do call for a mass strike, then we have to con­sid­er how this kind of strug­gle can relate to the com­po­si­tion of the pro­le­tari­at of our time.
What does it mean to call a gen­er­al strike at a time of wide­spread pre­car­i­ous labor, when so many work­ers are forced to labor part-time, when the points of pro­duc­tion have been so delib­er­ate­ly sep­a­rat­ed from one anoth­er, when there seems to be such a low lev­el of work­place orga­ni­za­tion, and when the unions have lost their grip on so many lay­ers of the work­ing class because of their strong col­lu­sion with the cap­i­tal­ist legal sys­tem? What new tac­tics need to be imag­ined?
We have to think through these ques­tions in order to make forms of strug­gle – whether the clas­si­cal gen­er­al strike or the mass strike – appro­pri­ate and effec­tive in our own time. But there's no way to pre­dict what form the strike will take on Wednes­day, and these ques­tions will ulti­mate­ly be answered in prac­tice. Check back for a report from our West Coast cor­re­spon­dent, and fur­ther analy­sis as events con­tin­ue.