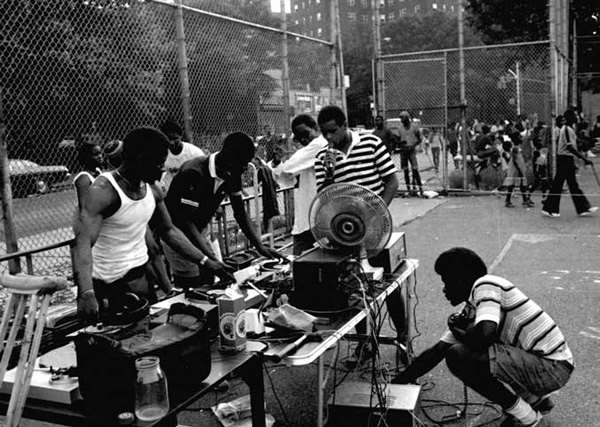 In the ear­ly twen­ti­eth cen­tu­ry, hun­dreds of thou­sands of African-Amer­i­cans migrat­ed from the Deep South to Harlem. Racist white res­i­dents fled to the out­er bor­oughs and the sub­urbs, and land­lords began to dou­ble and triple Harlem rents, cap­i­tal­iz­ing on the lim­it­ed geo­graph­ic options pre­sent­ed to new black New York­ers. Fam­i­lies crammed into sin­gle rooms, but when the first of the month neared, they still had to search for sup­ple­men­tary sources of income to make their rent pay­ments. Inspired by the tra­di­tion of South­ern Sat­ur­day night fish fries and "break­downs," Harlemites began to roll up their rugs, push the fur­ni­ture aside, and print tick­ets to pro­mote their "Par­lor Socials," or "Too Ter­ri­ble Par­ties." Hosts invit­ed duel­ing pianists such as Fats Waller to turn on the heat with "cut­ting con­tests," which sparked unre­strained danc­ing and rev­el­ry, the likes of which work­ing-class blacks could nev­er access in exclu­sive neigh­bor­hood joints that denied admis­sion to black peo­ple, such as Harlem's famed Cot­ton Club. The par­ty hosts charged admis­sion, typ­i­cal­ly a quar­ter, and made extra rent mon­ey from the sale of bath­tub gin, corn whiskey, and soul food. The rent par­ty scene served as an incu­ba­tor for sev­er­al notable jazz pianists, and it began to play a vital eco­nom­ic and social role in the life of Harlem's work­ing-class com­mu­ni­ty.
Though some recent media accounts depict rent par­ties as a nov­el prac­tice of the alter­na­tive white twen­ty-some­things who gen­tri­fy black com­mu­ni­ties, they began as a dynam­ic and autonomous response to exploita­tion, and war­rant care­ful study as a tra­di­tion­al prac­tice of occu­pa­tion. Although the con­cept was not wide­ly addressed in main­stream U.S. media pri­or to the seiz­ing of Zuc­cot­ti Park and var­i­ous oth­er pub­lic and pri­vate spaces in Amer­i­can cities, the act of occu­py­ing has a rich and com­plex his­to­ry. Crit­i­cal par­tic­i­pants have empha­sized that the Unit­ed States is occu­pied land, and have called for the move­ment to use the word with acknowl­edge­ment of its destruc­tive his­to­ry for indige­nous pop­u­la­tions. Those with a glob­al per­spec­tive have point­ed to the occu­pa­tion of Tahrir Square, and sim­i­lar pop­u­lar move­ments through­out the world over the past many years. For those anchored in labor his­to­ry, the term brings to mind the tra­di­tion of work­er occu­pa­tions of fac­to­ries – as a strike tech­nique used to pre­vent lock­outs, and in some cas­es, to "recov­er" the fac­to­ries under work­er con­trol. Final­ly, those who have inhab­it­ed aban­doned build­ings, by choice or neces­si­ty, clear­ly draw links between their life's work and the habi­ta­tion of major cities' parks and plazas over the past sev­er­al months.
But in spite of this atten­tion to occu­pa­tion, some vibrant and essen­tial forms of the prac­tice have been over­looked. It is these forms to which we should be look­ing as the win­ter months near and the move­ment begins to real­ize the need to diver­si­fy its tac­tics.
Through­out the sum­mer of 2011, Philadelphia's may­or, Michael Nut­ter, Police Com­mis­sion­er Charles Ram­sey, and the local media whipped up a fren­zy, thread­ing togeth­er a diverse array of gath­er­ings of black teenagers in pre­dom­i­nant­ly white, afflu­ent areas of the city over the past three years under the umbrel­la of "flash mobs," "teen mob attacks," and even "riots." A clos­er look at the eleven inci­dents iden­ti­fied as flash mob attacks and used as a jus­ti­fi­ca­tion for the enact­ment of a racist cur­few law, which the Philadel­phia City Coun­cil recent­ly extend­ed across the city for the next two years, reveals that these events have lit­tle in com­mon oth­er than the pres­ence of black youth trans­gress­ing the bound­aries of their neigh­bor­hoods to occu­py the city's white eco­nom­ic cen­ter.
Sev­er­al of the inci­dents can be com­plete­ly dis­count­ed, accord­ing to the wide­ly accept­ed def­i­n­i­tion of a flash mob, "a pub­lic gath­er­ing of com­plete strangers, orga­nized via the Inter­net or mobile phone, who per­form a point­less act and then dis­perse." Six friends punch­ing a man in the head on the way home from sum­mer school hard­ly seems to con­sti­tute a mob of strangers engag­ing in a pre­med­i­tat­ed, point­less act, and any­one who has spent a day in a dys­func­tion­al Philadel­phia pub­lic school or one of its equal­ly deranged char­ter coun­ter­parts could eas­i­ly sym­pa­thize with the stu­dents' sense of out­rage and mis­di­rect­ed aggres­sion.
Even if we set aside inci­dents in which a small group of peo­ple attack an indi­vid­ual, the col­lec­tion of events iden­ti­fied as flash mobs is com­plex and ranges from exer­cis­es in auto-reduc­tion to what many Philly teens would just describe as "breakin' it down." The news and gos­sip site Gawk­er inves­ti­gat­ed the con­spir­a­to­r­i­al social media exchanges that led up to a March 20, 2011 flash mob on South Street in Philadel­phia and dis­cov­ered links to Team Nike, a neigh­bor­hood dance crew that pro­motes their week­end par­ties through pub­lic dance per­for­mances. But while Gawk­er snide­ly con­cludes that Philly flash mobs and par­ty crews such as Team Nike "might be noth­ing more sin­is­ter and rev­o­lu­tion­ary than a few street per­for­mances that got out of hand," the Occu­py move­ment can learn a lot from young people's libid­i­nal dis­rup­tions of the street.
While Philadelphia's white elite spent their sum­mer cow­er­ing indoors, brac­ing them­selves for "rov­ing gangs" of black teenagers who might "ter­ror­ize" their neigh­bor­hoods, the rest of the city embraced the heat and the streets, host­ing out­door par­ties on every block. Like the flash mob, the block par­ty has much to teach today's occu­piers about tak­ing back col­o­nized spaces, and infus­ing them with a sense of joy­ful resis­tance. Black and Lati­no teenagers liv­ing in the Bronx in the ear­ly 1970s began orga­niz­ing par­ties, inspired by Jamaican yard dances and sound sys­tem cul­ture. They were look­ing for alter­na­tives to the gang cul­ture that had result­ed in the deaths of their friends and broth­ers, and they were push­ing back against the crush­ing force of "urban renew­al," a state-spon­sored move­ment to destroy com­mu­ni­ties of peo­ple of col­or in major Amer­i­can cities. Young peo­ple orga­nized block par­ties to make mon­ey for school clothes, to push their sound sys­tems to the lim­its, and to demon­strate their ver­nac­u­lar dance exper­tise. They stacked up speak­ers in the parks and siphoned pow­er from street lights, and they danced until day­break.
The youth­ful founders of hip-hop, who lit­er­al­ly rose from the ash­es of their burnt, aban­doned com­mu­ni­ties, fol­lowed in the foot­steps of the Civ­il Rights activists who came a half gen­er­a­tion before them by danc­ing in the street; but at the same time, they cre­at­ed a new form of occu­pa­tion and defined new rela­tion­ships with each oth­er and their city by break­ing away from the lim­it­ed polit­i­cal paths pre­sent­ed. They cre­at­ed what hip-hop his­to­ri­an Jeff Chang describes as a cel­e­bra­to­ry "space of pos­si­bil­i­ty," and the tra­di­tion lives on in many com­mu­ni­ties of col­or each sum­mer.
Par­ty crews, groups of teens who have been loose­ly linked with flash mobs and described as "junior var­si­ty street gangs," have appro­pri­at­ed rent par­ties and block par­ties and applied them to the tem­po­rary occu­pa­tion of vacant homes and com­mer­cial build­ings. Cov­er­age of par­ty crew activ­i­ties has been cen­tered in Ari­zona and the Los Ange­les met­ro­pol­i­tan area, where swathes of vacant or fore­closed tract homes stand emp­ty, invit­ing teenagers to claim the spaces as their own. The activ­i­ties of young par­ty crews echo the West Coast rave scene of the 1990s. Although many elec­tron­ic music events are wide­ly pro­mot­ed and gen­er­ous­ly fund­ed today, this wide­spread accep­tance bloomed from a cul­ture in which ware­hous­es, malls, and large fields were secret­ly tak­en over, essen­tial par­ty infra­struc­ture was put in place, and par­tic­i­pants fol­lowed a trail of bread­crumbs and map clues to var­i­ous loca­tions before reach­ing the actu­al event. Once there, ravers had the chance to rein­vent the spaces of every­day life, to encounter new bod­ies and sounds, and cre­ate strange new forms of com­mu­ni­ty. In the morn­ing, the occu­pa­tion would end, the space would return to its mun­dane state of dis­use, and the par­tic­i­pants would begin plan­ning their next inter­ven­tion.
Danc­ing, in its many forms and con­texts, from rent par­ties and block par­ties to raves and riots, often involves the active and inten­tion­al occu­pa­tion of spaces that are high­ly reg­u­lat­ed and con­trolled, and not intend­ed for pop­ping, lock­ing, or any sim­i­lar kind of social rela­tion. Young peo­ple from mar­gin­al­ized com­mu­ni­ties have long politi­cized this every­day prac­tice sim­ply by insist­ing on doing it wher­ev­er they want, when­ev­er they want. As the frigid weath­er sets in, the Occu­py move­ment must look beyond its own bor­ders and con­sult the annals of his­to­ry to devel­op a broad­er reper­toire of effec­tive tech­niques, and the ephemer­al occu­pa­tion of city spaces by danc­ing col­lec­tiv­i­ties might be just what this move­ment needs to increase its momen­tum.
As the move­ment con­sults this his­to­ry, it must also rec­og­nize that there are com­mu­ni­ties who con­tin­ue to occu­py urban Amer­i­can spaces out of neces­si­ty and resilience, and that their tac­ti­cal knowl­edge should put them in posi­tions of lead­er­ship. I work with 18 to 21-year-old youth who have dropped out or been pushed out of tra­di­tion­al pub­lic schools. One of my stu­dents, a 20-year-old inter­mit­tent­ly home­less black moth­er who is work­ing towards obtain­ing her high school diplo­ma and secur­ing a job as a home health care aide, issued a demand to me after pre­sent­ing her research on home­less­ness. "Y'all need to do some­thing about this," she explained. "There are so many hous­es in North Philly with nobody in 'em, and then there are so many home­less peo­ple with no hous­es. Y'all need to fix that." But it's clear that we'll only be able to fix it by orga­niz­ing togeth­er.
"Turn on the heat." The phrase refers to the heat gen­er­at­ed by bod­ies danc­ing in spaces that we have tem­porar­i­ly reclaimed, but it also refers to the con­crete con­cern of pay­ing for heat­ing as win­ter approach­es. While the occu­piers at City Hall in Philadel­phia and around the North­east con­front cold weath­er this win­ter, many fam­i­lies strug­gle to stay warm every year because they can't pay the heat­ing bill. The par­tic­i­pants of the con­tem­po­rary Occu­py move­ment need peo­ple of col­or, poor peo­ple, and young peo­ple to lead us into new forms of strug­gle. In order to sus­tain and expand the move­ment, their issues must be at the fore­front; we have to under­stand that the cost of util­i­ties is a major polit­i­cal issue. But let's not think of peo­ple from mar­gin­al­ized com­mu­ni­ties as help­less vic­tims. Instead, let's learn from their his­to­ry of resis­tance in every­day life.