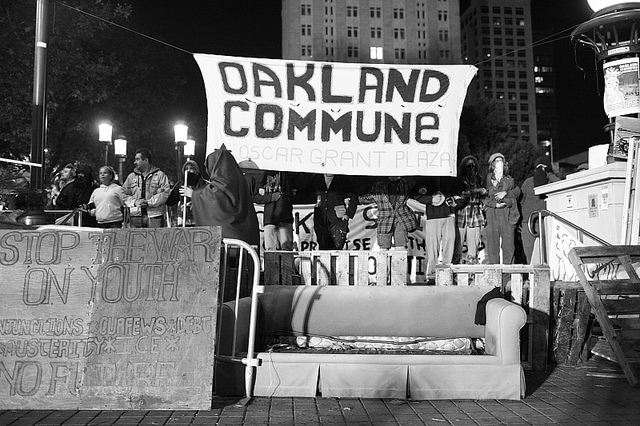 This is an unfin­ished work – a snap­shot of his­to­ry as it occurred, expe­ri­enced by me, report­ed on social media, or retold by trust­ed com­rades. It will lack the final­i­ty of hind­sight. Con­tained with­in is my account of the Oak­land Insur­rec­tion, as it has unfold­ed over the past days and weeks. Both the insur­rec­tion and this essay are works of hope. I hope that we push for­ward on the streets of Oak­land, the Bay Area, and every­where else, to the lim­it of what is pos­si­ble – beyond occu­pa­tion and the pro­posed gen­er­al strike to "total free­dom" for us all.1
#Occu­pyOak­land
Inspired by the upris­ings across the world and fueled by the increas­ing­ly pre­car­i­ous eco­nom­ic con­di­tions across the Unit­ed States, a call­out was made for an occu­pa­tion of Wall Street. On Sep­tem­ber 17, 1000 peo­ple occu­pied the finan­cial hub of the Unit­ed States and arguably glob­al cap­i­tal­ism. With­in days, dozens of towns and cities had their own ver­sion of the #Occu­py move­ment – with vary­ing degrees of encamp­ment, protest, and orga­niz­ing space; with­in weeks, hun­dreds of cities were occu­pied; with­in a month, over a thou­sand world­wide.
Oakland's Frank Ogawa Plaza, renamed Oscar Grant Plaza by many Bay Area res­i­dents, was occu­pied on Octo­ber 10. Logis­ti­cal plan­ning start­ed a week before the occu­pa­tion date, with #Occu­pyOak­land field­ing a ful­ly func­tion­al can­teen, child­care, medic, sound, and gen­er­al assem­bly area on day one, with per­son of col­or (POC), gen­der, and queer safe spaces soon to fol­low. #Occu­pyOak­land had the same pop­ulist rhetoric regard­ing the prob­lem­at­ic "homo­ge­neous" nature of "#Occu­py…", but pushed the "99%" cri­tique in a decid­ed­ly anti-cap­i­tal­ist direc­tion. Cou­pled with this was a dis­tinct­ly anti-police and anti-state tone that also trans­lat­ed into anti-oppres­sion orga­ni­za­tion­al forms.
On Octo­ber 21 the city of Oak­land pre­sent­ed the gen­er­al assem­bly, the offi­cial orga­niz­ing body of #Occu­pyOak­land, with a let­ter of evic­tion, cit­ing "pub­lic safe­ty." The words of Oak­land­Com­mune, post­ed Octo­ber 19 on the Bay of Rage web­site, beau­ti­ful­ly fore­shad­ow what tran­spired on Octo­ber 25 and 26when the police made good on their threats:
Social rebels from around Oak­land have descend­ed upon Oscar Grant Plaza and have cre­at­ed a gen­uine, autonomous space free of police and unwel­com­ing to politi­cians. Where­as oth­er occu­pa­tions have invit­ed the police and politi­cians, or have nego­ti­at­ed with them, Occu­py Oak­land has carved a line in the cement. That line of demar­ca­tion says: if you pass this, if you try and break up or over shad­ow this autonomous space, you are well aware, as observed over the last cou­ple of years, what we are capa­ble of.
His­to­ry
The Bay Area's his­to­ry of social resis­tance is well doc­u­ment­ed, and it's impor­tant to remem­ber the con­text behind the mil­i­tan­cy seen around #Occu­pyOak­land. The gen­er­al events these social rebels are refer­ring to are the upris­ings and demon­stra­tions that have occurred over the past three years in the Bay Area, respond­ing to police vio­lence and "aus­ter­i­ty."2 To under­stand the events of the past week, one must under­stand the atmos­phere in which these actions took place. The most rel­e­vant of these demon­stra­tions revolve around three sets of riots that fol­lowed the mur­der of Oscar Grant III on Jan­u­ary 1, 2009.3
One week after Oscar's mur­der by police, Jan­u­ary 7, 2009, a ral­ly at the Fruit­vale BART sta­tion tran­si­tioned into a march that even­tu­al­ly evolved into a riot, with run­ning street fights against police. The action result­ed in 100 arrests and hun­dreds of thou­sands in polic­ing costs and prop­er­ty destruc­tion. Johannes Mehser­le, the offi­cer who killed Grant, was arrest­ed one week lat­er – a day before thou­sands marched through Oak­land, serv­ing notice to the police that their actions had con­se­quences.
A series of low and mid-inten­si­ty direct actions and march­es occurred over the next 18 months until the ver­dict day, July 8, 2010, when Mehser­le was osten­si­bly acquit­ted for mur­der and found guilty of invol­un­tary manslaugh­ter for shoot­ing an unarmed and prone Oscar Grant in the back. Police prepa­ra­tions, dubbed "Oper­a­tion Ver­dict," were one of the largest local buildups of state and fed­er­al police forces in recent his­to­ry.4 The buildup actu­al­ly seemed to inten­si­fy pop­u­lar opin­ion against the police. Oper­a­tion Ver­dict not only failed to stop anoth­er riot, where hun­dreds of thou­sands of dol­lars worth of prop­er­ty was destroyed, but also failed to arrest as many demon­stra­tors as the riots of a year before. Sen­tenc­ing day, Novem­ber 5. 2010, saw an evo­lu­tion of police tac­tics that stopped the march before it mor­phed into some­thing greater. The march was ket­tled and every­one was arrest­ed in mass, all lat­er to be released with­out charges.
Oscar Grant's Lega­cy
I would like to rec­og­nize that Oscar Grant was a real per­son; with a daugh­ter, fam­i­ly, and friends. I would like to rec­og­nize this because the human ele­ment can get lost when we make mar­tyrs out of casu­al­ties. The actions around his death were liv­ing lab­o­ra­to­ries for many Bay Area res­i­dents, specif­i­cal­ly youth and polit­i­cal rad­i­cals – anar­chists, anti-author­i­tar­i­ans, and anti-cap­i­tal­ists. For some, this was the first time they had tast­ed tear gas or felt the sting of a rub­ber bul­let. The Jan­u­ary 7 riot was a hur­ried affair, with peo­ple quick­ly learn­ing how to stay togeth­er, erect makeshift bar­ri­cades, or set fires to neces­si­tate get­aways.
July 8 saw the forces of the state pre­pared and still unable to stop scores of "crews" smash­ing shop win­dows.5 Com­mu­ni­ca­tion and coor­di­na­tion appeared to improve between the var­i­ous demon­stra­tion par­tic­i­pants. Masks were worn and code names used. It was appar­ent that even just a few "bat­tle hours" dra­mat­i­cal­ly increased a collectivity's "street" effec­tive­ness, i.e. the abil­i­ty to cre­ate social unrest and get away with it. Through these events, it was revealed that street demon­stra­tions, with riots in par­tic­u­lar, did have an effect on, if not pub­lic pol­i­cy, then at least civic dis­course.
There were fail­ures as well. Media and state forces con­spired to cre­ate the con­cept of the "out­side agi­ta­tor" – the anar­chist from afar whose only pur­pose was to smash. The actions of prop­er­ty destruc­tion seemed to over­shad­ow the con­text in which they were used. The tac­tic itself was the per­fect expres­sion of the pow­er­less­ness that peo­ple felt in demand­ing, from an unjust state, some sort of "jus­tice." It was an action of tantrum, say­ing, "in this protest zone, in this space of social rup­ture, I only have the abil­i­ty to destroy." A state­ment like that, while uni­fy­ing for the par­tic­i­pants with­in that instant of "social rup­ture," has lit­tle to no orga­niz­ing poten­tial. And so the move­ment went from active con­flict to his­to­ry. Its steam and momen­tum were lost. How­ev­er, with its pass­ing came a time of tac­ti­cal and strate­gic reflec­tion, the results of which were prac­ticed on the streets of Oak­land under the ban­ner of #Occu­py only a week ago.
Anar­chists
The efforts and effects of the anar­chist tra­di­tion in the Bay Area can­not be ignored, nei­ther in the case of Oscar Grant nor #Occu­pyOak­land. There are hun­dreds of anar­chists active in "street lev­el" actions; hun­dreds more work­ing in var­i­ous cor­po­rate, non-prof­it, alter­na­tive, and oth­er indus­tries that bring mon­ey, logis­ti­cal sup­port, and expe­ri­ence when need­ed; and hun­dreds still who are engaged in their own projects, com­mu­ni­ties, and build­ing fam­i­lies.
The pres­ence of such a high con­cen­tra­tion of anar­chists at rad­i­cal or poten­tial­ly explo­sive demon­stra­tions has influ­enced how peo­ple protest. To be sure, not every per­son at a demo is an anar­chist, far from it, but many have adopt­ed anar­chist prac­tice. Mask­ing up, wear­ing black, and work­ing in teams has cre­at­ed a safer and more dis­ci­plined force. The atten­dance of anar­chist street medics, pro­pa­gan­dists, and expe­ri­enced street fight­ers adds a lev­el of infra­struc­tur­al and logis­ti­cal sup­port that makes actions on the streets feel sup­port­ed and embold­ened. Tra­di­tion­al­ly orga­niz­ing on egal­i­tar­i­an and non-hier­ar­chi­cal planes, as well as a famil­iar­i­ty with con­sen­sus process, have facil­i­tat­ed the cre­ation of a strong gen­er­al assem­bly. The cre­ation of sol­i­dar­i­ty groups for those arrest­ed at actions, and access to the legal net­work that years of Bay Area activism cre­at­ed has been key in move­ment progress. In both social move­ments the anar­chist pres­ence has been an impor­tant, though by far not the only, ele­ment to any suc­cess.
This is not to say that an anar­chist pres­ence in the Bay Area has not had its trou­bles in recent years. The attempt by the state to brand anar­chists as "out­siders" failed in the buildup of Oper­a­tion Ver­dict, but did high­light racial and class issues that peo­ple are still con­fronting. Fur­ther­more there was a suc­cess­ful attempt to brand anar­chists has vio­lent, although this was just one more step in a process dat­ing back hun­dreds of years to rede­fine "anar­chism" in the neg­a­tive. Still, the only con­tact that many peo­ple have had with anar­chists is the images pre­sent­ed by the media of "black-clad hooli­gans destroy­ing things." The insur­rec­tionary anar­chist cur­rent that is alive with­in the Bay has showed itself as a trend of attack, secu­ri­ty cul­ture, and tightknit net­works. In the past it was inward focus­ing and only sur­faced in times of action, although the pres­ence of many insur­rec­tion­ists at the gen­er­al assem­blies and their use of vio­lence in a form dif­fer­ent from that of prop­er­ty destruc­tion does give cre­dence to the idea that this trend is matur­ing.
Insur­rec­tion and Strike
Through­out the week, prepa­ra­tions were made with­in the #Occu­pyOak­land space for arrival of police enforc­ing the evic­tion notices. The plan was to con­struct and defend bar­ri­cades to keep the Oak­land Police Depart­ment (OPD) out for as long as pos­si­ble. Over the past two weeks, the police made only a hand­ful of incur­sions into the autonomous space. The response by those camped was always force­ful yet dis­ci­plined, with the dis­tilled mes­sage being: "get out!" As a result there was lit­tle wor­ry about the ques­tion of "when" "they" would come. "They will come when they do," one camper told me with a shrug the night before the evic­tion. On Tues­day Octo­ber 25, at 4:30 AM, hun­dreds of riot police from over a dozen dif­fer­ent agen­cies descend­ed upon the camp. After call­ing a dis­per­sal order, police wait­ed for five min­utes before throw­ing con­cus­sion grenades, launch­ing tear gas, fir­ing pep­per and rub­ber bul­lets, and hit­ting peo­ple with batons. The night con­clud­ed with around 80 arrests and some seri­ous injuries.
A call out was made for 4 PM the same day to meet at the Oak­land Library for a march to Oscar Grant (OG) Plaza. A diverse crowd of over 1500 peo­ple arrived. They marched around Oak­land, swelling in num­bers as peo­ple came into the streets. The police attacked with gas, less-than-lethal rounds, and batons. Demon­stra­tors respond­ed with bot­tles and paint bal­loons. Police snatch squads grabbed and beat pro­tes­tors in full view of the crowd, with a hand­ful hav­ing to be tak­en to the emer­gency room.6 The march con­tin­ued to OG Plaza where lines of riot police stood behind met­al bar­ri­cades block­ing all pos­si­ble entrances. A stand­off ensued.
At rough­ly 8:30 PM a crowd of 500 assem­bled at 14 and Broad­way. After repeat­ed warn­ings the police attacked. The gas attack was the worst of the day. Injured pro­test­ers lit­tered the inter­sec­tion, includ­ing Scott Olson, two-tour Marine vet­er­an, who took a tear­gas can­is­ter to the head. Oth­ers were blind­ed and chok­ing on the gas. Numer­ous burn vic­tims from the gas can­is­ters ran for cov­er; at least one of them need­ed plas­tic surgery on her foot. The crowd recom­posed with­in min­utes, play­ing cat and mouse with the police, ral­ly­ing and tak­ing the streets out­side the bar­ri­cades, flee­ing from police attacks only to form again.
The chat­ter of excite­ment and anger was easy to under­stand. Groups of peo­ple were swap­ping sto­ries from the days events. The gas was loos­ing its fear effect; these crowds were not dis­pers­ing. Teenagers were laugh­ing at each other's snot and tear-soaked faces. Old­er peo­ple were talk­ing about the 1960s; "gas nowa­days seems more potent," they said. Anar­chist and oth­er rad­i­cal medics were help­ing gas vic­tims. By about 10 PM it was obvi­ous that even though the group had failed to retake the plaza, they had in fact won two impor­tant vic­to­ries. #Occu­pyOak­land was effec­tive­ly in con­trol of all of down­town Oak­land save OG Plaza. Or, to put it dif­fer­ent­ly, the police had lost the ini­tia­tive: they had lost their mobil­i­ty and the abil­i­ty to dic­tate terms out­side the range of their weapons. By con­trol­ling the plaza they abdi­cat­ed con­trol of the rest of down­town Oak­land to the occu­piers. Declar­ing vic­to­ry on the ground, the hun­dreds of occu­piers began to dis­perse to ready them­selves for the next day.
The sec­ond vic­to­ry was not seen until the next day, when media out­lets had no choice but to broad­cast images of the night's insur­rec­tion. Grab­bing the media's atten­tion as well was the griev­ous injury to Scott Olson. Sur­viv­ing two tours in Iraq to come home and be shot by OPD sealed the police's fate in the realm of pub­lic opin­ion. Not only had #Occu­pyOak­land suc­ceed­ed in con­trol­ling the streets, they had also won over hearts and minds. As of this writ­ing it looks as though Scott will recov­er and not become a mar­tyr for any cause, just anoth­er vic­tim of police bru­tal­i­ty.
A gen­er­al assem­bly was called for 6 PM on Octo­ber 26. The police were nowhere in sight, but some report­ed that they were mass­ing at a near­by park­ing garage. They were nev­er to mobi­lize in any show of force. Bike patrols were pass­ing back infor­ma­tion, and a gen­er­al feel­ing of safe­ty per­me­at­ed the camp. The met­al fence that had been set up by the city was tak­en down, and once again the plaza was in the hands of #Occu­pyOak­land. A pro­pos­al was sub­mit­ted for a gen­er­al strike in Oak­land on Novem­ber 2. The pro­pos­al passed by 96.9%; 1484 votes for to 77 against, with 47 absten­tions, more than enough in Oakland's mod­i­fied con­sen­sus of 90% for the pro­pos­al to pass.
After the vote, 2000 peo­ple attempt­ed to march for the down­town Oak­land BART sta­tion to trav­el to San Fran­cis­co, where it was report­ed that the SF occu­pa­tion was to be attacked by SFPD. The sta­tion was closed by BART offi­cials, so the 2000-strong group marched through Oak­land, stop­ping once at the OPD head­quar­ters to yell at the police, once at the Oak­land jail chant­i­ng in sup­port of those incar­cer­at­ed, and once under a free­way over­pass, to dis­cuss whether the group should cross the Oakland/Bay bridge to sup­port #Occu­pySF. The march decid­ed to retake OG Plaza instead.
A tru­ly star­tling real­iza­tion emerged among many of the anar­chists present at the gen­er­al assem­bly. As thou­sands of peo­ple dis­cussed the gen­er­al strike pro­pos­al, oth­ers were cir­cu­lat­ing and inter­min­gling, talk­ing about the vic­to­ry of the night before. A major theme of the dis­cus­sion was the fact that so much had been gained with­out resort­ing to prop­er­ty destruc­tion. A tac­it under­stand­ing devel­oped amongst many of the rad­i­cals that no one was going to phys­i­cal­ly stop any of the "wreck­ing crews" from smash­ing win­dows, but peo­ple under­stood that much of the pre­vi­ous night's vic­to­ry could be attrib­uted to the images of police vio­lence against pro­tes­tors and the counter-vio­lence of pro­tes­tors against the police. If there is an insur­rec­tionary imper­a­tive to attack the state, that idea seemed to gain sup­port, at least among those in the gen­er­al pub­lic who watched the live stream. The march on Octo­ber 25 showed how the pro­tes­tors had done due dili­gence in their attempt to remain "peace­ful"; they respond­ed to police vio­lence with defen­sive force, instead of the less under­stood (and less direct) tac­tic of attack­ing prop­er­ty. A vio­lence of low-inten­si­ty self-defense actu­al­ly gained #Occu­pyOak­land inter­na­tion­al sup­port.
Lessons Learned
In the OG Plaza riots, the impo­tent vio­lence that result­ed in Mehserle's arrest also doomed the move­ment to remain mar­gin­al. Peo­ple have many unre­solved issues with prop­er­ty destruc­tion. It is my pre­sump­tion that those in com­mand of the police forces on the night of the Octo­ber 25 expect­ed to see pro­test­er-ini­ti­at­ed prop­er­ty destruc­tion. Bro­ken win­dows have the pow­er to retroac­tive­ly ratio­nal­ize the use of police vio­lence. The destruc­tion of the camp and the attack on the march would sud­den­ly seem under­stand­able once the night­ly news flashed images of bro­ken glass. Unfor­tu­nate­ly for police com­mand, the rad­i­cal and urban #Occu­pyOak­lan­ders did not fall into their trap. There was no need; con­fronting OPD and Alame­da Sheriff's Depart­ment was enough.
There was a very real feel­ing that if the OPD had changed its tac­tics on the night of Octo­ber 25, and – instead of hold­ing posi­tions and gassing pro­tes­tors – went in for arrests, the police might have start­ed a fight that they were not pre­pared to win. There were rough­ly equal num­ber of police and #Occu­pyOak­lan­ders, around 500 each, but the police were spread out, cov­er­ing the perime­ter of OG Plaza, while the demon­stra­tors were able to focus all their num­bers in one loca­tion. Even more impres­sive is that on the night of Octo­ber 26, with the police lack­ing the author­i­ty to act in response to #OccupyOakland's retak­ing of OG Plaza, the occu­piers were able to push the police out of their autonomous zone and defend it. This cohe­sion and the strength of will it pro­duced is a direct result of the reflec­tions, lessons, and tac­ti­cal con­sid­er­a­tions that grew from the OG riots. Those ini­ti­at­ing con­fronta­tions with police did so with dis­ci­pline, and, dare I say it, style.
There has been a lot of talk about a lack of demands as a weak­ness of the #Occu­py move­ments. I hear their demands loud and clear. The cri­tique of cap­i­tal­ism, oppo­si­tion to state pow­er, clear revul­sion towards the police, rede­f­i­n­i­tion of social and pow­er rela­tions, inde­pen­dent orga­ni­za­tion, coop­er­a­tion, and the attempt to recon­fig­ure our exist­ing world into one that is healthy for all; these are demands that are being made by those occu­py­ing. The idea from the begin­ning was to cre­ate. In acts of cre­ation pow­er is returned. We have held our ground, defend­ed a space that is our own. Now we are orga­niz­ing not just for our­selves but also for oth­ers. A gen­er­al strike will occur. The next ques­tion is clear: what oth­er cities will fol­low?
See you in the streets.
---