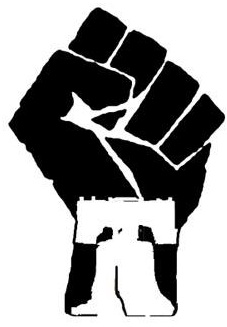 On the morn­ing of Octo­ber 14, one week into Occu­py Philadelphia's encamp­ment beside City Hall, some­one emp­tied the con­tents of a paint can on the building's south­west­ern entrance. The unknown painter fled the scene, leav­ing behind a decid­ed­ly unsym­bol­ic smear. Not of angry black or bloody red, but a smear of bland mint green. Police cor­doned off the entrance, dis­miss­ing eager Occu­py vol­un­teers offer­ing their assis­tance. A pres­sure clean­er quick­ly removed all traces of the deed.
This bizarre inci­dent sug­gests much about Philadelphia's iter­a­tion of the Occu­py phe­nom­e­non. Like oth­er occu­pa­tions, its porous bound­aries inte­grate the protest site with the flows of the city. Par­tic­i­pants, passers-by, police, and provo­ca­teurs move freely through­out, with the pos­si­bil­i­ty of enrich­ing or desta­bi­liz­ing the action; was our painter a police provo­ca­teur or a well-inten­tioned but strate­gi­cal­ly chal­lenged par­tic­i­pant? Both were con­sid­ered in the after­math.
This inci­dent also sug­gests the ambi­gu­i­ty and con­tra­dic­tion in the polit­i­cal imag­i­na­tion of Occu­py Philadel­phia (OP). What con­sti­tutes mean­ing­ful action – a spec­tac­u­lar act of van­dal­ism, the peace­ful occu­pa­tion of pub­lic prop­er­ty, or direct action on the hori­zon more con­fronta­tion­al and rad­i­cal? There has been no short­age of activ­i­ty – dai­ly march­es strike out to the usu­al tar­gets – but as of yet no dra­mat­ic con­fronta­tions like those of Occu­py Wall Street have occurred. This is the real sig­nif­i­cance of the green paint inci­dent. That such a bla­tant act of van­dal­ism against the seat of munic­i­pal pow­er was shrugged off so quick­ly by occu­piers and police alike indi­cates both the pow­er and impo­tence of OP. On the one hand, there was no police advance under the pre­text of this or any oth­er num­ber of small provo­ca­tions – sure­ly an index of our pow­er. On the oth­er hand, the inci­dent is an index of the lim­it­ed threat to capital's pow­er that OP pos­es, which is, as of yet, not enough to move the heavy hand of the state, a hand whose ruth­less pow­er has been amply shown in recent Philadel­phia his­to­ry, from the 1985 bomb­ing of the MOVE house to the repres­sion of protests against the 2000 Repub­li­can Nation­al Con­ven­tion.
To use two famil­iar polit­i­cal con­cepts, Occu­py Philadel­phia is at once ani­mat­ed by both the spir­it of the com­mons and of the strike. I do not wish to argue for the pri­ma­cy of either approach or assert their incom­pat­i­bil­i­ty, but rather to frame the young his­to­ry of OP as a state of ten­sion between these two poles. As a par­tic­i­pant in the occu­pa­tion, I hope to describe from both expe­ri­ence and analy­sis the dis­tinct char­ac­ter of the Occu­py X move­ment in post-indus­tri­al, work­ing-class Philadel­phia, and its sig­nif­i­cance for the con­tem­po­rary class strug­gle.
Fight­ing City Hall
Occu­py Philadel­phia feels like a march, a strike, a com­mune, and a car­ni­val. This vari­ety of forms derives from the pecu­liar­i­ty of the tac­tic. One can par­tic­i­pate in OP just by mov­ing ordi­nary human activ­i­ties – like sleep­ing, eat­ing, social­iz­ing – to the occu­pa­tion site. But "extra­or­di­nary" human activ­i­ties – demon­stra­tions, assem­blies, teach-ins, movie screen­ings – have tak­en place there as well, cre­at­ing a charged but uneven topog­ra­phy. The per­son­al and the polit­i­cal do not yet coin­cide here, but they rub shoul­ders. A read­ing group on Mari­arosa Dal­la Cos­ta and Sel­ma James's The Pow­er of Women and the Sub­ver­sion of Com­mu­ni­ty next to campers dry­ing their sog­gy socks on a clothes line; a col­lege dude test­ing out pick­up lines in earshot of the peo­ple of col­or cau­cus.
Philly's unique Occu­py iden­ti­ty has devel­oped in large part due to a détente with the city and its police. Over 1,000 peo­ple attend­ed a rau­cous plan­ning meet­ing two days before the occupation's inau­gu­ra­tion, a siz­able show of force well cov­ered by the local press. Of the two options avail­able to the Philadel­phia police – mas­sive and very pub­lic repres­sion or tac­it coop­er­a­tion – they opt­ed for the lat­ter. At 9 AM on Octo­ber 6, hun­dreds assem­bled on the west side of City Hall and began con­struct­ing an encamp­ment with rel­a­tive­ly lit­tle inter­fer­ence. Although police are sta­tioned vis­i­bly around the occu­pa­tion and con­duct walk-throughs both uni­formed and plain-clothed, so far they've act­ed with restraint.
Activ­i­ty in vio­la­tion of city codes, includ­ing the con­struc­tion of pal­let struc­tures for the home­less, has been per­mit­ted, embold­en­ing some occu­piers but cre­at­ing an acri­mo­nious inter­nal debate. The hands-off approach thus far by the police con­firms the lib­er­al naiveté of some who, using the movement's vocab­u­lary, iden­ti­fy the police and city brass as part of "the 99%," and there­fore our allies. Indeed, May­or Michael Nut­ter and Chief of Police Charles Ram­sey made very pub­lic, very genial appear­ances at OP in its first days. Oth­ers, from polit­i­cal acu­men or per­son­al expe­ri­ence, view the city's over­tures with skep­ti­cism or overt antag­o­nism. This debate came to a head with the ear­ly ques­tion posed to the gen­er­al assem­bly of acquir­ing a per­mit, and has per­sist­ed to cur­rent dis­cus­sions on how to respond to the city's evolv­ing posi­tion. The GA vot­ed for a per­mit after much dis­cus­sion. Although unprece­dent­ed in mod­ern Philadel­phia his­to­ry for the lib­er­ties and exemp­tions it grants to the occu­pa­tion, the per­mit does bind OP in a legal­is­tic sta­sis – offi­cial, even grant­ed a wel­come by the pow­ers that be, but neutered of antag­o­nism. To the out­law, rela­tions of pow­er are crys­tal clear.
This Philly com­pro­mise dis­tin­guish­es OP from its Occu­py Wall Street (OWS) tem­plate. Freed from both the glare of the inter­na­tion­al media and the men­ace of overt police activ­i­ty, OP turns inward. Free­dom from repres­sion in a far larg­er phys­i­cal space than OWS offers oppor­tu­ni­ties to strength­en our posi­tion but also deep­ens the con­tra­dic­tions latent with­in the Occu­py move­ment. And although the police aren't yet using pep­per-spray and batons as they have against our New York com­rades, this doesn't indi­cate a lack of police tac­tics to crush OP. Two strate­gies must be antic­i­pat­ed from our ene­mies in City Hall. One, the strat­e­gy of patience, in which the police bide their time and wait for either win­ter weath­er or the "tragedy of the com­mons" to dis­perse OP. Two, the exploita­tion of inci­dents of non-pas­siv­i­ty at OP-asso­ci­at­ed direct actions to crack down on the encamp­ment. Both approach­es can be antic­i­pat­ed, and, with prop­er fore­sight, made to back­fire as the attempts at repres­sion in New York have.
Strike and Com­mons
Philadel­phia City Hall is mon­u­men­tal, the sym­bol­ic and geo­graph­i­cal cen­ter of a bat­tered but tena­cious city. It is the sec­ond-tallest mason­ry build­ing in the world, and in its hey­day was a won­der of archi­tec­tur­al achieve­ment. The city's two sub­way lines inter­sect under­neath it, send­ing con­tin­u­ous rum­blings up to its cold stone plazas. Along its west side is Dil­worth Plaza, a two block long con­crete plaza cast in the aus­tere style of 60s urban renew­al. It is the habit­u­al dwelling of a large home­less pop­u­la­tion, and is sched­uled to be hand­ed over short­ly to a pri­vate devel­op­ment group for the build­ing of a cafe, skat­ing rink, and con­cep­tu­al foun­tains. In autumn, the plaza is per­pet­u­al­ly in the shad­ow of City Hall and the sur­round­ing office build­ings, and whipped by intense winds.
OP has adapt­ed many orga­ni­za­tion­al fea­tures of the Occu­py move­ment. The gen­er­al assem­bly, which meets dai­ly at 7 PM, is the pri­ma­ry forum for com­mu­ni­ca­tion and deci­sion-mak­ing. Work­ing groups assure the dai­ly repro­duc­tion of the occu­pa­tion (food, medic, edu­ca­tion, safe­ty, facil­i­ta­tion, etc.) and its strate­gic thrust (direct action, media, mes­sag­ing, etc.). Over 300 tents have been erect­ed across Dil­worth Plaza, pop­u­lat­ed by var­i­ous "tribes" of the polit­i­cal and non-polit­i­cal ("do you go to the gen­er­al assem­bly?"), young and old, white and black, counter-cul­tur­al and normies. Things are typ­i­cal­ly qui­et before noon, and after­wards through the evening swell with part-time par­tic­i­pants who sleep at home, curios­i­ty-seek­ers, rep­re­sen­ta­tives of var­i­ous polit­i­cal orga­ni­za­tions, cops, passers-by, and the media. OP ben­e­fits great­ly from its loca­tion lit­er­al­ly on top of the city's busiest tran­sit hub. High school stu­dents and com­muters con­tribute to its open vital­i­ty; there is strength in num­bers, even if they are anony­mous and tem­po­rary. Despite its prox­im­i­ty to Philadelphia's cen­tral busi­ness dis­trict, OP does not have the bel­ly-of-the-beast feel of OWS; this is not a glob­al city, and a pro­le­tar­i­an mien con­t­a­m­i­nates even those quar­ters fash­ioned in the mold of neolib­er­al finance cap­i­tal.
OP, like its peers, strives for hor­i­zon­tal orga­ni­za­tion – ide­al­ly all par­tic­i­pants have an equal right to deter­mine the course of the occu­pa­tion. The space cre­at­ed at OP for exper­i­men­ta­tion in egal­i­tar­i­an deci­sion-mak­ing should be applaud­ed; the pro­lif­er­a­tion of such spaces is essen­tial for the project of pro­le­tar­i­an auton­o­my. How­ev­er, since thus far par­tic­i­pa­tion in deci­sion-mak­ing and exe­cu­tion is encour­aged but not com­pul­so­ry, I would sug­gest that in prac­tice, pow­er at OP is func­tion­ing along the lines of a kind of prim­i­tive syn­di­cal­ism. Pro­pos­als sub­mit­ted for approval at the gen­er­al assem­bly must first pass through a dai­ly co-com­mit­tee meet­ing ("co-co"), com­posed of rep­re­sen­ta­tives of the var­i­ous work­ing groups. In effect, access to pow­er at OP is stream­lined by par­tic­i­pa­tion in a work­ing group: in the micro-soci­ety of OP, the work­ers in the work­ing groups that con­sti­tute its infra­struc­ture con­sti­tute its sov­er­eign pow­er. Is this a pos­i­tive mod­el to acknowl­edge and prop­a­gate, or a mod­el that will tend to pro­duce a divi­sion among occu­piers between more active par­tic­i­pants and those who par­tic­i­pate by sim­ply show­ing up and remain­ing in the encamp­ment? It should be not­ed that groups such as cau­cus­es of anar­chists and peo­ple of col­or, by dint of their orga­ni­za­tion­al capac­i­ty or moral pow­er, read­i­ly move to the cen­ter of OP's sov­er­eign pow­er at par­i­ty with the work­ing groups. The ambi­gu­i­ty of the sit­u­a­tion lies in the ques­tion of access to pow­er: should this be deter­mined by capac­i­ty for orga­ni­za­tion or objec­tive posi­tion with­in exist­ing social hier­ar­chies? How can the repro­duc­tion of these hier­ar­chies be active­ly com­bat­ed with­in the occu­pa­tions?
Con­fu­sion, over­lap, and frus­tra­tion are tol­er­at­ed out of neces­si­ty at OP by the pro­lif­er­at­ing work­ing groups. Good faith and move­ment momen­tum – for the time – paper over the con­sid­er­able chal­lenges of con­sti­tut­ing a micro-soci­ety from a milieu of strangers with vary­ing expe­ri­ences and back­grounds, except­ing the occa­sion­al raised voic­es and scuf­fles.
How long can the momen­tum last? OP has passed through three over­lap­ping stages: spec­ta­cle, orga­ni­za­tion, and critique/action. In the ear­ly days in which spec­ta­cle dom­i­nat­ed, every­one seemed to be film­ing every­one else with cell­phone cam­eras, and the media swarmed over it all. When peo­ple gath­ered on the morn­ing of Octo­ber 6, they seemed uncer­tain what to do, which protest rit­u­als to fol­low – who do I show my sign to? Is this a ral­ly, a sit-in, or what? Who'll be the first to set up their tent, and where? The pro­lif­er­a­tion of image pro­duc­tion coin­cid­ed with a ner­vous amor­phous mass, only vague­ly aware of its com­mon­al­i­ty and pow­er.
In the sec­ond stage, orga­ni­za­tion, the encampment's infra­struc­ture was estab­lished. With the for­ma­tion of work­ing groups and pro­ce­dures for com­mu­ni­ca­tion and deci­sion-mak­ing, the poten­tial of the mass was har­nessed. Dil­worth Plaza was spa­tial­ly delin­eat­ed and mapped. Sub-groups such as the peo­ple of col­or cau­cus and the wheel­chair-depen­dent self-orga­nized to iden­ti­fy and cor­rect pat­terns of exclu­sion. Brief strug­gles for con­trol of media and out­reach efforts final­ly expelled a nar­cis­sis­tic indi­vid­ual who treat­ed OP's Face­book page as a per­son­al fief­dom. Inter­nal orga­ni­za­tion is an ongo­ing process involv­ing con­sid­er­able exper­i­men­ta­tion, but the day to day repro­duc­tion of OP is secured for now, clear­ing the way for a deep­en­ing focus on cri­tique and action.
In this cur­rent stage of cri­tique and action, the con­cep­tu­al para­me­ters of com­mons and strike assume their pow­er. Two ques­tions, of demands and of accept­able direct action, pre­dom­i­nate. It is wide­ly accept­ed that OP can only main­tain its momen­tum with a con­stant sched­ule of march­es, teach-ins, and speak­ers. In this lab­o­ra­to­ry of prax­is, in which the tac­tic of main­tain­ing the occu­pa­tion and the pro­lif­er­a­tion of col­lec­tive cri­tique are mutu­al­ly rein­forc­ing, the only thing lack­ing is a cat­a­lyst of true resis­tance. March­es have set out from OP to harass banks, vis­it preda­to­ry stu­dent loan sharks, tour shit­ty hos­pi­tals, and, arguably most suc­cess­ful­ly, chase Eric Can­tor from a speak­ing engage­ment at the Uni­ver­si­ty of Penn­syl­va­nia. Philadel­phia PD duti­ful­ly block off inter­sec­tions and escort the marchers to their tar­get and back to the occu­pa­tion. OP now iron­i­cal­ly pos­sess­es the pow­er to march unob­struct­ed any­where in the city it choos­es, but seems to be run­ning out of sym­bol­i­cal­ly potent des­ti­na­tions. All dressed up with nowhere to go, obscure polit­i­cal dif­fer­ences take on a new impor­tance. What if the police are our ene­mies pre­cise­ly by act­ing like our most oblig­ing friends? If the "1%" can so eas­i­ly neu­tral­ize our efforts, why will they both­er lis­ten­ing to our demands?
OP recasts Dil­worth Plaza as a com­mons, shift­ing it from a nom­i­nal­ly pub­lic space to an active­ly com­mon one, col­lec­tive­ly owned by those who rule to the extent that they active­ly par­tic­i­pate. It is a space striv­ing towards decom­mod­i­fi­ca­tion, where human rela­tion­ships have more val­ue than the exchange of mon­ey. Yet it also bears a resem­blance to a strike, a col­lec­tive sus­pen­sion of nor­mal activ­i­ty lead­ing to a con­fronta­tion­al moment of deci­sion. As the weath­er turns, the quo­tid­i­an qual­i­ty of OP tends towards the grim resolve of a pick­et line in the dead of win­ter. The two forms are not mutu­al­ly exclu­sive; every com­mons must be defend­ed, and every strike relies on a shared ter­ri­to­ry of expe­ri­ence, spa­tial or oth­er­wise. The ten­den­cies towards com­mons or strike do not neat­ly coin­cide with reformist or rev­o­lu­tion­ary per­spec­tives. Yet the inter­sec­tion of the forms makes for an unhap­py ten­sion, unable to devel­op with con­fi­dence in either direc­tion. To expand and deep­en the com­mons would be to hit too deeply and rad­i­cal­ly at the rela­tions of pri­vate prop­er­ty and social repro­duc­tion for some par­tic­i­pants. To adopt the antag­o­nis­tic sol­i­dar­i­ty of the strike would be to aban­don all pre­tens­es of coop­er­a­tion with the state and its agents, unac­cept­able for some. The project of OP, and the Occu­py move­ment more broad­ly, is to syn­the­size the com­mons and the strike in a form appro­pri­ate to cur­rent rela­tions of pow­er and pro­duc­tion.
Recom­po­si­tion
Pro­le­tar­i­an com­bat­ive­ness in Philadel­phia, the site of many proud clash­es in the his­to­ry of Amer­i­can class strug­gle, still exists, evi­denced by a vari­ety of expres­sions rang­ing from the vic­to­ri­ous PASNAP strike at Tem­ple Hos­pi­tal in 2010 to the auto-reduc­tion action orga­nized by teens at a local Sears store this past sum­mer. OP is poten­tial­ly a site of encounter and recom­po­si­tion for a met­ro­pol­i­tan work­ing class changed by decades of dein­dus­tri­al­iza­tion, a swelling pop­u­la­tion of recent immi­grants, and the com­bat­ive youth sub­cul­tures of the flash mob and debt-rid­den col­lege grad vari­ety. Although the process remains vague and pre­lim­i­nary, the occu­pa­tion move­ment in Philly is a promis­ing indi­ca­tor of the work­ing class's polit­i­cal recom­po­si­tion.
Two of the largest pop­u­la­tions in the OP encamp­ment are the long-term home­less and the col­lege stu­dent milieu. That they sleep will­ing­ly side by side for weeks at a time speaks to the nov­el­ty of the Occu­py move­ment. The close, extend­ed con­tact of occu­piers tends to cut through prej­u­dice and ide­o­log­i­cal mys­ti­fi­ca­tion, even though the egal­i­tar­i­an ide­al of the move­ment remains dis­tant. Indi­vid­u­als and groups who may nev­er have oth­er­wise encoun­tered each oth­er in the huge city now find them­selves shar­ing both an eco­nom­ic cri­tique and a tent. Should a major work stop­page occur in the city soon – both the Ver­i­zon nego­ti­a­tions and a num­ber of pub­lic sec­tor con­tract nego­ti­a­tions remain unset­tled – encounter on a far larg­er scale is pos­si­ble. The city's major unions have issued state­ments of sup­port for the occu­pa­tion, but a mate­r­i­al min­gling has the poten­tial to change the con­sti­tu­tion of both move­ments for the bet­ter and expand momen­tum beyond the focal encamp­ment. OP, how­ev­er, may in the long run be a bet­ter pro­duc­er of sub­jec­tiv­i­ties then of con­crete demands, and this would not be a fault.
An impor­tant sub­jec­tiv­i­ty crys­tal­liz­ing in the Occu­py move­ment is sim­i­lar to the dri­ving force behind the glob­al orig­i­na­tors of the occu­pa­tion con­cept in Spain, Egypt, and Tunisia: young, edu­cat­ed, and down­ward­ly mobile work­ers. Many recent grad­u­ates or dropouts of local uni­ver­si­ties like Tem­ple and the Uni­ver­si­ty of Penn­syl­va­nia pro­vide a motive force behind OP's work­ing groups, expe­ri­enc­ing a mode of col­lec­tive strug­gle quite dif­fer­ent from man­aged, pre­dictable cam­pus "activism." As com­rades in Cal­i­for­nia not­ed dur­ing the uni­ver­si­ty occu­pa­tions there in fall 2009, the prac­tice of occu­py­ing tends to dis­solve out­dat­ed dis­tinc­tions like that between "work­ers" and "stu­dents." A tan­ta­liz­ing pos­si­bil­i­ty beg­ging more research is the con­nec­tion between OP's site above a tran­sit hub, and the high­ly mobile nature of this sec­tor, mov­ing around the city at odd hours between mul­ti­ple part-time jobs, casu­al work, and class­es. Ear­li­er cycles of strug­gles in Philly, from the post-New Left Move­ment for a New Soci­ety in the 1970s to the clash­es at the 2000 RNC, bequeathed long-last­ing infra­struc­tures of rad­i­cal insti­tu­tions and expe­ri­ence. Will OP be the com­ing-out par­ty for a new cycle or just a flash in the pan?
Think Local­ly?
OP clear­ly owes its inspi­ra­tion to Occu­py Wall Street, encamped just two hours up the New Jer­sey Turn­pike. The prox­im­i­ty of the two cities allowed many Philly orga­niz­ers to vis­it OWS before launch­ing OP, tak­ing note of its orga­ni­za­tion­al mod­el and learn­ing from its mis­cues. As one of the largest occu­pa­tions in the coun­try as of yet spared overt police repres­sion, OP is both a sig­nif­i­cant mod­el for the nation­al move­ment and some­thing of an aber­ra­tion. Among occu­piers, the rela­tion­ship of OP to the move­ment remains uncer­tain, bespeak­ing a larg­er ambi­gu­i­ty towards the glob­al, nation­al, and local con­texts of the cri­sis. Mate­r­i­al efforts have been made to share resources with OWS, and sol­i­dar­i­ty actions with com­rades attacked by police in Oak­land and Atlanta are under dis­cus­sion.
The polit­i­cal imag­i­nary of OP remains large­ly stuck at the nation­al lev­el. Rhetoric of the 99%, Wall Street, and cor­po­rate tax­es implic­it­ly locates the cur­rent social and eco­nom­ic crises with­in nation­al bor­ders. Yet these crises have inter­na­tion­al caus­es and impli­ca­tions, and resis­tance in the form of occu­pa­tions has like­wise been a glob­al phe­nom­e­non. As the calls for uni­fied Occu­py X demands increas­es, a real dan­ger exists both in ignor­ing the glob­al char­ac­ter of cap­i­tal and our strug­gles, and in fail­ing to con­nect Occupy's cri­tiques with local con­di­tions and local griev­ances.
A fac­tion with­in OP seized an ear­ly oppor­tu­ni­ty to advance long-stand­ing local griev­ances and make demands of the city. After receiv­ing a let­ter from the city gov­ern­ment which made sev­er­al demands of OP (dis­man­tle fire haz­ards, con­trol open uri­na­tion, etc.), they refused a pater­nal­is­tic rela­tion­ship and in turn advanced sev­er­al demands at the GA that OP should make in response. One of these includ­ed a repeal of Philadelphia's racist youth cur­few law. Con­ve­nient­ly up for a vote of exten­sion steps away in City Hall, the law was ini­tial­ly passed to kill off the flash mobs that once rocked the city. Fight­ing a law that inten­tion­al­ly seeks to frac­ture, dis­ci­pline, and man­age spe­cif­ic lay­ers of the work­ing class would go a long way to recon­nect­ing with those sec­tors that are still under­rep­re­sent­ed at OP.
This gen­er­al effort was accom­pa­nied by dis­tri­b­u­tion of an excel­lent sum­ma­ry of recent local strug­gles, enti­tled "The May­or and Police Are not Our Friends!" Spear­head­ed large­ly by anar­chists (who have been the con­ve­nient tar­gets of an ongo­ing red-bait­ing cam­paign), this effort has bril­liant­ly changed the inflec­tion of OP, focus­ing atten­tion on local com­mu­ni­ties already in strug­gle. A pre­dictable back­lash fol­lowed, with many claim­ing that link­ing the occu­pa­tion with strug­gles around the cur­few and police bru­tal­i­ty dilut­ed our mes­sage and weak­ened pub­lic sup­port.
This back­lash esca­lat­ed when 15 occu­piers were arrest­ed in front of Philadel­phia PD head­quar­ters on the nation­al Octo­ber 22 day of protest against police bru­tal­i­ty. Although the effi­ca­cy of their non-vio­lent civ­il dis­obe­di­ence tac­tics is debat­able (all blocked a street overnight, refus­ing repeat­ed police orders to dis­perse), the real­i­ty of police bru­tal­i­ty in Philly is not. The first arrests of OP were denounced by many who sought to dis­tance the activ­i­ties at City Hall from those which, pushed out­ward by the occupation's momen­tum, occurred else­where in the city. Should this fail­ure of sol­i­dar­i­ty and cen­trifu­gal polit­i­cal imag­i­na­tion con­tin­ue, OP will like­ly die a win­try death shiv­er­ing in the shad­ows of Cen­ter City.
The Octo­ber 22 arrests and the emer­gence of a new ulti­ma­tum from the city throw the future of OP into ques­tion. After grant­i­ng an open-end­ed per­mit to the occu­pa­tion, with no stat­ed end date, the city announced Novem­ber 15 as the first day of the ren­o­va­tion of Dil­worth Plaza. This ren­o­va­tion includes the total recon­struc­tion of the plaza by a pri­vate com­pa­ny bear­ing a 30-year lease, which will install an ice-skat­ing rink and chic cafe, obvi­ous­ly inspired by Man­hat­tan tourist geo­gra­phies. Of course, the ren­o­va­tion will entail fenc­ing off the plaza, expelling not only the occu­pa­tion, but also the home­less who use it as a long-term home. So the date has been set for con­fronta­tion. Whether the city backs down, OP relo­cates, or is forcibly expelled, is uncer­tain. How OP decides to act against this threat will be a major indi­ca­tor of the movement's resolve and poten­tial.
A far larg­er chal­lenge, how­ev­er, is the win­ter weath­er. The last two Philadel­phia win­ters have been among the harsh­est on record. Sim­ply put, OP can­not with­stand a north­east­ern win­ter at its cur­rent size, and should not try to. Dis­cour­aged dis­per­sion when the tem­per­a­ture dips is the worst pos­si­ble out­come, and pro­vid­ing a spec­ta­cle of per­son­al suf­fer­ing to the media through it all is a ter­ri­ble tac­tic. Occu­pa­tions have cap­tured the imag­i­na­tion of the world, but fetishiz­ing the tac­tic is a strate­gic blun­der. The only lim­it to con­tin­u­ing and grow­ing this nascent move­ment is our imag­i­na­tion. Our con­ver­sa­tions and GAs must move, and quick­ly, to the dis­cus­sion of new tac­tics – occu­py­ing aban­doned build­ings (of no short sup­ply in Philly), sub­ver­sive orga­niz­ing in our schools and work­places, strength­en­ing of the local strug­gles our anar­chist com­rades have drawn atten­tion to – action, edu­ca­tion, and the­o­riz­ing with­out a cen­tral encamp­ment if need be. GAs can con­tin­ue indoors, march­es and direct action can expand through­out the city, and of course hard­core occu­piers can con­tin­ue out­side if they wish. This strate­gic retreat is actu­al­ly an advance across the entire­ty of the social ter­rain – but one that will require defy­ing the log­ic of media rep­re­sen­ta­tion and the spec­ta­cle of con­tem­po­rary pol­i­tics.
In one form or the oth­er, we can be opti­mistic that Occu­py Philadel­phia will inspire a win­ter of dis­con­tent in the City of Broth­er­ly Love. Come spring, we can reoc­cu­py not only Dil­worth Plaza, but Rit­ten­house Square, Love Park, Franklin Park­way, and – why not – Inde­pen­dence Hall and the Lib­er­ty Bell, too.