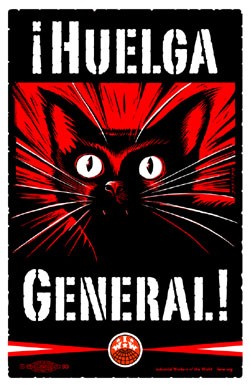 Dis­man­tling a pub­lic edu­ca­tion sys­tem in a coun­try with strong back­ground of polit­i­cal strug­gles requires a mit­i­gat­ed form of neolib­er­al strat­e­gy. Shut­ting down a whole lan­guage depart­ment, which is hap­pen­ing at SUNY Albany, is some­thing you can do in cer­tain areas of the Unit­ed States. But it is a whole dif­fer­ent sto­ry in a hot and par­tic­i­pa­to­ry place like Italy. In a sit­u­a­tion where active unions and a strong pop­u­lar move­ment still have a say in pub­lic poli­cies, one can­not launch a blitzkreig. What is need­ed is a longer and murky war of posi­tion. Thus var­i­ous cen­ter-right gov­ern­ments, with the com­plic­i­ty of the cen­ter-left, embarked since the 1990s in a long-term project that aimed at pro­gres­sive­ly cut­ting off key resources from pub­lic edu­ca­tion (while financ­ing the pri­vate Catholic sec­tor) so that the whole edi­fice would even­tu­al­ly crum­ble under the weight of its own (appar­ent) con­tra­dic­tions. At that point, they sim­ply need to sug­gest that the pub­lic sys­tem is inef­fi­cient and ulti­mate­ly unpro­duc­tive and voilà! Who could deny the crude real­i­ty of the fact?
If the Ital­ian penin­su­la dis­plays the last stage of this dra­ma, a sim­i­lar – yet per­haps more rapid – oper­a­tion has been car­ried out in Puer­to Rico in the last three years. Between 2009 and 2010, I observed this oper­a­tion as a new pro­fes­sor at the Uni­ver­si­ty of Puer­to Rico. The new right-wing gov­er­nor, Luis For­tuño, ini­ti­at­ed the process I had already seen com­plet­ed in Italy by frontal­ly attack­ing the low­er class­es, the true source of his oppo­si­tion. This hap­pened through the infa­mous Ley 7 that fired about twen­ty thou­sand pub­lic employ­ees in a mat­ter of a few months. In 2010, the time was ripe to begin grind­ing down the pub­lic uni­ver­si­ty sys­tem, one of the largest pub­lic sec­tors on the island and the last strong­hold of a once fer­tile tra­di­tion of pro-inde­pen­dence and social­ist thought. With the dras­tic reduc­tion of state sup­port for the uni­ver­si­ty bud­get, the true rev­enue for high­er edu­ca­tion in Puer­to Rico, the new­ly appoint­ed bureau­crats (all polit­i­cal nom­i­nees) enforced dra­con­ian mea­sures that crip­pled the insti­tu­tion. Tenure-track pro­mo­tions were frozen, funds for research elim­i­nat­ed, con­tri­bu­tions from the employ­er to pen­sion funds were slashed away. After the tech­nocrats sam­pled the weak response of their oppo­nents – the pro­fes­sors – they hit the tough­est con­tin­gents: the uni­ver­si­ty main­te­nance work­ers, and stu­dents.
Employ­ees of the uni­ver­si­ty respond­ed with a series of lim­it­ed mobi­liza­tions. In the spring of 2010, stu­dents instead opt­ed for an indef­i­nite strike.1 The most con­tro­ver­sial point, a mat­ter that uni­fied stu­dents in their fight, was a pro­pos­al to levy an addi­tion­al year­ly tax of eight hun­dred dol­lars for enroll­ment (the so-called cuo­ta). The mea­sure was pre­sent­ed by the pres­i­dent as the essen­tial step to save the uni­ver­si­ty from bank­rupt­cy, but while the bud­get kept on shrink­ing in the fol­low­ing aca­d­e­m­ic year, the uni­ver­si­ty also refused to open its books and show how and where it was using the remain­ing funds gra­cious­ly made avail­able by the state. The reac­tions to these unfair and dis­crim­i­na­to­ry actions were imme­di­ate. The strength of the response was espe­cial­ly noticed in a tra­di­tion­al­ly con­ser­v­a­tive cam­pus like Mayagüez – the tech­no­log­i­cal pole of the Uni­ver­si­ty of Puer­to Rico. Ignor­ing the most politi­cized wing of the stu­dent body, who boy­cotted the ref­er­en­dum in fear of manip­u­la­tions by the admin­is­tra­tion, the major­i­ty of stu­dents cast their bal­lot in favor of the strike three con­sec­u­tive times. 2 A felic­i­tous case of pop­u­lar out­flank­ing of one's own polit­i­cal avant-garde, the one-month-long occu­pa­tion of the Mayagüez cam­pus left a per­ma­nent mem­o­ry in those who par­tic­i­pat­ed in it. Pick­ets were orga­nized so that ongo­ing activ­i­ties were tak­ing place at all time dur­ing the hot days of the protest. Par­tic­i­pants caught a glimpse the true mean­ing of a gen­er­al strike, the moment when social norms and masked forms of oppres­sion break down, mak­ing room for new modes of con­vivi­al­i­ty, where a gra­tu­itous kind of social uni­ty pro­lif­er­ates.
And yet, in the best Ital­ian tra­di­tion, dur­ing that sum­mer the uni­ver­si­ty admin­is­tra­tion staged a treach­er­ous coup de théâtre: it accept­ed the con­di­tions of the Stu­dent Nation­al Nego­ti­a­tion Com­mit­tee, declar­ing the rejec­tion of its increase in tuition, only to enforce it a few weeks lat­er when stu­dents had returned to the class­room.3 It was a per­fect maneu­ver, which used trick­ery to spread a sense of impo­tence among the move­ment. Only in the main cam­pus of San Juan did stu­dents deploy a vig­or­ous and con­tin­u­ous oppo­si­tion. But as the uni­ver­si­ty – notwith­stand­ing the oppo­si­tion of the pres­i­dent, José Ramón de la Torre, who on this account lat­er resigned – mil­i­ta­rized the cam­pus the move­ment lost that wide­spread mobi­liza­tion that affect­ed the whole island only few months before.4
Mean­while, the ones who could have replaced the stu­dents, keep­ing alive the hope for an oppo­si­tion against the destruc­tion of high­er edu­ca­tion in Puer­to Rico – the pro­fes­sors – remained silent. Dur­ing the occu­pa­tion, a minor­i­ty of pro­fes­sors with ties to the union (APPU) active­ly sup­port­ed the stu­dent move­ment. But as stu­dents were defeat­ed, they had gained no con­sen­sus among the rest of the fac­ul­ty. And yet the lat­ter had every rea­son to protest, for beyond the seri­ous impact these poli­cies had on instruc­tion, the fac­ul­ty could also notice how for­mer col­leagues were rapid­ly dis­ap­pear­ing while class­rooms began to over­flow. Those who had a mar­ket fled the island, but oth­ers, most­ly hold­ing tem­po­rary posi­tions, van­ished as the 2010-2011 aca­d­e­m­ic year began. In the fol­low­ing months, the next most vul­ner­a­ble com­po­nent of the teach­ers' work­force, inter­na­tion­al pro­fes­sors, was tar­get­ed as the usu­al pro­ce­dures for work­ing per­mits became almost impos­si­ble to com­plete. Here the most aston­ish­ing con­fir­ma­tion of the pow­er of ide­ol­o­gy took place. Although the large major­i­ty of the teach­ers, inde­pen­dent­ly from their polit­i­cal affil­i­a­tion, were affect­ed in one way or the oth­er, they kept silent and went about their busi­ness as usu­al.
The back­ground of the teach­ing body at the Uni­ver­si­ty of Puer­to Rico is sig­nif­i­cant. We could divide up fac­ul­ty in three large sets. The first one is com­posed of Puer­to Rican nation­als, as well as Latin Amer­i­cans and Euro­peans, who obtained a PhD. in the Unit­ed States. Here is where the stu­dents enjoyed the strongest sup­port. A con­sis­tent num­ber of these intel­lec­tu­als infused the body of the­o­ret­i­cal knowl­edge accu­mu­lat­ed in the best North Amer­i­can insti­tu­tions with the prax­is of the decades of strug­gle at home. Obvi­ous­ly, not all of them were so devot­ed to the cause. A con­sis­tent part of this group was also either cyn­i­cal­ly refus­ing any form of alliance with the stu­dents on account of some high­er and more intel­lec­tu­al supe­ri­or­i­ty, or was implic­it­ly sup­port­ing the gov­ern­ment. Among these indi­vid­u­als the new cadres of the uni­ver­si­ty bureau­cra­cy were select­ed; they zeal­ous­ly fol­lowed the pre­scrip­tions of the admin­is­tra­tion, opt­ing out of what was left alive in the uni­ver­si­ty.
The sec­ond ensem­ble groups US pro­fes­sors who were cat­a­pult­ed into an unfa­mil­iar real­i­ty that remained for­eign to them – although they usu­al­ly oper­at­ed in it quite effec­tive­ly, at least from an edu­ca­tion­al point of view. Though the major­i­ty felt like they were liv­ing in anoth­er coun­try, they usu­al­ly denied that this ter­ri­to­ry is in fact a colony with spe­cif­ic ten­sions and respons­es in and to social fights. More­over, accus­tomed as they were to the costs of edu­ca­tion at home, these pro­fes­sors saw no prob­lem in the impo­si­tion of the cuo­ta. Over­look­ing at the dis­par­i­ty in incomes between Puer­to Rico and the US, they at best adopt­ed a clas­sic defen­sive cor­po­ratist posi­tion tac­it­ly sup­port­ing increas­es in tuition in the inter­est of the insti­tu­tion. This form of ide­o­log­i­cal preclu­sion pre­vent­ed them from read­ing the com­plex­i­ty of the issues at stake, which also affect­ed them as part of that com­mu­ni­ty. They chan­neled their dis­con­tent into the usu­al reproach of Puer­to Rico as just anoth­er Latin coun­try, where cor­rup­tion, bureau­cra­cy and protest cul­ture jam the whole social sys­tem and make it inef­fi­cient and chaot­ic. Only a few of them, those who knew their his­to­ry and pos­si­bly lived through sim­i­lar colo­nial dynam­ics in the US, avoid­ed this ide­o­log­i­cal block­age and joined forces with the stu­dent move­ment.
The last group is formed by per­son­nel trained in the for­mer moth­er­land: Spain. Although the Puer­to Rican polit­i­cal elite holds the pre­cious fruits of the Span­ish acad­e­mia in high regard, it recent­ly had to real­ize that Span­ish uni­ver­si­ties no longer pro­duce the high­ly con­formist gen­er­a­tions of grad­u­ates they used to hurl out under Fran­co. Sup­port came also from this new and ener­getic guard of pro­fes­sors, but it was not strong and per­va­sive enough to win a major­i­ty among the fac­ul­ty.
To be sure, the rigid uni­ver­si­ty hier­ar­chy is very resis­tant to change, and has so far neu­tral­ized any reac­tions to the cur­rent sit­u­a­tion. Divid­ed by nation­al dif­fer­ences and stub­born ide­o­log­i­cal occlu­sions, the major­i­ty of the teach­ing fac­ul­ty is unlike­ly to take any col­lec­tive step to pro­tect their insti­tu­tion. As the admin­is­tra­tion rapid­ly saws away at the branch they are sit­ting on, along with any future safe­ty net – the employ­ees' retire­ment plan recent­ly came under government's atten­tion as well – they pas­sive­ly wait for a new elec­tion. Lit­tle do they know that free­dom is some­thing you gain, and that you have to defend day by day. It will not be an illu­mi­nat­ed sov­er­eign who will reestab­lish­es peace and pros­per­i­ty. It will be up to the stu­dents, instead, to rise again, and, if not defeat the gov­ern­ment neo-lib­er­al agen­da, at least estab­lish firm con­di­tions for the new gov­ern­ment (what­ev­er it will be) to pre­serve the com­mon good of their uni­ver­si­ty.
---
1. The strike was sup­port­ed by the Professor's Asso­ci­a­tion (APPU), the so-called Her­man­dad (uni­ver­si­ty main­te­nance work­ers) and oth­er unions such as Puer­to Rico Fed­er­al Affairs Admin­is­tra­tion and the inde­pen­dent union of the author­i­ty of pub­lic build­ings (UIAEP).
2. Fol­low­ing the no-con­fronta­tion pol­i­cy that is enforced in the uni­ver­si­ty sys­tem after the bloody con­fronta­tions of the 1970s and 1980s, the Uni­ver­si­ty of Puer­to Rico grants that if one of the major three branch­es (the fac­ul­ty, the stu­dent body or the employ­ees) calls for a strike, cam­pus­es shut down and class­es resume only at the end of the strike.