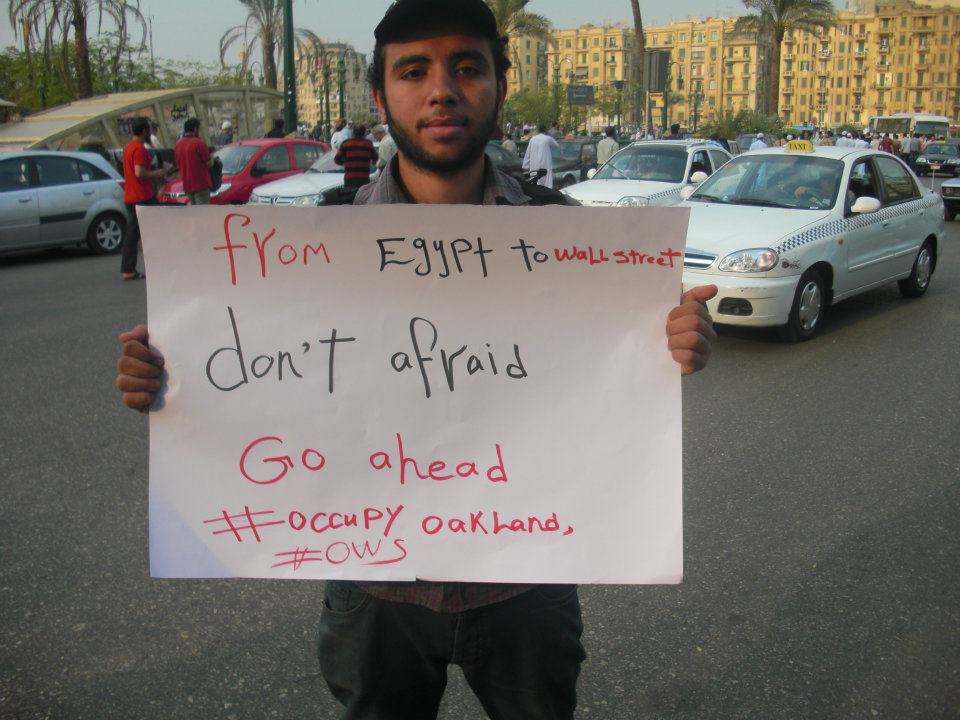 For­mer Egypt­ian pres­i­dent Hos­ni Mubarak had already stepped down, fol­low­ing a pop­u­lar move­ment that estab­lished a micro-repub­lic, the Gumhuriyyah el-Tahrir (Repub­lic of Lib­er­ty), which con­tra­dict­ed the per­vad­ing log­ic of the inter­na­tion­al eco­nom­ic sys­tem. And now pro­test­ers in Wis­con­sin were occu­py­ing the state house to pre­vent the pass­ing of leg­is­la­tion that would effec­tive­ly sus­pend bar­gain­ing rights for pub­lic work­ers. Sit­ting in a Wash­ing­ton news­room, we need­ed a head­line. I very quick­ly sug­gest­ed some­thing along these lines: "Mid­dle East unrest spreads to the Mid­west." I got a side eye. After all, how could a free and open soci­ety, the demo­c­ra­t­ic soci­ety, be tak­ing its cues from, of all places, Egypt, an antique land with back­ward ways, Islam­ic fun­da­men­tal­ists, and Arab dic­ta­tors? The edi­tors went with a more mod­est title.
How­ev­er, for many in the Arab world, the con­nec­tion was not lost for a minute. They saw in the occu­pa­tion of the Wis­con­sin State Capi­tol the same spir­it that was present in Mohamed Bouazizi's self-immo­la­tion: the refusal to accept the finan­cial order's demand to oblit­er­ate decades of pro­gres­sive strug­gle and nego­ti­a­tion.
Maybe my own time in Cairo made me see the easy con­nec­tion that my edi­tors missed. I lived there for a almost a year and a half on the largess of the Amer­i­can gov­ern­ment. The con­di­tions of my pres­ence were a reminder of the struc­tur­al inequal­i­ties of the glob­al sys­tem. Any old Amer­i­can can arrive to the air­port with­out a visa, lit­tle train­ing in any use­ful domain and quick­ly find gain­ful employ­ment and a life of com­fort. An Egypt­ian, how­ev­er, even with years of edu­ca­tion, has to strug­gle to make a liv­ing.
As many set out today to occu­py every­thing, let us take a moment to remem­ber the real ori­gins of this glob­al move­ment and allow it to guide our ongo­ing pol­i­tics.
Deep in the land of Han­ni­bal the Carthagin­ian, who once chal­lenged the pow­er of anoth­er glob­al empire, Bouaz­izi was born to a con­struc­tion work­er, liv­ing his entire life in Sidi Bouzid, an agrar­i­an town. The 26-year-old scraped togeth­er an exis­tence for him­self and a large fam­i­ly by sell­ing fruit. Rel­a­tive­ly speak­ing, he did well to have even that hus­tle, as the New York Times report­ed that unem­ploy­ment reach­es as high as 30% in his area. There was a near­by fac­to­ry, but that only pays around $50 a month. Even the col­lege edu­cat­ed were head­ing to the coast, where they too strug­gled with under­em­ploy­ment.
A vet­er­an fruit ven­dor, Bouaz­izi was used to the author­i­ties that policed the fruit stands. Some­times he paid a fine, oth­er times a bribe. But on the morn­ing of Decem­ber 17, Bouaz­izi refused to do either. He also refused an attempt­ed con­fis­ca­tion of his fruit, com­modi­ties that are often bought on cred­it by the para-legal ven­dors. The rep­re­sen­ta­tive of the state even­tu­al­ly won the first bat­tle. Beat­en and humil­i­at­ed, Bouaz­izi quick­ly tried redress­ing his griev­ances at the governor's office, request­ing that, at the least, his scale be returned. Ignored at the governor's, he was report­ed to ask, "how do you expect me to make a liv­ing?" He set him­self ablaze and ignit­ed a glob­al move­ment.
Protests start­ed hours after the inci­dent. Bouazizi's fam­i­ly and friends threw coins at the governor's gate. "Here is your bribe," they yelled. As the unrest grew, police start­ed to beat pro­test­ers, fir­ing tear gas and even­tu­al­ly bul­lets. But the spir­it wouldn't be sti­fled. Orga­nized labor joined in the strug­gle, iden­ti­fy­ing the cen­tral prob­lem as eco­nom­ic. After all, it was glob­al cap­i­tal that had denied Bouaz­izi and his sup­port­ers their dig­ni­ty; it extract­ed sur­plus val­ue from human objects down to the last drop of blood.
For­mer colo­nial pow­er France offered to lend a hand with its secu­ri­ty savoir-faire. Or maybe they would have just hired a pri­vate firm to han­dle the con­tract. Lat­er acknowl­edg­ing the mis­step, Sarkozy tried to jus­ti­fy his government's sup­port of the author­i­tar­i­an regime with reveal­ing, if trite, argu­ments. "Behind the eman­ci­pa­tion of women, the dri­ve for edu­ca­tion and train­ing, the eco­nom­ic dynamism, the emer­gence of a mid­dle class, there was a despair, a suf­fer­ing, a sense of suf­fo­ca­tion. We have to recog­nise that we under­es­ti­mat­ed it," Sarkozy said in a press con­fer­ence.
Sarkozy under­es­ti­mat­ed the effect that the "eco­nom­ic dynamism" of the rul­ing elite had on the major­i­ty of the coun­try. He under­es­ti­mat­ed the dimin­ished eco­nom­ic prospects that result­ed from Tunisia's decreased agri­cul­tur­al and man­u­fac­tur­ing exports to Europe. He under­es­ti­mat­ed the Tunisian people's reac­tion in the face of poten­tial anni­hi­la­tion by eco­nom­ic vio­lence.
The move­ment quick­ly spread to near­by Egypt, where con­di­tions have been even worse, the socio-eco­nom­ic divide between the top 1% and the rest even more dra­mat­ic. Sev­er­al self-immo­la­tions occurred through­out the coun­try, prompt­ing the Cheikh of al Azhar, the most respect­ed insti­tu­tion in the Sun­ni Islam­ic world, to issue a fat­wa against the prac­tice. Youth with degrees but with­out jobs start­ed to occu­py Tahrir Square, to call for the dig­ni­ty that glob­al neolib­er­al poli­cies had denied them. They took the recent tac­tics of Egypt's young but grow­ing labor move­ment and added oth­ers.
When Mubarak, whose 30-year reign had been marked by the open­ing of the coun­try to West­ern busi­ness inter­ests, start­ed to crack down on the pro­test­ers as the empire's strong man, the peo­ple said he had to go. The pub­lic began to protest against dic­ta­tor­ship, but only inso­far as they were protest­ing the glob­al eco­nom­ic empire.
Some­how a pop­u­lar nar­ra­tive has emerged in our media that the Arab spring protest­ed against dic­ta­tor­ship, against mur­der­ous regimes. These pop­u­lar strug­gles have been reduced to rebel­lions against the vil­lainies of a Qaddafi, an Assad, a Saleh.
But the Arab Spring start­ed as a protest against glob­al finance and its hench­men. Almost across the board, pro­test­ers claim­ing pub­lic space were demand­ing most­ly eco­nom­ic reforms. It was only after Arab dic­ta­tors, whose decen­ni­al rules offered up their coun­tries to the jaws of the glob­al mar­ket, start­ed to repress this pop­u­lar strug­gle with vio­lence, that dic­ta­tor­ship became the tar­get of regime change.
Occu­py Wall Street and the sub­se­quent Occu­py move­ment were ini­ti­at­ed in the same spir­it of eco­nom­ic jus­tice. Zuc­cot­ti Park, iron­i­cal­ly tak­en and renamed Lib­er­ty Plaza by its occu­piers, is a micro-repub­lic where the log­ic of empire doesn't work. Peo­ple take pride in dis­com­fort, in being arrest­ed and work­ing for free. Altru­ism has become nor­ma­tive and hier­ar­chy repug­nant. To be sure, there is inner dis­sent and strug­gle with­in the body politic of the micro-repub­lic. Nev­er­the­less, the audac­i­ty to live a utopi­an prac­tice has become lib­er­at­ing in itself.
Yet this move­ment can't con­tent itself with grant­i­ng young peo­ple the right to take on more debt to live the lives the world can't sus­tain, or reform­ing the way can­di­dates fund their cam­paigns. The despo­tism that west­ern pow­ers decry in the name of human rights is a symp­tom of a wider sys­tem of eco­nom­ic exploita­tion, which at home man­i­fests itself in the attack on the Amer­i­can work­ing and mid­dle class. They are con­nect­ed.
The repres­sive mea­sures states use against their own pop­u­la­tions has also been import­ed from the Mid­dle East. A recent post by Max Blu­men­thal con­nects the dots behind recent alarm­ing exam­ples of social con­trol and police mil­i­ta­riza­tion:
The police repres­sion on dis­play in Oak­land remind­ed me of tac­tics I wit­nessed the Israeli army employ against Pales­tin­ian pop­u­lar strug­gle demon­stra­tions in occu­pied West Bank vil­lages like Nabi Saleh, Ni'lin and Bilin. So I was not sur­prised when I learned that the same com­pa­ny that sup­plies the Israeli army with tear­gas rounds and oth­er weapons of mass sup­pres­sion is sell­ing its dan­ger­ous wares to the Oak­land police. The com­pa­ny is Defense Tech­nol­o­gy, a Casper, Wyoming based arms firm that claims to "spe­cial­ize in less lethal tech­nol­o­gy" and oth­er "crowd man­age­ment prod­ucts." Defense Tech sells every­thing from rub­ber coat­ed tear­gas rounds that bounce in order to max­i­mize gas dis­per­sal to 40 mil­lime­ter "direct impact" sponge rounds to "spe­cial­ty impact" 12 gauge rub­ber bul­lets.
One vet­er­an of the war in Iraq knows the effects of the police-spon­sored vio­lence first­hand. After being hit by a tear gas can­is­ter launched by the Oak­land Police Depart­ment, Scott Olsen suf­fered a frac­tured skull and a swollen brain. As though that were not enough, video footage shows a police offi­cer throw­ing a flash bang grenade next to the blood­ied man to dis­perse the crowd of peo­ple com­ing to his aid. But such police bru­tal­i­ty is noth­ing new in Oak­land, home of a rad­i­cal black pol­i­tics that has strug­gled against struc­tur­al eco­nom­ic and phys­i­cal vio­lence against the work­ing class, the poor, and minori­ties.
We should remem­ber that the pol­i­tics forged by the Black Pan­ther Par­ty in the late 1960s and 1970s made deep ties with the anti-impe­r­i­al projects of North Africa, the hotbed of today's van­guard move­ment. Alge­ria made the Pan­ther head­quar­ters in Oak­land their embassy, pro­vid­ing a sort of diplo­mat­ic shield against police sur­veil­lance. When Eldridge Cleaver went into exile, Alge­ria host­ed him and the inter­na­tion­al sec­tion of the par­ty. A chap­ter was also cre­at­ed in Cairo, then, a nerve cen­ter for the world wide free­dom strug­gle.
Much is rid­ing on the direc­tion of the Occu­py move­ment in Amer­i­ca. While vis­it­ing the Wall Street occu­piers, two of Tahrir's lead­ing activists empha­sized the impor­tance of the Occu­py move­ment for the renew­al of the Arab Spring. To Amer­i­cans who asked how they could help the ongo­ing Egypt­ian strug­gle, Asmaa Mah­fouz replied, "get your rev­o­lu­tion done. That's the biggest help you can give us." What Mah­fouz was count­ing on was the pos­si­bil­i­ty that strug­gles in the Unit­ed States could pres­sure the gov­ern­ment to cut off the $1.3 bil­lion year­ly pay­ments that sus­tain Egypt's mil­i­tary.
Long-time activist Ahmad Maher remind­ed the crowd of the immense task the Arab Spring con­front­ed, and which activists around the world still con­front. An Amer­i­can asked him the most fun­da­men­tal ques­tion: "how do you over­throw a sys­tem?" Speak­ing as a grass­roots polit­i­cal orga­niz­er who has been on the Egypt­ian street for years, Maher replied, "It's eas­i­er to over­throw a dic­ta­tor than an entire sys­tem."
There is a rea­son that the Occu­py move­ment does not have a sin­gu­lar mes­sage, tied to one polit­i­cal body; its suc­cess or fail­ure will lie in the degree to which it changes every­thing.
---
Wen­dell Has­san Marsh is a grad­u­ate stu­dent at Colum­bia University's Depart­ment of Mid­dle East­ern, South Asian and African Stud­ies. He has writ­ten for Reuters, The Root, AllAfrica.com, and The Har­vard Jour­nal of African Amer­i­can Pol­i­cy.